Just under 10 000 invoices reveal how facilities management company Bosasa spread its tentacles into every corner of the state, including education, catering, database management and juvenile detention centres, amassing more than R12-billion in just over a decade.
The Mail & Guardian can reveal how Bosasa milked close to 40 national and provincial government departments in payments ranging from R161 for security gate remote controls to a single payment of R124-million for a fencing contract with the department of correctional services.
Over about 15 years, Bosasa, allegedly through corruption and the bribery of politicians and government officials, scored more than R12-billion in questionable state contracts, including at Limpopo's department of social development, Gauteng's education department, the Northern Cape arts and culture department and the national department of agriculture, forestry and fisheries.
Bosasa's net of contracts is wide, including the installing of top-of-the-range fencing around prisons, managing databases, cooking for prisoners and supplying stationery for department of justice and constitutional development officials.
Although the big-money contracts have previously made headlines, there are many other smaller contracts. For the past five years, Bosasa has also been getting small payments of between less than R2 000 and R10 700 from contracts awarded to Bosasa's subsidiary, Sondolo IT and Global Technology Systems, for stationery. The latest payment was on January 9 this year.
The company, which now trades as African Global Operations, has recently been implicated in corruption by former employees, who revealed how, through bribes and tailor-made tender specifications, Bosasa had a monopoly not only at the department of correctional services, but also at home affairs and other government offices.
Bosasa, led by Gavin Watson, and its associated entities have milked more than R7.2-billion from correctional services since 2003 to date from a total of 6 515 payments, and close to R2-billion from home affairs from a total of 250 payments.
Their third-largest piece of the pie was from the department of justice and constitutional development, from which the company scored R652  774  174 from 427 payments for security services and stationery.
Out of about 10 000 payments analysed by the M&G, provided by the treasury from its database, the sum of government contracts invoiced by Bosasa and its entities between mid-2003 and the beginning of this year amounted to R12  282  374  003.
The M&G understands that this list is not exhaustive and there may be dozens of other invoices that have not been reflected and are still to come.
The money is still flowing in. According to the data, in January, at least 24 payments were made to Bosasa entities, with the most recent being by correctional services for R5.7-million on January  24.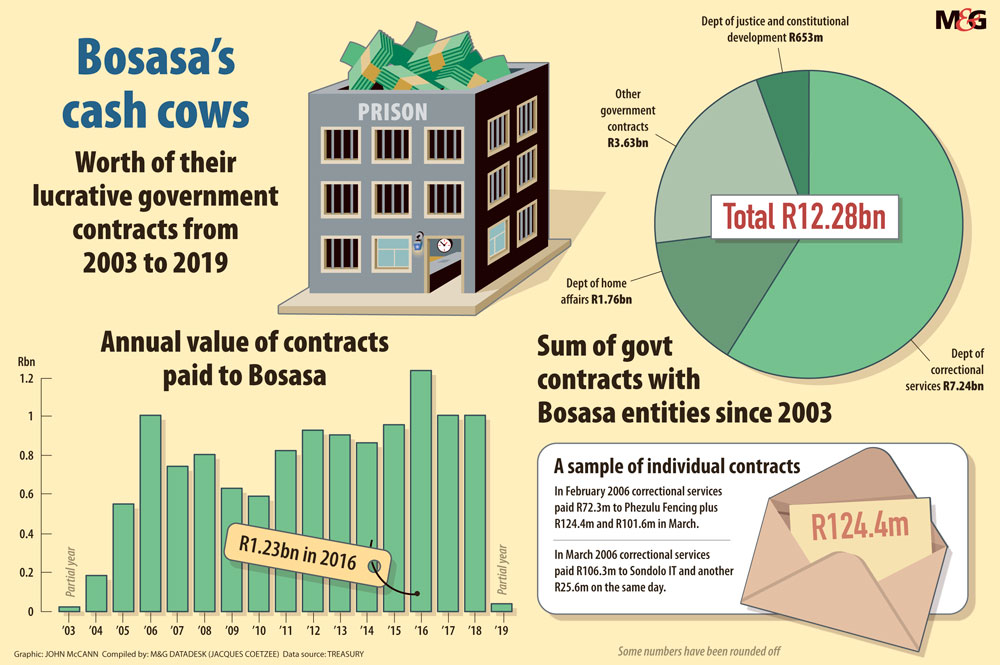 On the same day, at the Zondo commission, Bosasa's former chief operations officer, Angelo Agrizzi, revealed how they had influenced state tenders by greasing the palms of senior officials, such as former correctional service commissioner Linda Mti and former chief financial officer Patrick Gillingham.
According to the data, Bosasa's most frequent payments were for food and catering. There were 1 348 food and catering-related payments, amounting to more than R1-billion.
Agrizzi told the commission that the costings in one of the 2004 tender bids for food were manipulated — Bosasa charged R20 a meal for 30% of the allocated meals. This was the price of "special meals", which only constituted 10% of the allocated meals. "Normal meals" only cost R10.
In September 2004, Agrizzi made a proposal to Gillingham that seven satellite correctional centres be included in the catering tender. This expansion, worth about R14-million a month, was authorised by Mti in May 2005, Agrizzi said.
"This expansion was not authorised by the original tender documents. Nor did this expansion go out to tender," Agrizzi said.
He also revealed that, when Bosasa's modus operandi began to attract the attention of law enforcement agencies, payments were allegedly made to then-president Jacob Zuma through his foundation, his associates Dudu Myeni and Nomvula Mokonyane and National Prosecuting Authority deputy head Nomgcobo Jiba, to buy their protection.
Earlier testimony by Agrizzi revealed how Mokonyane, now environmental affairs minister, received expensive whiskies, meat and car hire for her daughter — allegations she has disputed.
Also, the company's former chief financial officer, Andries van Tonder, told the commission that he had collected between R4-million and R6-million every month from Bosasa's vault to bribe people.
A Special Investigating Unit (SIU) investigation of four contracts awarded to Bosasa by correctional services uncovered "an improper and corrupt relationship" between the company and civil servants, which included more than R2-million in cash bribes, several cars, holidays and air tickets.
An attempt by the treasury's office of the chief procurement officer, Kenneth Brown, to have Bosasa blacklisted was allegedly blocked by Tom Moyane, who was prisons commissioner in 2013.
Three years later, Bosasa had its most lucrative year when it invoiced departments for more than R1.2-billion.
There were 637 payments made during this time, most of them from the department of justice and constitutional development, and the largest single payment was R55-million.
Agrizzi also testified about Bosasa's most lucrative contract — for correctional services fencing — and how it was rigged before the tender was even advertised.
The full tender eventually grew to R486 937 910. "This is the biggest fencing tender in the history of South Africa, Africa and probably the southern hemisphere," Agrizzi said. The value of the contract "grew and grew and grew".
The SIU's report found that, because the tender was awarded at the end of the financial year, the fencing contract constituted "fiscal dumping", when departments spend large amounts of money to use up their budgets.