Edo State is Nigeria's capital of human trafficking, and local authorities are seemingly powerless to protect vulnerable women and girls. Enter His Royal Majesty Oba Ewuare II, the ruler of the ancient Kingdom of Benin, who – like the traffickers – plays by a different set of rules
---
Benin City — Oil palm trees grow throughout Nigeria's Niger Delta, but they grow biggest in Edo State. The tree trunks here are fatter than in neighbouring Delta State; the fronds spread out like wings, sweeping the ground from towering heights; the palm fruit is redder, juicier.
But sweet palm oil is not what this southern state is famous for.
Benin City, the state capital, is a global hub for the trafficking of women. Up to 10 000 are trafficked from Nigeria every year, usually to Europe, and nine out of 10 of these women are from Edo.
They are sent along the migrant trail — a dangerous route that has claimed the lives of thousands of migrants — usually along the Benin-Auchi road to Kano or Sokoto states in northern Nigeria, crossing over into Agadez in neighbouring Niger and on to Libya. From there, migrants take a rickety boat across the Mediterranean.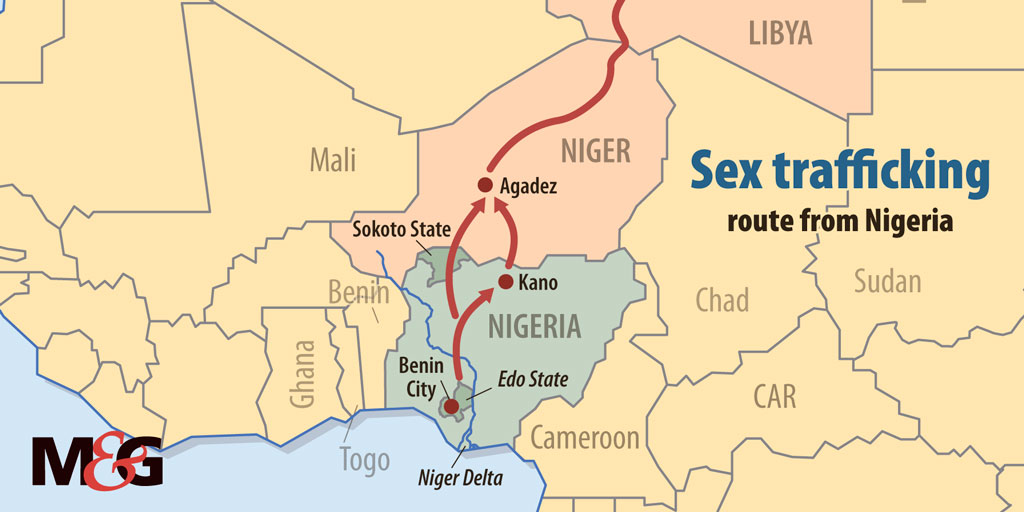 Last year, a CNN investigation uncovered these migration routes, and highlighted Edo State's central role in sex trafficking, thoroughly marring Edo's reputation, which was already poor. The negative international headlines were probably the motivation for His Royal Majesty Omo N' Oba N'Edo Uku Akpolokpolo — better known as Oba Ewuare II — the traditional head of the ancient Benin Kingdom, to act.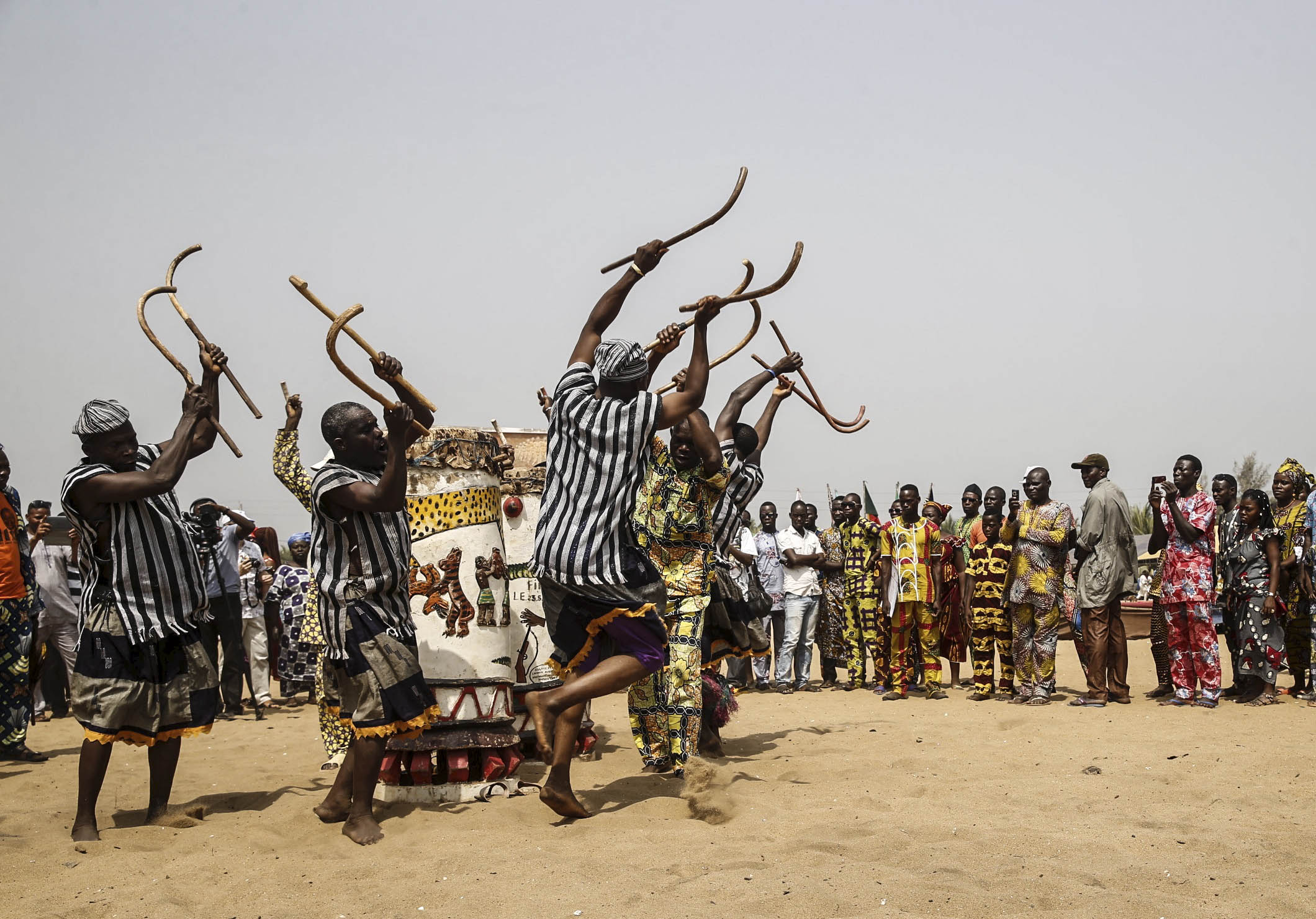 In a bid to halt Nigerian women being trapped as sex slaves in Italy, Oba Ewuare II, the head of the ancient Benin Kingdom and the former Nigerian ambassador to Italy, called together chiefs and priests and put a curse on human traffickers. (Akintunde Akinleye/Reuters)
In March last year, in front of all his chiefs and the priests of Edo's indigenous religions, he pronounced a royal curse on the heads of human traffickers and their support networks. "Whoever does it from today will face the wrath of our ancestors," he said — and Edo State listened.
Auntie's empty promises
Itohan Okundaye's looks were her undoing. At 29, Okundaye looks a decade younger. Her lips, pink and full, sit in an oval-shaped face. Her smile, ever ready, reveals dimples and straight, white teeth. Born and brought up in Benin, Okundaye was an easy target for rapacious traffickers on the hunt for young women to smuggle to Europe.
In 2005, when 16-year-old Okundaye had just finished junior school, a relative she called "Auntie" told her she could find a better life in Europe. Being chosen to go was a competitive process, said Auntie, and Okundaye was ecstatic when she was told that she had made the cut.
Auntie promised to foot all her travel expenses, including paying for fake passports. Although it was painful for Okundaye to leave her family — she was a child, after all — the promise of euros to send back to her struggling parents was comforting.
It wasn't until Okundaye arrived in Italy that it dawned on her that she'd been trapped: Auntie had sent her to be a sex worker. Nor was Auntie upfront about the costs of the trip. "I remember her telling me: 'The money you're going to pay is €40 000'," Okundaye recounts. "I was like 'What?' We never discussed it. I never knew I was going to pay that kind of money until I got there."
In Edo, traffickers like Auntie are called sponsors. They usually approach young women directly or employ family members to recruit them, according to Mabel Ekido, who works for Girls' Power Initiative, an organisation that strives to empower girls in Edo to reduce trafficking rates.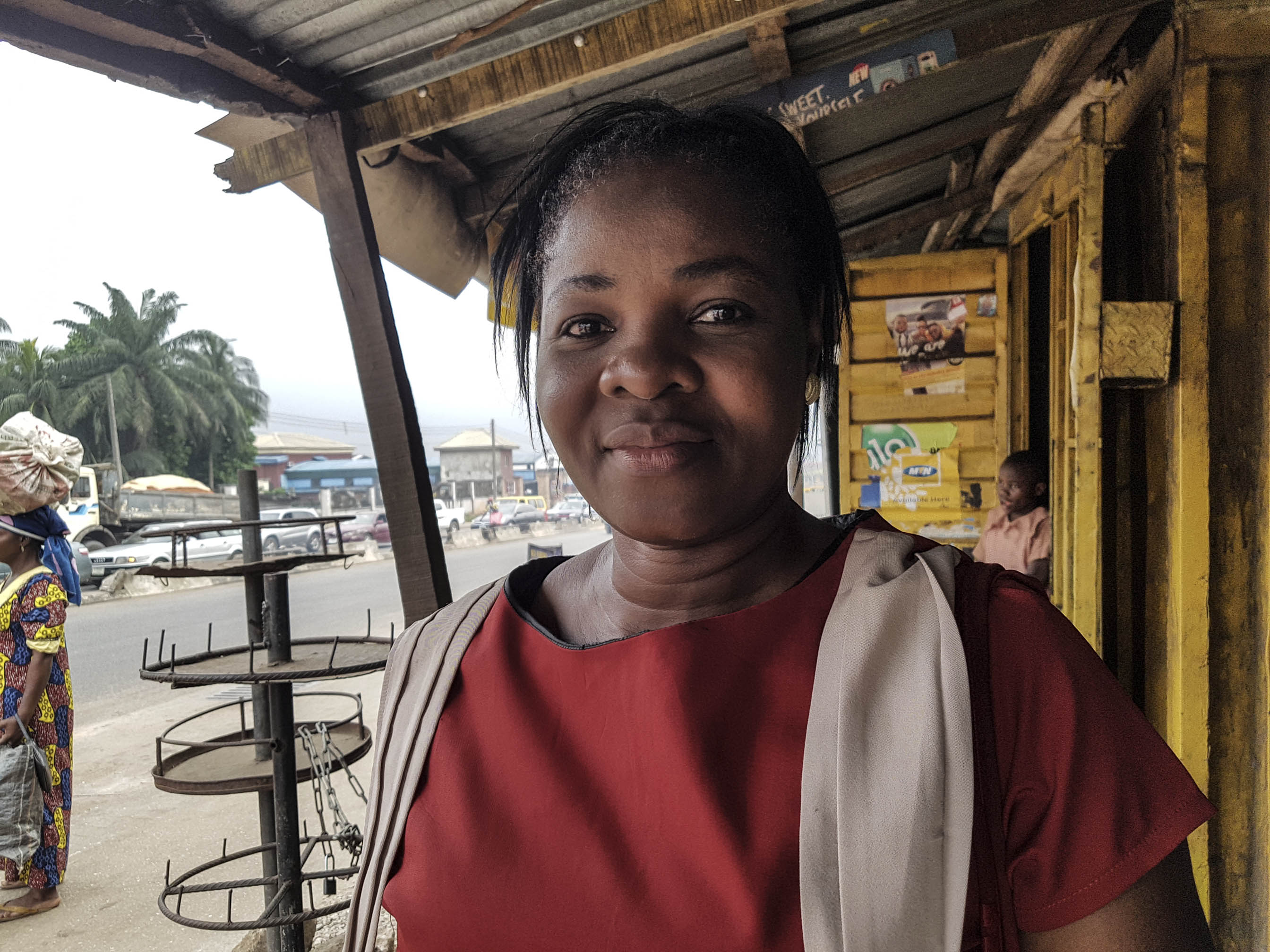 Mabel Ekido is with Girls' Power Initiative, which works with trafficked women. (Shola Lawal)
It's a common sight to see girls hawking edibles in Benin, working at market stalls or at hairdressing salons, and these are places the sponsors or their aides target for recruitment.
"The easiest way to know them is they'll tell you wonderful stories about Europe and offer to assist you at no cost," said Ekido. The sponsors take it a step further by showing pictures of other girls who've "made it" in Italy with vocational skills. It's a script that has been followed for a long time, a script that worked on Okundaye and keeps working on thousands more. In 2016, more than 11 000 women and minors were trafficked to Europe from Nigeria, according to the International Organisation for Migration.
Breaking the blood pact
Before starting the long, dangerous journey to Europe, the recruited women and girls are taken to spiritual priests, known locally as native doctors, to sign a blood pact. The priests take samples of their fingernails, pubic hair, underwear and blood and prepare concoctions for them to drink. Then, an oath of secrecy is made to ensure that they obey their madams in Europe. These madams are usually older sex workers who have risen through the ranks of underground sex trafficking networks that operate across Europe.
The blood pact is in effect a binding contract that prevents trafficked women from escaping or violating the terms of their debt bondage. Or, at least, it was a binding contract: Oba Ewuare II used his authority to nullify these pacts, saying that trafficked women were freed from their oaths and owed nothing to the people who trafficked them.
It was already too late for Okundaye. She had spent five years as a sex worker to pay off her €40 000 debt to Auntie. She supplemented her income by taking on another job as a stripper in a nightclub.
Despite her suffering, Okundaye dared not refuse to work because the consequences of breaking the blood pact was too high. Many girls and women have died or gone mad. In some cases, those who disobeyed their madams were reported as illegal immigrants and then deported home with nothing.
The blood pact has made it difficult for anti-trafficking organisations in Nigeria and Europe to arrest and prosecute madams and others involved in trafficking. The sex slaves often refuse to report their traffickers or testify against them out of fear of being struck dead for breaking the pact.
In 2018, Nigeria's National Agency for the Prohibition of Trafficking in Persons convicted only 26 traffickers out of 662 cases received, according to a United States state department report.
Fighting juju with juju
Human traffickers used spiritual beliefs — known as juju — to take advantage of vulnerable women. Thanks to Oba Ewuare II's intervention, those same beliefs can now be used to combat human trafficking.
In Edo, belief systems are deeply rooted in the supernatural and coexist with Christianity and Islam. Traditional ways of solving antisocial behaviours are not unusual: on a recent Wednesday evening, about 40 worshippers of Ayelala, an occult goddess, dressed in red and chanting curses, walked along a main street in Benin during rush hour. A store had been robbed and the group had been invited to place a curse.
If the thief does not own up, explained Solomon Ologbaye, a 40-year-old driver, it could lead to death or mysterious illnesses. "It's an everyday thing," he shrugged.
In this belief system, Oba Ewuare II — is the paramount authority. He is a former Nigerian ambassador to Italy and the first royal who has openly acknowledged and is working to end trafficking in Edo. His curse trumps the traffickers' curses and, to give it even more power, the Oba performed the ritual ceremony in front of ancient artefacts.
"Oba Ewuare II brought the traditional missiles from the palace reservoir. Some of these missiles had not seen the sun in the last 800 years and they were brought out that day for the purpose of the curse," said Chief David Edebiri, the Esogban of Benin Kingdom, in an interview with Nigeria's Vanguard newspaper.
Edebiri was present at the ceremony. "The Oba did not just put a curse on all those who would from that day practise these evil things; he went further to nullify the oath of secrecy administered by any native doctor on victims before travelling out. The Oba assured that all such victims had been set free from whatever had been administered on them and that it took immediate effect … This curse is not meant to affect only Benin people but anybody who resides here, or drinks the water here," he said.
The power of the curse
It has never been entirely clear why Edo State is a human trafficking hub. Researchers trace the prostitution trade back to the 1980s, when Edo women travelled to Italy to sell gold and beads and started to trade in people as well. High levels of poverty play a role, although on its own this is not a sufficient explanation; there are plenty of Nigerian states poorer than Edo.
One contributing factor, perhaps, has been the willingness of parents to support the trafficking trade. An important detail of the Oba's curse was that it condemned parents along with recruiters, madams and native doctors.
In Uromi, a village about an hour from Benin City, the Akate Mothers Association meets regularly. Its members have daughters who work in Italy, and they live in the village's "Little London" area, named for the exquisite mansions built from the proceeds of sex work in Italy.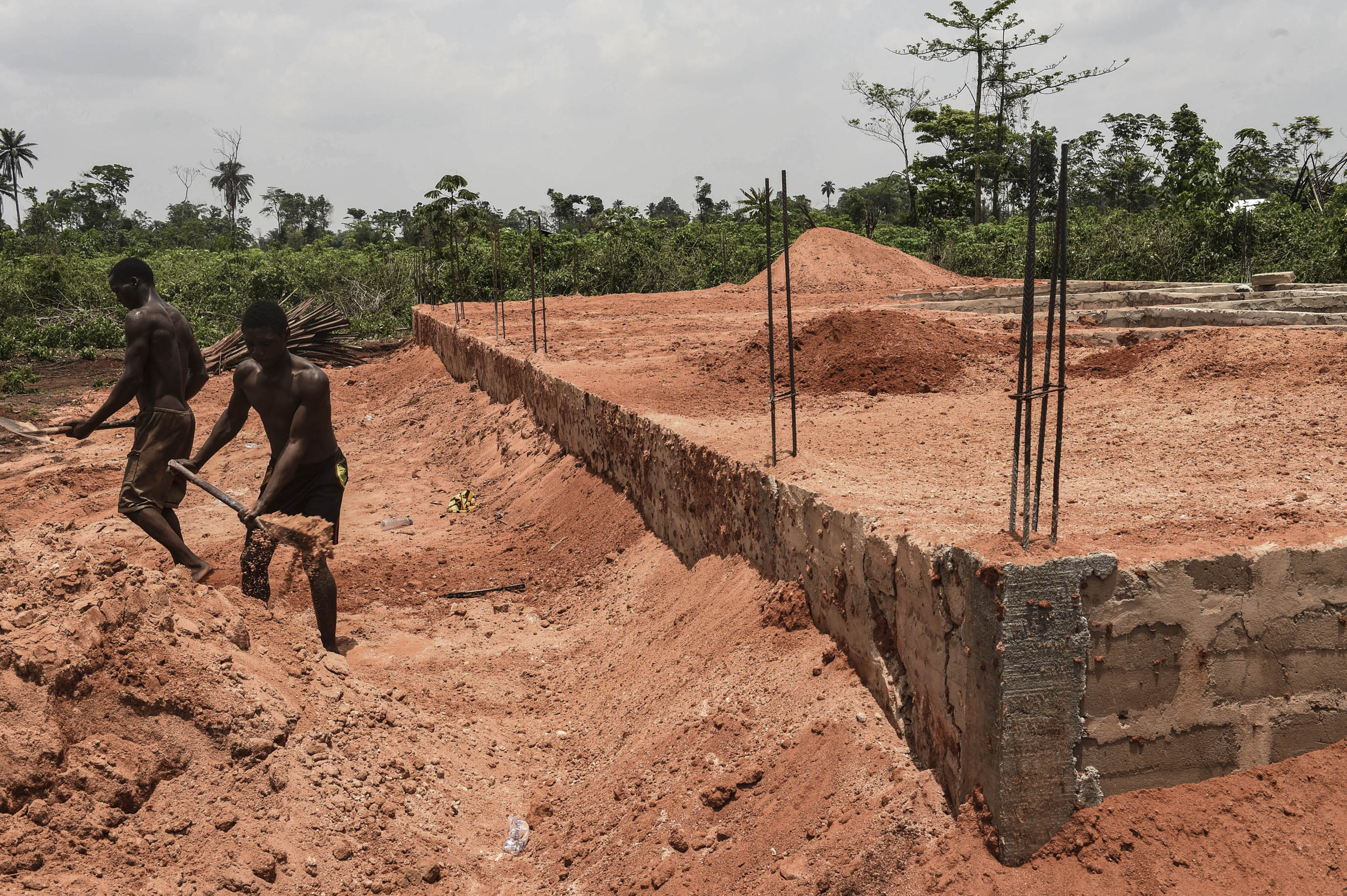 This house is being built with money sent home from Europe. The proceeds from sex workers pay for the construction of most houses in Little London in Uromi, Edo State. (Pius Utomi Ekpei/AFP)
"In Uromi you can hardly find a house where somebody has not been trafficked," said Ekido.
Girls' Power Initiative conducts sensitisation training there. Sometimes mothers seek out sponsors for their girls. In Uromi, sensitisation officers are sometimes attacked. Some people don't want to hear their anti-trafficking messages.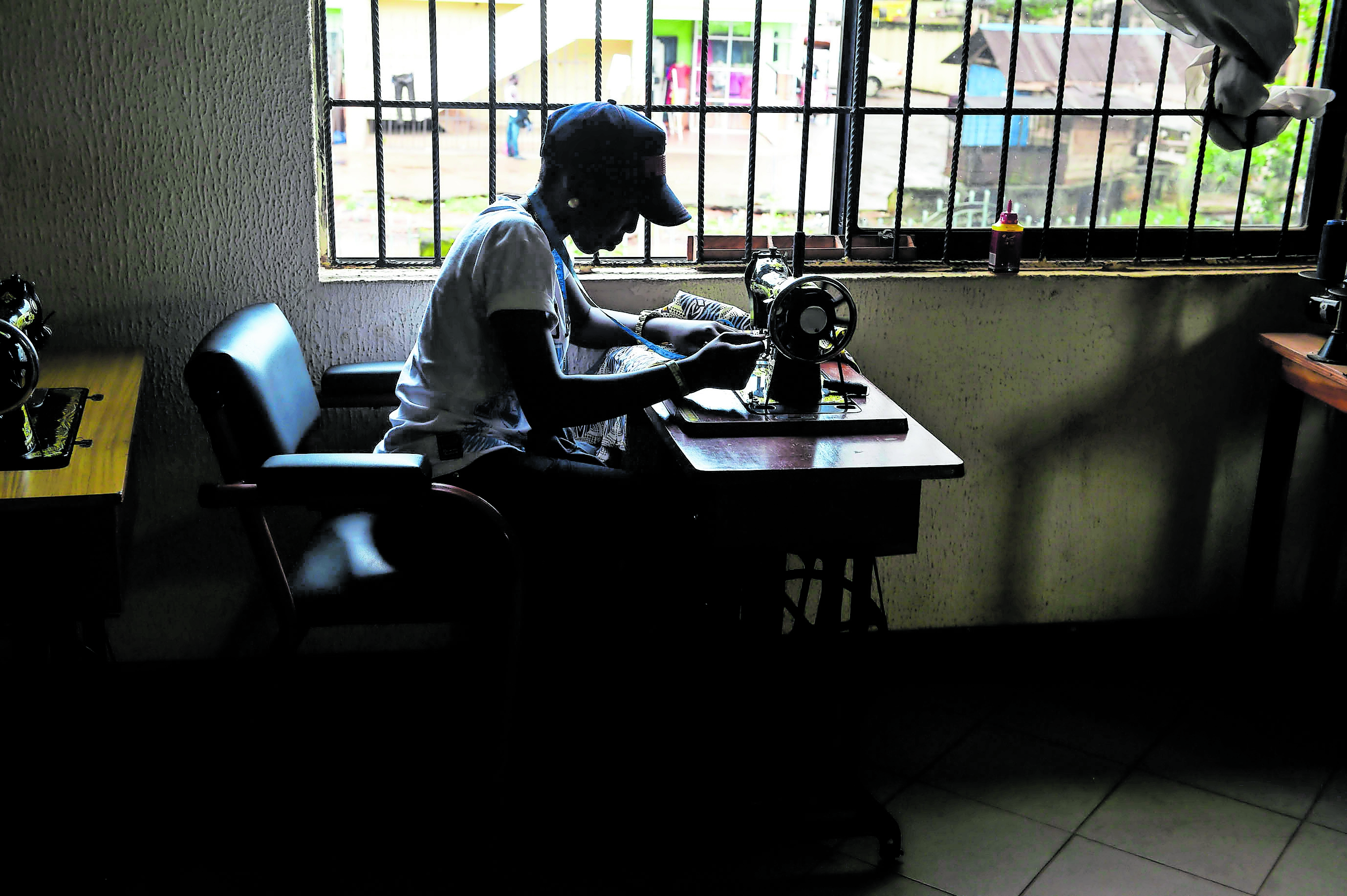 Idia Renaissance, a Nigerian nonprofit organisation in Benin City, Edo State, which aims to combat human trafficking, rescued this woman from exploitation in Libya. (Pius Utomi Ekpei/AFP)
But the Oba's curse is changing attitudes.
"We've been engaging people to see if that will make a change, and there is evidence that it does," said Rufus Idris, a senior officer at MADE, a nongovernmental organisation that equips Edo youth vulnerable to trafficking and smuggling with agribusiness skills.
Okundaye agrees that fighting trafficking in Edo requires homegrown solutions. "If that curse was there before I travelled, maybe it would have stopped me from coming," she said.
In 2011, after a row with Auntie — who wanted even more money — she moved out. She is seeking asylum for herself and her four-year-old son in Finland. She now partners with Finnish Women in Development, to support African women who have been trafficked to northern Europe.
But the Oba's approach is not going to solve the problem on its own, said Okundaye. Having experienced firsthand the cruelty of madams, she knows that the prostitution of girls will not stop. Friends she used to know have already complained about their madams not letting them go despite the curse. "They said it is not the Oba that paid the money they used to bring them [to Europe], so Oba cannot tell them not to collect their money."
Dick Omobude is a native doctor whose shrine is on Osanwe Street in the government residential area of Benin City. Wearing the red colour that symbolises Sango, the god of thunder, Dick swears that he doesn't work with traffickers but knows other native doctors who continue to do so, despite the Oba's curse. They will face dire consequences, he said.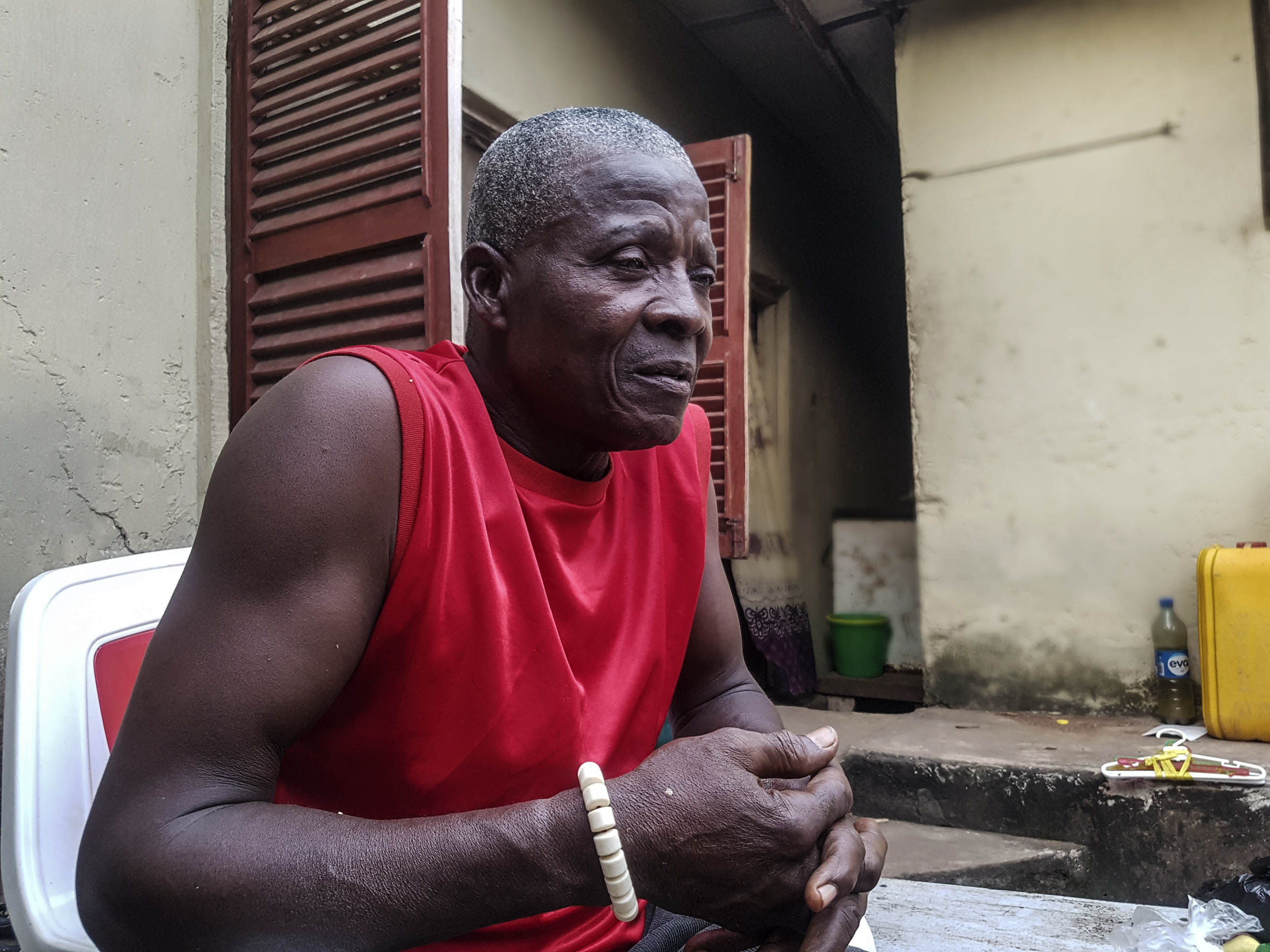 Native doctor Dick Omobude believes those who defy the Oba's curse will suffer. (Shola Lawal)
Solomon Goddy, a Benin City driver, said he has not seen a major change in attitudes. "Look," he saids, pointing at traders and buyers doing business in the popular Oliha market, "this is where the traffickers buy their juju material. See how busy it is."
Solomon doesn't believe the Oba's curse will make a difference. "Na everybody curse go catch?" he asks. Is everyone going to be cursed?