Empathy, a lack of ego and an understanding of how a visitor fits the exhibiting space were the tools of Clive van den Berg, designer of the permanent exhibition of the Johannesburg Holocaust and Genocide Centre (JHGC) in Westcliff, which opened officially last week.
"Tali Nates, the centre's founder, approached me about two years ago," he said. Establishing the centre was a lifelong ambition for Nates, a historian and daughter of Moses Turner, a Holocaust survivor saved by Oskar Schindler.
The building, which fronts Jan Smuts Avenue, designed by architect Lewis Levin, has been years in development. This exhibition, which tells the stories of genocides our world has weathered, from Armenia to Europe, Namibia to Rwanda, is a gem in the centre's crown.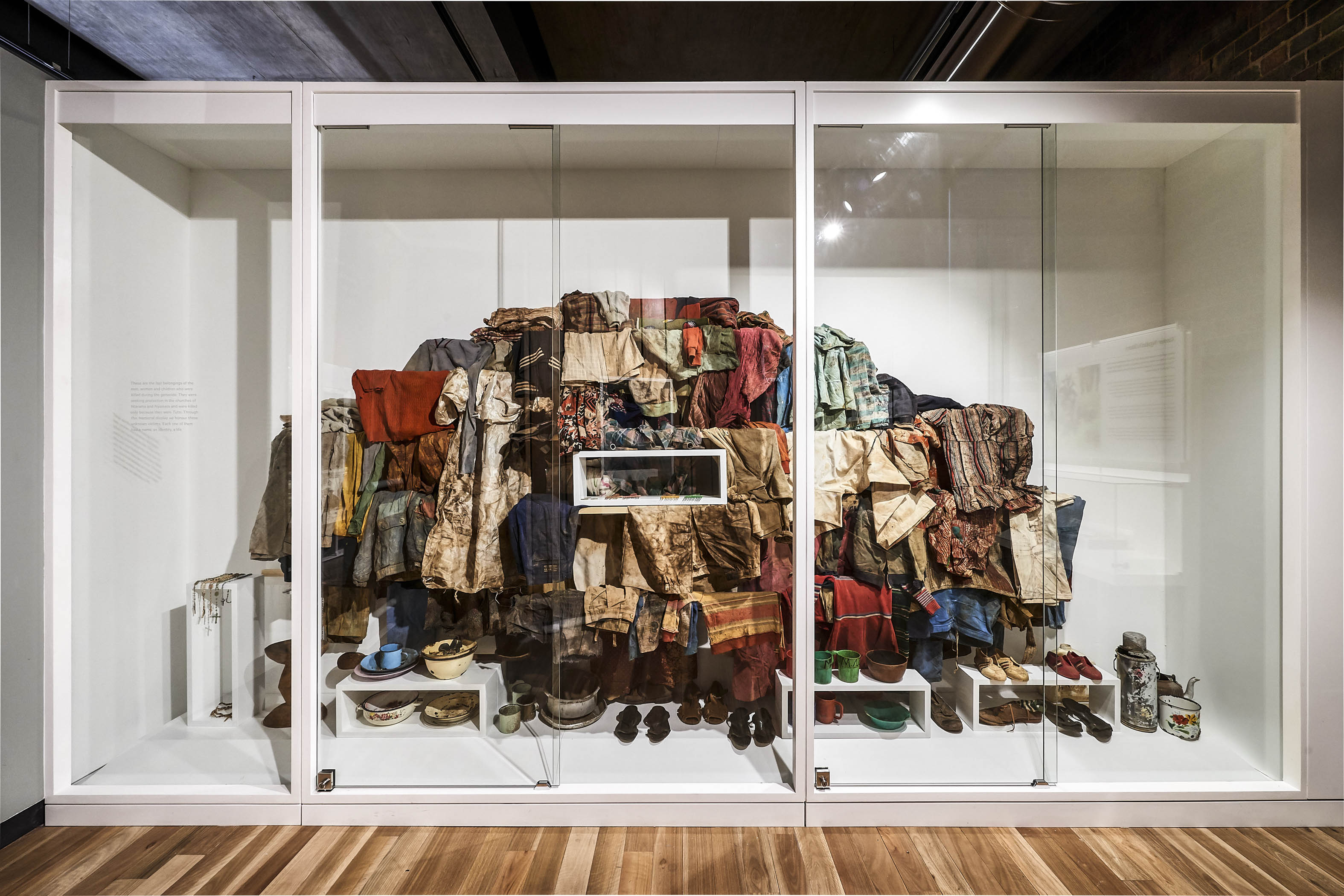 Everything precious: The Rwandan genocide is commemorated in a display of clothing from murdered Hutus and Tutsis. Photo: Anthea Pokroy
Van den Berg, who is also a prominent fine artist, with a number of public art works and museums under his belt, including Freedom Park, relished this project.
"My job was to take a narrative and honour it. It's not about my ego, as opposed to the studio work I do, which is. In making a museum, I'm answerable to a constituency."
His approach is adventurous and collaborative. About 15 years ago, the opportunity to redesign Constitution Hill was presented to him and a group of like-minded, skilled people, including researcher Lauren Segal, writers Mark Gevisser and Steve Mokwena, and artist Churchill Madikida. "We have been seeking and finding opportunities to work together ever since." In this project, Van den Berg was the designer, Segal the curator.
Working on the JHGC was like putting a puzzle together for Van den Berg; a puzzle filled with gaping holes and parts of people's difficult histories, dealing as it does not only with the European Holocaust, but also the Herero, Armenian and Rwandan genocides.
"The enormity of the raw material that had to go into this small space was terrifying. Eventually, we found a way."
The space is not jam-packed with information. "That would be lazy for the designer; boring for the visitor," he said. "Rather, I evolved an exhibition design focus, which I call a flexible grid system. The idea of truth changes.
"With this design system, it is easy to edit without having to change the museum's language. And this is important because museums get tired. The currency of knowledge shifts. What we do is provisional, particularly in South Africa, where the truth is being rewritten constantly. In 10 years, this museum will lose relevance. It's how things work."
As designer, Van den Berg's mandate included deciding what goes where, what colours to use and how to contain sound. It was about making technological choices with aesthetic implications.
But it was not all pragmatism. "There were many goose-bump moments for me. I met survivors. And their children. And in placing precious things with terrible histories, you touch people deeply."
Think of the violin once owned by Holocaust survivor Celia Boruchowitz. Or the little Rwandan child's school dress, in which she was murdered. These are intimate objects bearing history's stain.
Van den Berg also needed to focus on the visitor's gaze: "Historically, a colonial museum uses what is called the even viewpoint, 1.5m from the ground. The average adult's eye comfortably rests there. It's a horizontal viewpoint; your body never tells you you're looking at something exceptional.
"In this display, I deliberately play with scale and light boxes and other devices, which push the gaze up or down. I want people's bodily actions to tell them how to look and why. I want them to think, if I'm looking up, why am I looking up? If I'm looking down, why am I looking down?" And this was where industrial designers Eugene Marais and Hans Foster came into the picture, not to forget graphic designers Carina Comrie and Michael Tymbios.
The exhibition follows a trajectory through the idea of genocide into pre-Holocaust Europe, where you get to understand what life was like for European Jewry before Hitler took hold. The scale is domestic. And then you round a corner and the demon of Nazism rears up before you. Further into the exhibition, where the murder of millions in the forests of Europe is represented, the display is taken all the way up to the ceiling, emulating the trees.
As you walk through the space, you're aware of a multitude of elements, from the bricklaying to the sounds.
"Noise is one of the biggest challenges for museum design," said Van den Berg. "How do you make it not oppressive, aggressive, and not an assault? Partly, it's about technology. Each exhibition panel is made of a porous fabric. Behind that there is a gap filled with sound-dampening material. Without this, the sound would bounce back constantly.
"Involvement is completely seductive and vital. People don't read. They want to do; it's how they process knowledge." He explained how a decision was taken by Nates and Chaya Herman, who collaboratively wrote the script, to edit every post down to 150 words or less, for readability's sake. Instead of technological tricks, the exhibition has drawers to be opened, handles to be pulled and evocative 1930s telephones to be listened to; it's touchy-feely without being gimmicky.
And the bricks? "They're plastered in a style called English bond, which was used in Auschwitz's gas chambers. It comprises red burnt bricks, alternatively lengthwise and cross-wise."
Glass is another vital medium in this display. "It embodies light and makes the conscious act of looking reflexive, not passive. It's about transparency, enabling you to look back and forward."
The Holocaust is particularly tough to represent without cliché. For 70 years, the media and entertainment industries have been mired in Holocaust stories and images; shocking decades ago, they're trite for the contemporary audience. Conjoined to this problem is that of the violence itself.
Kristallnacht, an event at the start of active persecution of European Jewry on November 9 1938, also known as the Night of Broken Glass, is depicted by a Perspex box of ritual objects and broken musical instruments thrown together — and an astonishing photograph.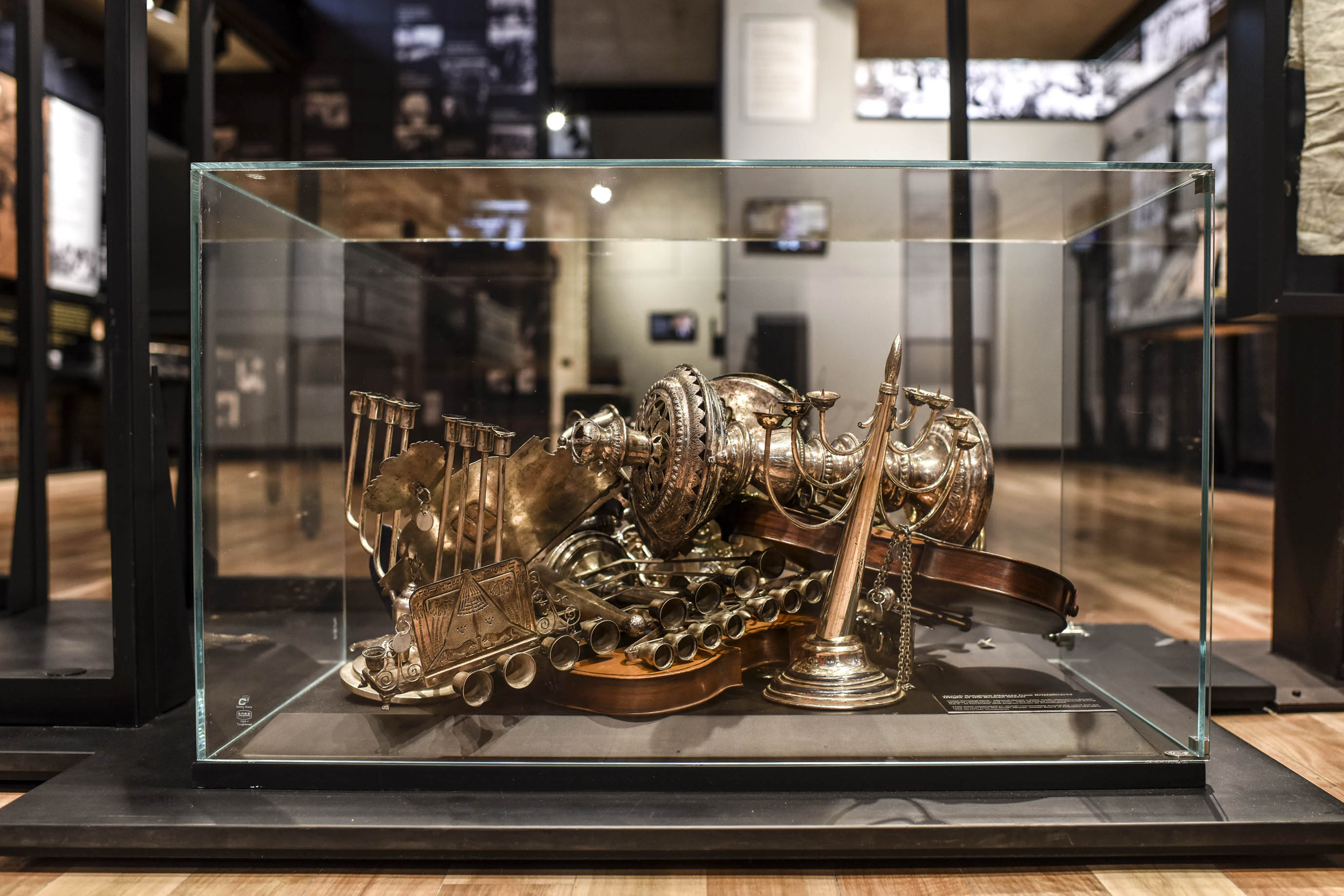 A perspex box of broken objects (left) forms a reminder of the violence of Kristallnacht. Photo: Paul Botes
"The Perspex box is violent but not explicit. People register something is wrong when they see it. And the blown-up photograph of a young tradesman sweeping up glass in the street with his broom, the morning after Kristallnacht, is fresh and deeply moving.
"The main thing in all of this is that the viewer isn't allowed to get bored and gloss over the display. I have tried to design these displays so that everything is given a kind of preciousness."
Glancing at a wall panel of 600 identity photographs of a whole community annihilated, Van den Berg comments: "You construct empathy by identifying with some [people], by making decisions about others. I wanted this display to honour the people and be beautiful without being schmaltzy."
The Rwandan genocide is the exhibition's final section. "Here we realised we needed a space where people could feel contained. Privacy is an important part of these experiences. A pod of wood is in the Rwandan display for this."
Arguably the moment of deepest horror in this exhibition is a display of clothing from Rwanda. Sourced from two sites of atrocities during the 100 days of genocide in 1994, they were taken from murdered Tutsis and Hutus.
"It was a huge challenge to me. I had seen photographs of the clothes. I knew about them. I knew how they are displayed in Rwanda. But I needed to make this display do several things: it had to represent mass — 800 000 people were killed … I wanted each item of clothing to give some kind of hint about the person who wore it, but not in an obvious way.
"This exhibition will grow in this space," Van den Berg added. "But the objects we will still receive will extend into the rest of the museum. This permanent exhibition is now opened; it's an exhibition which honours the subject, but which also speaks to children. It has been an adventure."