'Tiger! Tiger! Tiger! Tiger!" The chant rose like a tsunami, the ecstasy bouncing off the pine trees like the unfortunate shots of some of those who had pushed him all the way home.
After 11 excruciating years, Tiger Woods could throw back his head, raise his arms and roar his delight at getting another precious "W".
They don't actually do chanting at the Augusta National.
They don't do phones on the course, or cameras, or anything else that might distract the patrons who file into the pristine estate to observe championship golf. Patrons, not fans, mind you — Augusta will tell you there is a difference. They simply don't do loud and gregarious at Augusta because it is not quite in keeping with the feel of the place.
Generous applause, maybe. Spatters of emotion at something extraordinary, perhaps. And then the hush will gather anew and the US Masters retains its aura of almost spooky silence and supreme skill.
On April 14, however, some of those rules were broken. Shattered, even. On that Sunday, Eldrick Tont "Tiger" Woods initiated a primal chorus of exhilaration and no one around the property was complaining.
Doing it for his children
Make no mistake, Woods won, and he won big. He turned the clock back and made it clear that he is not done yet. For all the unbridled joy of his legion of fans, the victory means infinitely more to him than anyone in the world, save perhaps his family.
His children had never seen him win a Major. Not in the flesh, anyway. They had seen all the videos on YouTube of a younger beast who overwhelmed courses and beat down opposition in his prime. But young Sam and Charlie had never seen their father do it, nor had they been able to share the moment with him.
Woods has admitted to leaning on his children heavily during his back problems and physical debilitation. His children saw him grow old and lame overnight; this superman that the rest of the world knew, reduced to a hobbling homebody. They saved him once, at home, when his back seized up while he was practising in his back-garden facility in Jupiter, Florida. Had they not been around, Woods reckoned he might have lain prone for hours.
His children saw stories about their father needing to bow out with dignity, rather than humiliate himself under the unforgiving glare of tour life. Particularly in the age of Jordan Spieth, Jason Day, Rory McIlroy and muscle-bound brutes like Dustin Johnson and Brooks Koepka.
When he came desperately close to winning the Open Championship in 2018, it cut Woods deeply that he couldn't seal the deal for his children. It reduced him to tears, in fact.
They had flown over especially and he wailed into their arms when he left Francesco Molinari to soak up the glow of a nerveless victory behind him. When he again threatened at the PGA Championship a few weeks later, only to see Koepka rise brutally to the occasion, questions would have lingered for a long time in his head. Could he still win on the biggest stage? Was he now just a legend with a mighty reputation and an unquestionably glorious past with nothing to offer down the stretch on Sundays? Had he used up all of his happy endings? Was it his lot on Major weekends to merely threaten, and then stutter home?
Age and scandals
Those are uncomfortable truths that the very best have had to confront at some point. Woods is no longer 30 and bulletproof. He is 43, with a fused back, weary glutes, knees that are brittle and a medical record that belongs in a sports museum.
He is also not the saint he was seen to be at the turn of the century. When his private shenanigans became public in 2009, Woods's aura of untouchability was shattered.
As revelation after revelation came forth and his divorce played out publicly, Woods may well have considered retreating to an enclave that shielded him from it all — perhaps on his yacht, aptly named Privacy.
When he became a physical liability with chronic back problems and was arrested for driving under the influence of heavy medication Woods looked done.
His world ranking, once permanently accepted as number one in the world, shot out to beyond 1 000. That was in 2017. He expressed genuine fear last year that he might never play again competitively. It was that grim.
Unrivalled mental strength
But the one thing that separates Woods from almost anyone who has played the game — perhaps even any professional sports star — is his mental strength.
He has willed balls in from "outta town", when even logic had closed its eyes. He has always found a window through the trees, even from the tightest spot, and then had the nerve to pull off the outrageous shot. Time after time.
It says much about his physical ailments that even that unflinching mind had doubts about competing at the highest level again. And then September 2018 happened; a priceless win at the Tour Championship, his reward for a series of nearly moments.
The reaction to his victory at East Lake was cathartic. It was a moment for the game to give thanks and salute the magnitude of a moment that it feared would never come around again. When Woods wins, the game at large wins even more.
Not just with ratings and corporate millions flooding in for a piece of the promotional pie. No, it's more than that. The scene on his final hole at East Lake, when the fans swarmed in from seemingly everywhere, told the story of what Woods still means to people.
Perhaps he means even more to people now, having shown that he is human. Having shown that he is imperfect and capable of professional highs and personal lows. That his body, once the embodiment of physical prowess, had shown its fragility with advancing years.
Often, when the influence of prominent sportsmen and women is discussed, there is talk of them pushing the needle. Woods is the needle. When he wins, the world knows. And they react accordingly.
Behind him in the stands on the dramatic closing holes was the most decorated Olympian of all time. Swimming legend Michael Phelps was just as enthralled by Woods as the Joe Publics were. Across the country, tennis queen Serena Williams was in tears when she paid a glowing tribute to Woods and the depths of despair he had to dig himself out of to get back to the summit. Even his on-course rivals stood to congratulate him outside the scorer's hut. They know. The pros always know.
Incredibly, there were two holes in one on the final day. Bryson DeChambeau and Justin Thomas might have been headliners on another day, but they were barely a footnote amid the Tiger cacophony.
Slaying the demons
It was fitting that Molinari and Koepka stood obdurately between him and victory that Sunday. They were demons that he had to overcome and, deep down, he might have preferred it this way.
He looked Molinari dead in the eye and didn't blink this time. When the Italian blinked, Woods roused himself and left him for dead. For Koepka, the Tiger roars behind him got louder and louder as a murky Georgia afternoon simmered towards a saucy finish.
As the three-time Major winner readied himself to tee off on the penultimate hole, still one shot off the lead, Woods very nearly holed out his 8-iron on the 16th hole, leaving it two feet from the flag.
Instinctively, the crowd lining the 17th tee box joined into the roars, forgetting that Koepka required silence. He pulled away, but not before taking a sharp look to confirm that Woods had indeed pulled away even further, effectively putting one hand on a 15th Major victory.
The competitive fire in his belly would have crackled at that, because he had to watch Koepka throw darts at impossible pins in the last Major of 2018. It is a deflating thing to know that the gap you're so desperate to close is being stretched out even further.
That fire, that unquenchable desire to win anytime he tees it up, has served Woods well for decades. Exceptionally well. Now, in the autumn of an extraordinary career, this 15th Major victory has reopened a debate that most had considered was shut.
The Nicklaus record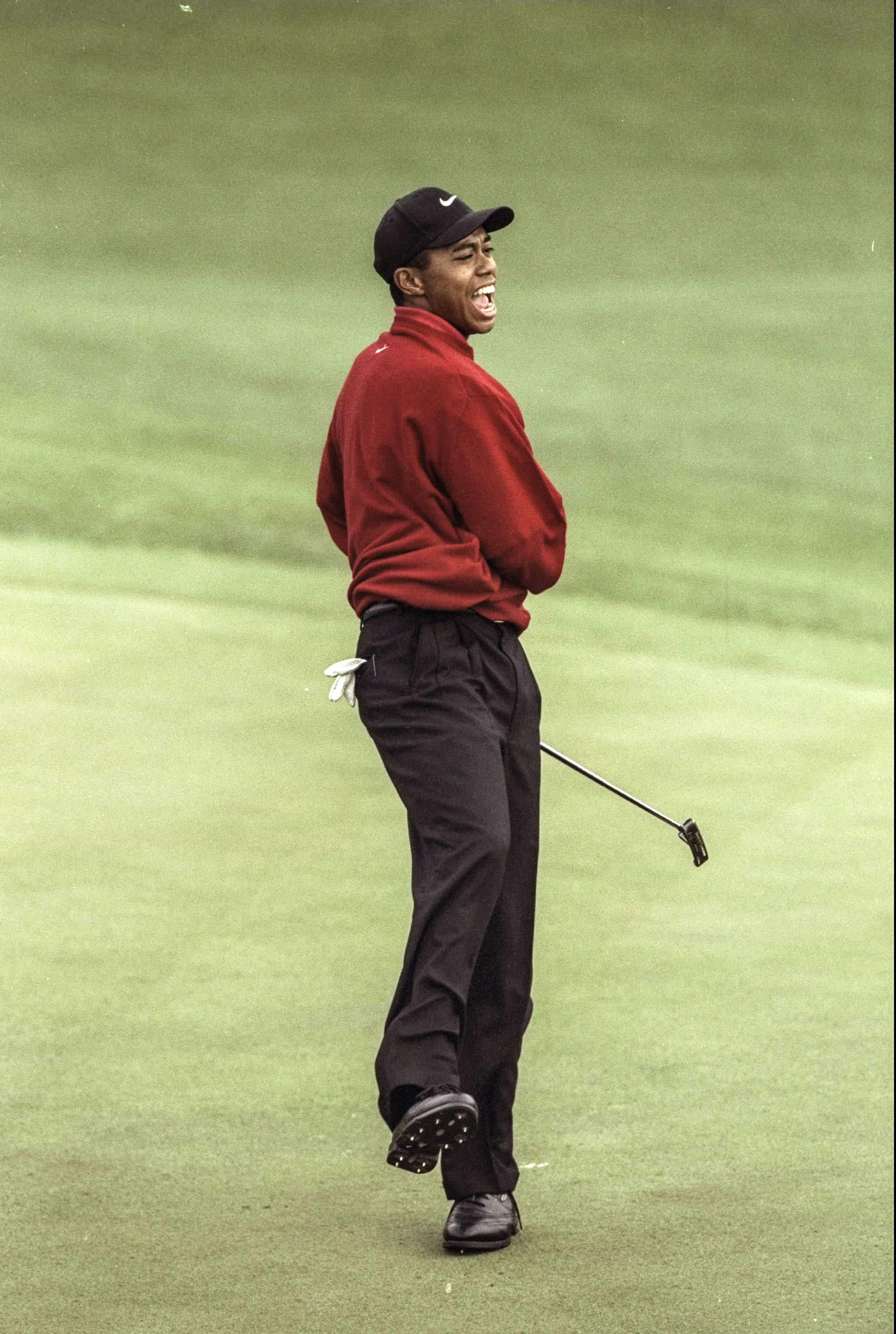 Turnaround: With 15 Majors in the bag, Tiger Woods has Jack Nicklaus's 18-title record in his sights.
Will Woods usurp the mark of 18 Majors set by Jack Nicklaus? The answer to that question had become a solid no in the past few years, but ask it again.
Nicklaus won his last Major, at Augusta, when he was 46. It revisits a question that Woods had asked himself as a young man, as he dreamt of becoming the greatest. Dramas, delights, disappointments and, decades later, that dream is still alive. Time looks to be on his side again.
He is hitting his driver better than he ever has and his towering irons are as imperious as ever. Crucially, he has also found that thing with his putter, that thing that listens when he whispers, "Why not today?" as he lines up a vital opportunity.
Woods didn't blow the field away for this 15th Major. It was hard work. He waited. And waited. And waited some more.
He has always maintained, like all the true greats in the game, that the Masters doesn't truly begin until the back nine on Sunday. And so it proved to be.
He stayed in touch for 11 holes before finding another gear as others melted away, on the most tantalising stretch of closing holes in the game. The repetition and ritual of Augusta, with the same pin positions on the final day every year, is its gift and its curse to the best golfers in the world.
You know exactly where to go on every hole, but plotting your way there is a different matter. As well-lit as the path to victory is, it is also dimmed by horror tales down the stretch.
Tiger's neck of the woods
Few players know the lay of the land better than Woods, which is why he waited. His victory was as much a conquering of his own desire to Tiger-line shots and take the path that steers away from danger. And he ended up standing in the middle of one of his most favourite places on the planet, screaming his red-shirted lungs out.
The roar is back and the game of golf is all the better for it.
As he clasped his 10-year-old son, muffling yet another scream of jubilation, his story at Augusta closed yet another chapter.
Woods won his first Major here 22 years ago, saying hello to the world. On Sunday, he told the world that he is not quite done. Not yet.
This is an edited version of a story first published by New Frame