The rise of the DJ has, with the 2008 economic crash, spelt the demise of many a musician. Venues would rather hire one DJ than a whole group of musicians — DJs play prerecorded tracks that sound great; patrons enjoy listening and dancing to songs they already know.
George Sax is one of the few musicians who found a way to play his own particular style of jazz alongside the best modern DJs out there. He adds a live visual element and enhances their music.
He's a widely travelled musician, having played professionally in 21 countries in the past eight years. In his "second home" Ibiza, he's held residencies at clubs such as Space Ibiza, Pacha, Café del Mar and Nikki Beach.
Locally, Sax has shared the stage with Goldfish, Uhuru, Jack Mantis, Napalma and Mango Groove. He's also worked with Loshalaba Reggae Penetration from Botswana, the Havana Soul Band in Miami and Clifford Brown's band in Palma, Mallorca.
Along the way, he's collected a number of anecdotes. Among my favourites is the ballsy way he broke into the club scene in Ibiza.
"When I arrived in Ibiza in 2012 I didn't know a soul," he says.
"I decided I wanted to play at the best club in the world, but money was really tight, so I walked two hours to Pacha.
"When I arrived, there was a long queue around the block and an €80 entrance fee. I walked up to the door and said to the bouncer, 'I'm George Sax from South Africa … I'm here to play.' He politely let me in and wished me a good show. I was lucky: you can get seriously beaten up for trying that.
"I went up to the terrace, where I saw DJs Andy Norman and Mo'funk from Hed Kandi playing. I asked if could play a song with them, but they weren't keen as they didn't know me.
"Eventually I said to them, 'Look, let me play just one song, if you don't like it I will stop immediately.' They grudgingly said okay and I grabbed the opportunity with both hands. I played one killer song and the crowd went crazy — everybody was crowding up to the DJ box — as I was about to put away my gear, they said 'No, wait, carry on!' So I did.
"Pacha's booker at the time asked me what I was doing next Friday, and I said: 'I'll check my schedule.' And that's how I got into the most exclusive club in the world."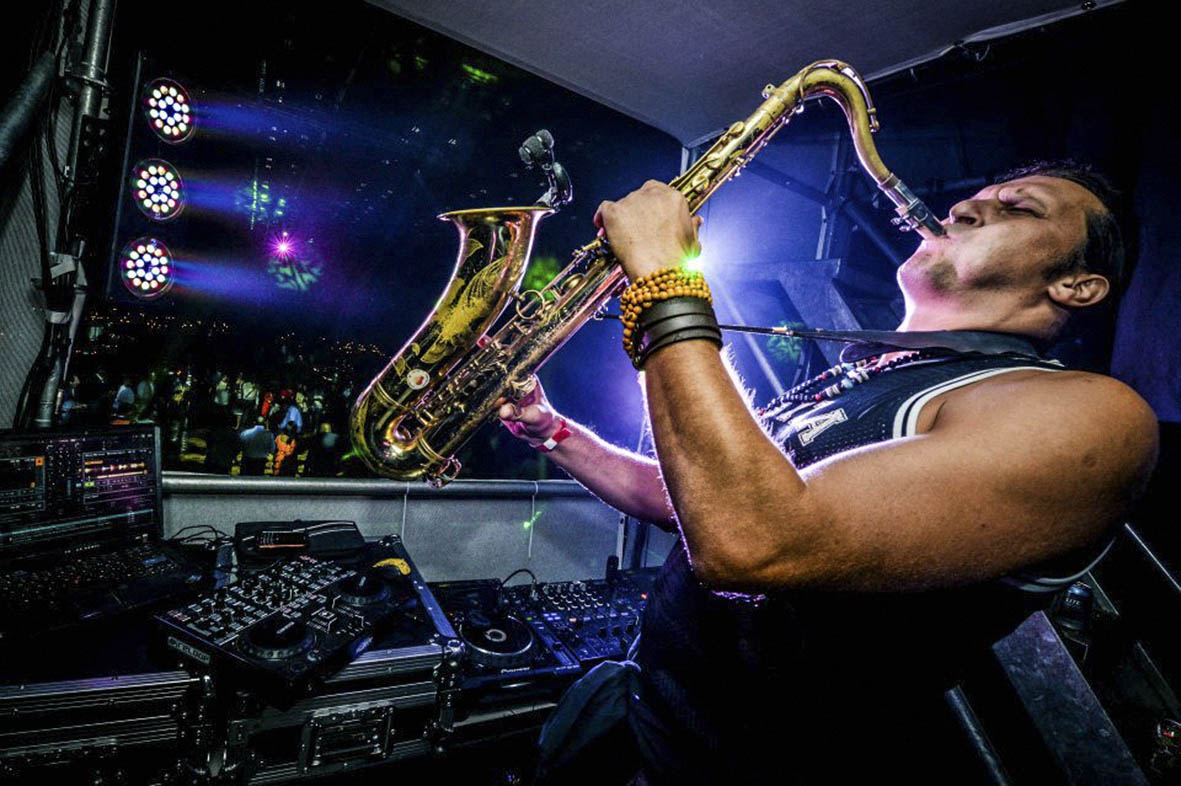 Playing his heart out: Musician George Sax has taken his music all over the place, from the sky to the best clubs in Ibiza. (Supplied)
Sax started playing with DJs in South Africa before he hit Ibiza, to the scorn of many of his fellow musicians. "The jazz and rock community totally ostracised me, claiming that I had 'sold out' to electronic music and what I was doing was not 'real music'," he says.
"I saw it as a completely new style of jazz — all the elements were there ­— improvisation, freestyle and spontaneous creativity was what it was all about."
It's not as though Sax hadn't earned his stripes in the local jazz community. In the 1980s and early 1990s he worked at Bassline in Melville, where he met members of the Elite Swingsters and The Jazz Pioneers. They took him under their wing and mentored him, affectionately calling him "grandson".
"They would sit at the bar and teach me licks, invite me to their homes and let me sit in at their gigs."
Sax learned from Mike Makhalemele, Barney Rachabane, Chris Tokalon, George Lee, Ekkie Eckhart, Charlie Sayers, Allen Kwela, Big Voice Jack and Johnny Fourie.
"Mac Mackenzie, McCoy Mrubata and Khaya Mahlangu also taught me a lot," he says.
A story from 1990, when South Africa was on a knife-edge, illustrates how Sax was still finding his sea legs in the music world: "When I first started playing I was introduced to the Elite Swingsters and Dolly Rathebe. It was the year Nelson Mandela was released and things were pretty tense.
'At the time I was the token white boy; the band was pretty hard up after years of apartheid and abuse, but they welcomed me in and taught me the art of African jazz. I helped by letting them use my car and my at-the-time limited abilities as a saxophone player.
"One night they told me we were playing at a club in Hillbrow, which was rough, even then. The band bought some meat and made a braai with it on the street at a shisa nyama, and from there we went to Mi-Vami.
"I was disappointed with idea of playing in a dodgy, empty takeout spot. They laughed: at the back of Mi-Vami was a door with an eye slot in it.
"We went up to it and they let us in. Clearly this was an illegal underground place; the threat of police bursting in and arresting everyone was pretty real.
"People were very nervous about seeing me there — they weren't sure who I was. Some people even bumped me as I walked in and I could understand some of the angry comments in isiZulu about what I was doing there. The band took me backstage, where they explained to me that most of these guys were Umkhonto weSizwe and had just been released from prison or returned from exile, so they were angry, but we were going to play for them.
"So I closed my eyes and played my heart out. It was Ntyilo Ntyilo, the African jazz ballad, that won them over. After that, everyone was buying me beer and calling me 'brother'; I guess they could see that I was sincere and my music was from the heart.
"After that we were invited to play at Nelson Mandela's birthday party — he shook my hand and danced with us while we played. Helen Suzman, Thabo Mbeki and George Bizos were there. We showed people that the new South Africa was all about us working together, and music was the glue."
These days, Sax has become his own DJ, mainly because he believes the quality of DJing has taken a huge dip over the past few years.
"I can often do a better job myself, so I do, and in the course of my travels I have collected an unbelievable selection of unreleased music.
"But I actually prefer to do either one or the other: I would rather focus my energy on sax with a great DJ, then focus on my DJ set while also playing sax. It's hard to focus on both disciplines simultaneously."
He believes that learning to DJ has improved his sax playing: "Playing with a DJ requires a very different approach to playing with a band — that's the mistake many amateurs or artists crossing over from other genres make.
"By learning the art of mixology, I have the ability to understand exactly where a DJ is in the mix. When to add or subtract sound is key to your function as a live house musician, namely, enhancing the musical experience for your audience, not overpowering the music with senseless, egotistical riffs and endless solos. Be one with the mix!"
Sax is very organised: he has set up his own company and site, called George Sax Entertainment (GSE).
"In order to service high-end clients you need a registered company to able to do business with them. GSE's main function is to generate work for artists. All the artists on the site are people I have worked with or alongside with; it's such a pleasure when I can call them up and say: 'Hey, I have a gig for you.' "
He's also set up his own music studio, called Saxlab, where he writes music, produces tracks and videos and does music recording. Saxlab is linked to his record labels, George Sax Records and THT Music, which he uses to release his music.
The studio, labels and company will eventually link to the George Sax Foundation, which will be set up in order to nurture young talent in South Africa.
Between the playing, recordings and travels, the jazzman has also found time to set a world record: for being the world's highest free-fall saxophonist.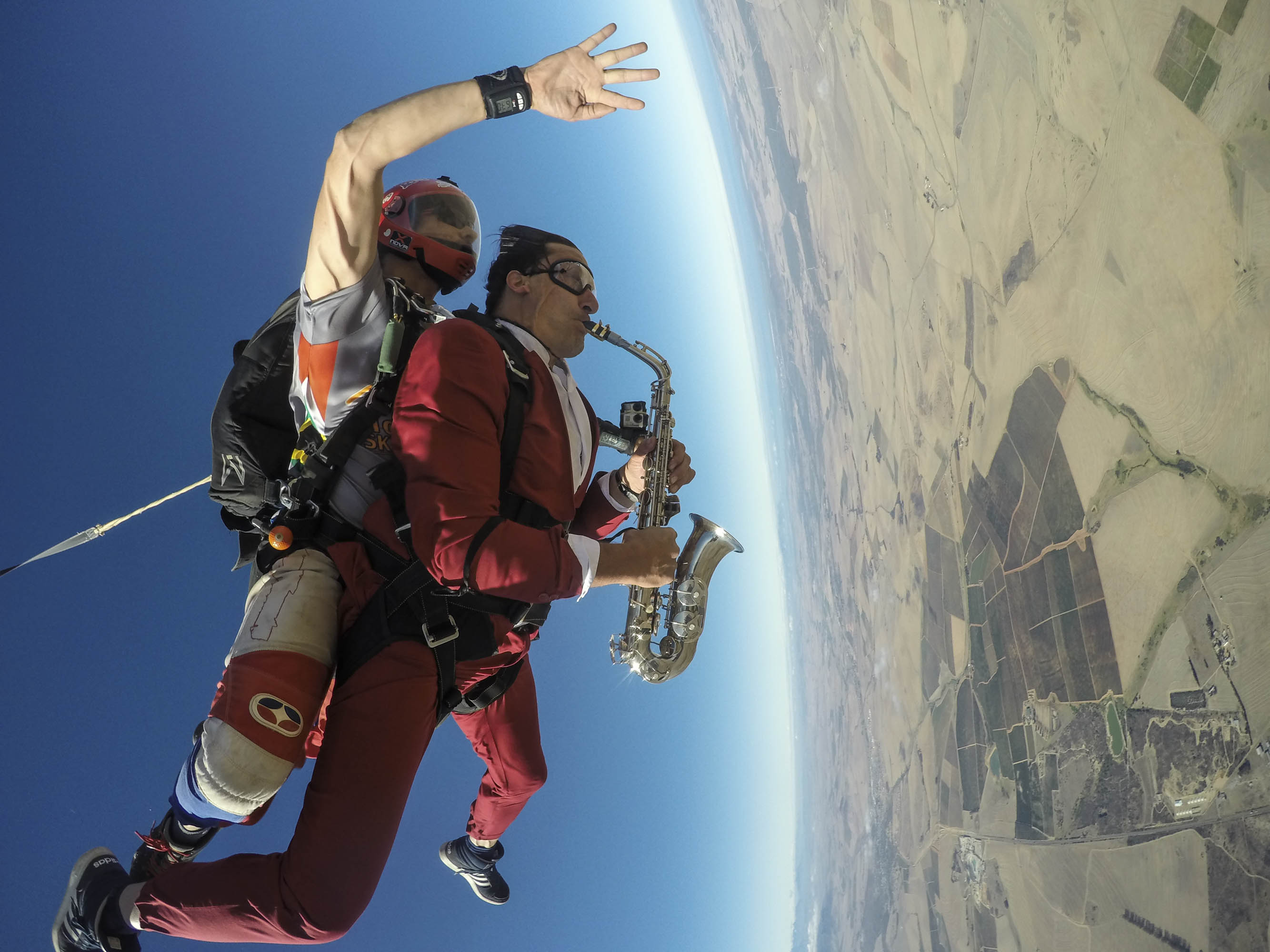 George Sax plays the sax while travelling at 195km/h with the help of Mother City Skydiving. (Supplied)
This wasn't achieved by smoking a bakkie-full of weed, but rather by skydiving while playing his horn. With the help of Mother City Skydiving, he pushed out notes from some 3 600m, while travelling at 195km/h — a record verified by the Parachute Association of South Africa.