For Claudio Bueno, growing up in Vila Nova York, the lower middle-class area on the outskirts of São Paulo, was hard. "It was very homophobic," he says, adding that racism and threats of violence were also ever-present realities. Not feeling at home in the district he called home, he eventually moved to the city's more bohemian and accepting inner city ("so that I could be with my people").
Years later, the three-bedroomed home he was raised in was empty; Bueno decided to actively work at changing the bad memories of growing up there into fonder ones. And what better way, he thought, than to get a troupe of artists — queer folk, black folk, women folk — to occupy not only the house but also the everything-phobic streets around it.
Bueno established an arts collective under the banner of Explode!, in collaboration with his long-term partner João Simões.
"Many bad things happened there," the 36-year-old says of his years growing up in that district. "So for me it was important to be there with a group of people living there and trying to understand all of these things: the woman's body, the black body, the LGBT [lesbian, gay, bisexual, transgender] body. Doing the residency in the place I grew up in … I did it to re-understand my body – our bodies — in that area."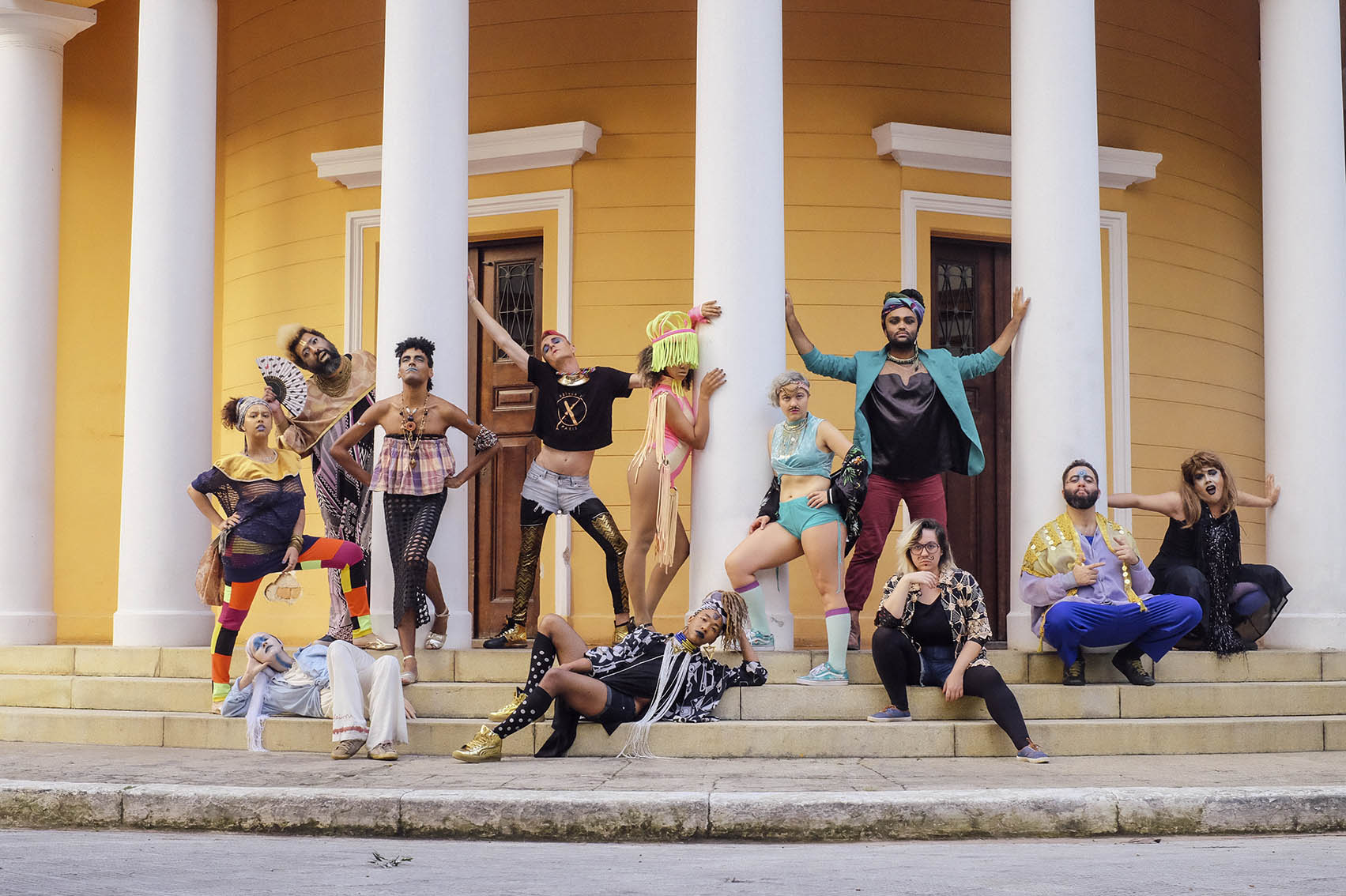 Members of the Explode! arts collective in action. (Leandro Moraes)
The 12 participating artists in the collective's 2015 residency were made up predominantly of Brazilian artists (mostly from São Paulo) as well as members of New York-based sound-art collective, Ultra Red.
It not only saw these "othered bodies" dialoguing among themselves around issues of race, sexuality and gender, but also taking to the streets to engage with the largely conservative community around them.
"There were lots of Christian churches close to the house. So it was complex," Simões laughs.
We are having coffee at the Cape Town bed-and-breakfast where the couple have been staying for their participation in the Institute for Creative Arts' Live Art event, where the documentary Queer City — which centres largely around this residency — was being screened.
Recalling some of the residency's activities, Bueno says: "We were doing vogua (vogue and yoga) on the streets every morning. And, you know, the people [in the community] were like, 'Oh it's beautiful, they are doing something beautiful'. It was not aggressive. More like, 'Oh nice, we want to see it more'.
"I know that people don't take the fascism from their hearts immediately, I know it's a process. But at the same time…" he trails off.
By way of illustrating the conservatism they faced, Simões says: "One of the trans women [who was part of the residency] went to the corner bar and asked for something and when she had to pay, the guy said, 'Put your money down here on the counter … I don't want to touch your hand'. Things like that. But at the same time, that was the beginning. That guy then ended up living for ten days with these people dancing vogua close to his bar. And maybe something in him changed. I don't know. It's difficult to find a measure."
Bradley Rink is a senior lecturer at the University of the Western Cape, whose speciality areas are "mobilities, cities and urban identities".
He says, "Sexuality, as one of the elements of identity, is articulated very much through and with space. We perform our identities in space, whether in the home or public space," adding that, for queer people, navigating spaces "is always about negotiation and contestation.
"Queers in public space always have to negotiate who they are and what their immediate environment is, and to what extent they will be safe and welcomed and part of that environment. So it's always about reading a space — whether consciously or not — and either fighting or fleeing from that space," he says.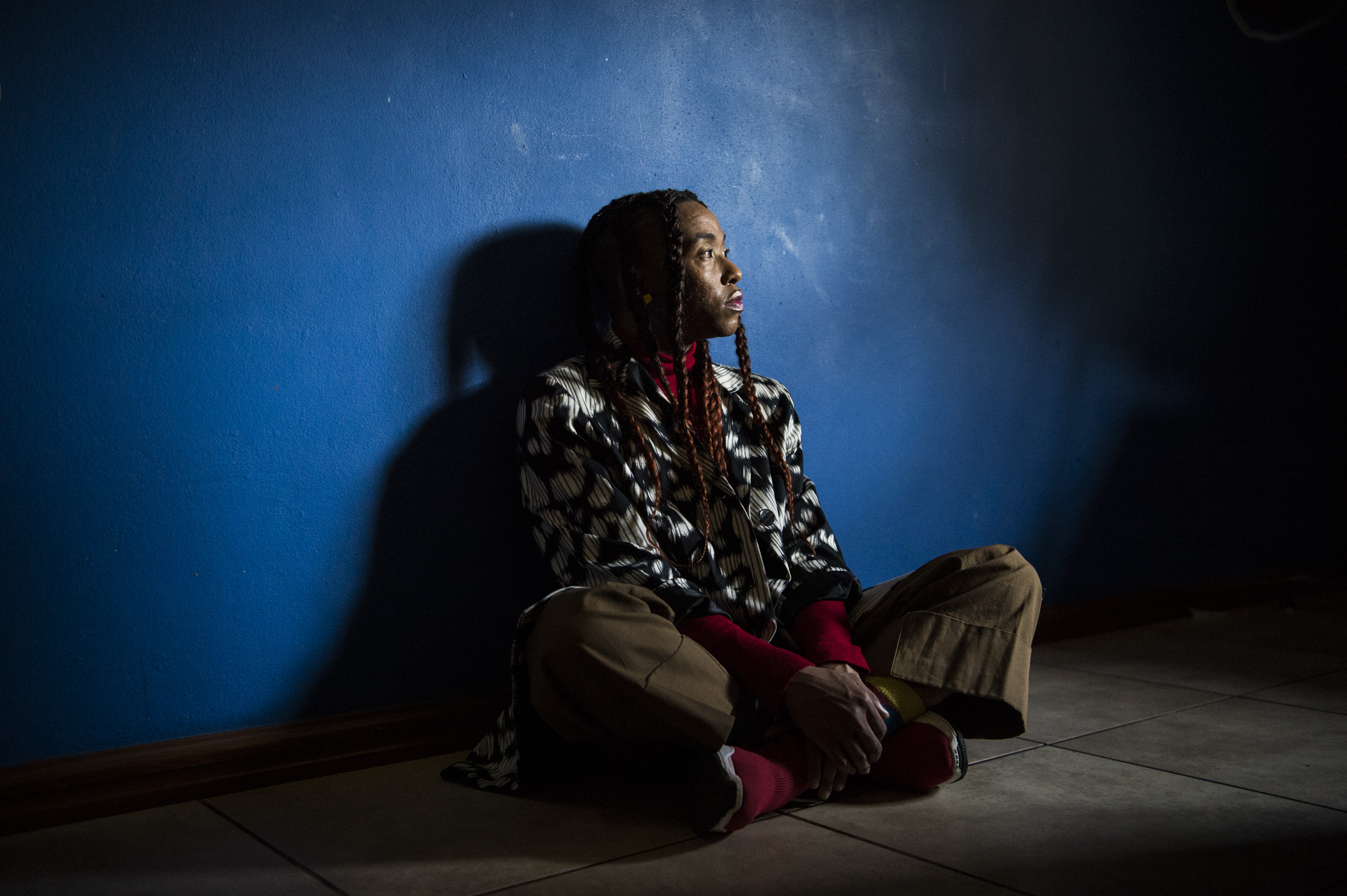 Fleeing was never an option for South Africa's Umlilo. (Delwyn Verasamy/ M&G)
For South African musician and queer rights activist Umlilo, fleeing is not an option. In December 2016, Umlilo (who identifies as non-binary, so prefers the pronouns 'they', 'them' and 'their') was among a group of queer people who took to the streets of Cape Town for what they simply dubbed a 'queer walk'. The idea behind it, they say, was to "showcase visibility of the queer community and document how the people were interacting with these queer bodies".
The walk attracted only about 20 participants, but for Umlilo "it was really very powerful".
Wanting to keep this moment's momentum going, a similar walk was planned for Johannesburg. But their home city proved to be "really challenging" for numerous reasons.
"Johannesburg is really quiet in December. Also, we struggled to find a central space. In Cape Town, we had this flat where we met and got dressed and ready together. Which is a very important part of a queer walk. To have this camaraderie and building up confidence through the ritual of getting ready. But in Johannesburg, what we found was that it was very difficult getting everyone together and finding a route that was still engaging with the public, but was also safe. So we decided to postpone it."
In 2017, when they, with other queer Jozi folk, were being filmed for the i-D magazine documentary, Out of This World with Mykki Blanco, Umlilo came up with the idea to instead "visit various spaces that have strong queer history in Joburg".
Having come to the attention of the Explode! collective, Umlilo was invited to participate in a series of workshops and a tour performing around São Paulo. The series of workshops culminated in another queer walk — this time through the city of São Paulo. "One of the most exciting things," they say.
The walk ended up at the graveside of trans rights activist, Andréa de Mayo. "Her family was Catholic and didn't want her chosen name on her gravestone. Instead, they put her birth name on it. It was after a couple of years that the government actually allowed for the gravestone to be changed to her chosen name. The site is pretty historic in that way and so we paid our respects there."
Along with queer walks and, of course, Pride marches, there is also the relative new kid on the rainbow-coloured block, guerilla gay bars, where large groups of queer people descend on a bar or similar establishment, both to challenge its heteronormativity and claim their space.
"I love that idea …" Umlilo says of the guerilla gay bar concept. "Because, even though I consider myself well travelled, well educated and very aware of the global culture and space, when I am back home in Johannesburg, I still feel very, very alienated as a non-binary, black, queer body.
"I have to overthink what I wear. I have to really think about my route that I am taking; what I am going to encounter on the road. And I think those kinds of social anxieties are created because of the general culture of non-visibility. We are in a very cosmopolitan city [Johannesburg], but there is also a lot of conservatism; the kind of conservatism that makes people feel they can exert this power over other people's bodies."
For Rink, these deliberate initiatives aimed at the queerification of spaces can be a double-edged sword.
"What they do is liven people's sensitivities and awareness. But on the other hand, they also activate the ire of those who might see this presence as an undermining threat. We geographers will always see space as a constantly contested and negotiated idea that is always in a state of becoming. Which is very queer in itself, because queer theory argues that we, as individuals are always in a 'state of becoming'. Becoming something else."
For Umlilo, too, actively pushing for greater queer visibility — with a commitment to intersectionality — is not a self-serving pursuit.
"My friends and I, even when we are just going to the mall, there would be a group. There'd be heterosexuals, queers, trans people. And what is really cool about that is that, when an outsider looks at this group of people just doing their groceries or whatever – and they're from all these different vibes but can coexist in this peaceful way — maybe that offers a suggestion to them … [that] they too can be themselves. That they can also be who they want to be."
Years after having invited queer artists into his family home, Bueno says he feels "much better" about the area where he was raised.
"It's actually not a conceptual thing, you know. It's simpler. It's this kind of relation … between humans," he says, pointing to Simões and me sitting across from him. "We are producing knowledge and a very tangible knowledge that you feel in the bus every morning, that you feel in your black skin. This is a knowledge that's not in the university, but it also moves the city forward. It moves people and the culture forward."
Carl Collison is the Other Foundation's Rainbow Fellow at the Mail & Guardian.