Towards the end of January, Mandla Mlangeni and his band, Tune and Recreation Committee (TRC), were on tour around the country promoting their latest offering, Afrika Grooves with the Tune Recreation Committee.
One of their stops was The Drawing Room café in Observatory, Cape Town. Sitting all the way in the back of the crowded room alongside musicians, poets, students and activists, I encountered aspiring 23-year-old jazz artist Zwide Ndwandwe. He plays the bass for Kujenga, a locally based jazz and Afro-soul band on the rise. Seeing that the TRC jam was about to start, Ndwandwe and our respective friends decided it was best to adjourn our conversation and take it to a bar afterwards.
"Yeah man, the Cape Town scene is cool every now and then but Jo'burg is where it's at. That's why we're keen to move there once we come up," explained Ndwandwe later between sips of merlot at the crowded bar.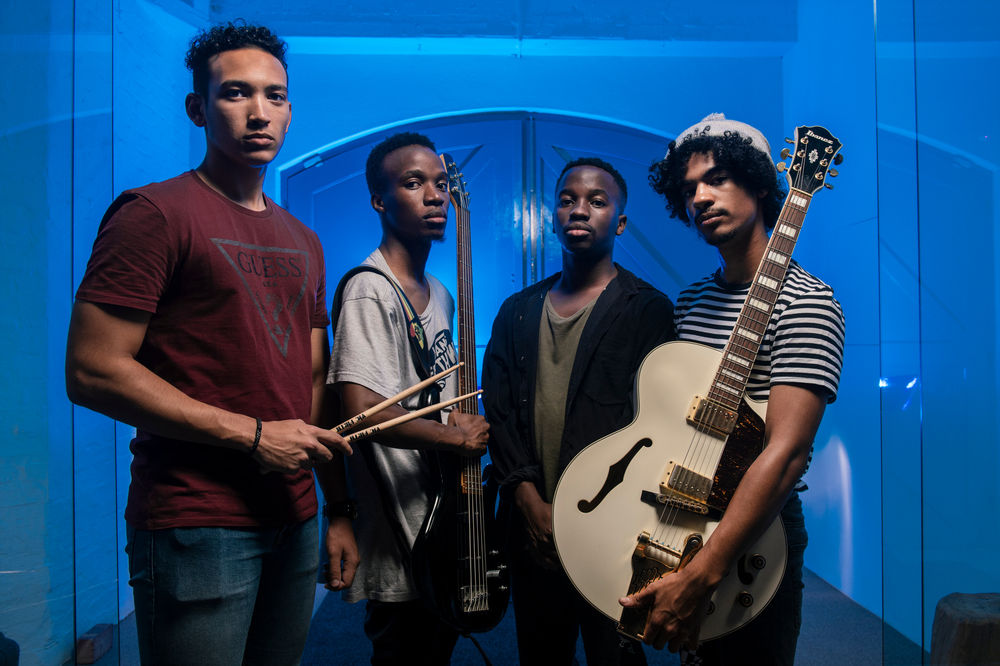 Mobile: Zwide Ndwandwe (second from left) of Kujenga believes that moving to Jo'burg will benefit his band. (Mpumelelo Macu/Red Bull Content Pool)
After this conversation, the Mail & Guardian pondered the age-old idea that artists need to migrate to thriving cities in order to maintain or grow their craft.
Recently Ndwandwe and I caught up on our migration conversation after it had fizzled into talk about other aspects of life in Cape Town.
"South African College of Music at UCT [the University of Cape Town] where a lot of the musicians I know went once they were done with high school. After finishing their degrees, they moved to Jo'burg," says Ndwandwe. He then goes on to list Benjamin Jephta, Sisonke Xonti, Kyle Shepherd, Shane Cooper and Marlon Witbooi as examples of musicians who have followed this route.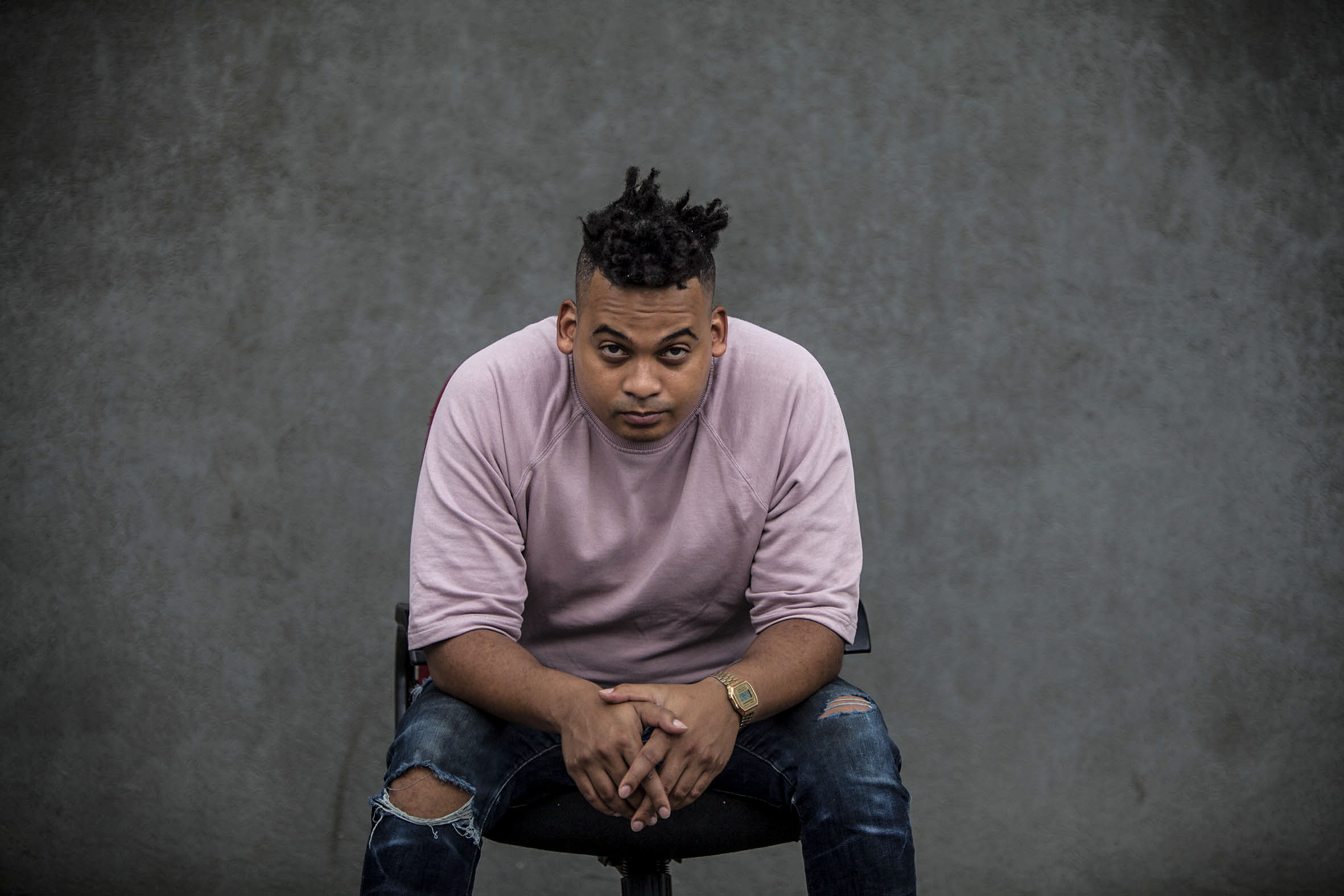 Drummer and rapper Marlon Witbooi says there are more versatile musicians in Johannesburg and he's been pushed out of his comfort zone. (Oupa Nkosi/ M&G)
READ MORE: The rhyming drummer: Marlon Witbooi
According to Dr Bradley Rink, a senior lecturer at the University of the Western Cape's geography department specialising in human geography, migration is built on the push-pull theory; "the idea that migrants get pushed from their place of origin … and pulled to their destination". He goes on to list factors that contribute toward the push-pull, such as work opportunities, safety, climate and affordability.
The British Council facilitated a question-and-answer session which asked: Should you move to a city for your creative career? Andy Pratt, a professor of cultural economy at City, University of London, ran the session. He unpacked the idea of artists' migration by explaining why cities are an appealing stronghold for creatives.
When asked why creative industries tend to thrive in cities, Pratt says it has to do with the large volume of people in cities and their provision of a diverse range of skills, ideas and opinions.
He simplifies it by saying: "You need enough people to form a theatre company or to fill the seats of an auditorium," and that artists need "a challenge to produce new ideas and creative solutions".
On the homefront, visual artist Penny Siopis explains how her move from Durban to Johannesburg, during the 1980s, resulted in a formative shift. Her move was as a result of an opportunity to teach at the University of the Witwatersrand's department of fine arts. In addition to the job, she says the city's engagement with "debates on struggle politics and post-apartheid culture" informed her art practice thereafter and ignited the expansion of her medium to include video and installation.
Curator Brenton Maart, himself an itinerant artist originally from the Eastern Cape, adds how Clive van den Berg, Jeremy Wafer and Peter Machen also left Durban for the brighter lights of bigger cities.
Maart then goes on to mention witnessing the dulling of Durban's then booming arts scene: "Durban used to have a great collection of visual artists. I mean, some of the leading artists lived and worked in Durban. Even some of the country's leading musicians, composers and bands came out of Durban. That was in the 1970s and 1980s. And then there was a massive movement of visual artists, musicians and theatre makers toward Johannesburg."
Those who were a part of it say the exodus was a result of Johannesburg's offer of a variety of work opportunities, ranging from art in academia all the way to creative work in the corporate world.
Of course, for black South Africans the scenario was different: "We have to look at pass laws, the development of cities during apartheid, and the fact that the system was actually really hostile for black South Africans," says Rink, suggesting that the opportunities that were available to those like Siopis were not there for everyone. Today, however, black creatives continue the artistic migration apace.
Sinazo Chiya, writer, press officer and media liaison for Stevenson Gallery, left Durban to study art history and English at Rhodes University. Chiya left home to expand her horizons and feels it was the right thing to do: "In terms of the professionalised art world that exists now, I think the choice that I made made me a viable candidate for this particular world," she says.
After four years at university, Chiya relocated to Cape Town for an honours in curatorship at the Michaelis School of Fine Art. She has been in Cape Town ever since.
Although she visits home every now and then, she doubts her movements will see her going back to Durban: "Generally, my trajectory has focused on my education and growing it. The scene at home lacks a particular criticality that Jo'burg and Cape Town have and I think that's also tied in with the fact that there are robust art institutions upholding this standard."
Although the intercity exodus expands and continues what Rink refers to as "leaving a void", there are those, such as Russel Hlongwane, who actively work to fill this gap.
Hlongwane is a cultural producer and creative industry consultant based in Durban. Last year, he described his vocation to the M&G as "producing and assembling culture" through an entity called Substance.Point.
He does this by offering creatives support and instruments that will help them make a living, through partnerships with European cultural institutions.
Hlongwane's area of interest in the arts has to do with "the intersection of heritage, modernity, culture and tradition" and has been this way for almost seven years.
In a recent interview with the M&G, Hlongwane said he is aware of the difficulties that come with being geographically removed from the creative hub that is Johannesburg.
"There is a very strong infrastructure in Johannesburg," he says, in reference to establishments such as the Market Photo Workshop as well as the headquarters of the National Arts Council and the National Film and Video Foundation.
"That creates a mood, tone and an attitude to the people in and around the area. In a very soft way, that makes people aware that they can access those spaces. For those living further away, this is much harder because they are physically not there."
The exit of a large number of artists from Durban, however, has given Hlongwane room to develop a creative economy specific to this city because he can "tinker away from the limelight".
In the beginning, Hlongwane had to work through there not being a great reception for creative interventions in his city. Yet, through "constantly reinforcing ideas and finding new ways to articulate" the importance of engaging with arts and culture, he has managed to build interest, expectation and demand.
With all that being said, are creatives destined for migrancy? Should we all relocate to cities with established art strongholds to have flourishing careers, or should we toil the homeground and reap its harvest?
The answer isn't a clear-cut left or right turn. One must also factor in whether artists identify with the concept of home being where one is from and whether that space welcomes them and supports their craft.
The pushes and pulls that need to be considered are not just economic. They have to do with one's relationship with the place; its muses.