The South African Broadcasting Corporation has laid a charge of "stolen property" after the Mail & Guardian Online posted an episode of Special Assignment on political satire on the web.
What the SABC wouldn't show you
The public broadcaster won't put this on air. We will. Watch the uncut version of the Special Assignment documentary on political satire.
The public broadcaster pulled the episode on Tuesday evening, citing "internal processes", after initially pulling it just before the elections in April.
The documentary takes a look at political satire in South Africa and explores the fact the President Jacob Zuma is suing award-winning cartoonist Jonathan Shapiro for millions of rand, for among others, a cartoon portraying him about to rape Lady Justice. Shapiro drew this cartoon as Zuma was involved in a court bid to have graft charges dropped.
It also features interviews with satirist Pieter-Dirk Uys, who said that satire "is the only weapon we have — the weapon of affront through laughter".
Uys said Zuma's most important commitment was to the protection of the Constitution that guarantees the freedom of speech and expression.
"If Jacob Zuma, President Zuma, is intending to sue us I challenge him to put me on top of his list because I will never, ever, ever allow him one moment's peace."
SABC spokesperson Kaizer Kganyago told the M&G Online on Thursday afternoon that the case of theft would be laid at the Brixton police station.
Kganyago said in a statement that the corporation viewed the action by the Mail & Guardian Online as "unprofessional" and that it had undermined the public broadcaster and the "public at large".
M&G editor Nic Dawes said on Thursday afternoon that it was precisely the M&G Media's professional duty to make material of this nature public.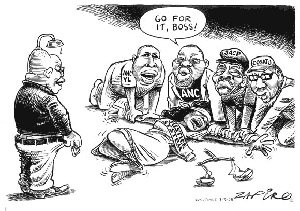 "The SABC is a public broadcaster with a constitutional mandate to serve the people of South Africa and to do so without fear or favour. The Mail & Guardian believes that the public have a right to see for themselves the episode of Special Assignment which the corporation has twice pulled off the air. The SABC can be an extraordinary force for good in our national life but it is being squandered by greed and inept and politically compliant leadership.
Dripping shower
Zapiro usually portrays Zuma with a dripping shower attached to his head. This was in response to a comment from Zuma during his rape trial in 2006 in which he stated he had showered after sex with his HIV-positive accuser.
Shapiro has since detached the shower from the now president's head, telling the South African Press Association that: "I thought I will take stock of where we are and give the presidency a chance to get going."
Referring to the shower, ANC spokesperson Jessie Duarte says in the documentary that Shapiro had taken a comment in the court case out of context and then used a "derogatory" image — a shower — "and thought that that would be funny".
"I don't think he's [Shapiro] a small fish in a small pond. I think he's a cog in a wheel … of right-wing elementary journalism that looks at people from a very one-sided viewpoint and doesn't allow for the opposite views to come through," Duarte says in the documentary.
"I think Jonathan Shapiro should be taken to court where a court can hear his side of the view and Mr Zuma's side of the view and where it can be decided whether he should punitively pay for his race and class bias."
Zuma is currently pursuing about a dozen cases of defamation, a spokesperson said on Thursday.
Liesl Göttert, spokesperson for Media Specialists, which is handling Jacbo Zuma's media defamation matters, said there would be clarity after a meeting next week with Zuma's lawyers on the exact number of defamation cases.
She said some of the cases had been settled, others withdrawn and still more cases added.
Göttert said Zuma would not institute a civil campaign if he wasn't prepared to go to court.
"It is every citizen's right to seek remedy through the judicial system if they feel they have been wronged. Just because he's the president he should't be a punching bag."
No deal
Shapiro told the Mail & Guardian Online on Thursday that he thought Zuma wanted a retraction, an apology, or a settlement.
"From my point of view there's no deal. I stand by all the cartoons.
"My sense is that it's very unlikely that they will find their way into a courtroom. That would entail the president pitching up and being forced to testify in the witness box. If there's one way of getting the world's media into a courtroom, this would be it. It would be unusual and bizarre for the president of any country to be in a court, in the dock, with a cartoon being held up in front of him.
"I cannot comprehend this country going that far into a bad place; there's been enough problems."