The world is looking for new solutions to counter the effects of climate change — and South Africa is no exception.
But already the country's researchers are coming up with innovative solutions to deal with energy, the environment and biodiversity.
Here are the some of the champions and these are their stories:
Photo: Paul Botes
Giving coal back its good name
You wouldn't think so by looking at it, but grimy, smudgy coal — the driver of world economies, the black-carbon bane of environmentalists — could well be the next big stepping stone in South Africa's clean, renewable-energy ambitions.
Following in the footsteps of the more experienced Russians, Eskom has been running a pilot project since 2007 in which it taps into vast but deep-lying seams of coal that wouldn't be mined by conventional means.
Instead, in a process known as underground coal gasification, it sets the coal alight and extracts the resulting synthetic gas, or syngas. Syngas is made up mainly of carbon monoxide and hydrogen, but also contains nitrogen, greenhouse gas carbon dioxide, plus trace amounts of other gases.
But it's the steam of hydrogen, specifically, that interests the South African Institute for Advanced Materials Chemistry at the University of the Western Cape. Dr Ben Bladergroen wants to perfect the production of hydrogen from coal and (later) other sources.
Professor Vladimir Linkov and Dr Øystein Ulleberg, part of a national collaboration known as Hydrogen South Africa or HySA, are to finetune the mechanics of hydrogen fuel cells that they and others believe could one day power millions of cars without so much as a puff of greenhouse gas. (Hydrogen cars emit nothing worse than some heat and water.)
It's not that hydrogen fuel cells are without sceptics. For one, as a mere energy carrier rather than a fuel itself, it is too pricey and energy intensive to build in any substantial numbers the fuel cells that would convert the hydrogen to electricity.
Fuel cells are too bulky, so there's scaling-down work to be done. There's good reason hydrogen and fuel cells remain attractive to engineers.
Apart from the fact that hydrogen-fuelled cars — like the few hundred already on roads in Europe and the United States — are carbonemission free, hydrogen fuel cells are about twice as efficient in using the energy packed into hydrogen molecules than a modern combustion engine is at using petrol.
There are some green concerns as well. The fact that coal gasification and natural-gas conversion are the most affordable short-term options for producing industrialgrade hydrogen in any volume of note make hydrogen just another emission-guilty fossil fuel.
Although, notes Linkov, gasification is a prime example of clean-coal technology as it's much simpler — with the right technology — to isolate and sequester the carbon at source.
Linkov and Ulleberg see coalextracted hydrogen as a step in the right direction. 'Coal opens up the opportunity to move towards a hydrogen economy," says Linkov.
And although it's unlikely that South Africa will scientifically speaking ever catch up with the Americans and Europeans in hydrogen research, nature's handed locals two trump cards.
South Africa is a world-leading producer of not just coal, but also platinum group metals, which are key elements in fuel cell construction.
'We have the mineral resources in the ground," says Ulleberg, 'so now we can just extract them and start value-adding."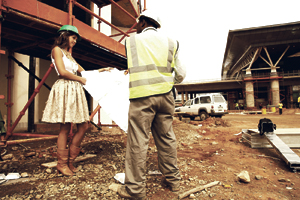 Photo: Preyen Moodley
Ms Earth raves about award-winning energy project
There was a time when people didn't take beauty queens seriously. But these days beauty queens are more than likely to be witty, thoughtful and, if South Africa is anything to go by, pretty brainy university students.
Take Chanel Grantham, for instance. A property-studies undergraduate at the University of Cape Town with a soft spot for energy-efficient buildings, Grantham has been touring the country as the 2009 Ms Earth SA — the organisers' motto is 'Beauty with a Cause" — spreading the green gospel.
At the Mariannhill landfill site in the eThekwini Municipality, engineers and conservationists have turned mounds of garbage into a full-on conservancy including an indigenous nursery.
Covered in green lawns, vegetation and engineering barriers, the site looks anything but a garbage dump. 'You go there and you would not believe it's a landfill," says Grantham.
Thanks in large part to international carbon-trading money, the still-active landfill site includes a treatment plant for the leachate, the contaminate-carrying liquid that's produced when water runs down through the waste.
But the project does more than just cut back on some substantial greenhouse-gas emissions. It also converts the site's landfill gas — 40% to 60% of which is methane — into electricity.
The site's energy generation is nothing to get overly rapturous about just yet, but it will be enough to earn the municipality more than R13-million in electricity sales, on top of about R20-million coming in from carbon credits.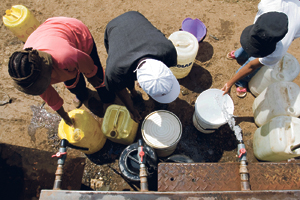 Photo: Delwyn Verasamy
SA needs political buy-in for water storage
A water tank for every parliamentarian is on the Christmas wish list of leading water expert professor Eugene Cloete.
He believes that legislators do not fully grasp the potential for poverty alleviation and water conservation contained within these plastic containers.
'One 5 000 litre water tank a South African household can relieve pressure on our dams and improve the livelihoods of those who do not have easy access to water for drinking, cooking or irrigation," says Cloete, who is dean of the faculty of science at Stellenbosch University.
In certain regions of Australia water tanks are compulsory, but they are not included in any formal South African water or housing policy.
The subsequent lack of finances, subsidies, support and appropriate building codes for new houses — especially in the summer rainfall regions — means that these tanks are generally installed only at the homes of well-heeled or environmentally minded citizens.
Despite the lack of formal political buy-in, this practice is spreading in rural areas, especially where financial assistance is provided by government to subsidise poor households for the capital cost of rainwater storage tanks and related works.
The areas with the greatest need for immediate intervention are the Eastern Cape and KwaZulu-Natal, each with more than two million people without access to water infrastructure and well below the reconstruction and development programme service levels. It is therefore no surprise that cholera is most prevalent in these two provinces.