The first time I went to Fordsburg, I experienced a culture shock of sorts. Victorian-style buildings stacked up against modern apartment blocks, a main road clogged with shops and stalls, chain restaurants beside no-frills eateries with food and decor straight out of India, and a night market where flowing dresses in rainbow colours, foreign music, evangelical videos, exotic spices and strange-looking vegetables are sold.
The streets swish with women in nikaab (the veil) or calf-length burqahs and men in kurtas with fist-long beards.
These are not things you see every day in Cape Town, where I'm from.
And then there are the mosques that don't necessarily cater to women. And the men — like the twentysomething who works with my husband. One day as their lift club arrived at mosque for Friday prayers, a pair of women got out of the car in front of them.
"That's disgusting. What are they doing at the mosque? A woman should pray at home," says the twentysomething.
Johannesburg Muslims, I concluded, are much more conservative than those back home.
But Na'eem Jeenah, executive director of the Africo-Middle East Centre, has lived in Jo'burg for more than a decade and he doesn't believe this is necessarily true. Jeenah believes it's important to distinguish between a person's theological outlook and the way he or she lives his or her life when beyond the watchful eye of the community.
"Many Muslims live schizophrenic lives. The same young man who expresses disgust at seeing women outside the mosque on a Friday, will, on a Saturday night, spend his evening at a rave."
And while the Fordsburg community may be more conservative in its theology, Jeenah maintains that one need only look over to nearby Brixton to find more liberal leanings.
Ebrahim Bham, secretary of the local religious leaders' council known as the Jamiatul Ulama, doesn't think Fordsburg is particularly conservative.
"Fordsburg, for some reason, has became a focal point for Muslim activity and because 80% of the population is Muslim, they might be more visible. You see more people with kurtas and scarves than you would in Houghton," he says, not because people in Houghton are less conservative, but because there are fewer Muslims living there.
Still Bham concedes that in terms of pure influence, the Tablighi Jamaat might be the most powerful among the various groups in Fordsburg. Regarded as more conservative, the so-called TJ are an apolitical grouping with roots going back to northern India in the 1920s.
They don't have an office or any kind of formal membership and no specific mosques cater to the TJ. Members eschew the media and work at grass-roots level, often one-to-one, to remind people of their religious duties, such as praying regularly and on time. It's not uncommon to hear a knock on the door and find a member of the TJ asking if the man of the house would like to join in for evening prayers.

Fordsburg attracts Muslims from all over Africa. (Photo: Oupa Nkosi) The TJ stick closely to the traditions of the Prophet Muhammed. This could mean anything from wearing robes to brushing your teeth with a twig, called a miswak.
Cassiem Khan, director of aid agency Islamic Relief, says it's hard to pin down whether Fordsburg Muslims are especially conservative. "If you want to find it, you'll find it. But a fairer assessment of the community is needed," he says.
Khan maintains that there is no one homogeneous Fordsburg ­community.
"There are in fact several communities," he says. Somalis are probably the first you'd think of, but South Africa is also home to Muslims from Zambia, Tanzania, Angola and Nigeria, as well as Pakistan, India and Bangladesh. Many of them are drawn to areas like Fordsburg where there are established Muslim communities and opportunities for business.
As for South African Muslims of Indian descent, many of them work in Fordsburg but live in areas such as Lenasia and Eldorado Park. Many of the young people you may see on the streets are out-of-town university students who live in boarding houses or flats in the area.
"All the different trends that you find in the Muslim world, you will find here in Fordsburg," Khan says. "Islam is more widely represented through a range of practices than South Africa's two-million Muslims can handle."
All of these people bring different types of Islam to Jo'burg: "The influence of immigrants is spreading through communities and it can be more liberal or more conservative," he says.
Ahmed Abdi, a Somalian shopkeeper and community leader with the Al-bayaan Islamic Council Trust, believes the simple way of life led by many immigrants is not conducive to conservatism.
"If you come to Fordsburg, what you're going to see is women going out shopping and working. A conservative community would not let a woman go out."
Abdi tells me to take a walk to the nearby Amal shopping centre in what locals call Mogadishu Street. "You'll see 95% of the shopkeepers there are women," he says.
Abdi, like Bham, maintains that the reason not all mosques in the area cater to women is one of logistics — unlike men, women are not compelled to attend services and small mosques simply don't have space for them.
But for all their proclamations, my sense is still that Jo'burg Muslims are more buttoned-up. Jeenah says one of the reasons for the difference in tenor between Cape Town and Jo'burg Muslims may be where religious leaders — the ulema — are educated.
In the Western Cape many of the ulema are trained in the Arab world, whereas Gauteng leaders are often trained in South Asia or at local religious schools that have their roots in South Asian teachings, which tend to be more conservative.
In addition, Jeenah believes religious leaders in the Western Cape have had to "fit into the cultural milieu of the Western Cape", which has been greatly influenced by Sufism, a mystical branch of Islam.
"The Malay community on many issues, on a religio-cultural level, is more liberal.
"And this is because of the Sufi influences going back to the 17th century and before that," he says. "Sufism is less about the law and more about the spirit."
Perhaps that's why I've never felt at ease in Fordsburg, where walking down the street in a jeans and a T-shirt can attract disapproving stares from some quarters and cat-calls from others.
The Tablighi Jamaat
Some practices associated with the Tablighi Jamaat may seem extreme — children are discouraged from drawing pictures of living creatures, music is not allowed and men and women do not mix. But Hussain Khan [not his real name], a young lawyer from Mayfair who is involved in the movement, says no one in the Jamaat has ever told him not to listen to music.
There are a lot of misconceptions about the Tablighi Jamaat, he says, and many people don't realise that "not everyone wearing a kurta and pants is in the Tablighi Jamaat."
The Tablighi Jamaat is a widespread revivalist movement. At most mosques, there are at least a few people who subscribe to the six principles of Tabligh, which centre on regular prayer, acquiring religious knowledge, the remembrance of Allah, respecting other Muslims, living life with pure intentions and spreading the message.
It's difficult to identify a member of the Tablighi Jamaat at a glance because the movement has a very loose organisational structure — you won't find them in the Yellow Pages and there is no formal membership or leadership structure. Not everyone who attends a Tablighi Jamaat event is part of the movement and people are free to join or abstain.
Cassiem Khan, director of Islamic Relief, joined the Tablighi Jamaat when he was a student. "I was looking for guidance at that stage. I was in varsity and I needed to find something." Since then, he says, "there's been a change in my life for the better. It brought a lot of discipline to my life and to my studies. It gave me the tools to turn to my Creator when things were tough."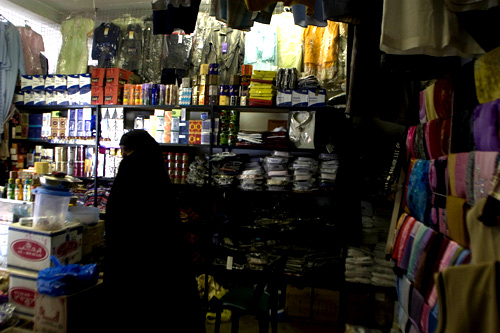 She may wear a veil, but she is not invisible So does he think the movement is particularly conservative?
"In terms of the laws of shariah, which you might think are conservative, maybe. But for me the emphasis is more on spirituality," he says.