"It's better to die than to work for that shit. People are coming back here tomorrow [Monday]. I am not going to stop striking," Thandubuntu Simelane*, one of the company's rock drill operators told the Mail & Guardian on Sunday.
Last week 34 people were killed and 78 were wounded in a shootout between police and miners in Marikana, Rustenburg.
The majority of those killed are understood to have been involved in illegal industrial action at the mine after rock drillers affiliated to the Association of Mineworkers and Construction Union (Amcu) demanded their monthly salary of R4 000 be increased to R12 500.
While the exact reasons behind the shooting remain unclear, Lonmin management have ordered all workers to return to work on Monday.
"The way to get stability back into the system is to get back to work," chief financial officer Simon Scott – the face of the company while its CEO is in hospital – said on the sidelines of an emergency conference of mining stakeholders called by Mining Minister Susan Shabangu in Johannesburg.
It would seem the company had not managed to communicate this message to its workers though.
"We are going to protest until we get what we want", Simelane added, still cradling a knobkerrie and panga as he spoke.
"They have said nothing to us. Police can try and kill us but we won't move."
Fear of intimidation
Lonmin has not been in direct contact with the majority of the workforce for more than a week, since the area – where many of them live – effectively became a no-go zone, where officials faced the prospect of attack.
Workers not involved in the strike are also afraid to return to their posts.
"I am scared to go to work tomorrow; I wasn't striking because it's not my department," Thapelo Mohutsiwa, a surface miner at Lonmin's number four shaft, told the M&G.
"I have a family to feed and I need money so I must work."
Mohutsiwa said while he was not participating in the illegal strike action, he sympathised with protesters.
"If you work in that job you get fucked up. You must drill the rock for the whole day covered in water. For anything more than five years you will end up being useless," he said.
A large police contingent remains near the site of the shooting, with several hundred SAPS members from various policing units around the country monitoring the situation.
The actual scene of the shooting remains a bloody battlefield.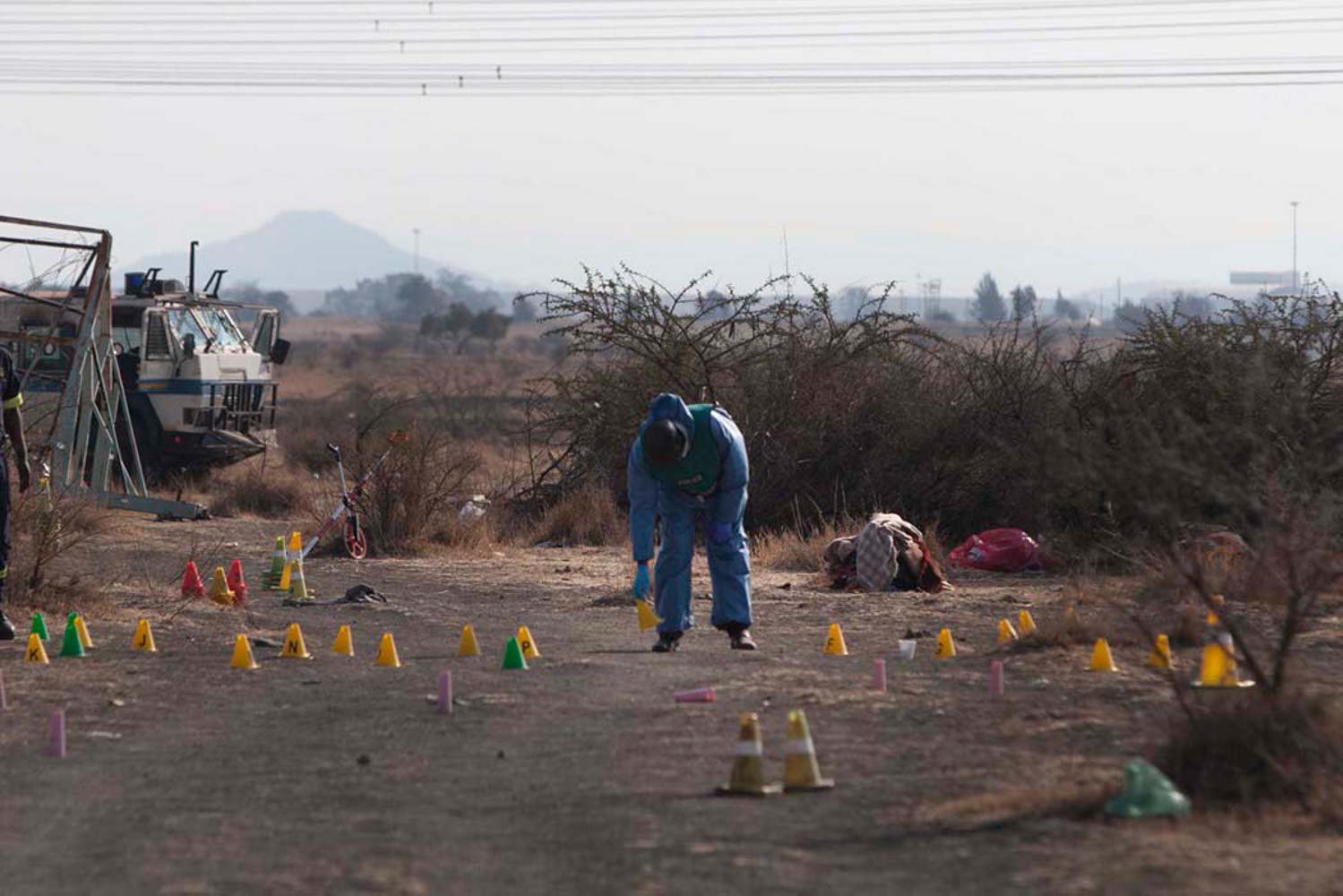 Initial investigations
Although the police have completed initial forensic investigations, debris remained from the standoff.
Bloodied pieces of clothing littered the ground and surrounding bushes, while fresh yellow paint marked the areas where dead bodies were strewn. Blood stained surrounding rocks and grass.
An empty teargas canister was discarded close to one of the yellow paint markings, and nearby a spent flare was played with by a group of children.
"The sangoma told us to come and join the strike, to help our brothers. He said if we helped we would get jobs," Yandisa Matomela told the M&G.
Matomela has been a resident of Marikana since 2008, working casually at surrounding mines when he can find employment.
He said Marikana residents were shocked by what they deemed a brutal crackdown by government on workers.
"The government is under the ANC so it's the ANC that killed those people," Matomela added.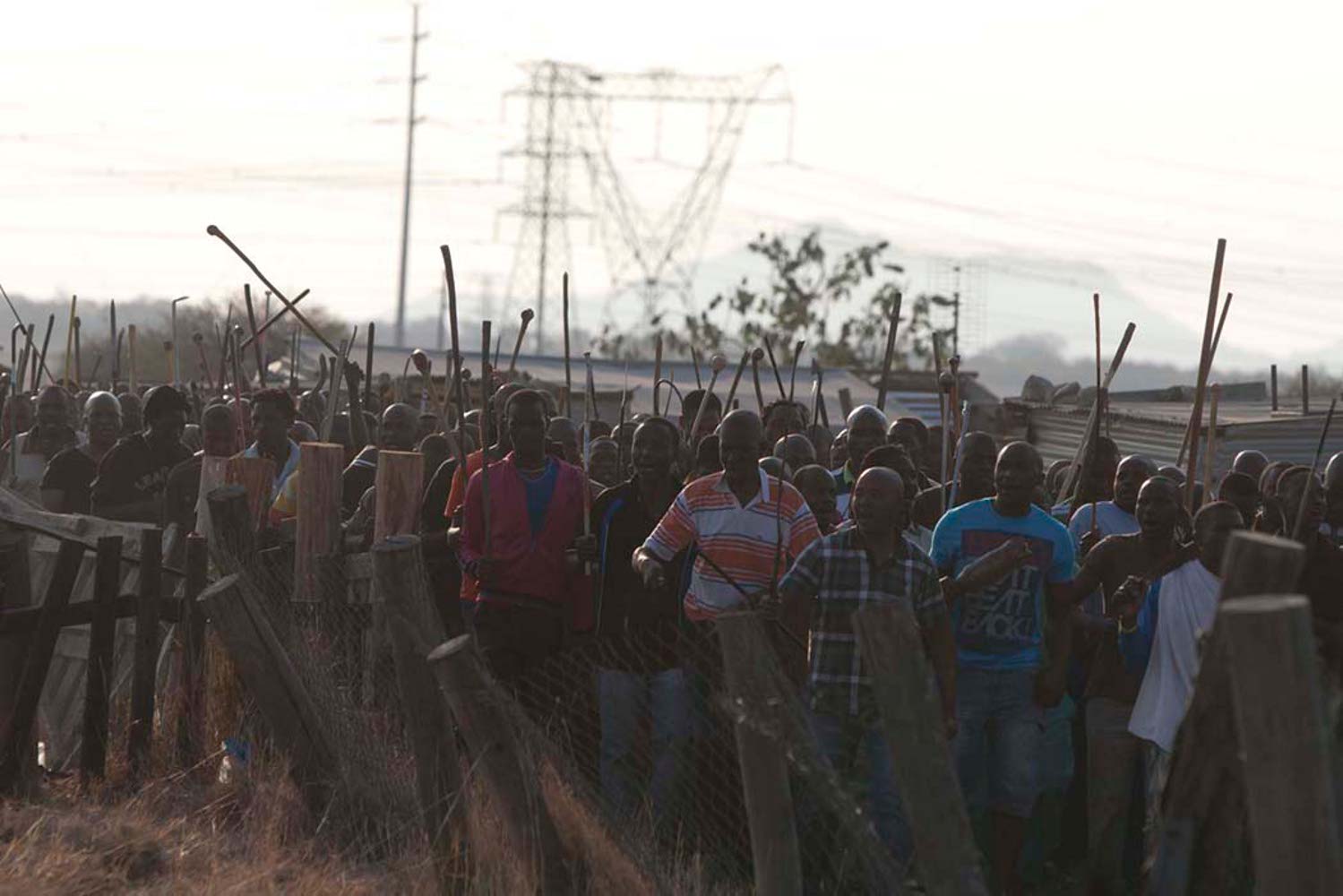 Week of mourning
In response to the deaths, Zuma on Sunday announced the appointment of an inter-ministerial committee to be led by Minister in the Presidency Collins Chabane that will investigate the debacle.
Included in the committee are Shabangu, North West Premier Thandi Modise, Police Minister Nathi Mthethwa, Social Development Minister Bathabile Dlamini, Cooperative Governance and Traditional Affairs Minister Richard Baloyi, Labour Minister Mildred Oliphant, Defence Minister Nosiviwe Mapisa-Nqakula, Health Minister Aaron Motsoaledi, State Security Minister Siyabonga Cwele and Home Affairs Minister Nkosazana Dlamini-Zuma.
There will also be a period of mourning between August 20-26 with August 23 declared a day for memorial services to be held across the country.
"The nation is in shock and in pain. We must this week reflect on the sanctity of human life and the right to life as enshrined in the Constitution of the Republic. We must avoid finger-pointing and recrimination. We must unite against violence from whatever quarter. We must reaffirm our belief in peace, stability and order and in building a caring society free of crime and violence," Zuma said in a statement.
But the president's actions are hollow for Matomela.
"They don't care about us. Government is looking after the mine, that's why the police are here. More people will die but nothing will happen," he said.
In trade
Thin trading volumes are expected to keep the rand at current levels as some northern hemisphere traders are away on summer holidays, dealers said on Monday.
The rand was at R8.3290 to the dollar at 6:37am, not far off a R8.3250 close in New York on Friday.
Investors dumped South African assets following the violence, driving the rand to near a two-week low on Friday.
"It remains to be seen how much of the damage to South Africa's reputation as an investment destination will be lasting or temporary, while the immediate economic impact will obviously be further losses of output to the mining sector," said Absa Capital in a note to investors.
Inflation data on Wednesday is expected to reflect lower fuel prices in July as global oil prices eased. Inflation is expected to slow to 5.2% from 5.5% in June.
* Name changed for fear of victimisation