The Sikuvile awards recognises the highest standard in journalistic experience at newspapers. The M&G team were announced finalists in five of the awards' categories, taking the honours for four of them.
Health reporter Mia Malan won her trophy for her story on the traditional practice of ukuthwala, Abduction.
Features editor Tanya Pampalone won the creative writing accolade for her opinion piece Confessions of a Walmart Shopper.
The prize for editorial cartoon of the year went to Jonathan Shapiro, as Zapiro, for his Mac Maharaj side-order, published in the M&G in November 2011.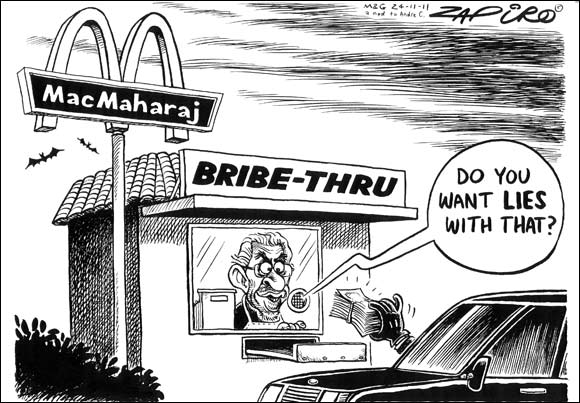 Demelza Bush and Nickolaus Bauer won the online multimedia award for the video Marching for Malema, which reported on the violence police and journalists faced from hundreds of protesters on the first day of expelled ANC Youth League leader Julius Malema's disciplinary hearing.
The M&G shared the Joel Mervis award for layout, typography and pictures with the City Press.
The M&G also received three commendations. One was for Glynnis Underhill for Godongwana and the missing union millions, another to Sam Sole and Stefaans Brümmer for their work on The memo that sank the arms probe, and the last was given to John McCann for his graphic called Mugabe Headlock.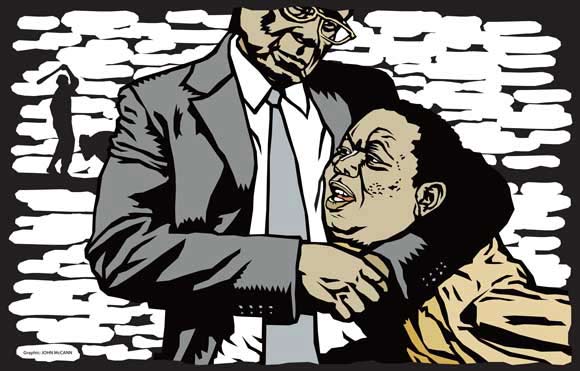 M&G editor-in-chief Nic Dawes won editor of the year, which is awarded to the editor of the paper with the highest number of finalists and commendations.
"What I find really pleasing about our performance at the Standard Bank Sikuvile awards is that we were recognised for such a diverse range of work, winning for a traditional, deeply reported news feature, for creativity, for overall design excellence in print, for multimedia and for Zapiro's unmatched editorial cartoons. Our longstanding strengths in investigative journalism also registered in an extraordinary number of finalist awards and commendations," Dawes said on Wednesday.
"I think this is because the M&G's response to a sometimes bewildering environment for news companies is to do more of what we are good at, in both print and digital formats, and to try to produce journalism that helps our audience to make sense of, and engage with the world. We are fortunate to have brilliant people in our newsroom, exceptionally supportive shareholders and management, and readers who insist that we give them great work. That, in my view, is a pretty firm foundation for success."
The online categories – online multimedia and online reportage – were a first for the Sikuvile awards this year.
"After M&G Online's success at the CNN African Journalism Awards in Lusaka this year where we won the inaugural digital journalism award, it's very gratifying to also have won the inaugural online multimedia Sikuvile award. The M&G is committed to high-quality multimedia journalism, which we believe is an essential part of online digital media. With the massive growth in people consuming news in South Africa and the world, we need a concomitant growth in platforms. Multimedia is an increasingly vital ingredient in the mix," said M&G Online editor Chris Roper.
Winners in other categories were:
Hard news
Angelique Serrao for Gauteng tollroads, Star
Enterprise news
Yolande Stander for Death over the Counter, Weekend Post
Feature writing
Hanlie Retief for Melanie Steyn, My man di Sondag verkragter, Rapport
Investigative journalism
Stephan Hofstatter, Mzilikazi Wa Afrika and Rob Rose for Shoot to kill: Inside a South African police death squad, Sunday Times
Graphic journalism
Jaco Grobbelaar for South African's global arms exports, City Press and Rapport
Popular journalism
Warda Salvester for Little hands do devils' work, Daily Voice
News photographs
Simphiwe Nkwali for Crawling, Sunday Times
Feature photographs
Antoine de Ras for The Long Road Home, Star
Sports photographs
Matthew Jordaan for Super Steyn, Cape Times
Presentation (layout and design)
Rudi Louw for 2011 The good, the bad and the great, City Press
Online reportage
Nadine Theron, Le Roux Schoeman and Werner Erasmus for Matrieks in Margate, Touchlab/Beeld/Die Burger – Media 24
SA story of the year
Stephan Hofstatter, Mzilikazi Wa Afrika and Rob Rose for Shoot to kill: Inside a South African police death squad , Sunday Times
SA journalist of the year
Stephan Hofstatter, Mzilikazi Wa Afrika and Rob Rose, Sunday Times