Somehow, my worse-for-wear R200 Woolies watch with one leather strap tucked underneath the other did not fit in to the Ferrari/Maserati dealership in Bryanston, Johannesburg. Though, to my credit, I did look neater for my day with a Ferrari than on any day at the M&G office where T-shirts, slacks and takkies are not uncommon.
Still, I wished I had borrowed my sister's Tag Heuer to attempt to pull off the semblance of fitting in with the Ferraristi (folk who own Ferraris) because walking in to the clinical and unemotional surrounds of Ferrari's Jo'burg home did little to calm my unusually taught nerves.
I have driven a fair number of supercars in recent years so I'm accustomed to being responsible for a few million bucks worth of rubber and metal, but I've never tested a Ferrari, let alone the newly upgraded convertible California grand tourer – which has a cool price tag of R2.8-million.
But, when the California was brought out in to the empty parking lot by Ferrari service advisor Justin Gaarkeuken, it had an oddly inviting appeal. I couldn't care less about the price or the consequences of doing something stupid. I just wanted to drive it, to get to know it, figure out its quirks and to then unleash it on a deserted patch of tar to see how much of a supercar it was.
I was grateful for Gaarkeuken's technical briefing because I couldn't for the life of me locate the gearshift and I felt like a bit of a chop as he explained how to work the aircon and the retractable hard-top roof when all I was thinking was: "How the sodding hell do I change the gears?"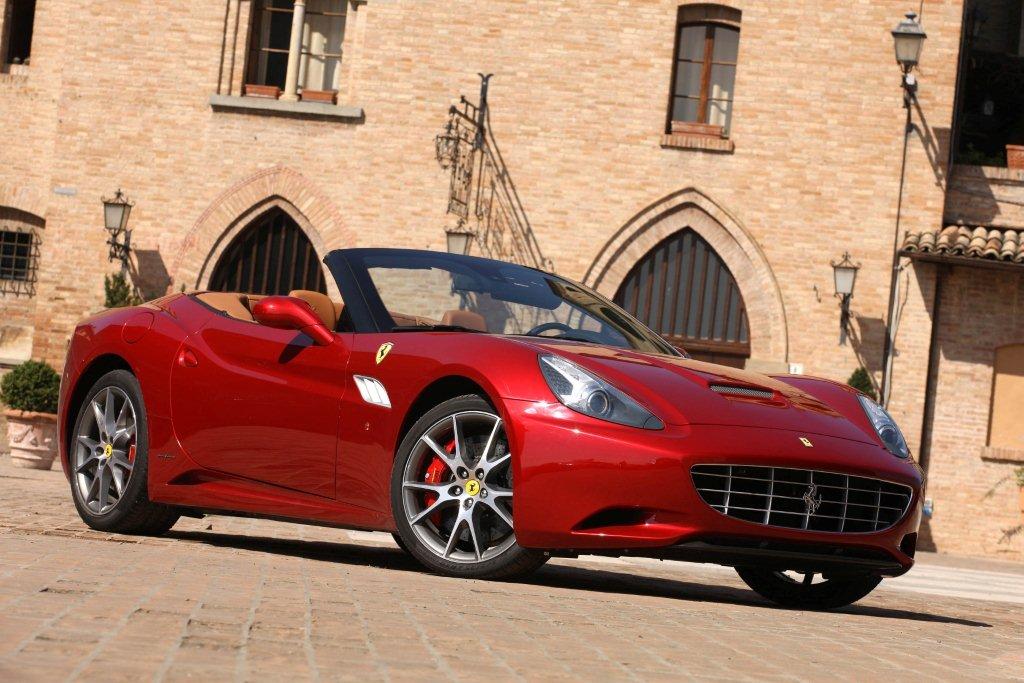 Most intuitively, Gaarkeuken said: "To put the car in neutral, pull both flappy paddles. To put it in first, pull the paddle on the right and to engage reverse, you use this button in the middle, marked 'R'."
Simple enough.
By the time I inched out of the parking lot and had driven the California for about 20 minutes, I realised that I desperately needed to get out of town because the California was attracting way too much attention.
Drivers took photos with their cellphones and one particularly industrious chap in a Citi Golf who was driving in front of me, turned around – while he was driving – to take a photo of the car, then moved into the left lane to take photos as I drove past him and then changed lanes again so that he could take photos of the California's rear. The great thing about the 4.3-litre eight-cylinder engine under the hood is that all I had to do was tickle the throttle with my big toe and I could shake off the paparazzi with a super-hero-styled blur of red swooshiness.
I took the car home and plotted a few routes that would take me out of town and it was when the California was parked in my bleak, wintry back yard that I realised just how arrestingly attractive the car is. From the long, sporty snout with muscular bulges on either side through to the sloping rear windscreen and tight rear end, it was nigh impossible to find any kinks in its armour, save for the excruciatingly small rear seats. Maybe a few Sandton handbag-type pooches such as those wretched yet fashionable Chihuahuas could fit in the rear seats, but there certainly isn't sufficient space for even Hobbit-shaped humans. I would choose the optional parcel shelf over the rear seats.
Everything else about the interior and the exterior is superlative. It is, after all, a supercar hand-built in Maranello, Italy and if you weren't aware of its racing origins, a discreet little badge above the glove compartment reminds you that Ferrari has won 31 Formula 1 world titles.
Of course, being a fantastically expensive supercar means that the Ferrari can be as bespoke as you want it to be. A new personalisation programme, known as Ferrari Tailor-Made, will ensure that you can choose everything from the colour of your brake calipers to the type of steering wheel you prefer, and if your local dealership doesn't have sufficient options for you to explore, you can hop over to Maranello and tweak every conceivable aspect of your car.
Though, why anyone would want anything other than a black leather interior and a classically crimson exterior is beyond me.
The California was originally designed to be slightly less of a supercar as Ferrari wanted to attract new buyers to the brand – buyers who might not want to have their internal organs rearranged by the unforgiving rigid suspension of a proper supercar. And Ferrari has succeeded in its mandate as 70% of California buyers are new to the brand and about 20% of these buyers use their Italian stallions every day.
Though predictably, the dyed-in-the-wool racing enthusiasts at Maranello weren't happy with the idea of a "soft" Ferrari, one that might not hold its own against other supercars, so this new version is 30kg lighter and comes with an additional 22kW of power. There is also the option of the Handling Speciale package, which has made the steering sportier and has added a few other technical tricks to make the car a little more lively and responsive.
If you had to buy the California for the exquisite sound of its naturally aspirated V8 engine alone, it would be well worth the money. Tramp the accelerator hard and the engine roars to life with the spine-tingling menace of something that may or may not kill you. The aural pleasure of letting the revs climb to 8 000rpm is a treat matched only by the sensuously enticing throttle blip that holds onto the revs when you slam the razor-sharp brakes as the California expects that you're going to need all its power despite the fact that you're slowing down. Throw it into a corner and the seven-speed dual-clutch transmission again holds the revs high so that you have access to all 360kW and 504Nm to power confidently out of that corner.
The 0 to 100km/h sprint is achieved in a blistering 3.8s and the top speed is 310km/h.
Despite its penchant for speed, it is a finely balanced, comfortable car with an impressive combined fuel consumption of 13 litres per 100km.
Thankfully, the best thing about the California is how adept it is at putting its power on the road. Put it in sport mode and the car delivers all the acceleration it promises with very little in the way of theatrics. However, in a controlled environment, at very high speed, the steering felt ever-so-slightly twitchy in my hands. I know this is supposed to be a sportier steering, but I didn't like that I felt as if I wasn't entirely in control when I most needed to be.
Driving the California for a day was a sinful treat to be sure and like all things sinful, it left me feeling grateful that I had indulged but wary of how seductively addictive it could easily become.