As graduates of the only dual-medium undergraduate degree in South Africa, we write to offer our perceptions of multilingual education — a topic on which mainly academics have written in the Mail & Guardian.
We are four of the many students who have studied for the bachelor's degree in contemporary English and multilingual studies offered at the University of Limpopo since 2003. This has enabled us each to study one major subject, comprising six modules, through the medium of our home language, Sesotho sa Leboa (Northern Sotho) or Sepedi, and the other entirely in English.
Like many students from impoverished schools, we had hardly any career counselling and entered the University of Limpopo with little idea of what to study. For one of us, who belonged to the first cohort of students to join the programme in the year of its launch 10 years ago, hearing about the contemporary English and multilingual studies degree from a lecturer was a real eye-opener. It was a relief to learn that a good matric grade in Sepedi made one eligible to join a programme in which new academic content would be taught and assessed in one's strongest language.
It was equally amazing to learn that our English competence would develop through six modules taught and assessed in English.
Many people see the promotion of multilingualism as representing a choice between an African language and English, but the BA contemporary English and multilingual studies degree demonstrates that students need to have a strong foundation for academics in their own language on which competence in an additional language can be confidently built. In other words, both one's own language and the language of global communication have to be promoted to implement bi- or multilingualism effectively.
In our first year at university we struggled to make sense of lectures in English and the scholarly academic texts. It was difficult to write our own ideas in English and in most cases we would simply cut and paste excerpts from texts for our assignments.
The freedom of our own language
But in the lectures in Sepedi we did not struggle because it was the language that we used every day. We could focus on the meaning and the content and with the freedom to use our own language we gained a deeper understanding of new ideas and concepts of multilingualism.
It was amazing to learn about speech act theory, discourse analysis, the ethnography of communication and concepts in sociolinguistics and to engage with these concepts in tests, exams and PowerPoint presentations — all in our own language.
The degree promotes a critical view of the relationship between languages. We learned about the effect of colonialism on the indigenous languages of the world and how English got its hegemonic power. We engaged in discussions that broadened our thinking and challenged our ideas. Fierce debates continued long after class hours.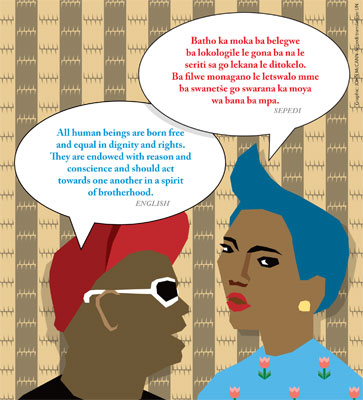 We began to understand why such a huge gap existed between our much celebrated language policies and their implementation. But, much more empoweringly, we learned how we, as fluent and committed bilingual people, could play a role in bridging this gap.
We have given presentations at conferences, spoken to young school-leavers and are conducting research into the problems of rural and township schools. We have interviewed advocates of mother tongue-based bilingual education (such as Kathleen Heugh, Nancy Hornberger and the late Neville Alexander) and have come to understand the de-vastating economic effect of English-only or English-mainly education, especially on impoverished communities.
African languages don't mix with challenging work
Several opponents of bilingual education have argued that African languages are "underdeveloped" and cannot be used for cognitively challenging work, or for the acquisition and dissemination of knowledge. The lack of terminology is often cited as a deterrent to the full use of African languages in education.
We found that this issue has been dealt with in many creative ways. In the early years, simplified scholarly texts in English were used, but all discussions, teacher inputs and assessments were in Sepedi. With a Ford Foundation grant in 2004, several scholarly texts were translated into Sepedi. Terms were simply borrowed from English (as English has done from Latin) or created by "Sothoising" English terms.
What was exciting was the challenge our lecturers threw at us to ­create terms, which were debated and the most appropriate ones adopted for use. Practice-based glossaries have grown as a result, very different from the terminology that specialists cut off from the end users create.
Dialect speakers of Sepedi are free to use their language in all discussions, but are compelled to write "standardised" language in all ­assessments. We have discovered that it is not enough just to be taught through the medium of Sepedi — the methods used for teaching and learning need to be problem-based with many opportunities for collaborative learning. If tasks and materials in Sepedi hold a low cognitive challenge, depth of learning cannot be achieved.
We are finding that competencies learned in one language can be readily and almost unconsciously transferred to another language, provided these competencies are related to higher-order thinking, such as hypothesising, predicting, analysing and synthesising.
Applying understanding
The BA contemporary English and multilingual studies degree gives tasks that require us to apply our understanding of concepts to new scenarios, new problems related to research and issues in the real world.
The ideas of Lev Vygotsky, especially the value he attached to mediation and the view that learning (instruction) leads development, permeate all our modules. In one of them, "language and cognition", we specifically focused on his ideas and conducted research into private speech and fantasy play in our own communities.
We rejoice over the newly acquired biliteracy competencies the degree developed in us. Our external examiners commented on the fact that we write with engagement in both our languages and show deep conceptual understanding. We move across our two worlds with ease and confidence and have experienced our university education as transformative, empowering and very fulfilling.
Sadly, a degree — as is the case of many educational innovations — is a site of contestation with many detractors. Some of the reasons for the opposition have already been spelt out, but one argument that raises its head every year at registration is: "What kind of job will you get with this degree?"
In the current state of graduate unemployment in our country, it is a question that should be asked of every programme. It is odd that bilingual education should be targeted as though it is a special source of disadvantage.
We would argue that, at the very least, we are no more or less disadvantaged than any other graduate in South Africa today. All four of us have chosen to be researchers in bilingual education. One of us is a tutor in the BA contemporary English and multilingual studies programme and three of us are pursuing master's degrees in a project the National Research Foundation has funded.
More than that, we feel specially advantaged to have had a unique education that makes us eligible for careers as bilingual teachers, translators, interpreters, liaison officers, researchers, writers, bilingual journalists, communication officers and language specialists.
The authors are all graduates of Limpopo University's dual-medium BA in contemporary English and multilingual studies, which this month celebrated its 10th ­anniversary