"When we don't get food delivered, two-thirds of our pupils go down to town to buy some and don't come back until the next day," said a despondent deputy principal at a secondary school in the Bakenberg North circuit, Limpopo, a week before the end-of-year exams.
The principal asked not to be named, saying he was not authorised to speak to the media.
The school has not received food since the beginning of term three weeks ago and the contractor, Modjadji Mphela, could not explain why. "I won't be able to answer your questions on the phone, because I still need to get hold of the documents giving reasons why I stopped supplying food to schools," Mphela said this week.
Read: Malema's 'list' of pals feed on school meals
Bakenberg North is one of six circuits in Limpopo the Mail & Guardian visited to see how the national school nutrition ­programme was serving schools.
In Vhuronga 1 circuit, near Thohoyandou in the Vhembe district, a primary school principal said 80% of his pupils were orphans who depended on the nutrition programme for one ­regular meal a day.
Politically ­connected suppliers
This is where Julius Malema's bodyguard, the beefy Jabavu Olifant, has been contracted to deliver food – but has not done so since April.
Olifant said he had not delivered because the department owed him money: "I met the department last week and they promised to resolve the matter very soon."
But the M&G has seen delivery notes and invoices from Olifant's company for deliveries in August claiming to have delivered food.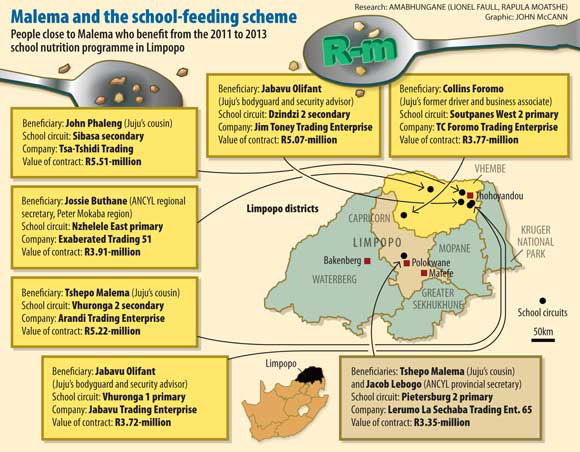 "The problem is that principals are afraid to report politically ­connected suppliers," said Maurice Petje, principal of Mahlatjane Primary School in Mafefe in Nokotlou circuit in the Capricorn district.
Olifant could be in for a shock. After the M&G contacted the department to inform it about the situation in Vhuronga, spokesperson Pat Kgomo said: "We've received reports about [Jabavu's circuit] and we're busy processing its termination. We're not aware of the delivery notes, as alleged, hence we're processing the termination of the contract. Nobody can be paid for not delivering food."
More oversight
Petje said the programme sometimes fed two generations of pupils from the same families. He ­estimated that two-thirds of older secondary school pupils in his circuit had young children in the nearby primary schools.
Most principals the M&G interviewed said they would prefer to procure their own food rather than rely on service providers from ­distant Polokwane, Seshego and other urban centres. They said procurement that was driven by schools would boost local employment, shorten supply chains and ensure more oversight and accountability. Long supply chains mean that schools receive up to a month's supply of dry foodstuff – including mealie meal, samp, beans, rice and soya – at a time.
A week's supply of fresh food can be problematic because schools lack storage facilities that are sufficiently big, secure against thieves and rats, or cool enough to prevent it from rotting.
Kgomo said the department was piloting a procurement system driven by schools. It is being tested by 25 schools. "At the end of the term of the contract we will assess all possibilities and take a decision. But most schools have not indicated discomfort with the present arrangement."
---
Limpopo tenders
R1.71-billion: School nutrition programme budget over two years
R40-million: Amount earned by known Malema associates and allies over two years
1.596-million: Learners in Limpopo receiving food
3 931: Primary and secondary schools in Limpopo receiving food
7 096: Companies who bid for school nutrition programme tenders
337: Companies contracted to deliver food
70%: Profit margin of some service providers
55%: Percentage of 2012-13 budget spent by September this year
Do you know of other politically connected service providers who have won school nutrition programme tenders in Limpopo?
Cick here to see spreadsheets of all 337 service providers and their directors and contact us at [email protected].
* Got a tip-off for us about this story? Email [email protected]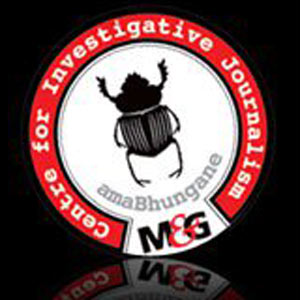 The M&G Centre for Investigative Journalism (amaBhungane) produced this story. All views are ours. See www.amabhungane.co.za for our stories, activities and funding sources.