The storybook tragedy starring Soweto's once beloved child star and now its chief villain, Molemo "Jub Jub" Maarohanye, is a mashup of ghetto aspiration, the evaporation of black family values on the altar of bling and a rock 'n roll life gone outlandishly awry.
It is also the story of greed, swagger, arrogance, innocence lost, class and faith, or the lack thereof.
Jub Jub's rise to fame started when he was a toddler. A family friend wary of speaking on the record for fear of undermining the family's media blackout recalled the genesis of a star to come.
"He's a natural performer," I was told. "As early as toddler stage he would sing and do side-splits. He was always a happy child."
It's no wonder then that the toddler with prodigious talent would morph into a child television star. He shot to public attention when at the age of 10 when he starred in an Inkomazi – a creamy sour milk – advert.
As a teenager, Maarohanye won a place at LaGuardia High School for the Performing Arts in New York City – the same school on which the popular TV drama Fame was based.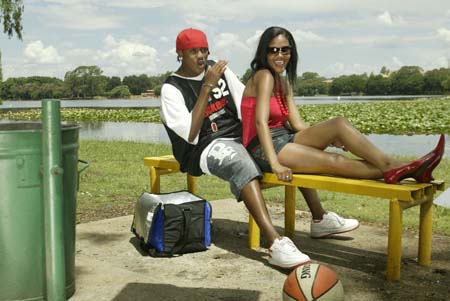 Singer Molemo 'Jub Jub' Maarohanye and dancer Tebogo Selepe during the video shoot for the rapper's debut single Good Time of Your Life at Florida Lake in Joburg. (Muntu Vilakazi)
Named after marshmallow candy
Growing into a confident lad, the youngster who was named after marshmallow candy launched a sustained attack on stardom. He joined the popular show Jam Alley on SABC1 and then terrestrial television's poppin' African youth channel, Channel O.
A natural performer, he also had a role in one of South Africa's shockingly gritty films, the Oliver Schmitz crime drama Hijack Stories. Like the ghetto flick Jerusalema, it registered a profound resonance with township audiences.
All this led to a career in music, specifically hip-hop. Although by no means a deft, complex or, dare I say, talented rap MC, his talent as a performer carried him quite spectacularly through all his albums: The Breed, My Shine and Fresh Air. Boy booked his place in the sun when he collaborated with an unknown gospel duo, the Jaziel Brothers, to release a monster anthem – Ndikhokhele (Lord o' heavens, lead me, Lord).
It brought him on to the crucial township pop radar's red alert. Ndikhokhele did something even more game-changing for the former child star: crossover adoration from the tweeny market to gospel devotees.
Candyfloss Jub Jub had arrived and melted lovingly on our tongues as everyone – in the taxis, on the street corners, in the houses of God and the outhouses (shebeens) – sang along with heart-melting mellifluous choral gaiety: "Ndikhokele, Bawo. Sweet Jee'zus!"
At face value Jub Jub had it all. Apart from, say, a need for another hit song to reinstate him atop the celeb adulation pole, the world was his to ascend, or self-destruct. AttaBoy chose the latter.
How did Jub Jub, and we, arrive here?
Shooting the breeze
It's a well-known story, reported with relish by both the paparazzi and the mainstream media. The story goes that one day, in early March 2010, Jub Jub and his mate, Themba Tshabalala, were shooting the breeze when they decided to go to the singer's butchery in nearby Protea Glen, Soweto. He was 29, his mate 26. Apparently, they were both high on blow.
Jub Jub was riding high as one half of the Bonnie and Clyde-like couple, dating the famous songbird Kelly Khumalo, herself on skid row.
That was before she dumped him in a Drum magazine feature in November, titled "I walked away".
"I walked away from him the same way I walked away from drugs," wrote Khumalo.
"I was so in love", she coos in her biography, The Kelly Khumalo Story, recently released by Jacana Media.
"I was so in love with him. I had a tattoo of his name on my shoulder," she writes in a section titled "Young, black and wasted".
"I wanted to spend the rest of my life with him and live happy ever after in the big house on the hill, together." So in love was Khumalo that she bought her boo a brand-new silver-grey Mini Cooper.
On the day of the accident Khumalo woke up feeling weird. She was jobless and frustrated.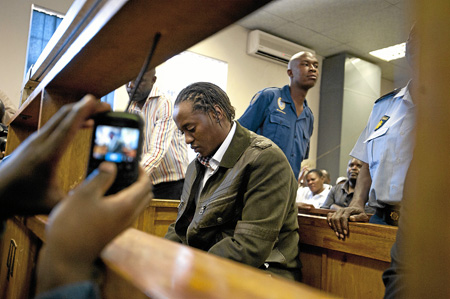 Maarohanye and his co-accused Themba Tshabalala were convicted for murder after they crashed into and killed four high school pupils and seriously injured two others. (Madelene Cronjé, M&G)
Hot-pedalled
"Earlier on I was following him and he was driving – the Mini Cooper – like a mad man. I called him and said 'hey you, you will die'."
Later on the same day Jub Jub and his passenger, a young woman going by the name of Tumelo Mokoka, and Tshabalala by himself hot-pedalled their sleek Minis down Mdlalose Street, drag-racing.
But Mdlalose Street is not fit for Grand Prix racing; the street is so narrow that it issues caution against the very senseless act of drag.
The young men knew the lay of the land. Protea Glen and Protea North are just a minute apart. They are part of the Protea suburb, formerly one of Soweto's early 1990s to-die-for addresses, that was their playground. As fate would have it, one of them lost control and hit the other.
Even to this day, they both have hazy memories of who did what, but what we all know is that they both plunged into a group of schoolboys, hitting six of them simultaneously.
Four of the boys – Prince Mohube, Mlungisi Cwayi, Andile Mthombeni and Phomello Masemola – died instantly.
Their surviving friends, Frank Mlambo and Fumani Mushwana, were left brain-damaged.
Although the media wrote about this case with abandon, no one really cared or knew about the depth of the private mourning, pain and trauma each and every family member had to go through away from the flashing cameras.
Arbitrary lines
Fast-forward to the Protea Magistrate's Court, where the two accused hardly looked at each other. They sat in silence facing the magistrate.
Although people tend to repeat arbitrary lines implying that the accused never showed remorse, in all the photographs I have seen and from the third row behind the convicted I was spooked by the silent yet clearly dejected, rejected pair of sunken spirits.
If sorrow had human faces, these were it. And although the court heard all kinds of arguments, drama, witnesses and frayed emotions leading to the conviction of the two friends, what was never put on trial was the invisible elephant in the room: class.
Young Molemo Maarohanye, the eldest son of Sidney and Jacqueline Maarohanye, grew up with four siblings in Orlando East, Soweto, before the family moved to the southern suburbs. They were part of the growing township middle class surging towards their place in the sun in the "new" South Africa.
His mother, popularly known as "Mama Jackie", was a pioneering personality in the world of non-governmental organisations for founding, heading and putting Ithuteng Trust School, in the rowdy and derelict Kliptown, on the global map.
As part of building a tight public profile, "Mama" hobnobbed with figures such as Bill and Hillary Clinton, who were among her earlier patrons.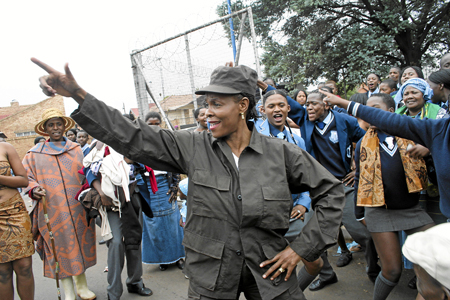 Jub Jub's mother, better known as 'Mama Jackie' is no stranger to controversy. (Jerry Mokgwankgwa)
She trained her students to make a case for funding at the United Nations and touched the heart of the queen of confessional TV, Oprah Winfrey. She was soon nicknamed "The Angel of Soweto".
Exposed as a fraud
Mama Jackie's rising star was cut cruelly and left adrift almost a decade later when, in November 2006, Carte Blanche exposed her as a fraud.
The report contained evidence and statements by some of her Ithuteng Trust students saying Mama Jackie coached them to recite made-up sob stories of fleas, hovering poverty, abuse at home and other black- ghetto-child calamities. Poverty porn or non-governmental organisation balderdash, as it were.
Her downfall became a matter of public feasting, gossip and headlines. Patrons and friends dumped her like a bad case of Ebola.
Although Molemo was in the United States for about five years in the late 1990s, by the time he came back South Africa's necessary economic restructuring was in full swing.
While the visible change and audible noise of this structural change dramatised themselves in the economic space, township youths such as TK Zee, Mandoza and ProKid brought a thundering noise into cultural and performance spaces.
It was the tail end of kwaito's 1990s dominance, when both the mainstream hip-bop and backpackers' beloved "spoken word" scenes flourished, into which Jub Jub, fresh from his American Dream journey, plunged.
On the ground the earliest economic winds of change had bolted out of the stable, never to be held back. The majority vote emboldened the ANC government, under the assumed Black Consciousness bookworm Thabo Mbeki, to adopt black economic empowerment and affirmative action.
Blue-chip capitalism
These two specific policies would go on to alter the South African social fabric in ways never seen or felt before. If not in the boardroom, at least on the streets, although with the merest hint of economic symbolism.
This was no off-the-ground wealth creation, but rather a more public-relations, sleeker version – blue-chip capitalism changing hands among the elites. And the streets were watching.
Like it or not, these two acts as well as the opening up of trade, education and workplace opportunities across the country post-1994, especially in the megametropolises such as Johannesburg, had lit an irrepressible spark for black aspiration.
Although it's now in vogue to point a finger at the Mbeki administration and his billionaire-making growth, employment and redistribution (Gear) macroeconomic strategy, the seeds of black greed – distinct from the 1940s to 1980s black entrepreneurship – were planted at the Kempton Park negotiations.
Here, ex-guerrillas straight from the bush, the movement's leadership from exile in subtropical African capitals, former local activists and then-National Party honchos balled together. Soon, Commies were feasting on caviar, quaffing litres of whisky and chewing cigars.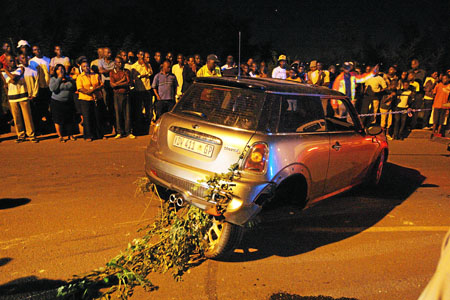 Molemo's mini Cooper ploughed into a group of school children killing four of them instantly. (Gallo)
It was amazing to witness an array of assorted German, Bavarian and Italian sedans and other types of jalopies in the parking bays of Shell House, then the ANC's home, at number nine Plein Street, Jo'burg. Former local activists and those who returned to South Africa destitute began moving into the suburbs of the cities, only to make cameo drives or be driven back to their former homes for fleeting visits in million-dollar jalopies.
It didn't matter who had that experience or education, it didn't matter who was able to unlock value and create opportunities for themselves. It didn't matter any more to exercise patience.
Kinked-out heads
The virtues of hard work drummed into our little African, kinked-out heads by our docile parents during apartheid started eroding as we watched (at first in awe) the lifestyles of former comrades with whom we had been in the trenches transformed 360 degrees.
In the transformative performance dance, the khaki shirt gave way to a mighty high-collared striped shirt and brand-name cuff links. The well-worn boots with stories to tell gave way to "Kick 'n Boboza" lace-ups.
Elsewhere in the boardrooms our sacrosanct political commissars lessons were replaced by Excel spreadsheets and PowerPoint and, of course, no one suggested this was terrible in essence. It was time, and necessarily so.
The country's economy, then and now, has no chance of growing without the purchasing power of the black middle class. But without active political awareness, education and values, you had nothing left but fertile grounds for the germination of bling seeds.
Although not so long ago we were taught the virtues of self-restraint, now, as with all new democracies and new economies the world over, we wanted it all and we wanted it now!
If Comrade Such-and-So can cruise in the rear seat of a half-a-million-buck jalopy, hot gals on each hand, whisky a-go-go, plumes of cigar smoke swirling above, fans and friends fixed at a self-prostrating angle, so can we.
If they can pack off their children from the townships schools to formerly white schools when their pals and families are in a position to fix township education and shirk that constitutionally enshrined right, so can we.
Soon everyone was in it. Every Joe Blog scripted fantasies. Everyone wanted to be someone. Even the music on the street imitated the impatience, urgency and the needling anxiety to be seen and adored.
Every tender for self
The phrase "hustling" rhymed with "tendering", not "caring". Everyone for himself, every tender for self, God for us all. The fastest, wealthiest reigned. The blingest shone. Things fell apart.
Ostentatious accumulation replaced all virtues yo mama taught you about. Suburban streets, newly developed golf estates, newly created cluster zones for the growing middle class and the ol' "locations" themselves became high streets.
The streets transgloried into show-off public ramps and the beautiful among us became walking mannequins. Neighbourhood car wash portals became ghetto satellite show-rooms for imported automobiles.
Meanwhile, those who could not steal, those who had no education, those who had no connections – political or blood – and even those who once did, only to be forsaken by their ex-commanders in the ensuing post-1994 gold rush, fixed us with teary eyes and hardening hearts.
Their kwashiorkor children with scabrous tummies and runny noses, mouths agape, never standing a chance to be anything in their lives, had their places in jails guaranteed. They stood and stared as their parents returned the ruling party to power in several five-year cycles.
And that's where we arrived.
That's the climate in which people such as Jub Jub were raised in and got to imbibe – if not from home, at least from the national consumerist culture. He is not the first and won't be the last.
The way we live now
The late Vanity Fair society columnist Dominick Dunne dubbed it "the way we live now". Putting the smaller nyana matter of class aside, I imagine that swaggering torch of the 1920s jazz age, F Scott Fitzgerald, and his Riviera sun-bathing posse would have gawked at us with admiration.
Besides, if you were so foolish as to question the moral value base of this "new life", you would never be invited to the table again. You will never eat lunch in this town, in this country, again. And, for real, who doesn't want to be invited for lunch? With money and fame, everything is possible. Or is it?
Someone oughta ask the kid.
On the morning of December 5 when, outside the court, Soweto went about its mad ol' self and not far away in the 'burbs some retailers were doing a roaring trade selling Christmas carols and neon-lit Chrizzy trees and Santa was getting down to his usual boogie, Jub Jub and his pal got to know their fate.
They were sentenced to 25 years apiece. Although they are both appealing their sentences, this will certainly be their first ever Christmas in jail.
If indeed Jesus was born on this day, this might be an apt time to tweet him, fellas: Lord of sinners, blingers and believers alike.
Essayist Bongani Madondo is the author of a collection of profiles and tall tales about the rich and famous, thugs and rock gods – Hot Type: Artists, Icons & God-Figurines (Picador Africa)