While last year's Mercedes Benz Fashion Week (summer collections) raised the ire of Johannesburg's well-heeled, the organisers of this year autumn/winter collections seemed to have ironed out the kinks and shows ran on time. Even the notoriously tardy David Tlale, whose show was offsite, was on time. The only complaints came from those – me being one of them – who hadn't cracked an invite to Tlale's showcase, which was held at a secret venue.
We had to wait almost an hour and a half between his show and Thula Sindi's which was well worth it. Sindi is undoubtedly the wonder boy of SA fashion and his show was ridiculously packed with some attendees having to stand at the venue. His celebrity clients/models such as Bonang Matheba, Terry Pheto, Simphiwe Dana, Melanie Bala and Bonnie Henna were in attendance and prominently perched in the front row.
In a collection which he described on twitter as "Lady Macbeth 2013…a little goth, opulent but still simple romantic", Sindi affirmed his role as a designer who truly understands the female form and how to celebrate it.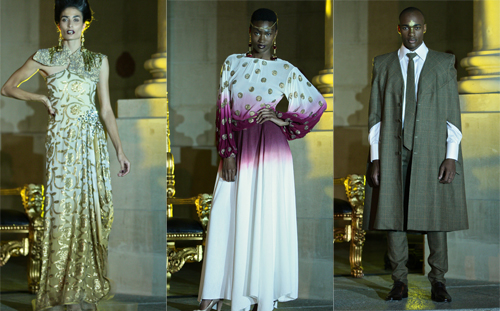 Some designs from David Tlale's collection. (Simon Deiner, SDR Photo)
Sindi had a fresh take on the ubiquitous peplum trend which he presented in leather and lace forms in this year's collection. A feminine take on leather was also a huge feature, particularly a flirty and feminine evening dress paired with a custom leather jacket and a leather maxi dress were a hit with the crowd. An appliquéd lace dress showed just how much detail the designer puts into his garments.
Most anticipated
Known for bringing the drama and dazzle into their shows, the Suzaan Heyns and Gavin Rajah showcases were some of the most anticipated. And they certainly did not disappoint.
In a collection titled "Doors of Perception", Heyns showcased beautifully crafted suits, coats and capes some constructed from cork material and custom-made shoes. She is one of a handful of designers in the world to use cork to make clothes. The production of Henyn's showcase was world class, with models in side swept hair walking through specially constructed doorways on the runway.
Not to be outdone, Rajah's collection which was titled "Future Perfect" showcased what promises to be one of winter's biggest trends, the camouflage print, in a feminine and glamorous way. The show started off with models being photographed on top of an army vehicle outside the venue, that most people had no idea was part of the Rajah's show. He also played around with peplums in pantsuits, also a twist on the trend and gave track pants a glamorous spin.
Rajah also showed why he is king of the evening dress, with embellished lace dresses and a showstopper of a wedding gown which had the women folk oohing and applauding.
Menswear designers such as Fabiani, Andre Martin for Life and Rual Rheeder were not to be outdone as they showcased pieces that any discerning fashionable man would want to be seen in.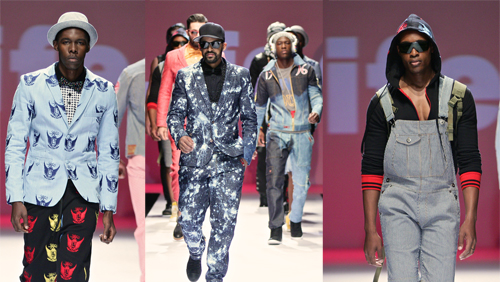 Designs by Andre Martin for Life. (Simon Deiner, SDR Photo)
Durban native, Martin stayed true to the "street" theme that has been a feature in most of his collections since he entered the fashion fray. His pieces which included boldly printed denims and a play on suits would certainly appeal to a younger man who wants to be noticed.
Rheeder's collection was mostly in subdued camel tones and blacks, with bold prints on pants and a rather daring lacy shirt which got a lot of reaction.
Fabiani closed off collections and showed everyone why they are one of the most popular menswear brands in the country. They experimented with textures and pants length, the ankle length pants trend is not going anywhere it seems – even for winter.