On an average Saturday, there are 80 to 90 funerals held at Avalon Cemetery in Soweto. More during the winter, reckons the guard at the gate.
As one funeral group enters, another leaves in a convoy that includes cars and two Putco buses filled with people just released from memorial services. From any one funeral, the marquee, buses and crowd of at least two others are plainly visible. And at every funeral the insignia of a different undertaker is painted on to the door of the hearse parked at the gravesite.
"There is lots of competition among undertaker companies. They are trying to outdo each other with speakers and cars," said Pule Molabatsi, a mourner who came to pay his last respects to a neighbour.
Right next to where an undertaker has a marquee and speakers set up for a funeral in progress, another company is wiring four speakers set up in a square next to an open grave. Because for many a funeral service is a form of community cohesion, ­having one that is well put-together is important.
"These are not like white funerals where people are invited," said Molabatsi. "People from the community are expected to come to the cemetery. Where people can't afford it, the community clubs together and burial societies step in to help with the costs."
There are currently more than 100 000 burial societies in South Africa, according to Zulu Ratswana, general secretary of the Burial Society of South Africa, citing research conducted by the insurance sector education and training authority. A funeral can cost about R15 000, Ratswana said.
"The most expensive items are the coffin and the cow that must be slaughtered. A coffin costs R5 000, on average, and the cow about R6 000. Then there is the cost of feeding the people who come for the funeral."
Funeral insurance policies go a long way towards covering the high cost. Although individuals can hold insurance policies, burial societies have specially designed insurance products so that members who make regular contributions can benefit from the cover.
Lavish expenses
When all is added up, a large amount of money changes hands on a regular basis. In the most recent calculation, funeral insurance contributed R4.9-billion to – and made up 1.7% of – the income of the long-term insurance industry, said Tembisa Marele, communications specialist at the Financial Services Board. This is in addition to a multitude of unlicensed insurance providers, many of which combine undertaker services and contribute to the lower end of the market.
With insurance cover, paupers are turned into princes in death.
For example, at one funeral service at the Christ Ambassadors Gospel Church in Vosloorus, an outsider would be forgiven for thinking the deceased had been a wealthy community patron. Instead, members of the congregation described him as an "ordinary person" who fitted machine parts for a living. The church was packed with people dressed in all their finery: polished shoes, suits and ties, dresses and heels. The service was conducted by Batho Batsho Bakopane, which, according to Ratswana, is considered to be the company to call for a professional funeral service.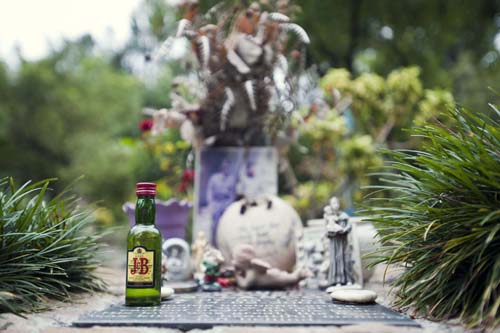 Fourways Memorial Park is a private cemetery in Johannesburg. A funeral costs an average of R40 000. (Madelene Cronjé, M&G)
Their ushers dished out specially designed programmes, directed people to their seats and roused the crowd when it was time to stand and sing the final song. Behind the varnished coffin, a live band set up its instruments. It would strike up a tune every now and then between the lively recollections of lifelong friends and the sermons of charismatic preachers. The music ­echoed uncomfortably beneath the low ceiling of the church, whose acoustics were not designed for the thundering of live drumming, but the songs were lively. Outside the church, a shiny Audi hearse stood ready to transport the body to the nearby cemetery.
But these sorts of lavish expenses don't make much financial sense.
Research has shown that funeral costs weigh heavily on household funds. Alicia Menendez, associate professor at the Harris School of Public Policy at the University of Chicago, has researched the effects that funeral costs have on the economic welfare of households.
"The research that we have conducted in different areas of South Africa indicates very high price tags for funerals," Menendez said.
Anxiety and depression
"A large amount is spent on ­animals to sacrifice, other food and on coffins. A quarter of the households borrow money, mostly from moneylenders at extremely high interest rates, in order to pay for the funeral costs.
"Households have fewer assets and report higher levels of poverty for many years after a death and this can be linked to the cost of the funeral, particularly when money was ­borrowed. We have found that children in households that experienced a death and had to pay for the funeral are less likely to be enrolled in school, and that adults in the household are more likely to show symptoms of anxiety and depression, and to report money problems."
Efforts are under way to break the stranglehold of funeral costs. The Burial Society of South Africa was formed in 2010 as an umbrella body for burial societies across South Africa. "We are trying to say to people not to focus so much on death. It sometimes comes in 40 or 50 years, and who is going to look after the families in the meantime?" said Ratswana.
He said it was a history of deprivation that made rites of death so important. "Over time, black people focused more on burials also because of the history and lack of education because it didn't give us things to improve our lives."
But the question of why people spend so much on funerals, particularly when funds are so tight, has puzzled many, said Erik Bähre, assistant professor at the Institute of Cultural Anthropology and Development Sociology at the University of Leiden. Bähre has conducted ethnographic studies of economic and social relations in the squatter settlements and townships of Cape Town.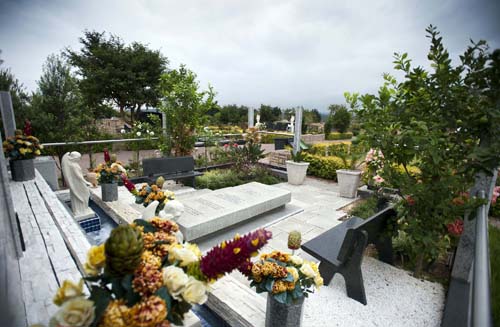 Fourways Memorial Park is a private cemetery in Johannesburg. A funeral costs an average of R40 000. (Madelene Cronjé, M&G)
"The large expenditure on funerals is not traditional. Among the Xhosa, funerals usually were modest. Only recently did funerals become so expensive, probably since the 1980s. By then, some funerals became important public events in the struggle against apartheid. Comrades used – and some people that I interviewed said abused – funerals as an occasion to struggle against the atrocities of the apartheid regime. This made funerals much more than the burial of a bereaved relative, neighbour, or friend. At these funerals, public performance became more important.
"Although many feel that it is a problem to spend so much money on funerals, they also say that they cannot do anything about it. The main reason is that they are worried about their reputation. They are worried that neighbours might say that they neglected the deceased. The bereaved family is concerned about malicious gossip and that people will say that they are stingy, that they are irresponsible by not putting money aside for the funeral, or some might even say that they never really cared for the deceased."
Finding space
The trend shows no signs of abating, leaving cemetery land at a premium. There is limited land for cemeteries; municipalities, which are responsible for maintaining them, are hard-pressed to find space.
A source from the City of Johannesburg, who asked not to be named, said there was plenty of "political pressure" on the city to make land available for burial. "In Alexandra township, for example, an election can be won or lost on the basis of burial space," she said.
Although there is no crisis of space yet, it is suggested that overcrowding is more pronounced in black townships, where the concentration of people and the death rate are highest.
The cost of graves is staggered depending on the cemetery, and racial segregation persists, said Ratswana. "It promotes white exclusivity – so the rates are higher for white cemeteries, whereas in black and coloured cemeteries the rates are lower."
At the top of the range, the cost of burial at West Park Cemetery in northern Johannesburg was R1784 in 2011-2012, but a grave in Avalon Cemetery came at R1 057 – 41% less.
At Fourways Memorial Park – a private cemetery at the higher end of the market and the only one of its kind in Gauteng – the ­setting is peaceful, with flowers of all ­colours in bloom and white fantail doves hopping among the cast-iron benches and stone fountains.
"We rarely associate ourselves with the word cemetery – we call ourselves a memorial park. When ­people walk in here there is a different vibe," said the cemetery's chief executive officer, Deon Klingbiel. "People come in here and go jogging. But we've got rules: dogs must be on leashes and babies must be quiet because it's a place of respect."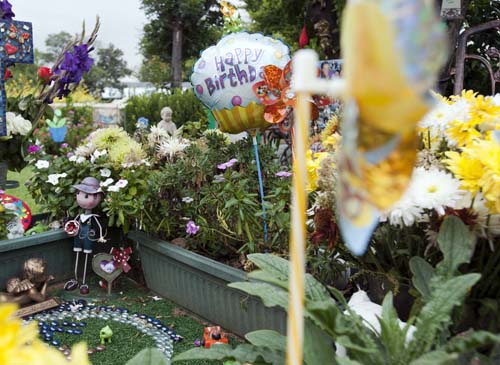 Fourways Memorial Park is a private cemetery in Johannesburg. (Madelene Cronjé, M&G)
Set on a 12-hectare plot of land, it has another 60 to 80 years of burial space left in it, and holds the remains of 6 000 people. Roughly half of these are bodies and the rest are ashes from cremations. A "niche memorial" is a popular method of storing the ashes of family members where, at a cost of R7 000, two sets of ashes are placed together in one of six holes inside a hexagonal concrete block. Ornamental plants and flowers grow out of the centre of the block.
Pricey products
Buried there are the relatives of famous politicians and the founders of churches. Klingbiel said that an average funeral costs R40 000.
"Well, it's R20 800 from my side, and then with undertakers and all that, which can cost anything between R10 000 and R30 000, let's call it R40 000 in total."
He said the majority of their ­customers have funeral insurance policies, except for those who opt for the more pricey products.
The most expensive item on offer is an eight-grave family estate bordered by a hedge that can be purchased in perpetuity for R200 000. There is one plot that boasts sleek and polished slabs of black marble, some of which are inscribed, others bare, solemnly awaiting the details of their future occupants. Some of the plots that can fit a family are used for only one person. One is the resting place of a priestess who founded a church and has a floor and tomb made of white marble behind which a fountain gurgles.
"The family pays for the water and electricity every month, of course," said Klingbiel.
For a price, even the funeral ­services can get creative. Some undertakers market themselves as making funerals less morbid than they need to be. One of these, Collinge and Co, has an old-­fashioned 1939 Packard hearse in its service and insists on consulting families of the deceased in the ­intimacy of their own living rooms.
The group's chief executive, Mike Collinge, said funeral trends are fast moving away from the traditional methods. "People want personalised services and they want more input, and not the old traditional things. Like if the person was a motorbike rider, they'll want motorbike pictures and décor … We've had a number of biker funerals where the bikers will come to the mortuary and have a procession in the front."
Going green
Another oddity was the funeral of a hippie family. "We once had a hippie family funeral where the guests were served shots of tequila before the service and they arrived barefoot," he said. Collinge handles 360 funerals a year and charges an average of R25 000; a price that includes coffins, brochures and catering. The most expensive funeral they've ever done had a price tag of R90 000.
Funerals are, apparently, also going green. Wiesenhof Legacy Parks is a burial site based in Stellenbosch. Its chief executive, Werner Fouche, said that preserving nature is an imperative and their grave markers are as subtle as possible; with a plaque that barely protrudes from the ground as the most conspicuous. Another option is to use a tree as a grave marker.
"Instead of a tombstone, we can plant a tree on the grave and it becomes a living memorial. It is still a new concept," said Fouche. Although an emphasis is placed on reducing the sinisterness, it is hardly a cheap burial option. Burials cost upwards of R28 000, and scattering ashes over the soil costs R6 000.
Clearly, when it comes to funerals, no effort is spared to comfort the living. But perhaps this is just the way it is. As the French author Antoine de Saint-Exupéry said: "He who has gone, so we but cherish his memory, abides with us, more potent, nay, more present than the living man."
Faeeza Ballim is a staff reporter for the Mail & Guardian