Equal Education's Lumkile Zani and Brad Brockman on Friday told the Mail & Guardian about the second day of the nongovernmental organisation's three-day tour of some of the Eastern Cape's forgotten schools. The tour, known as the Solidarity Visit – which will be led by Archbishop Thabo Makgoba and supported by Equal Education – will focus on the learning conditions schoolchildren and teachers face across the province. Here is a run-down of the second day.
Thursday was the second day of Equal Education's solidarity visit to Eastern Cape Schools. The first school we visited was Ntapane Junior Secondary School 10km outside Mthatha.
There are 856 learners at the school and with not enough classrooms to accommodate them all comfortably – overcrowding has become their main problem. In one of the grade nine classes there were over 130 learners. They sat three or four to a desk and teachers taught them standing pressed up against the blackboard.
There is only one tap for the whole school. There is no sports field, library or laboratory. But despite this, we saw disciplined pupils, eager to learn, and their dedicated teachers doing their best.
Three parents were busy cooking the feeding scheme meal over an open fire, in a shack the community had built to use as a kitchen. The women told us they were happy to cook for the children and had been doing so since the beginning of the year.
Writer Sindiwe Magona visited classes, encouraging pupils to stay in school and work hard, despite their conditions. She used herself as an example, telling pupils they could one day become writers like her who had also been raised in the Transkei.
The next school we visited was Nyangilizwe Senior Secondary School not far from Ntapane. It has 735 pupils, spread over grades 10 to 12. It also battled with overcrowding until recently, when the Eastern Cape education department built three temporary prefabricated classrooms.
The department did not give any advance notice to the school of their intentions to build these prefabricated classrooms, though, so for years community members raised funds to build new classrooms. A half-built block of three classrooms now stands next to the prefab buildings, and the community has run out of money to finish the work.
Nyangilizwe is about 600m away from Transkei Quarries, where stone is crushed and tar is made. White plumes of smoke from the quarry machines blow towards the school when the wind blows in that direction. Parents and teachers told us that this and the dust caused serious respiratory problems among pupils and community members.
But the worst part of the school is the toilets. There are four pit toilets for the boys and four for the girls. The smell of these toilets and their dilapidated condition are beyond describable. Pupils are at real risk of contracting diseases from them – especially the girls, some of whom told us about the rashes on their skins they think was caused by them. One pupil lifted her dress to show a journalist the damage on her skin. An emotional Sindiwe Magona described the act as "giving testimony with her soul". The entire delegation was visibly traumatised.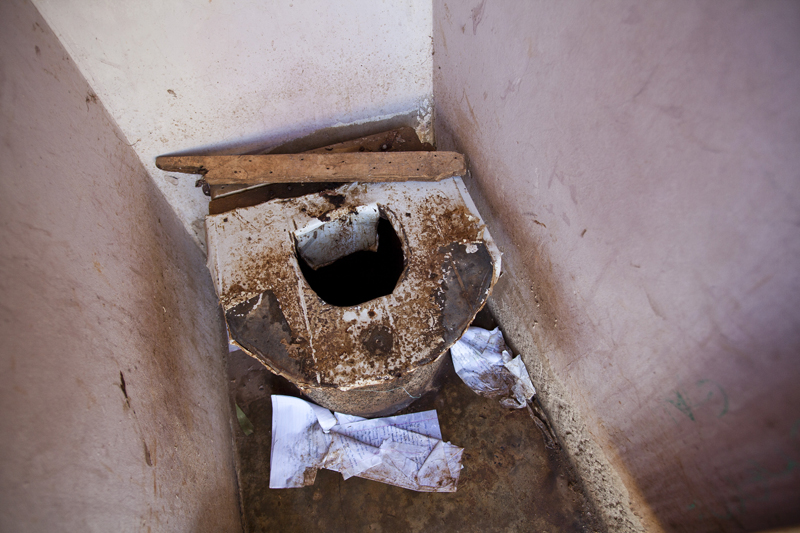 (Sydelle Willow Smith)
The last two schools we visited, Samson Senior Primary School and Nomandla Senior Secondary School couldn't have been more different to each other.
Samson, a school in the village of Mthomb'etsitsa, holds classes in a mud church and rondavels donated by members of the community but the rondavels are scattered across the village. Also, there are only five teachers for two hundred and thirty learners.
Nomandla is a brand new school built by the accelerated schools infrastructure development initiative, which was set up by government to get rid of schools built with inappropriate structures. We were amazed by the development of this modern school. Community members we spoke to were immensely proud and encouraged by this new school. Nomandla is an example of what government and communities can achieve – a modern school with good facilities despite being in a deeply rural village.
This was co-written by Lumkile Zani, head of the community department at EE, and Brad Brockman, EE's general secretary.