Former Teamsters union leader Jimmy Hoffa was last seen alive when he left for lunch with two mobsters 38 years ago.
Federal agents brought excavation equipment on Monday to a field in suburban Detroit where Tony Zerilli said Hoffa's remains were buried.
Zerilli (85) told Detroit television station WDIV in February that he knew the location of the remains.
On Monday, Detroit FBI chief Robert Foley said investigators obtained a warrant to search a field in Oakland Township, about 40km north of Detroit.
FBI agents halted the search for the day at about 7pm on Monday and planned to resume digging on Tuesday morning.
Foley did not mention Zerilli's claims in his brief comments, but Zerilli's lawyer, David Chasnick, said his client was "thrilled" that investigators were acting on the information.
"This has finally come to an end. It has been an arduous project to get to this point," Chasnick said. "Hoffa's body is somewhere in that field, no doubt about it."
Buried in a barn
Chasnick said his client is "a person intimately involved" with people who know where the body is buried.
He said his client wasn't making any public comments but said Zerilli told him there used to be a barn in the field and that Hoffa's body was buried beneath a concrete slab inside the barn.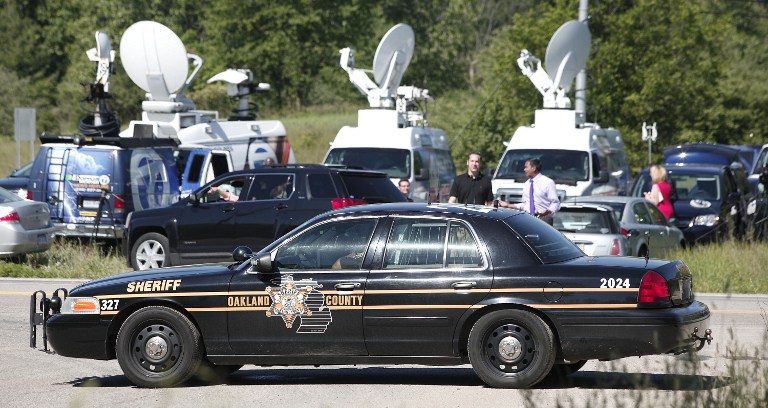 Zerilli was convicted of organised crime and was in prison when Hoffa disappeared.
But he told New York TV station WNBC in January that he was informed about Hoffa's whereabouts after his release.
Oakland County sheriff Mike Bouchard, who joined Foley at a news conference, said it was his "fondest hope" to bring closure for Hoffa's family and the community.
Hoffa, Teamsters president from 1957-71, was an acquaintance of mobsters and an adversary of federal officials.
Fruitless searches
The day in 1975 when he disappeared from a Detroit-area restaurant, he was supposed to be meeting with a New Jersey Teamsters boss and a Detroit Mafia captain. Since then, multiple leads to his remains have not panned out.
In September, police took soil from a suburban backyard after a tip Hoffa had been buried there. It was just one of many fruitless searches.
Previous tips led police to a horse farm northwest of Detroit in 2006, a Detroit home in 2004 and a backyard pool two hours north of the city in 2003.
Andrew Arena, who was head of the FBI in Detroit until he retired in 2012, said Zerilli "would have been in a position to have been told" where Hoffa was buried.
"I still don't know if this was a guess on his part. I don't know if he was actually brought here by the Detroit [mob] family," Arena said.
"It's his position as the reputed underboss. That's the significance." – Sapa-AP