The annual report, released on Tuesday, aims to help consumers compare banks by summarising the most important features and bank charges of the mainstream accounts of the five largest retail banks in the country; Standard Bank, Absa, Nedbank, FNB and Capitec.
On the whole, the report found that Capitec Bank is still the cheapest option for most clients. However, Absa's Silver Value bundle and FNB's Smart Cheque Unlimited account were also found to be relatively cheap options suitable for clients who wanted to get all of their bank services from one place.
With a R10 000 balance, consumers will earn R34.74 interest on the Capitec Global One account, bringing the average monthly cost down to about R17.27.
FNB's Silver, Gold or Platinum Fee Saver cheque accounts came in next lowest, with an average monthly cost of R35.47; however, clients are required to have a minimum of R9 000 in the account in order to enjoy these fees.
Third cheapest was Capitec's Global One account again – this time for a person with R2 000 earning interest of around R8, bringing the total monthly charge to R43.87. FNB's Smart Unlimited account followed in fourth place, with monthly charges of R53.20.
Absa's products came onto the scene in fifth place, with its Silver Value Bundle costing R82. Nedbank's cheapest product came in seventh place – its Savvy Current account costing R97 for unlimited transactions. Standard Bank's Elite Plus account was its cheapest offering and came in eighth place – right behind Nedbank – at R102 40 per month.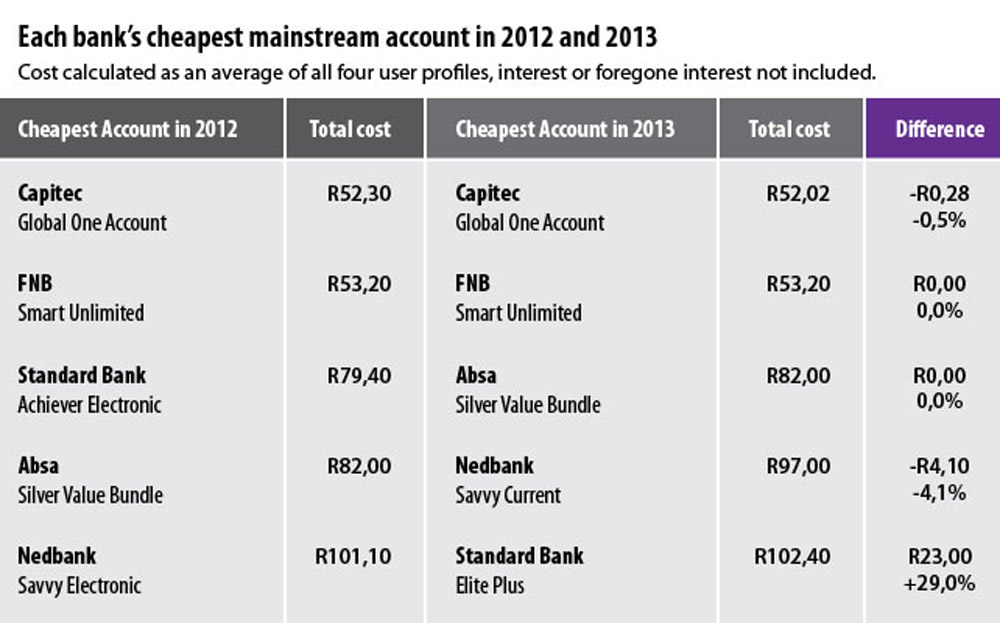 Graphic by Kenny Leung
Limiting consumers' choices
The report said that most banks are "strongly moving towards bundle accounts at the expense of pay-as-you-transact accounts".
According to Solidarity's senior economic researcher, Paul Joubert this trend is limiting consumers' choices.
"A situation where there are fewer choices is not necessarily bad, but bank charges seem to be stagnating at a level of around R80 to R100 as a result of this trend," he said.
"At the "Big Four" banks [Standard Bank, Nedbank, FNB and Absa], the fees of each individual transaction on the pay-as-you-transact accounts have become so high that clients are in effect forced to open bundle accounts instead.
"Capitec, however, still offers a cheaper pay-as-you-transact alternative with minimal fees per transaction."
Banks offered varying incentive schemes and reward programmes such as interest at specified cash levels, rebates on certain cash levels saved and reward programmes, making straight-forward price comparisons very difficult.
"Each person's banking habits are unique," said Solidarity. "People must therefore still make final decisions on the basis of their own banking habits and preferences."