These days, the sailors and their lives aboard international trawlers have been transformed into another sort of existence entirely.
When I first moved to South Africa in 2009 I chose Cape Town for the ocean. I've always loved sailing and the water. But I found it more a mountain city that happened to have a port than a port city graced by a mountain. ­Everybody hiked. Few sailed.
Only faintly visible in the haze of the day, it was at night that I felt the presence of the ships more than the mountains. At night, their lights shone out of the dark water like a handful of stars.
Often I watched them and wondered who was aboard and what their lives were like. I imagined them as romantic floating islands, populated by sea-lovers with a life calling to roam the oceans.
In time, I moved north to Johannesburg. But four years later I returned to Cape Town to investigate the worlds of the sailors aboard, in particular, the fishing trawlers that anchor at Cape Town harbour. I found something so much less romantic. The ships I imagined as peaceful can in fact be volatile cauldrons brewing despair, anger, even violence.
Capetonians used to know the foreign seamen who passed through their port. The city, of course, began its life as a refreshment station for foreign ships. In the first half of the 20th century dock labourers were Cape Town's largest group of unskilled workers. Even after World War II, up until the 1970s, many Capetonians – particularly coloured men – worked at the docks, communing with the sailors who came through on cargo ships, naval vessels, or the giant Castle Line mailships that ferried letters as well as passengers from different ports in England down to South Africa.
Joewa Meyer and Edward George Jones were dock workers in Table Bay harbour's post-war heyday. Jones, a giddy and impish 70-year-old, lived in District Six, while Meyer, the heavier and more reflective of the two, lived in De Waterkant.
Over fish and chips at one of the ­larney restaurants that now line Cape Town's V&A Waterfront shopping mall the two men, now retired and living on the Cape Flats, reminisced about their salad days.
Oodles of pubs
Many families in the Bo-Kaap did a stint hosting a British sailor in their homes and in Woodstock practically every other house was a ­suikerhuisie (sugar house), staffed by prostitutes catering specifically to sailors. Local boys rubbed elbows with sailors at the oodles of pubs that lined Lower Long Street and De Waterkant and the locals got to know their cultures. "We were so proud of the black Americans" for shuffling off slavery, Jones recalled.
Meyer was part of a "gang" of workers that scrubbed the decks of the northbound mailships, which stayed in port for five days and carried up to 700 holidaying passengers as well as 200 crew. "I had so many friends aboard the mail ships," he said. He procured local dagga for the English crewmen and joined them to "do naughty things" with Dutch cruiseliner stewardesses.
Even for those Capetonians who didn't work on the docks the port was a focus of the city. Families, white and coloured, made a ritual of going to the docks to watch the
mailships sail and curious schoolboys plied the docks on weekends with their bicycles.
But starting in the late 1970s, said Jones, "everything changed".
Over the past few decades maritime culture has been transformed worldwide, ending the engagement between ordinary Capetonians and foreign seafarers.
First, there was the rise of air travel. In 1971 the first Boeing 747 arrived in South Africa. Within five years the era of travelling to and from South Africa by ship drew to a close and with it the tradition of Capetonians turning out to meet the mail ships.
Then ocean shipping became "containerised". An increase in efficiency meant fewer dockworkers, fewer sailors, and less time spent in port. Sailors now had a day or two, or sometimes even less, to roam the Cape Town nightclubs and suikerhuisies, hardly enough time to form local bonds.
The attacks on the United States on September 11 2001 put the final nail in the coffin of Cape Town's dock life. In the months thereafter countries wishing to trade with the US had to implement stringent port security. Three-metre-high iron fences went up all around the docks. Sailors now need complicated permits to get out of the harbour and town-dwellers need equally complicated permits to get in.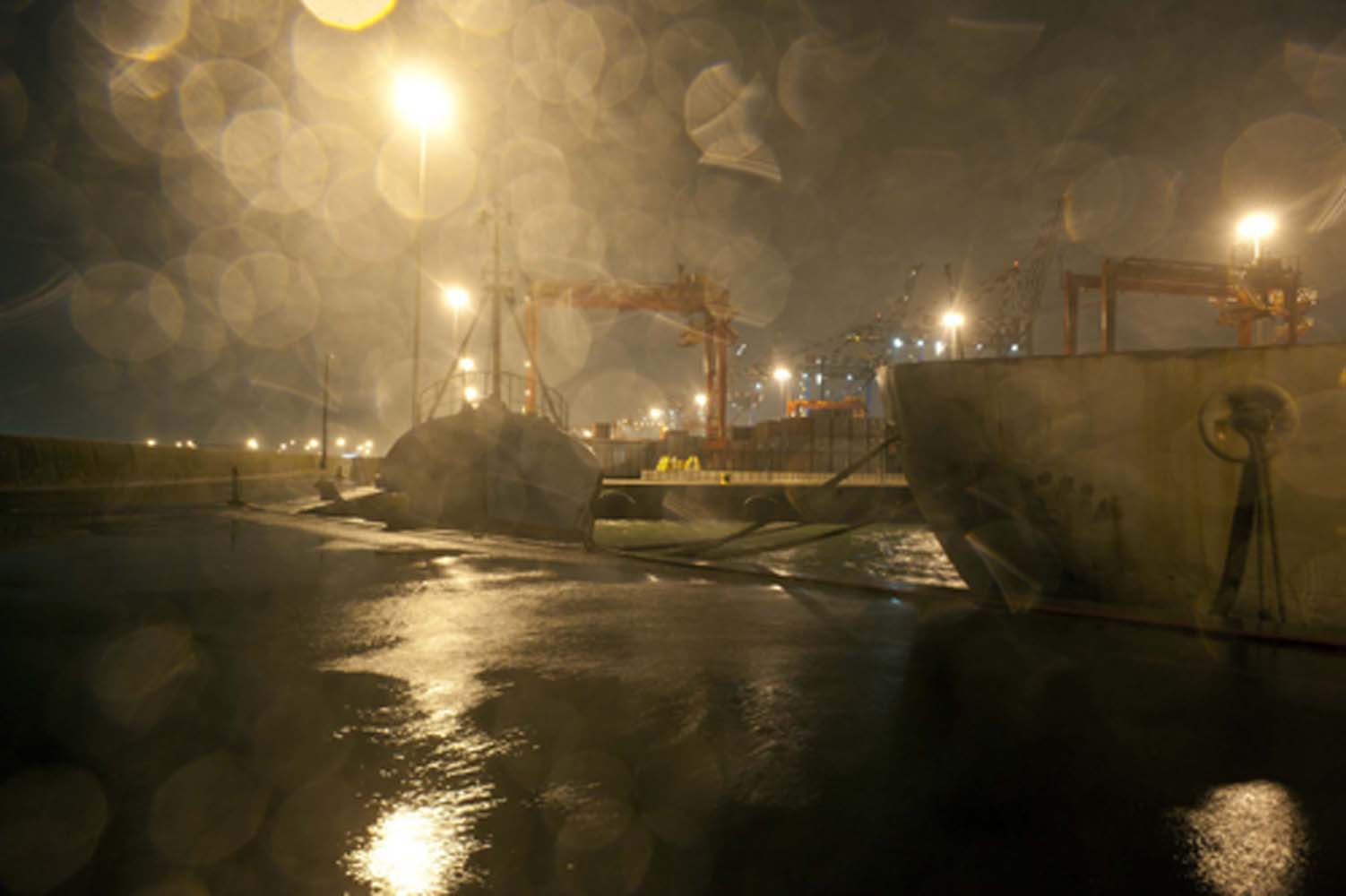 Contain­erisation has led to greater efficiency but more ­alienation for crews. Picture: David Harrison
And thus, Cape Town's port was riven from the city's social life. The old lively interchange between sailors and locals ended. Capetonians lost their sense of themselves as residents of a port city.
Needier
It was a tragic blinding, because just as people looked away from them, the sailors who called at Cape Town were becoming needier of attention.
Clues to the life behind the barbed wire can occasionally be found in short items in the newspapers. For example, in the Cape Times on May 7 2009: "Crew of vessel hijacked by fellow fishermen say they were ill-treated". On June 10 2010: "No salary for six months at sea; foreign crew to return home amid abuse claims". Many of the stories deal with the travails of the crews, in particular, Taiwanese-owned fishing vessels and the fights between the men of various different Asian nationalities who crew them. In one case in 2009 that generated several newspaper articles, a group of 10 Vietnamese sailors staged a proper mutiny aboard a fishing boat anchored in Table Bay harbour, tying their Chinese captain and first officer to the mast and taunting them with knives.
One chilly, misty recent morning, Alan Goldberg and Cassiem Augustus began to demystify these turf battles for me. Goldberg and Augustus are an odd couple who look out for sailors' rights: Goldberg, a jolly, bright-eyed, jubilant maritime lawyer, often helps foreign sailors who berth at Cape Town to bring legal claims against their employers, and Augustus, a thin, soft-voiced union representative, serves as the Cape Town ship inspector for the International Transport Workers' Federation's Seafarers Section, an international labour union.
The morning I met Goldberg and Augustus they had watched the trial of 10 Indonesian sailors who had murdered a Vietnamese sailor in December after a fight broke out at a sailors' nightclub. They tut-tutted at the sailors' plight, suggesting it can actually be the fishing vessel's owners' fault that conflicts arise between different nationalities.
"Almost all the fishing boats that I have come across are crewed by a mixture of nationalities," Goldberg said. On some deep-sea trawlers, 40 men representing up to four or five different Asian nationalities would bunk together in a tiny space. Male territorial conflict is virtually inevitable.
"It's normally a recipe for disaster," said Augustus, the ship inspector. "But what owners want is to create confusion." Crews composed of a single nationality can more easily band together and protest against working conditions aboard their ships – which are increasingly execrable. When nationalities are mixed up on board, however, they have difficulty communicating with each other and fight among themselves instead of against their employer. Divide and conquer.
Asian-owned fishing trawlers began to dominate the Cape Town port in the second half of the 20th century. At first, the Asian trawlers were mainly Japanese-owned and staffed by Japanese crew. But as the Taiwanese economy surged in the 1980s and 1990s Taiwanese ships got into the game too.
Taiwanese trawlers
Meanwhile, in the late 1990s, Southeast Asia was entering a full-blown economic crisis. Young Indonesian, Filipino and Vietnamese men became available for work for low wages. It started to make economic sense for trawler owners to hire poor Southeast Asians to crew their boats, using local "agents" who would recruit from rural villages or urban colleges with the promise of lucrative pay.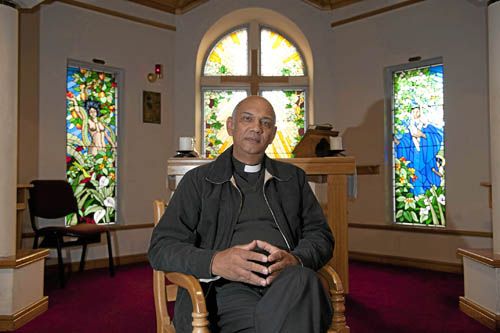 Reverend Charles Lange of the Mission to Seafarers. Picture: David Harrison
Most of them have no training or prior experience at sea before they begin a contract of two to three years. It is generally agreed that working on a Japanese ship is OK. "If they're on the Taiwanese trawlers, though, it's hell."
Those are the words of Patty Lange, a volunteer who has worked for 19 years at the Mission to Seafarers on the edge of the harbour. Part of a network of Anglican-affiliated missions at ports all around the world, the Cape Town mission is an airy, cheery, multilevel complex that provides ministry, classes, internet access, entertainment and a full restaurant and pub for the foreign sailors who come through the Cape. Patty's elegantly dressed brother, Charles, is the chaplain.
The three of us spoke around a polished wooden table in the mission's foosball-table-and-bookshelf-lined upstairs. Patty and Charles said conditions for sailors aboard fishing trawlers appear to be worsening. The food provided is often just plain noodles or rice. On some boats crewmen have to buy their own fresh water. They sleep in tiny, stacked beds and work for up to 22 hours a day. Sometimes the only bathing water is seawater. If they make a mistake, they are sometimes beaten by the captain. Occasionally the mission assists in flying back home a sailor too crippled to work.
Charles attested that "everybody" who walked in the mission's door wanted to go home. "It's amazing to see the fear in their eyes when they tell you they don't want to go back to their vessel," said Patty.
And, of course, there's the confusion and tension generated by being confined with unfamiliar men from other nations. With their cramped bunks and volatile mix of cultures, the boats are not too different from floating mine hostels, with all the mine hostels' characteristic stress and testosterone-fuelled social problems.
The difference is that the sailors might be trapped inside their floating hostels for years on end. Fishing trawlers sometimes spend a year or more in deep sea. One Indonesian sailor who recently passed through the mission said that he had spent 37 consecutive months on the open sea. Not all on the same boat, he explained: At one point, he was "sold" from one vessel to another, but the transfer was done in the ­middle of the ocean.
Sterner
One Wednesday evening I went to Mission to Seafarers to sit in on a weekly "life skills" class offered for sailors by a 53-year-old Indonesian Bible teacher named Nimrot Rajagukguk. An earnest, slightly stout man in a windbreaker and round glasses, Rajagukguk has lived in Cape Town with his wife and three children for 13 years as a missionary, teaching at a Bible college.
In 2011 the Indonesian consulate in Cape Town asked him to start teaching a weekly class for sailors. It coaches sailors in basic English, basic Mandarin – to communicate with their captains – and on how to be "sterner with their rights". He does it on a volunteer basis. "My burden as an Indonesian is to see my countrymen neglected," he told me.
The 20 boyish-looking Indonesians who gathered for Rajagukguk's class were eager to share their individual tales, though they asked to keep their real names private for fear of offending their employers. Arranging the mission's orange plastic chairs in a circle, they spoke to me through Rajagukguk of their recruitment and subsequent labour aboard the fishing vessels.
One sailor had been visited at the cigarette factory where he worked by an agent who "promised something much better". Another had met an agent in his rural village in the region of Aceh, which was devastated by the 2004 Indian Ocean tsunami. A third had been taken to a recruitment office and shown video footage of a sleek cruise liner slicing through turquoise waters. "And then he found himself on a squid boat!" Rajagukguk translated with a wry grimace.
Many of them were angry about the way they were subsequently paid and treated aboard ship. They had all been quoted monthly salaries by the agents, but Rafi, a 17-year-old with a flat-top haircut, said he hadn't seen any money for a year. Arif, a long-haired 20-year-old, said that his captain aboard the Taisei Maru, a Taiwanese vessel, forced him to eat pork even though he is a Muslim. Hari, a red-faced 28-year-old, said he had been struck by his captain and raised a left hand swollen with injury.
"They all want to go home," said Rajagukguk. It turns out that mistreatment is often explicitly written into the sailors' contracts. He showed me a few contracts he had collected from sailors in the past year. The labour terms were laughably poor. One contract stipulated that the sailor's monthly salary would start being paid only after 12 months. If his boat suffered a mishap and broke down no salary would be paid out at all.
Another mandated "working hours 18-22 hours daily … without any overtime pay" or medical care. Several required total "obedience" to the captain and gave the captain full authority to cut pay if he decided a crewman was "lazy".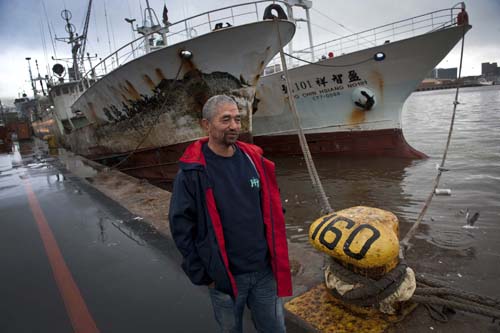 Ship ­inspector Cassiem Augustus. Picture: Daid Harrison
Human trafficking
I asked the sailors why they had signed such terrible contracts. Many said they had been handed the contract moments before boarding their boats, after they had travelled far from their villages and made lavish promises of money to their families.
I understood why Rajagukguk compared the sailors' situation to "human trafficking", or at least unwilling indentured servitude, which is illegal in terms of the United Nations Universal Declaration of Human Rights. Most of the sailors had left a large cash deposit – up to R10000 – with the agents, which they would forfeit if they broke their two-to-three-year contracts early. The sailor from rural Aceh told me he feared his agent would pursue him, like the Devil in Faust, all the way back to his village to collect a fine if he quit.
The family of Capetonians who follow the lives of the ­trawlers' crewmen believes South Africa should be doing much more to regulate or ban the trawlers – or at least crack down on "hubbing". This is the practice whereby a ship returns to Cape Town regularly while claiming its official home port somewhere else. Earlier this year, South Africa ratified the International Labour Organisation's Maritime Labour Convention of 2006, requiring strict labour standards aboard boats, including that seafarers work no more than eight hours in a 24-hour period. But foreign-owned fishing trawlers flying another country's flag aren't subject to these regulations, even if Cape Town seems to be the port they are most frequently using. "Unions regulate our own fishing industry," said Augustus. "Why not the foreign fishing boats that use Cape Town as a base?"
For Augustus and Charles Lange the frustration with ­seafarers' working conditions is especially keen.
As coloured men active in the anti-apartheid struggle they had placed great hope for broad change on South Africa's political transition.
"The old government had a good relationship with Taiwan," Lange told me. Whenever he complained about the treatment of seafarers, "they told me to shut up". So, he had hopes for the new government. And yet, "the government is doing the same thing today! It's forever going through my mind. We say we have the best Constitution in the world, yet we allow these atrocities to visit our shores."
There is one other sector of Cape Town fully dedicated to making the sailors feel respected: the sailors' nightclubs on the Foreshore.
I visited one called the Lido one Monday evening, typically the club's hottest night of the week, the night new ships usually come into harbour and exhausted crews tumble into town for R&R. The gritty stretch of Riebeeck Street off which it is located was forlorn and abandoned, but inside everything was technicolour, buzzy and catering specifically to sailors.
A piece of paper with exchange rates was posted on the wall. Anchor motifs decorated the wall behind the long wooden bar. There were karaoke booths. The dance floor looked like a vision of a hot spot in Tokyo or Bangkok: two disco balls, strobe lights and a smoke machine. Groups of women in short-shorts danced together or sat at tables with their arms slung around overjoyed looking young Asian men.
"On the boat it's just eat, sleep, fish, eat, sleep, fish," one lady at the bar, an older woman in a short black dress, told me. "Here there's something different for them. It's called jiggy-jiggy."
Henry Trotter, a historian based at the University of Cape Town, researched the women who work at the sailors' clubs for years for a book called Sugar Girls and Seamen: A Journey into the World of Dockside Prostitution in South Africa. He spent 150 nights at clubs in South Africa's port cities to gain a deep and nuanced understanding of a distinctive subculture.
Prostitutes
About 60 prostitutes ­specialising in sailors work full or part time in Cape Town, he said. They often live together in boarding houses in Woodstock or Rugby, on the fringe of the harbour. Trotter estimated that between 70% and 90% of them have a child fathered by a sailor, creating a set of half-Asian children.
The women go to incredible lengths to appeal to and understand the culture and desires of foreign sailors. Trotter's book opens with a description of a girl he calls "Brandy", who had specialised in pleasuring Japanese seamen. She had learned fluent Japanese, kept saké at home, gave her clients elaborate, traditional Japanese-style baths and wore a kimono to bed.
This kind of effort is not unusual. Most of the prostitutes learn a language commonly spoken among the sailors who call at the Cape. Many of the girls build lasting relationships with regular clients, meeting them each time they come back to port.
Every so often there is a killing at one of the clubs. The December murder of the Vietnamese sailor occurred after Vietnamese and Indonesian sailors disagreed over which nationality's songs the DJ would play.
But in spite of these spurts of violence the Lido largely provides the sailors a "safe space" – one of their few. It is the one place the special romance of being a seaman, with a loving woman waiting in port, still exists.
"The club is a place where everyone recognises the sailors have special needs," Trotter said. Or in the words of the woman in black lounging at the Lido bar: "They can't go out on Long Street. They would be ­victimised so quickly. This is a home for them."
This is an edited extract from The Seafarers, part of a collection of stories in Writing Invisibility: ­Conversations on the Inner City, an e-book published by the Mail & Guardian in association with the African Centre for Migration and Society, and supported by the Max Planck Institute. Go to mg.co.za/acms to download a free copy of the book.