A painting commenting on President Jacob Zuma's perceived role in the Marikana shooting has been sold for R89 000, gallery director Greg Dale said on Monday.
"We did not alter the selling price of the [Ayanda Mabulu] work that we were asking before the controversy," said Dale, a curator of the Commune.1 art gallery in Cape Town.
Some of Mabulu's other pieces are displayed at the gallery.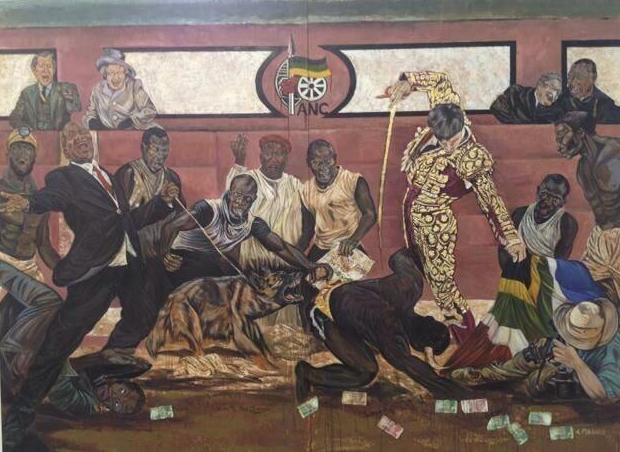 ​
​(Image via @mandyldewaal​ on Twitter)
"The work was sold on Saturday evening at the fair. The seller is a local private buyer."
The artwork – Yakhali'inkomo – Black Man's Cry – was pulled from the FNB Joburg Art Fair last week.
It was reportedly put back up after photographer David Goldblatt, this year's featured artist at the fair, took down his work in protest.
The fair's creative director, Cobi Labuschagne, told the Sunday Independent that they had wanted the opening night to be about celebrating the government's work, rather than attracting attention to an "overtly political work".
Ross Douglas, the fair's director, was quoted as saying that the work was not censored because of government pressure.
The painting depicts a kneeling miner with horns on his head. He is being attacked by a dog Zuma is holding on a leash, while stepping on another dying miner's head.
A white man dressed as a matador stands over him, holding a South African flag as a cape and about to stab him with his sword.
Britain's Prince Charles and Queen Elizabeth look on, laughing.
In the background is an ANC logo with blood dripping from it. – Sapa