Just over a year ago, a group of Rhodes University staff and student alumni temporarily occupied Fort Ihlosi, a military training base outside Grahamstown. The group, members of the First Physical Theatre Company, transformed the base's hangar into a stage for a theatrical spectacle set in an imagined postapocalyptic society.
Audiences attending the 2012 National Arts Festival event, titled Discharge, were taken to the site in military transport. Conceived by performance artist Gavin Krastin, his partner, choreographer Alan Parker, and new-media artist Natalie "Rat" Western, Discharge was neither polite nor disciplined, filled as it was with clunky metaphors and extravagant seriousness.
Krastin was recently in Cardiff, where he participated in World Stage Design, a quadrennial exhibition of international performance design pitched at scenographers, theatre architects and technicians. He was invited to show some of his costumes and to restage Rough Musick, an off-kilter performance work premiered at the National Arts Festival in June this year.
Rough Musick opens with the naked artist vacuum-packed like a piece of meat. Later on, in a mincing deconstruction of his British ancestry, Krastin attempts to walk in heelless platform shoes while clutching a bag of the sort preferred by Queen Elizabeth.
Like Steven Cohen, who was arrested earlier this month in Paris for "sexual exhibitionism" when he appeared in public wearing a bird costume with a living rooster tied to his penis, Krastin makes his own costumes. But some costumes are outsourced, such as the steel head cage worn in Rough Musick, which was made by a fetish supplier in San Francisco.
Costumes
Displaying his outlandish costumes, including the peacock-feathered collar he wore in Cellardoor (2012), a camp meditation on beauty, proved harder than Krastin had anticipated.
"It was the first time ever that I put a costume on a mannequin," says Krastin. "I have always had them on live bodies moving. I pinned the fabrics and used gut and string to pull and push from the roof to try and give it a sense of movement, that perhaps there was a wind or a force moving the fabric. Nothing worked."
Compared with the slickness of other exhibitors, he says his costumes looked worn. Rather than see this as a flaw, he puts a positive spin on it.
"Perhaps this reflects the place I come from," he says. "There is an awesome quote by [German dancer] Pina Bausch where she talks about the sweating, bleeding, panting, exhausted, broken body, which is so beautiful."
His ripped costumes, he is saying, are an echo of this absent and wounded body.
Krastin's struggle to reanimate his costumes is just one of many conundrums facing proponents of a practice that melds aspects of dance, physical theatre and performance. For one, live art, as it is known, is expensive to produce.

Kemang wa Lehulere (above).
Visual restraint in costumes?
"How do you make money when performing to 40 people when your production costs are so extremely high because it is so visually driven?" asks Krastin.
There is no single correct answer, just possibilities proposed by the career biographies of a diverse range of artists working in a similar way.
Before Kemang wa Lehulere's sprawling wall drawings came to the notice of a New York art dealer, Lea Freid, Wa Lehulere was writing, creating collaborative sculptures and performing. In 2007, he participated in a three-way collaboration with actors Chuma Sopotela and Mwenya Kabwe.
The group's costumes were minimal: Kabwe, for instance, wore a white wedding dress, and Sopotela appeared naked, her body painted black.
Two years later, this time appearing alone, Wa Lehulere exhibited similar visual restraint when he performed outside Cape Town's National Gallery at the opening of the exhibition Dada South? Dressed in black running shorts and T-shirt, some sapling stems tied to his body, he uttered guttural noises into a loudhailer and tore pages from an old book as he mingled with the crowd.
The idea of performance as a kind of spicy canapé for openings is now a rote curatorial strategy. Robin Rhode's early 2000s practice largely consisted of him attempting to interact with his wall drawings at openings. It was fun to watch but unsustainable as a career. By 2004, when he presented his first commercial show in New York, he had started performing for a camera rather than an audience.
Exploring the costume through photography
In the same week that Rhode's show opened in Chelsea, 24 South African dancers, directed by choreographer Jay Pather, performed on the steps of the Cathedral of St John the Divine in New York to coincide with the opening of Personal Affects, a large exhibition funded by billionaire Dick Enthoven.
More recently, Athi-Patra Ruga wore a balloon dress in a solemn, albeit joyously camp ritual announcing South Africa's presence at this year's Venice Biennale. He was reprising an earlier idea when, in 2008, he capped the opening of the Stevenson gallery's Woodstock space with a performance. Dressed in black heels, giant Afro wig and Power Ranger mask, Ruga walked from the old De Waterkant gallery premises, entered the new venue, and had a staged catfight.
Like Rhode, Ruga has worked with photographers Chris Saunders and Hayden Phipps to make sellable portraits of himself in performance garb. The photographs illustrate a dilemma: they are surrogates for something else. They document and describe what is ultimately intangible and fleeting.
Sophie Perryer, a curator at the Stevenson gallery, says Cohen has been using portrait photography for a long time. "Even the earliest live performances have related studio photo and video shoots, in which the costume, persona and concept are explored in different ways," she says. "He has always worked closely with different photographers."
Following in the footsteps of Cohen, Rhode and Ruga are Mohau Modisakeng and Mary Sibande, who is this year's Standard Bank Young Artist for fine art.
Unlike Ruga, who arrived at his current shape-shifting practice via fashion, or Cohen, who initially worked with textiles, Sibande and Modisa-keng are sculptors. Studio photography offers them a way to inhabit and activate their work in surprising ways. Sibande's new travelling exhibition, The Purple Shall Govern, includes large photographs of her wearing an elaborate purple costume, which is also displayed in a central tableau.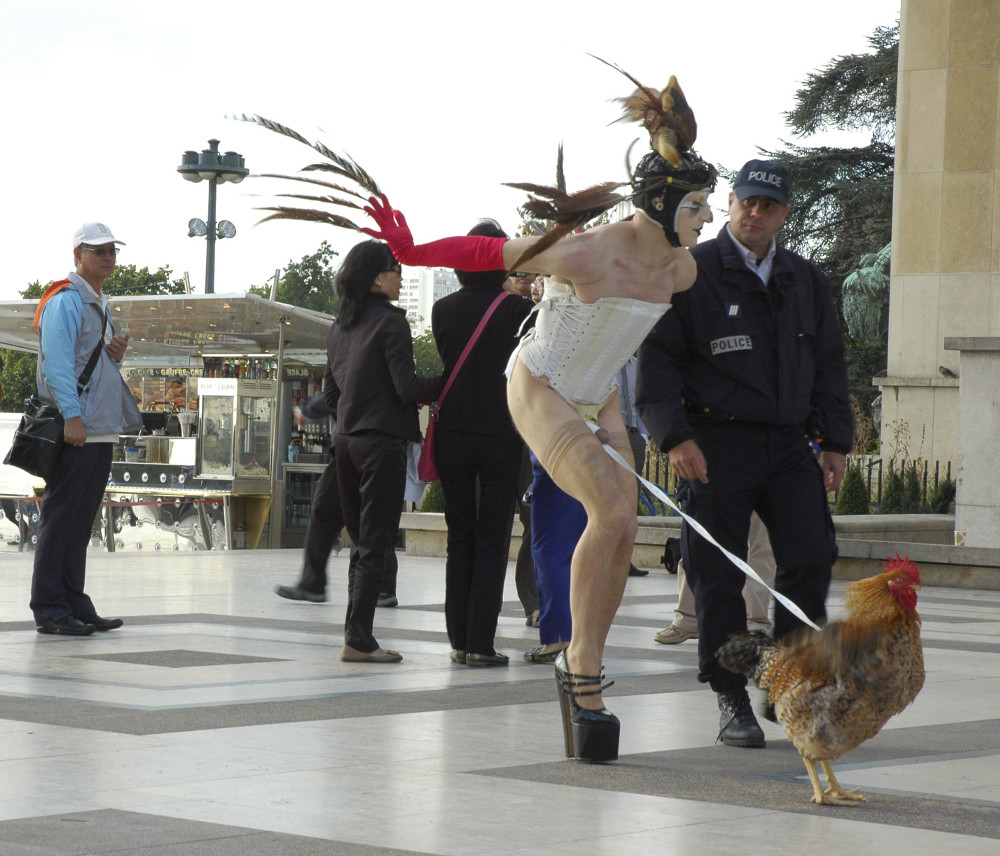 Steven Cohen (above).
Cabaret, vaudeville, theatre and opera
Modisakeng's master's degree exhibition, Sera, briefly on view at Cape Town's Michaelis School of Fine Art last year, included a self-portrait of him wearing a leather apron (of the sort used by metalworkers). The show also included an actual apron, which the artist had fashioned into a striking tunic featuring additional twine bindings.
His work, which is centrally occupied with "the question of violence as a mediator of history", was well received at both New York's Volta art fair and the recent Jo'burg Art Fair.
Curator and arts writer Simon Njami was less impressed. In 2010, during a talk by Modisakeng on his work at Blank Projects, the influential French-Cameroonian publicly dismissed his photographs as polite pieces for the white art market.
The recent turn towards performance in South African art is open to criticism on many fronts. RoseLee Goldberg, the Durban-born founder of the New York performance art biennial Performa, offers the most sympathetic and insightful account. It's sympathetic because her criticism cycles back to a completely different time and geography.
By the mid-1980s, writes Goldberg in her influential book Performance Art, media-friendly and spectacle-obsessed performance was entrenched in the American mainstream art scene. "More accessible, the new work showed attention to décor – costumes, sets and lighting – and to more traditional and familiar vehicles such as cabaret, vaudeville, theatre and opera."
This description summarises South Africa now, where spectacle-driven performance-art events such as the annual Infecting the City, first staged in 2008 and hosted in Cape Town, are now linked to the city's status as a "world design capital".
How much is too much?
"I dislike the uncritical celebration of form that often accompanies the idea of outrageous fashion and costume as some kind of new-found freedom of identity," says Johan Thom, a performance artist who recently took up a post at the University of Pretoria after completing a PhD at the Slade School of Fine Art in London.
"No fancy dress can compete with the insanity of ordinary life. To think you can make some outrageous statement just by donning some kind of shiny uniform is the worst kind of ignorance."
Thom, who was unfamiliar with Krastin's work before I pointed it out, arrived at his opinion via his own costumed mistake. In 2004, he appeared at the opening of the Brett Kebble Art Awards in a yellow body suit made of lead pencils.
"I still have lead marks on my body where they got stuck and broke off in my skin," says Thom, once a vocalist in a rock band. His pencil-suit figure generated considerable interest, he says, well beyond the mining tycoon's short-lived competition.
In 2007, Thom led a performance-art workshop that culminated in an event at the Bag Factory studios in Newtown. Participants included Lerato Shadi, Bronwyn Lace and Anthea Moys, winner of this year's inaugural Standard Bank Young Artist for performance art.
Shadi, who now lives in Berlin, does not use costumes in her performances. She has previously displayed herself on a plinth, wrapped up in masking tape (Mmitlwa, 2010) or contained in a woollen sheath, which she enters and seals with a crochet needle (Tlhogo, 2011).
Aware of the turn towards "sartorial self-fashioning" that is happening locally, Shadi, who studied with Sibande at the University of Johannesburg, says her work "deconstructs fashion rather than validates it".
Shadi recently participated in a mentorship programme at the Paul Klee Centre in Bern, Switzerland.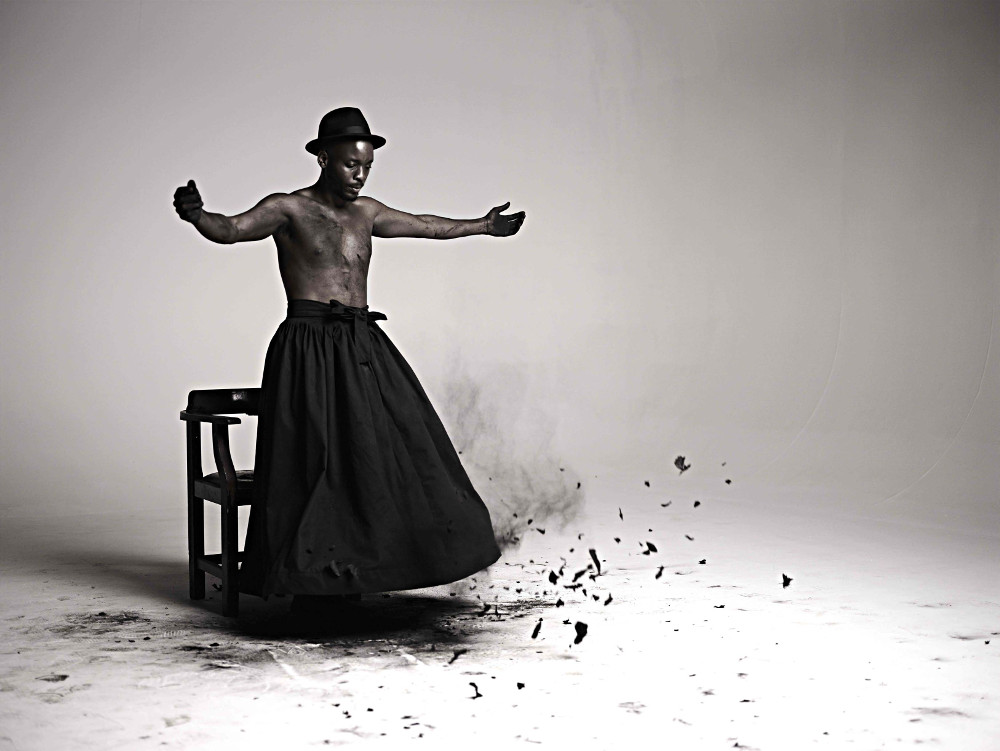 Mohau Modisakeng (above). Photography supplied
Cohen in the history of perfprmance
This year's Summer Academy, as it is known, was curated by Cape Town artist Sue Williamson. She asked Penny Siopis and Candice Breitz to give talks, and invited dancer Nelisiwe Xaba, joint winner of this year's FNB Art Prize, to perform.
Xaba staged two works, They Look at Me and That's All They Think, which features music by Dorothy Masuka and a ladder as the central prop, and Sakhozi Says NON to the Venus, a work performed in an improvised rectangle and featuring music by Nina Simone and Diamanda Galás. Both works are about Sara Baartman and feature flexible white garments made by fashion designer Carlo Gibson.
Gibson has also dressed Cohen, who wore a ruffled brown Strangelove covering to the June opening of the exhibition My Joburg in Paris.
Cohen is an important figure in the recent history of performance. His 2002 work, Chandelier Project, which saw him visit a shack settlement in Newtown wearing a chandelier tutu, represents a key moment in local performance. The strangeness of Cohen's baroque presence was interrupted by the arrival of another set of costumed protagonists: Wozani Security. Colloquially referred to as the "red ants" because of their distinctive uniforms, they started demolishing the encampment.
"It's South African through and through," says Cohen. "I am not proud to play the spectacularised Miss White Baas but I own the doing of it and, with that, the consequences. Just like wearing a heavy crystal chandelier and high heels in a sea of debris is its own predicament, a squatter camp being destroyed is a situation, not a place."
Cohen's narration helps to highlight the roles of costume and site in performance. Of the two, site is perhaps the more decisive thematic. Writing in Rogue Urbanisms, a new multi-author volume edited by Edgar Pieterse and AbdouMaliq Simone, Pather explains why.
"A level of insanity, disruption, playfulness and irresponsibility combines with the control and discipline of performance and meets heady cultural discourse to produce a liminal state of possibility," says Pather, an associate professor at the University of Cape Town and a key agent in the diffusion of transdisciplinary performance in South Africa.
Site-specific art, he says, "confounds the fallacy of preciousness in art-making and viewing" by immersing viewers in a temporal space of "unsettled, kinetic, suspended and open-ended meanings".
It may not quite be a manifesto but it offers a useful summation of the state of the art.