In what has been deemed a historic move and a pioneering social experiment Uruguay legalised marijuana on Tuesday.
A roar of applause rang out from the Senate after a Bill was passed to legalise growing, buying, selling and smoking weed. The Bill allows citizens over the age of 18 to buy 40g of marijuana per month from licenced pharmacies. Citizens will also be able to grow six marijuana plants in their homes per year.
Although other countries have decriminalised marijuana possession, Uruguay is the first nation to legalise the whole chain of growing the plant to selling and buying its leaves.
Uruguay is one of the safest countries in Latin American and one of the most liberal. The new law is being considered a social experiment and is being watched closely by other countries considering the legalisation issue.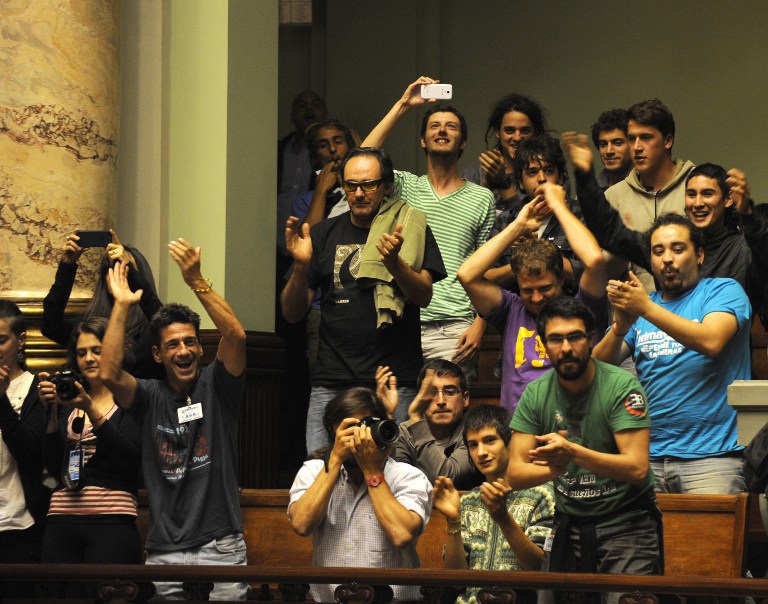 People celebrate after the Uruguayan Senate approved a law legalising marijuana in the Legislative Palace in Montevideo on Tuesday. (AFP)
Debate
Approval late on Tuesday was all but assured, given the ruling coalition's majority and support from President Jose Mujica, who says he's convinced the global drug war is a failure and that state regulations can do a better job than weapons to contain addictions and defeat a thriving illegal market.
Former Health Minister Alfredo Solari, a Colorado Party senator, warned that children and adolescents will more easily get their hands on pot, and that "the effects of this policy on public health will be terrible".
But Senator Roberto Conde, a former deputy foreign minister with the ruling Broad Front, said marijuana "is already established in Uruguay. It's a drug that is already seen as very low risk and enormously easy to get."
Constanza Moreira, a fellow Broad Front senator, said "this law will return us to the vanguard of Latin America. For many of us today is an historic day. Many countries of Latin America, and many governments, will take this law as an example," she said.
State control
Once the measure is approved, Uruguay's government would have 120 days to draft regulations imposing state control over the entire market for marijuana, from seed to smoke.
Everyone involved would have to be licenced and registered, and government monitors would keep tabs to enforce limits, such as the 40 grams a month any adult will be able to buy at pharmacies for any reason.
Congress' lower house approved the Bill in late July, and senators rejected all proposed amendments before Tuesday's debate, meaning Senate approval would send the law to Mujica for his signature.
Mujica, a 78-year-old former leftist guerrilla who was jailed for years while many in his generation experimented with marijuana, said his government's goal is to combat organised crime and reduce drug use. A government ad campaign launched on Friday makes the same point, warning of pot smoking's dangers to human health.
"We think it's necessary to find a management strategy that controls and regulates consumption and production," Senator Luis Gallo, a retired doctor, said before leading the Broad Front's presentation on Tuesday.
"This is not liberalisation of marijuana. It can be consumed within certain parameters established by law. I think it will reduce consumption."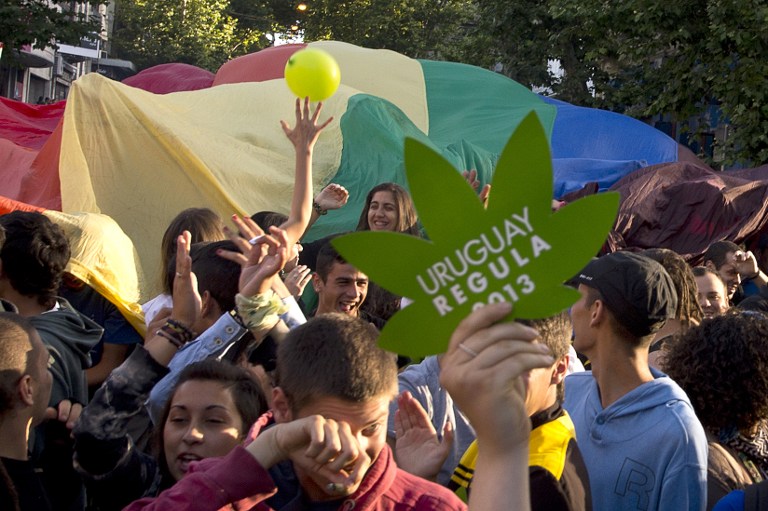 People march for the legalisation of marijuana towards the Legislative Palace in Montevideo on Tuesday. (AFP)
Two-thirds opposed
Polls say two-thirds of Uruguayans oppose the plan, despite a national TV campaign and other lobbying efforts supporting the proposal funded by billionaire currency speculator and philanthropist George Soros and his Open Society Foundation and Drug Policy Alliance.
Mujica explained what he called his "experiment" in private meetings with Soros and billionaire David Rockefeller, another drug war opponent, in September.
"I would say to Mr Soros, to Mr Rockefeller, and to the president of the Republic that you don't experiment with the Uruguayans. We are not guinea pigs," Colorado Party Senator Pedro Bordaberry said during Tuesday's debate.
Hannah Hetzer, a lobbyist for the Alliance, moved from Washington DC to Montevideo for the campaign. She watched Tuesday's debate from a Senate gallery packed with international media and interest groups.
"For me, and for all of us who work in the world of drug reform, this day is historic," Hetzer said. "Uruguay is seeking an alternative to a failed model. I think that this is the beginning of the end of a prohibitionist model and the beginning of a more intelligent focus."
Warnings
Before sending the proposal for a floor vote, the Senate's health committee heard earfuls from expert witnesses urging lawmakers to retreat. Psychiatrists predicted a rise in mental illness. Pharmacists said selling pot alongside prescription drugs would harm their professional image.
Teacher Nestor Pereira, representing the National Public Education Administration, said marijuana use leads to "educational failure, behavioural problems and depressive symptoms." Uruguay's drug czar, Julio Calzada, said his office is working hard so that rules will be in place by mid-April.
As for concerns that Uruguay could become a mecca for marijuana tourism, Mujica stressed that the measure would restrict the legal sale of pot only to licenced and registered Uruguayan adults.
Marijuana grower Marcelo Vazquez said he can't wait to pay taxes on the weed he's grown illegally for 20 years. After repeated police raids and arrests, he's optimistic. He has a greenhouse of marijuana plants growing outside Montevideo and is thinking about creating a business catering to incensed growers who lack space in their own homes.
"This is a huge opportunity and we have to take advantage of it," Vazquez said. "My lifelong dream has been to legally cultivate marijuana, and to live off this, to pay my taxes." – Reuters, Sapa-AP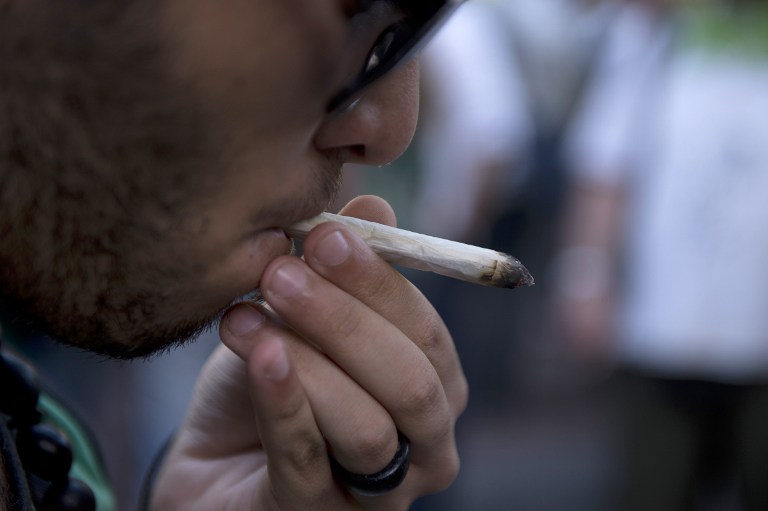 A man smokes a joint during a march for the legalisation of marijuana towards the Legislative Palace in Montevideo on Tuesday. (AFP)