There is something deeply personal in writing about music. It is an autobiographical act because music is one of the ways through which we make sense of our lives and the world around us.
In his classic essay on Brenda Fassie, Thinking of Brenda: the Desire to Be, Professor Njabulo Ndebele, chancellor of the University of Johannesburg, writes: "To remember songs is to remember time and place and circumstance … Thus, music can become one of the vital ways by which we connect with the world. How we map the trajectory of our feelings about where we have been, and where we are; about personal and historic events that we live through."
The confluence of time, place and circumstance when I first heard the music of The Brother Moves On was not a happy one – I was a physical and emotional wreck. My uncle Ed, who had been like a surrogate father to me, died quite unexpectedly one Saturday morning in 2012 and I went to work the following Monday and acted as if nothing had happened. I didn't tell any of my colleagues at the ad agency where I worked at the time and nearly all of my friends found out weeks after the fact.
How can I explain this?
Sometimes painful emotional experiences can render us mute. During those days of unspeakable grief, the music of The Brother Moves On assumed the quality of a flicker of light at the end of a long, dark passage. So many of their songs revolve around death and mourning; despite the bleakness of the subject matter there is always the promise: You will heal.
"Ba re go lukile (They say it's going to be okay)/ Bagolo ba fihlile (The elders have arrived)/ Ba re go lukile (They say it's going to be okay)."
In her keynote address at the Goethe-Institut's Über(W)unden Art in Trouble Times conference in 2011, On the Pain of Death, Antjie Krog said something remarkably profound: that perhaps the only thing that art can do is "to try to transform pain into a kind of beauty so that one, at times, can live with loss".
This, I think, is what underpins the artistic enterprise of The Brother Moves On – the desire to transfigure pain into something beautiful so that one can live with it.
Named after the bow-tied assassin from New York who first appears in season two of David Simon's HBO crime drama The Wire, The Brother Mouzone, the performance-art collective has been around for a few years. For how long exactly remains the stuff of urban lore.
When I first met them in 2012 they eschewed being labelled as a band. The Brother Moves On was meant to be a tradition, with members coming and going freely, and not a band with fixed personas. Nevertheless, they have settled into something resembling a band and the line-up includes Siyabonga Mthembu (lead vocals), Raytheon Moorvan (guitar), Simphiwe Tshabalala (drums), Zelizwe Mthembu (guitar) and Ayanda Zalekile (bass).
Combining insightful sociopolitical commentary, personal and collective histories with a hybrid of musical influences from jazz, funk and rock, their music sidesteps reductive genre pigeonholing; yet at the heart of it is a quest for healing.
Their breakout EP, The Golden Wake (2012), narrated the life and death of Gold Wasegoli, an everyman who journeyed to Johannesburg from the hinterland in search of a better life. In mapping out the quiet tragedy of an ordinary man (a story that would never make it on to the evening news), The Golden Wake recalled American playwright Arthur Miller's Pulitzer-Prize-winning play Death of a Salesman.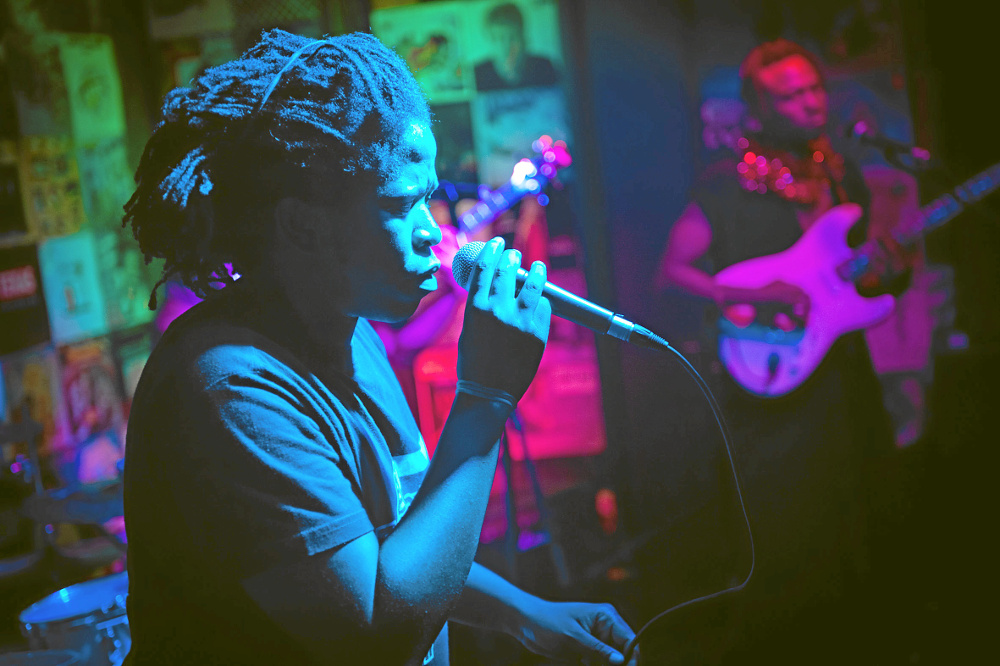 Vocalist Siyabonga Mthembu?
In Miller's early career masterpiece – a stinging critique of the American Dream – the central character Willy Loman commits suicide after he is made redundant. In one of the most poignant passages in the play, Linda, Willy Loman's long-suffering wife, says of her husband: "I don't say he's a great man. Willie Loman never made a lot of money. His name was never in the paper. He's not the finest character that ever lived. But he's a human being, and a terrible thing is happening to him. So attention must be paid. He's not to be allowed to fall into his grave like an old dog. Attention, attention must finally be paid to such a person".
In the same vein, Wasegoli was by no means a great man and, in telling the tragic story of his life, The Brother Moves On presented a heartfelt reproach of post-apartheid South Africa; a country where so many are allowed to fall into their graves like dogs as yesteryear's heroes morph into tenderpreneurs.
"You are the failed revolution," Siyabonga Mthembu says in Gold's requiem in the satirical sermon, Black Diamond Butterfly: "They're watching us, comrades, /they know we are not what we used to be.
"We constantly find ourselves in a space where our deaths are certain, /yet the uncertainty of our lives is all we can grasp. /We mourn constantly the ideals that continue to be turned into lies."
Their second EP, ETA (Expected Time of Arrival), produced by 340ml drummer Paulo Chibanga and sound engineer Gavin Eckhart, came roughly a month after the massacre at Marikana. The band said on their website at the time that the song Good Times – about a miner, who gets mugged at a tavern – was meant to be a "cathartic exercise". The standout track, Ya'khalimbazo, which evoked the violence and bloodshed of the early 1990s, challenged the enduring myth of South Africa's peaceful transition to democracy.
Personal tragedy struck the group during the recording of their long-anticipated debut LP, A New Myth, when founding member Nkululeko Mthembu died suddenly.
"The loss of our brother Nkululeko 'Nkush Burnslow' Mthembu made us rethink our debut approach. We could not ignore the immense loss we collectively shared and it translated into our album," Mthembu says, and you can feel the anguish on the record. "It's weird, our first EP was a staged funeral and our album comes in a time of mourning not only for us, but finally for the country too."
The digital release of A New Myth remarkably coincided with the death of Nelson Mandela and it assumed a prophetic resonance.
In these times, the much-vaunted dream of revolution – the complete overthrow of an oppressive social order that inspired liberation movements across the continent – is dead.
"These days," artist Victor Gama laments, "when we say 'aluta continua', we no longer complete the phrase. We no longer say 'a vitoria é certa' because we no longer believe victory is certain, we have lost faith in revolution, it is again impossible."
It is again impossible because we have witnessed global events – the election of Barack Obama in 2008, say, and the protests in Tahir Square in Egypt three years ago – that briefly rekindled those dreams of re-making the world into a beautiful place, only for the vampires capitalism and "politricks" to rise again and take centre stage.
In South Africa it also feels like we're living through the death of a dream. "The space we find ourselves in the world, in our country, in our very lives, is a very difficult one. We need a new myth, our old ones are lies to us now, and we know it, it's obvious," Mthembu told an interviewer for the blog Africa is a Country.
"The Mandela relation was a coincidence, but in what we do there are no coincidences. Our country is in a space where we have to reinterrogate what our myth is and construct a collective way forward. With his passing we are in a space where we need a new myth to reactivate our constant reality."
It's time to dream new dreams!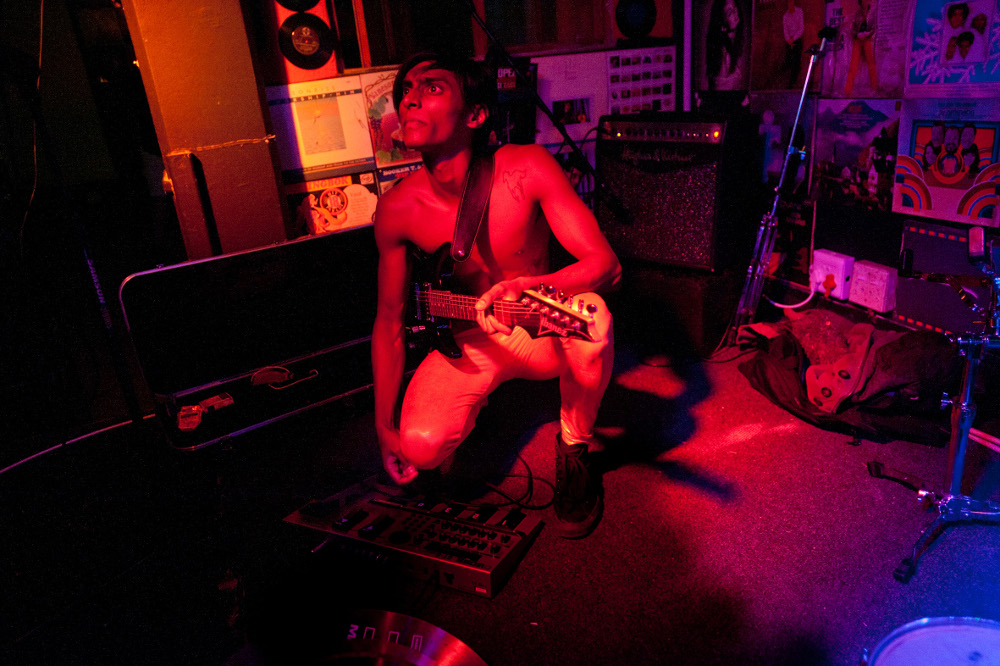 Guitarist Raytheon Moorvan?. All photography by Delwyn Verasamy, M&G
A New Myth opens with the sombre 30-second a cappella, Everything Will Be OK. It's a plea to the ancestors for them to intervene in the affairs of the land. Everything Will Be OK leads into The Mourning After, a poignant guitar medley with Raytheon Moorvan and Zelizwe Mthembu. Sikelela, a remix of the national anthem, follows next. "Our national anthem (which is a mix between Enoch Sontonga's Nkosi Sikelel' iAfrica and Die Stem) echoes the sentiment of being blessed by the fruits of this land. The song calls on these blessings to get one over the current hurdles that beset this land," reads the blurb for the song.
Sikelela speaks to the kind of future The Brother Moves On imagines. Death and mourning may be the two most prevalent themes in their music but there is also a restless yearning for freedom; not only freedom from the violence and death of the present, but also freedom to be as one chooses, to break free from rigid conceptions of identity.
Instead of leaving behind old ideas of race, the authors of Categories of Persons: Rethinking Ourselves and Others, Megan Jones and Jacob Dlamini, note that "in the new South Africa the labels 'black', 'white', 'coloured' and 'Indian' have retained, and perhaps even tightened, their grip on our vocabularies".
The problem is not so much the labels but how much they constrict the expression of one's being. In her seminal lecture on Barack Obama and black identity, Speaking in Tongues, given at the New York Public Library in December 2008, British writer Zadie Smith said the injunction "Keep it real" turned blackness from a solid genetic fact into a quality each individual black person is constantly in danger of losing.
"And anything could trigger the loss of one's blackness: attending certain universities, an impressive variety of jobs, a fondness for opera, a white girlfriend, an interest in golf. And of course, any change in the voice. There was a popular school of thought that maintained that the voice was at the heart of the thing; fail to keep it real there and you'd never see your blackness again," she said.
Even though Smith was talking to an American audience, this failure to understand blackness as multivocal is not unique to the United States.
How many times, I wonder, has Lindiwe Mazibuko been called a "house Negro" or not "black enough" because of the private-school English inflections in her voice? And that voice, so the argument runs, is evidence that she has severed ties with her roots and no longer identifies with what it means to be black.
On the lead single, [email protected], Mthembu sings: "We're moments of evolution in motion." Our identities are not fixed or pinned to the ground; we're constantly changing as we move through the world.
The voices most of us speak in reflect the complicated back stories of our upbringings that, like Smith's, have embedded in them "the story of this and that combined, of the synthesis of disparate things". This is the point she makes so eloquently, that none of us, black or otherwise, claim to say 'I' with conviction. We each inhabit multiple selves and one can be black, homosexual and Catholic all at the same time. It is not a choice of either/or.
The track Hosanna is the centrepiece of A New Myth:
"The days of peace are no longer/ The people who professed to peace are no longer/ All I hear is violence and death/ Release us oh God of peace/ Release us."
It seems fitting that the album draws to a close with a mourning song, which has been sung by several generations of black families at funerals. Mourning, Sigmund Freud says, allows the subject to heal by letting go of the mourned object. Melancholia, its opposite, tries to hold on to what is irretrievably lost and by doing so it incapacitates the ability of the self to heal.
A New Myth is about letting go, however painful that may be, so that we can dream new dreams.
---
The Brother Moves On perform at the Roundhouse Rising Festival in the United Kingdom on February 20 and 23 as part of the British Council's Connect ZA Future Music Series – an initiative to connect young creative artists and audiences in South Africa and the UK. Visit this page to find out how you can enter the Young Creative Entrepreneurs Awards 2014 – a year-long awards programme for leaders shaping our creative future