Celebrities, buyers, media and spectators gathered at the Sandton Convention Centre last week for Mercedes Benz Fashion Week Jo'burg Autumn/Winter 2014.
Thirty-four designers showcased their designs under the theme "Creative Freedom: Under the Pillars of Fashion, Art and Design", in celebration of the country's 20th year of democracy.
Bright blue florescent lighting set the scene in the venue, creating a bit of a nightclub atmosphere and making it a bit tricky for photographers to capture the fashionable set in situ. It was also quite a pity that apart from the computer terminals set up in the media lounge (that remained mostly unoccupied), there was not a vague whisper of wi-fi reception for journalists to log on to. But a few late starts aside, on the whole, programming ran quite smoothly.
Day one
Abigail Betz, Marianne Fassler, Stefania Morland and Imgard Makhabela/Tsotsetsi KL were all well-received. But it was Fassler's Leopard Frock label with a collection dubbed #VoteFassler that drew the loudest applause and really spoke to the theme.
Her show opened with white uniformed demonstrators taking to the ramp carrying #votefassler pickets, toy-toying and opening the floor for intricately designed mixed-fabric garments combining tulle, tartan, and bright knits with pops of neon detailing. I especially loved the sequined belts and gold shoes. Rousing kwaito house tracks had onlookers bopping their heads one minute and then in the next crying and rising to their feet, applauding the showstoppers while John Lennon's Imagine provided a poignant backtrack.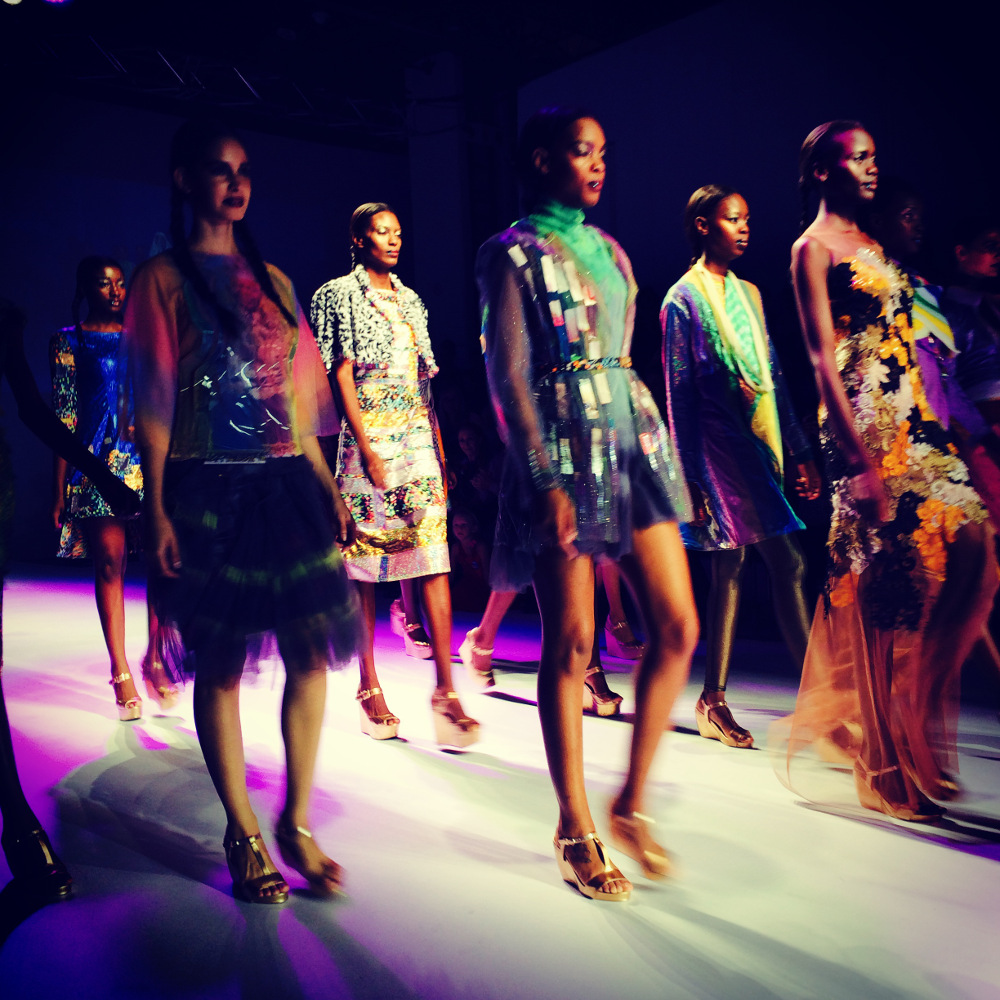 Abigail Betz did not skip a beat using on-trend 3D technology and a geisha-like clad Lalla Hirayama to unveil her collection. Spectators were provided with a pair of 3D glasses to view bridal gowns and long-length, lady-like smock dresses in muted tones, tartan plaids and fur-look stoles. And the collection was immaculate – down to the delicate embroidery and fine attention to seam work.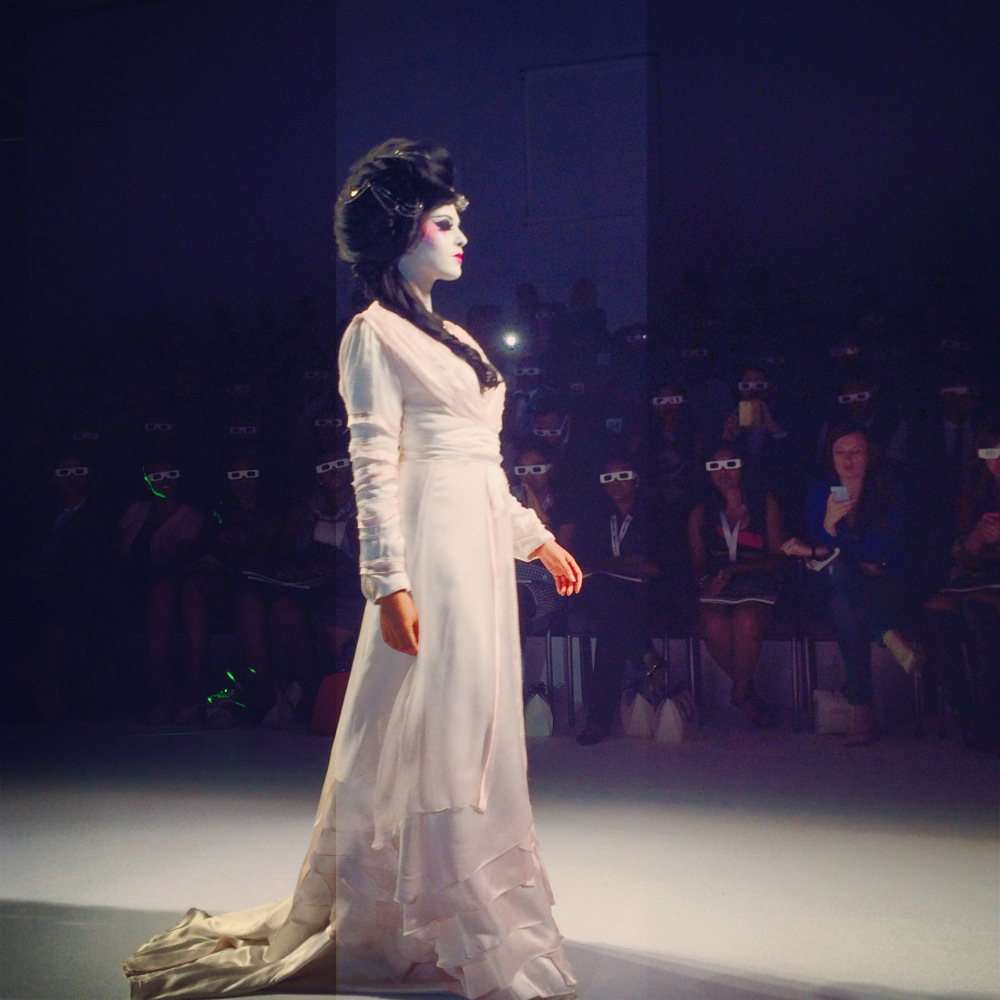 But the 3D glasses were cast aside after the first couple of minutes – it's not like the actual show wasn't already in 3D. The lucky FROW was treated to a 3D-printed box with a jewel ring enclosed, courtesy of De Beers. Also included was a copy of Dossier magazine with a 3D-printed cover featuring Bonang Matheba looking remarkably like Precious Motsepe, executive chairperson of African Fashion International. Or was it just me who thought so?
I failed, however, to see the link between the collection, the jewellery and the technology. In Dossier, the partnership between Abigail Betz and De Beers is explained as follows: "The relationship with the Abigail Betz brand was sparked by its strong vintage feel, which has attracted an international fan and client base. It is only through such partnerships that the De Beers Shining Light Diamond Design Awards will continue to grow and reinvent themselves in Southern Africa and abroad." Beyond the brightly-lit apparel I was expecting lazer-cut fabrics, 3D-painted nails or at least 3D-printed shoes?
Day two
The second day began with a showcase from David Tlale's four interns (Ayanda Mthembu, Nokwanda Ngcobo, Duke and Ruth Samai), who under the tutelage of the revered designer came up with collections for men and women in army green, orange and browns. While some of the workmanship was a little amateurish, their efforts at experimenting with detail and putting together undeniably cohesive collections was to be admired.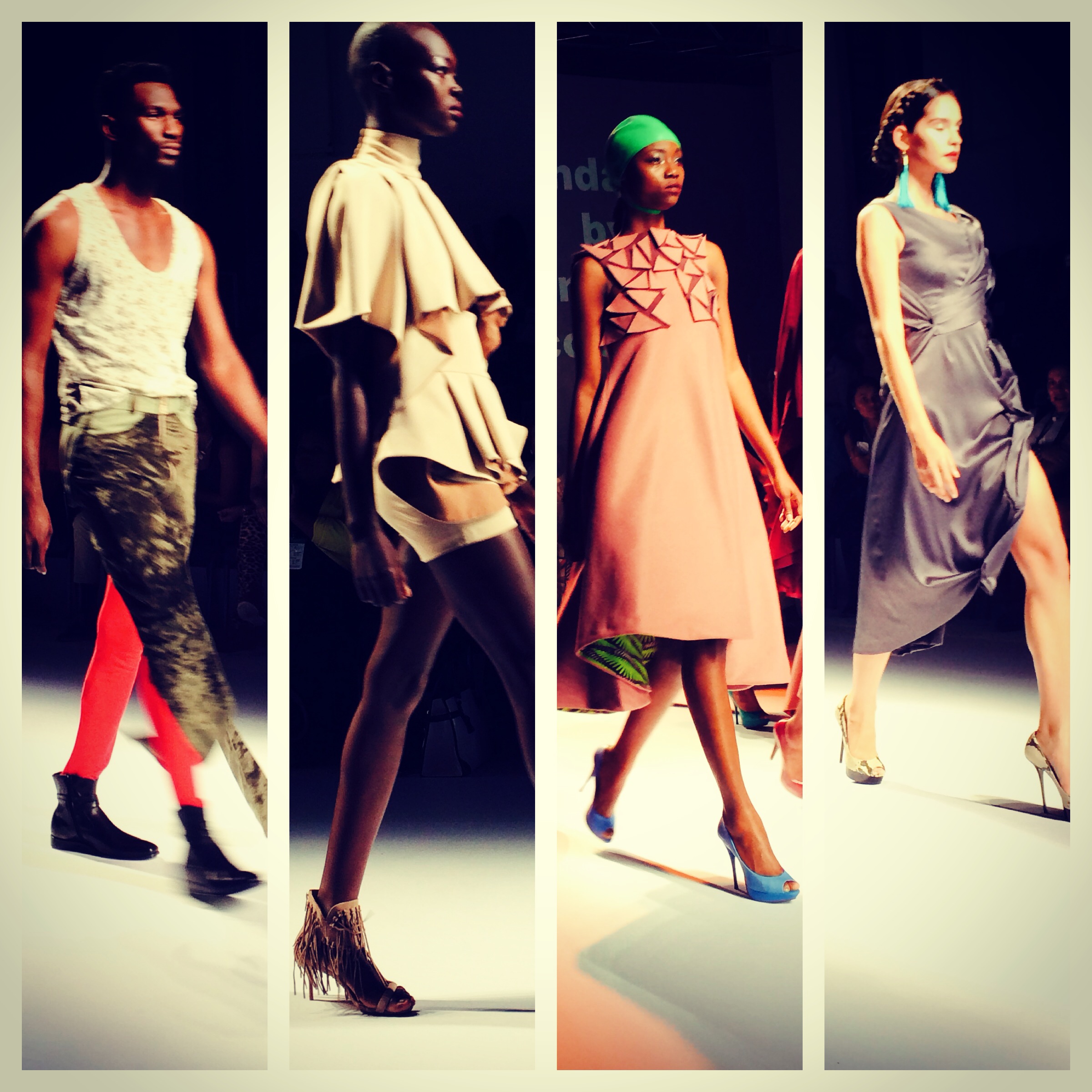 For me, there were three standout shows that evening. One was Selfie, with its monochromatic prints, colour-block turquoise and orange ensembles, and saturated blue and maroon one and two-pieces styled with two-tone platform sandals, platform sneakers and cream platforms worn with ankle socks. This is one trend that has obviously resonated with Jo'burg fashion-lovers and has hit the streets in a big way.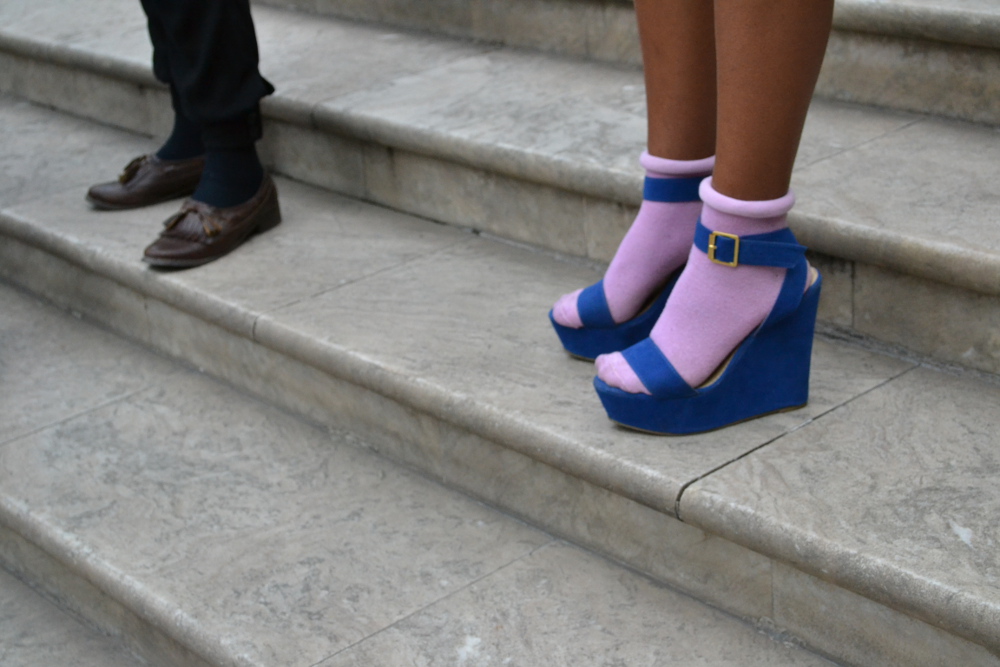 The other commendable show was Adriaan Kuiters and new partner Jody Paulsen who revealed their checked two-pieces, dramatic oversize coats with matching caps in greys and black, playful tartan details and, much to audience delight, their popular repeat pattern prints – inspired by Kenzo no doubt.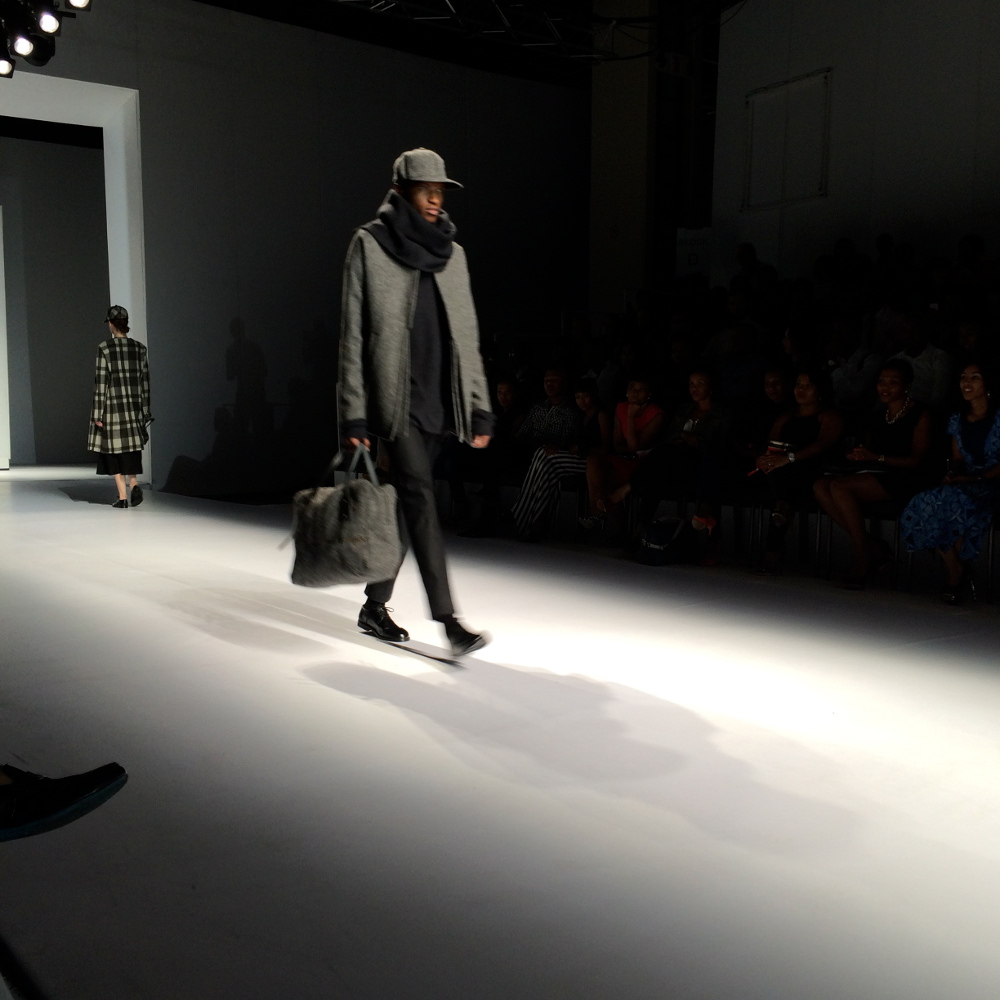 And then Laduma Ngxokolo's Maxhosa range with feminine silhouettes draped in vibrant knits dresses and skirts, cropped knit jackets and men's cardigans. I'm pretty certain many orders were placed that night.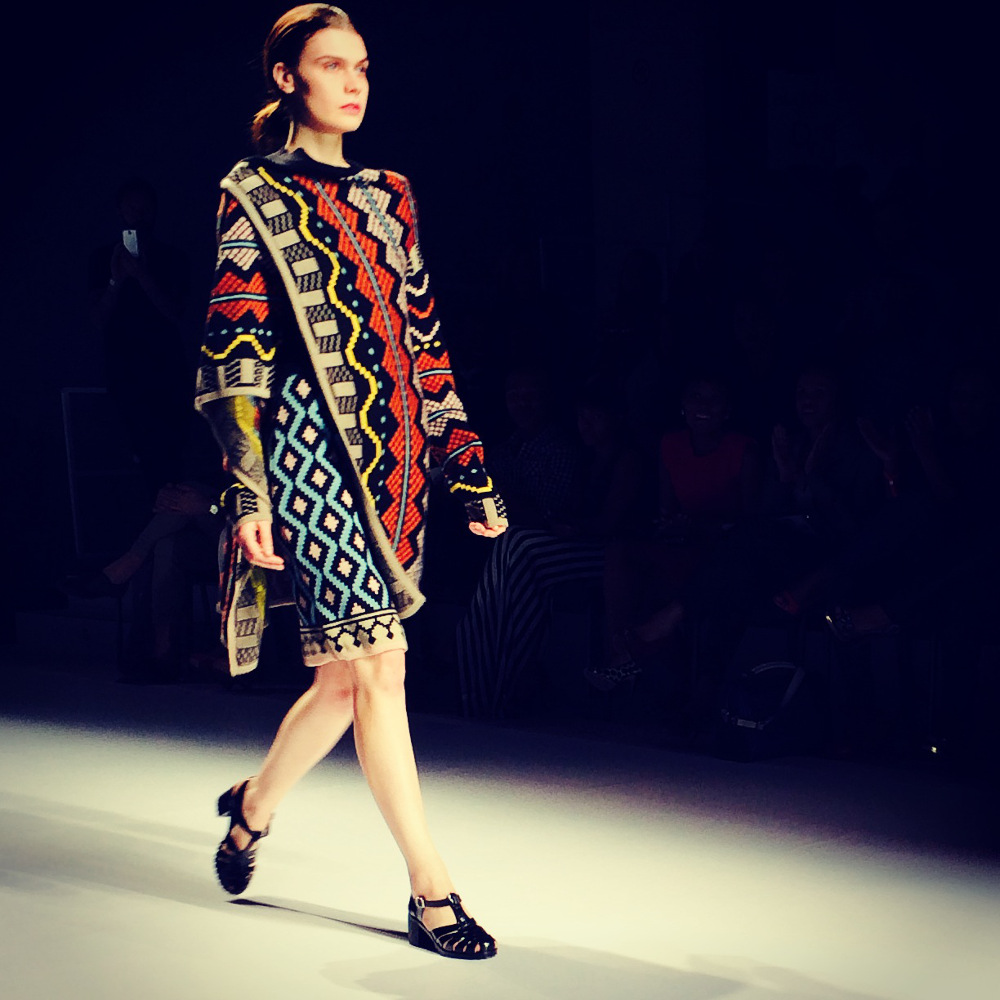 Day three
The third day kicked off with Tlale's much-anticipated collection, which drew a crowd at Nelson Mandela Square rooftop. The silent picketers bearing "Africa is Rising" and "Africa the Motherland" signs, I felt, detracted considerably from the elegant collection revealed among the clutter. We were all straining our necks to glimpse the collection, which was all about power dressing, cocktail wear and black-tie attire characterised by a gorgeous, fitted knee-length beige dress with batwing sleeves, a midnight-blue lace dress with sweeping hemline and black satin wrap dress with lace sleeves. It was an on-point collection that I feel would have best been enjoyed on the ramp back at convention centre headquarters where the rest of fashion week was held. If anything, the entire event should have been held at Nelson Mandela Square.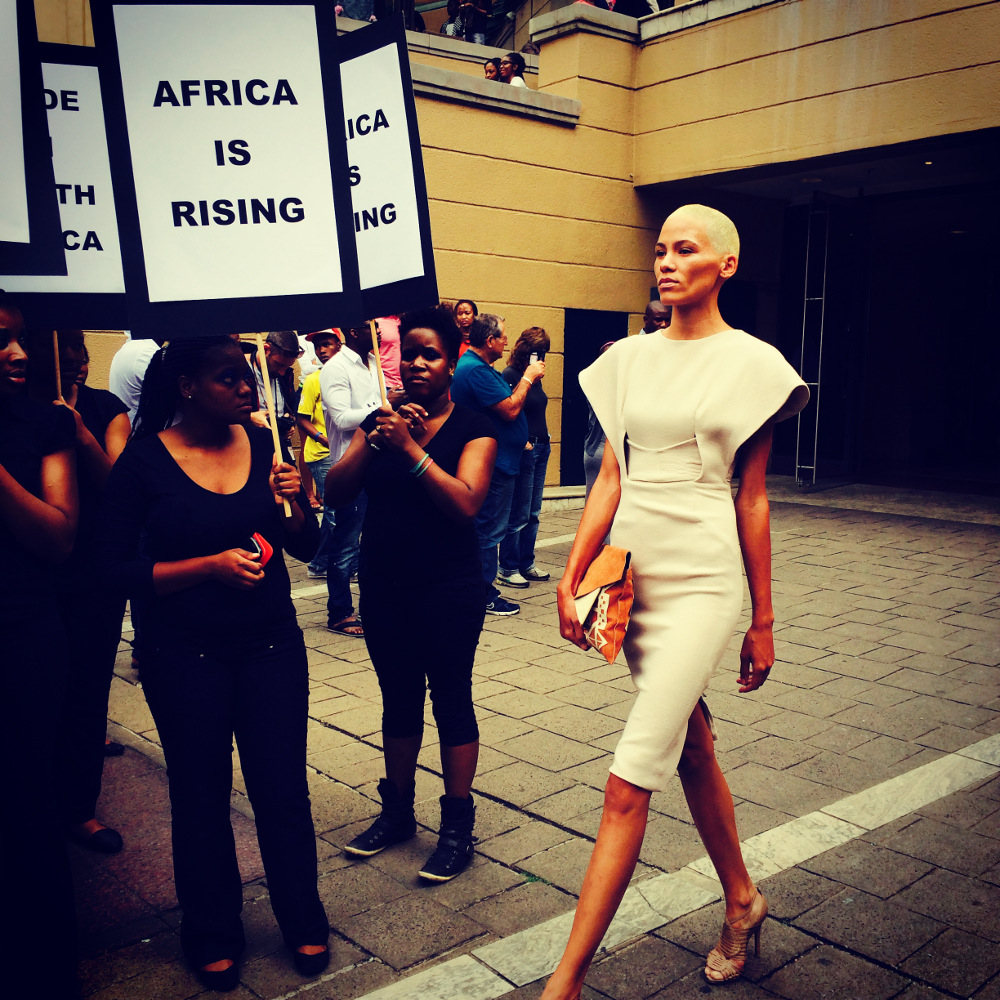 Ten emerging designers competed in the AFI Fastrack component vying for the top three spots that would earn them a cash prize and a three-month internship with leading fashion houses. The winners: Nazneen Kagee's structural "Modern Mystic" designs, Tuelo Nguyuza's "Le Sports Chic", Rich Mnisi's street-style inspired "Kool Aid" and Jessica Ross's playful interpretation of Amish-style wear.
Menswear took to the stage with collections by Fabiani, Augustine, Ruald Rheeder, Viyella and emerging designers Zano Sitheto, Prudence Mphaphang, Sello Medupe and Jenevieve Lyons, who showcased for AFI's Next Generation programme.
And notably, Avant Apparel dazzled with a dramatic black, white, cream and blood-red collection in satins, cut-out fabrics and mono-sleeve affairs.
The three days were jam-packed with ready-to-wear haute couture and new wardrobe-inspiring threads from emerging and established designers. Though it was fairly well attended for a long weekend, given the effort and exorbitant costs designers went to to bring their collections to fruition and present them, it was at times disheartening to see row upon row of empty seats. But certainly an event worth witnessing.
SA Fashion Week Spring/Summer 2014 Collection kicks off in Johannesburg at Crowne Plaza Hotel next week from April 2 – 8. Follow M&G Friday on Instagram and Twitter for updates