Cosatu provincial secretary in the Western Cape Tony Ehrenreich stands by a controversial Facebook posting, in which he called for "eye for an eye" retaliation against Israel for its action in Gaza. Ehrenreich denied that the post was an incitement to cause harm, or that it was meant to encourage violence against Jews. But the Jewish community responded with calls for an immediate apology.
The South African Jewish Board of Deputies (SAJBD) is in the process of instituting both criminal and civil charges Ehrenreich, according to its national director, Wendy Kahn.
The controversial Facebook post: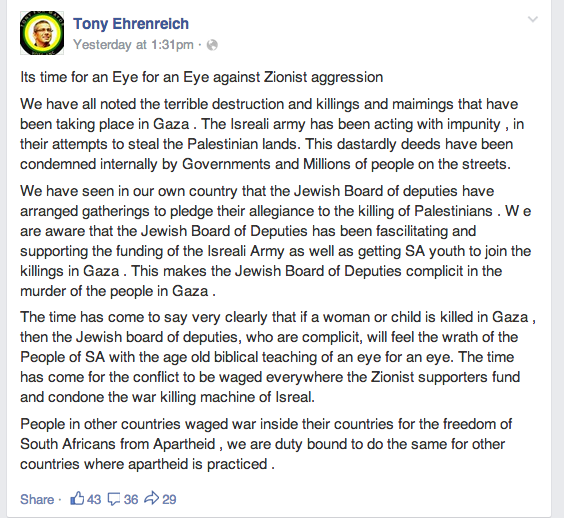 "I stand by it," Ehrenreich told the Mail & Guardian on Thursday, following a backlash from on social media.
Journalist Max Du Preez tweeted:
Hey, @TonyEhrenreich, asking for violent action against SA Jewish Board of Deputies on FB is reckless & crossing the line

— Max du Preez (@MaxduPreez) August 14, 2014
Habonim Dror Southern Africa, a Jewish youth movement, demanded an immediate apology from Ehrenreich on Facebook.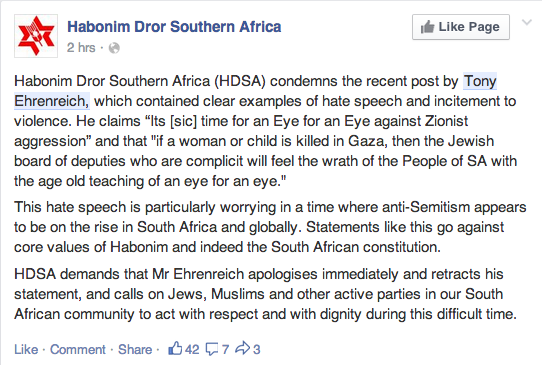 But Ehrenreich later responded on social media saying he did not advocate violence against Jews. He tweeted:
I am not anti simetic or calling for violence against jews. I do say stop being polite in responding to Isreali war crimes. +JBoD endorsment

— Tony Ehrenreich (@TonyEhrenreich) August 14, 2014
Ehrenreich also told the M&G that the facebook post was made in his personal capacity, not in his capacity as a Cosatu representative. He said the board was welcome to file any charges against him, as was their democratic right.
Kahn said the board intended filing a criminal charge of incitement against Ehrenreich and lodging a formal complaint with the South African Human Rights Commission.
SAJBD chairperson Mary Kluk said the post was a "flagrant violation of South African law prohibiting hate speech and incitement to cause harm".
"Ehrenreich's inflammatory post incites violence and hatred against the representative body for South African Jewry. What makes it even worse is the fact that he holds a leadership position within Cosatu, South Africa's largest trade union organisation. It also comes at a time of heightened tension over the Israel-Gaza conflict, thereby inflaming an already volatile situation" Kluk said.
But Ehrenreich said he could not account for how his post was interpreted.
"I can only see the post for what I intended to say: that there must be no violence against Jews but there must be commensurate action against Israel," he said.