"I know that mony coming/ I can feel it in my soul/ Yeah, we be popping bottles/ From Jozi to Lagos/ I'm out here trying to get/ The rands and the nairas/ Rands and the nairas …"
So goes the unabashed anthem by Nigerian rapper Emmanuel Nwankwo, known by his stage name Emmy Gee, to consumption in two of Africa's biggest economies. Despite the rand struggling to break free of the R11 to $1 chokehold, the rands — and the nairas — are rapidly being accumulated and just as rapidly being spent by Africans.
With the continent witnessing unprecedented growth and an impressive increase in high net worth individuals — Africa is home to about 165000 dollar millionaires, according to analysts at New World Wealth, with 49000 of them in South Africa alone, and 15700 in Nigeria — luxury brands are increasingly looking towards countries like South Africa, Nigeria, Angola and Kenya to liven up sales figures that have become flattened by the economic downturn in Europe and the slowdown in spending in China.
Nigerians are touted as the world's largest consumers of champagne, as well as the fastest-growing market for private planes, and in Angola the cost of living is so high that US$3500 gets you a standard one-bedroom flat in a nice neighbourhood in Luanda. According to An Hodgson, an income and expenditure manager at international business intelligence research firm Euromonitor: "Sub-Saharan Africa has been experiencing solid economic expansion, with real gross domestic product growth averaging 5.5% per year over the past decade. The continent's impressive strides in growth, in stark contrast with sub-Saharan Africa of the early 1990s, have given rise to the narrative of 'Africa Rising' and captured the attention of global businesses." Sub-Saharan Africa seems a particularly attractive option to brands, Hodgson continues, especially when considered against the backdrop of prolonged weakness in the global economy since the 2008-2009 global financial crisis, because "it offers a relatively empty marketplace with untapped opportunities and an alternative growth avenue to companies struggling to expand in developed markets".
Statistics show that between 2008 and 2013 total consumer expenditure in sub-Saharan Africa grew by 17.6% in real terms to reach US$908-billion above the global average growth rate of 11.3% over the same period. Similarly, Deloitte has released figures showing a combined contribution of 19% to global luxury by emerging markets (including Africa) and forecasted growth to 25% by 2025.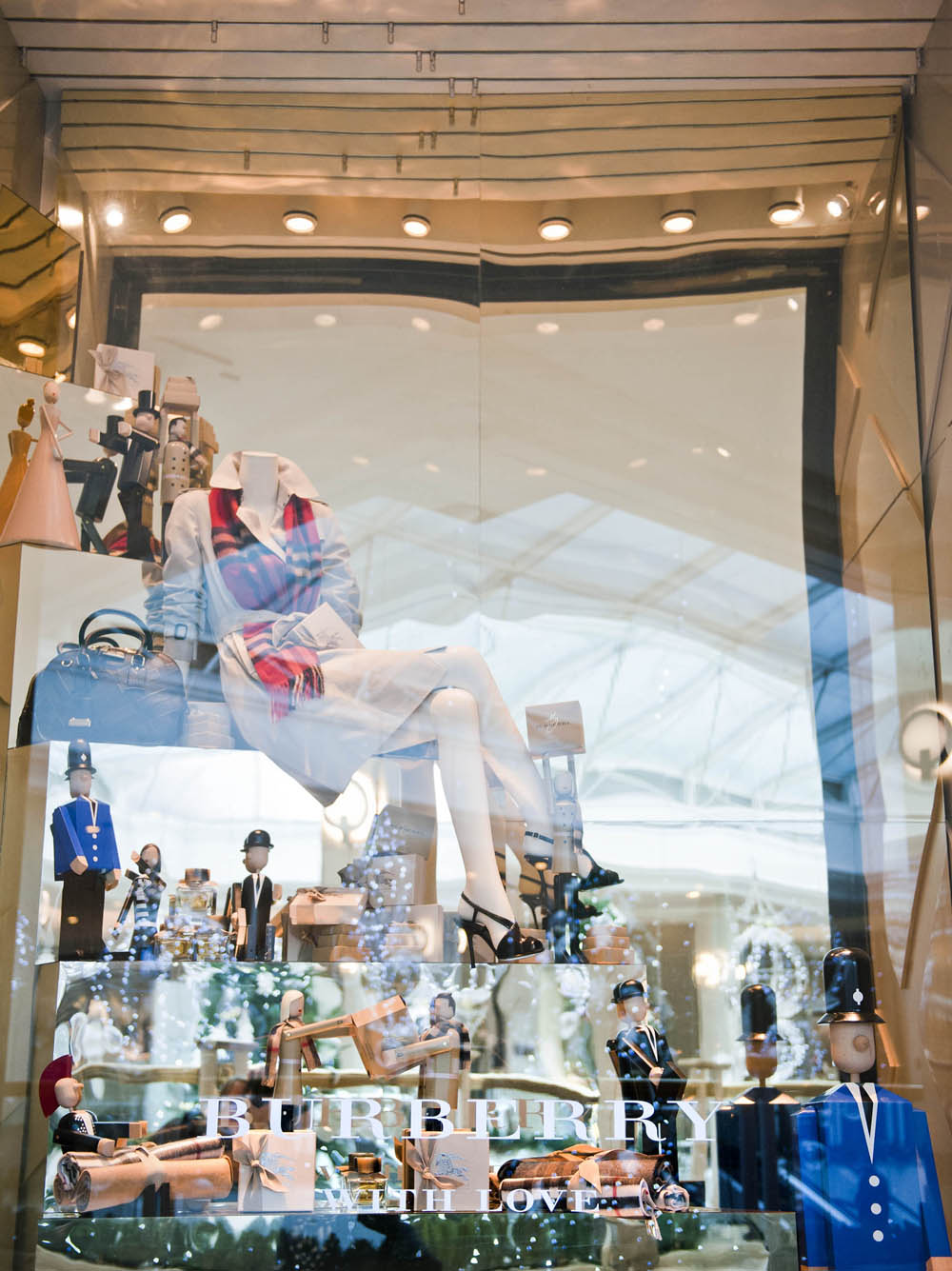 Visual merchandising at Burberry, Hyde Park Corner
Fazel Surtees, managing director of the Surtee Group, a major luxury retail player in South Africa whose portfolio of fashion brands include Burberry, Giorgio Armani, Hugo Boss, Paul Smith, Lacoste and Versace, among others noted: "It can be seen that growth will be consistent, either from local spenders when the economy is strong, or by tourists taking advantage of travelling to this destination when the economy is weaker."
Surtees expressed satisfaction with how the local luxury market has been growing in the region. The Surtees Group has been particularly aggressive in expanding its portfolio, with its newest brands recently unveiled at Hyde Park shopping centre's new fashion court wing. The company's growth, he explained, "has been dependent on the strengthening South African economy following the apartheid era, as well as the resultant urbanisation and increased affluence throughout the region".
Echoing Hodgson, he added: "From the brands' perspective, over the past 20 years, each has seen an increasingly valuable opportunity in investing in South Africa, seen as an untapped emerging market full of potential and uncluttered by international players." South Africa also attracts well-heeled tourists, he said, "international shoppers who tend to choose South Africa over other countries due to the unique brand offering". The company's aggressive expansion is a response to the growing demand for luxury brands in both South Africa and greater Africa. "We have had to respond just as rapidly, to remain competitive in the increasingly saturated marketplace." Edcon, South Africa's largest non-food retailer, with a market share of the South African clothing and footwear market nearly twice that of the nearest competitor, has been adding brands to its stable, often by forming strategic partnerships with other brands such Topshop and Mango. It recently acquired franchise rights to open Calvin Klein stores in the country.
The first Calvin Klein boutique debuts in Cape Town's V&A Waterfront and will carry various ranges such as jeans, underwear, sportswear and accessories, as well as watches and fragrances for men and women. Edcon chief executive Jürgen Schreiber said in a statement that the launch of Calvin Klein stores in South Africa was part of its strategy "to be the destination for international brands and fashionable on-trend merchandise for aspirational South African consumers". Destination shopping has become the new buzzword in South African retail, which in recent years has seen existing malls expand and upgrade their properties to create attractive new spaces for international luxury brands.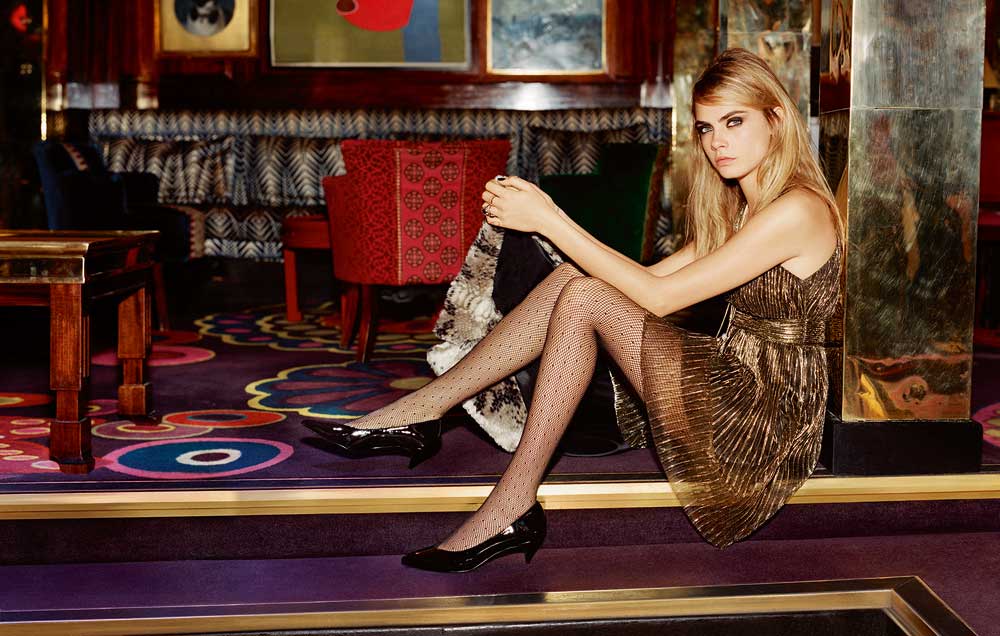 TopShop holiday campaign featuring Cara Delevingne
The V&A Waterfront pioneered this with its Platinum Mile wing, and Sandton City has begun to develop what it calls the Diamond Walk, in a bid to create "an ultra-exclusive shopping experience for its discerning shoppers". The Diamond Walk will span the existing retail space where the likes of Cartier and Louis Vuitton are situated. It will be extended to the Sandton City entrance to the Sandton Sun. The Diamond Walk will house 11 stores. Sandton City undertook an ambitious expansion in 2011 when it unveiled its Protea Court Wing, with Zara and Topshop among its anchor tenants. Although Zara and Topshop are recognised overseas as affordable fast-fashion brands, in South Africa they are touted as upmarket labels.
Positioning itself as "the Grande Dame of South African retail", Hyde Park Corner, already home to Burberry, Wolford and multi-brand luxury boutiques such as Apsley House, A2, Callaghan, Studio 8 and Luminance, last month launched a new section, the Fashion Court, which houses the South African flagship stores of Longchamp, Jigsaw, Versace and Emporio Armani, all new to the country. Another flagship slated to open soon is the Edgars Cosmetics Gallery, a new concept store offering a range of high-end cosmetics catering to the needs of beauty-conscious shoppers. Peter Prinsloo, chief executive of Hyprop, the owner and developer of Hyde Park Corner, said the presence of these exclusive global brands "further underpin Hyde Park Corner's exclusive fashion offering and reputation as the luxury shopping destination of choice".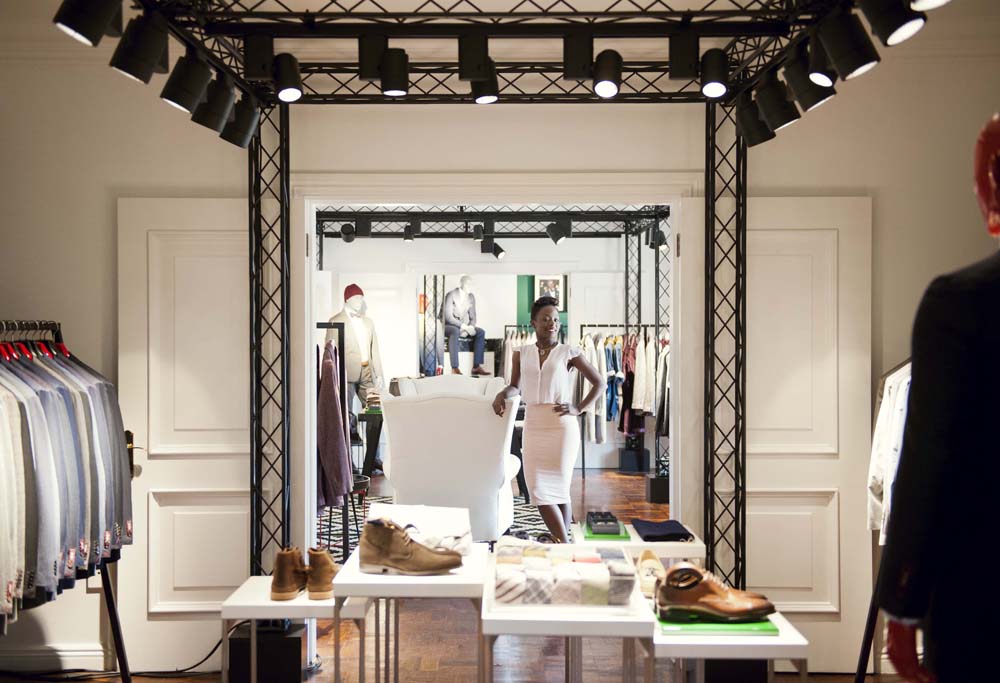 Suitsupply in Hyde Park
Suitsupply, an international menswear specialist label from Holland, is another new player in South African. It chose to do things differently on the local retail scene. It eschewed the mall setting for a posh villa in Hyde Park to provide a luxurious, exclusive, yet intimate shopping experience. Fokke de Jong, Suitsupply's chief executive, described the African customer as informed. "They understand luxury, as in they understand the inherent quality of products — unlike what you might have seen some years ago in some emerging Asian markets where customers were simply associating luxury with big labels.
"The African consumer has a natural feeling for high-quality garments and is a consumer that is curious about learning more."
Tania Habimana, general manager for Suitsupply in South Africa and the head of the brand's African expansion department, said there was a difference in consumers' idea of service. "The African luxury consumer is a consumer that has been, for centuries, accustomed to very tailored shopping experiences, up until recently, when a more Western model of retailing appeared. Before that, it was all custom-made and personalised garments or products purchased from abroad, which translates into a consumer that demands and appreciates high levels of service and attention."
With the rands and the nairas flowing, it would seem that the African luxury consumer spends enough to keep these brands afloat. As Surtees explained, the ultra-luxury brands "are not dependent on the volume consumer, but rather thrive off well-established individuals who are more resistant to economic downturns and less price-sensitive."