Joburg's inner city is associated with many things. Labyrinthine one-way streets, kamikaze taxis, and manifold places to buy cheap loo paper and garishly coloured non-descript chips that turn your fingers and tongue a radioactive red.
Yes; but swimming pools, not so much.
Still, they're there, these fabled swimming pools. You just have to know where to look. And, in some cases, be prepared to bluff your way past the sentries that guard these liquid unicorns.
MAPUNGUBWE HOTEL
50 Marshall St, 011 429 2600, Mapungubwehotel.co.za
The pool: A brilliant blue pool ensconced by warm, treacle-coloured wooden decking. There's a gym just off to one side, where you can slip away to change modestly without slipping a nip. The pool, while extremely handsome, is not big enough for laps, it's more suited towards a bit of frivolous splashing, and then a flop onto the decking to sizzle like a lizard in the sun.
Poolside: A full menu is available from the Twist restaurant. We chugged cappuccinos and sparkling water, but the wait staff will quite happily ply you with cocktails, salads and burgers. Try the red velvet cake.
The people: The guests here are mainly business folks and the pool is mostly deserted. Which means more splish splash for you.
How do I get in? As long as you spend money on food and drink, you won't be bounced.
Perfect for … meeting the gang on a Saturday. It's just big enough for five or more friends to comfortably dominate and enjoy a languid summer afternoon of beers and burgers.
Lilo rating? 4/5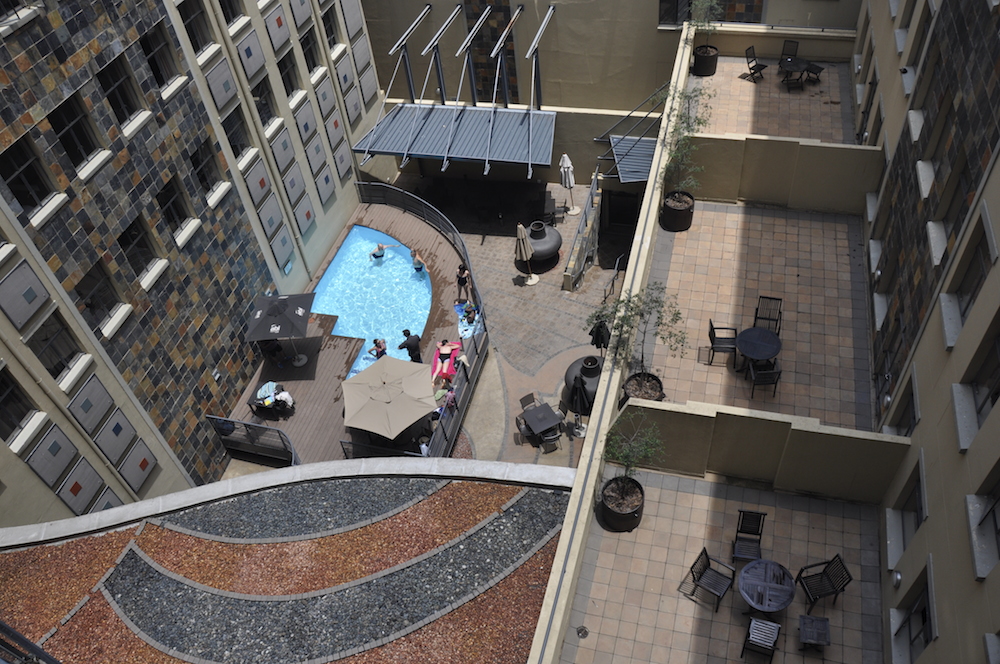 Mapungubwe Hotel, Marshall Street
CURIOCITY BACKPACKERS
302 Fox Street, 011 592 0515, Curiocitybackpackers.com
The pool: This has got to be the tiniest "pool" in Joburg. It's a wee bit bigger than a Jacuzzi, and even comes with bubbles and heated water, so expect some initially awkward foot brushing with the residents who visit from all over the globe. There are also some really sweet chair hammocks to acquaint yourself with if things get a bit too crowded in the froth.
Poolside: Beers. And soft drinks. This is a backpackers, so food is self-prepared and no menu is available for day visitors. Although Sunday is potjie day, so if you call ahead and book you'll get some grub.
The people: Backpackers. And the odd curious passer-by from Arts on Main and Maboneng.
How do I get in? Proprietor, Bheki Dube, is known as the unofficial concierge of Maboneng, and he's also an all-round nice guy. He won't mind if you pull in for a dip, but make sure you drop some cash on drinks to say thanks for the hospitality.
Perfect for … meeting new people. When the gravitational pull of loneliness snags you, here's your solution. Go alone, buy a few quarts of Black Label, hop in, cool off and chew the fat.
Lilo rating? 3/5 (but, ironically, you can't fit a lilo in)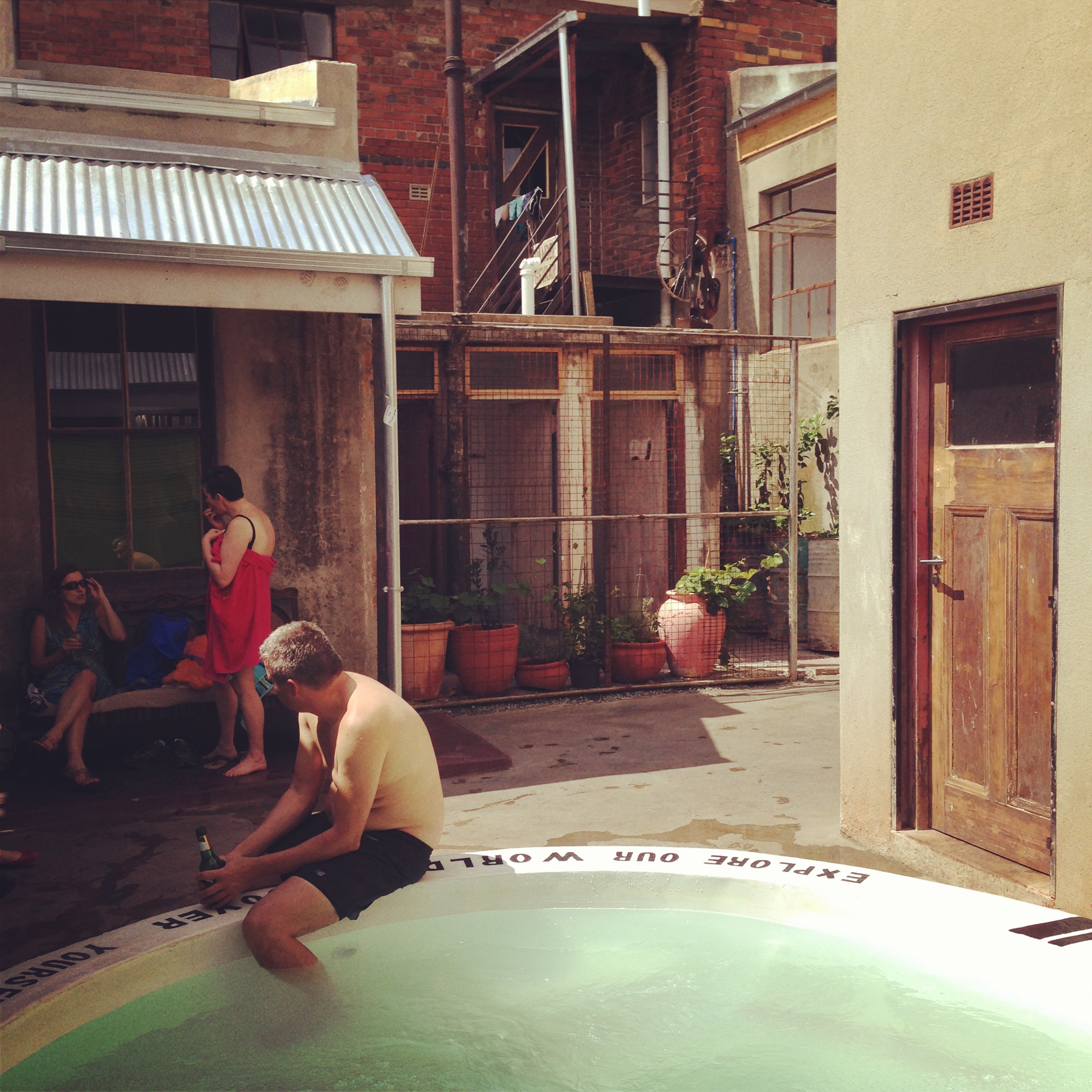 Curiocity Backpackers, Fox Street
ELLIS PARK POOL
Cnr North Park Lane and Erin St, Doornfontein, 011 402 5565
The pool: For some, Ellis is an institution. This Olympic-sized monolith is the scene of impressive pandemonium on weekends when legion children arrive in their squadrons to wreak havoc and keep the irascible lifeguards on their toes. There are three pools to choose from and all are heated at around 26 degrees Celsius – the Olympic, which boils with children like seal pups; the splash pool is for the small grubs in their armbands; and the relatively decongested 'grown-up' pool, which adjectives alone can't do justice to describe its soft, blue water.
Poolside: There's a really seedy tuck shop selling slap chips, ice creams and russians. Like slasher-movie seedy. So rather bring a watermelon from home, a few drinks too (no alcohol though), pack a few sarmies, maybe some left over braai. Make it a picnic.
The people: Kids. If scrambling, splashing, privacy-oblivious and uncomfortably curious, ("Why is your bum so big?") children raise your ire, then this is not going to be your happy place.
How do I get in? For about R10 per adult and R6 per kid, the trio of pools are your oyster.
Perfect for … family time. Bring a blanket and that trashy chick lit novel you've been reading surreptitiously in the bath. Stuff as many inflatables as you can in your car. The cloakrooms are clean and there is loo paper.
Lilo rating? 3/5 (you probably won't get a chance to use your lilo – the kids can smell a lilo from the next suburb and they'll be waiting for you)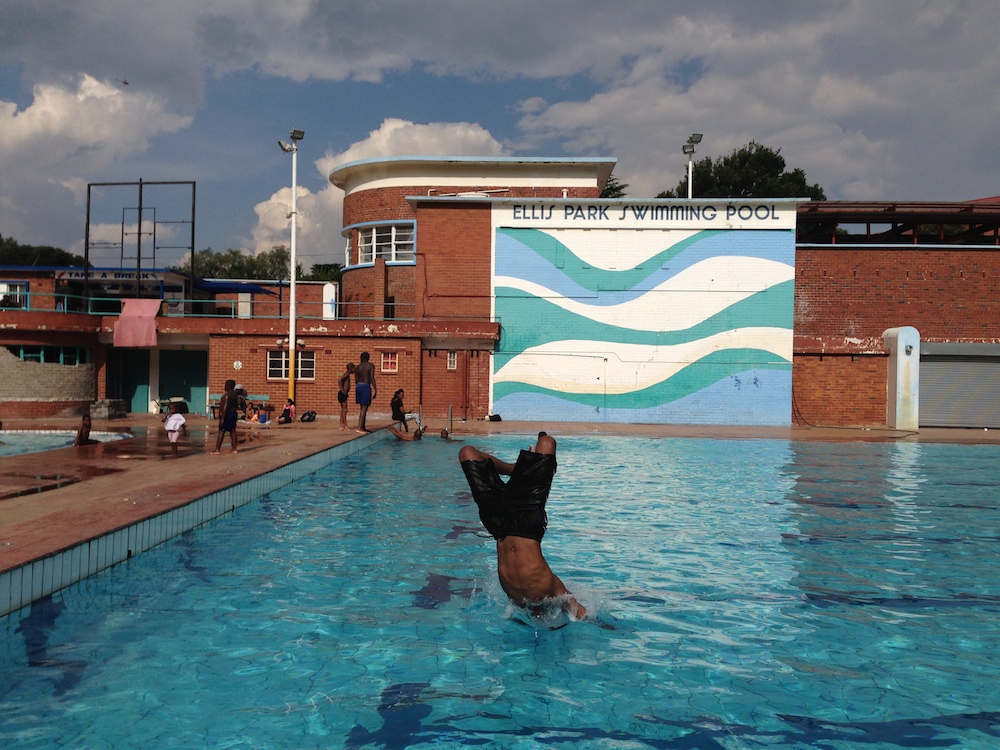 Ellis Park Swimming Pool, Doornfontein
THE PROTEA HOTEL PARKTONIAN
120 De Korte St, 011 403 5740, Parktonian.co.za
The pool: The Holy Grail of the lot. A rim-flow pool boasting award-winning design, that offers 360 degree views of Joburg. The sunsets are spiritual from up here and the water is balmy. There are pool loungers to flop onto when you're not rippling through the pool.
Poolside: Light snacks and cocktails.
The people: Business people and tourists.
How do I get in? This is a pernickety one. You're going to have to play it confident. Don't shuffle in dressed in slipslops and boardies, rather dig out those chinos and Polo shirts, leave the lilo at home, don't bring the kids. Think Ralph Lauren ad, not Al and Peggy Bundy from Married with Children. Stride in, laugh smugly, do an unstudied yet intentional hair flip, head towards the lift, stab the up button. Go right to the top at 'Skylevel', get out, look at the view, pick your mouth up off the floor, order a cocktail, squeak out of your clothes (you put your cozzie on under that pretentious getup, right?) and sashay into the drink like you're in a Southern Sun ad.
Perfect for … An adventurous date.
Lilo rating? 5/5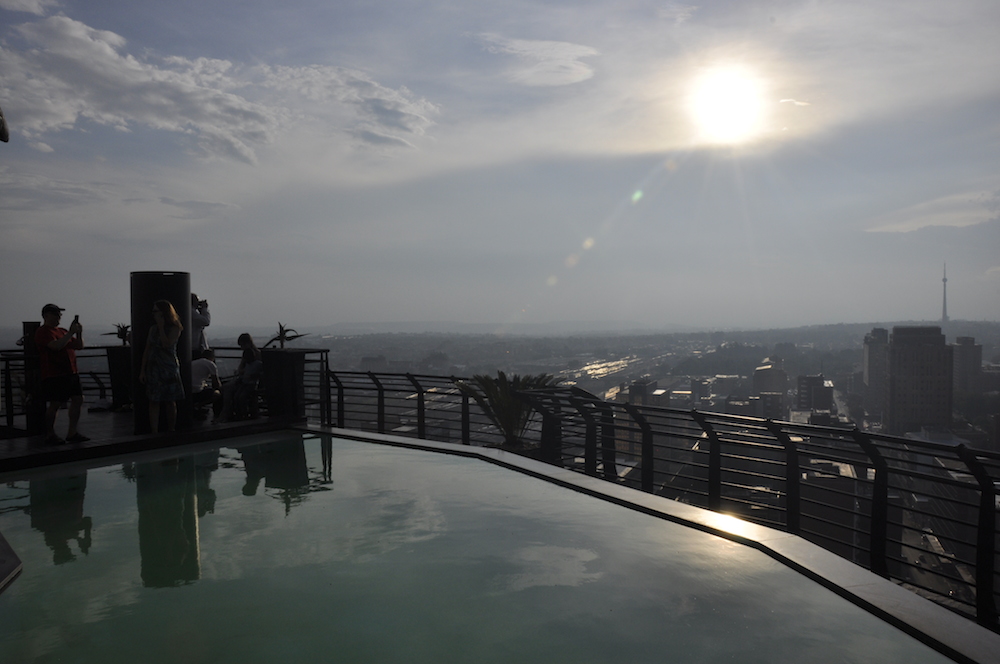 The Parktonian, De Korte Street
Others pools to explore:
The Beach (68 Juta Street, Braamfontein, playbraamfontein.co.za) is open every Saturday from noon to 7pm. There may not be a pool on the premises but you can pretend there is a body of water nearby as you sink your feet into beach sand and sip on aquamarine cocktails. Entrance is R100 and includes a complimentary welcome drink.
Poolside (281 Commissioner Street, Maboneng, facebook.com/poolsidemaboneng) is open Tuesday to Sunday from noon to 10pm. Entrance is free and food and beverages are served all day.
If you'd like to join a tour with Gerald Garner of Joburgplaces.com, he will escort you to all these pools and more. Email him [email protected]