Cape Town is two art galleries richer. This month Smith Studio launches in the city with Kurt Pio's solo show, I love Cape Town, and Space Between in neighbouring Woodstock opened in late January with group exhibit Urban A, featuring Nardstar, Ariel23, R1, Skullboy, Jackfox and Ninjabreadboy.
For a chat with Candace Marshall-Smith and Amy Ellenbogen at their Smith Studio, visitors are greeted by the shrieks of shredding jigsaws and have to dodge construction workers carrying large beams under their arms.
The two business partners and friends are in the thick of final renovations, turning a 250-year-old warehouse into an art gallery. But, in the hands of architects Reanne Urbain and Alex McGee, and with guidance from heritage specialists Gawie and Gwen Fagan, they are unconcerned. Inside, the building's old walls are exposed to show off raw brick and slate. A sunken courtyard provides natural light and ventilation.
"We wanted an approachable gallery, nothing sterile and intimidating, a space that will be appreciated in its own right, separate from the art," says Marshall-Smith, an ex-chartered accountant and photographer who bought the building with husband William Marshall-Smith and business partner Andrew Bonamour.
A few years ago, Marshall-Smith wanted to change career direction and, encouraged by her husband, decided to combine her financial skills and love for art by opening a gallery. She approached Ellenbogen, an art history graduate and curator just back home from Edinburgh, who jumped at the partnership opportunity. And so Smith Studio was born. "It's my surname but also a default name," says Marshall-Smith, "and we like that it refers to a type of craftsperson."
Ellenbogen has a penchant for nurturing and guiding artists, and says it is something the gallery will specifically focus on.
"That's what's been lacking in galleries here. Artists often feel vulnerable. [They] sign up with a big gallery and [do] not see anyone for a month before the show." Adds Marshall-Smith: "We want to build relationships of mutual trust and encourage artists' creative processes, while guiding them in making their work palatable."
Any names to watch? "It's difficult," smiles Ellenbogen. "There are so many. But Grace Cross, David Brits and Elsabé Milandri, definitely."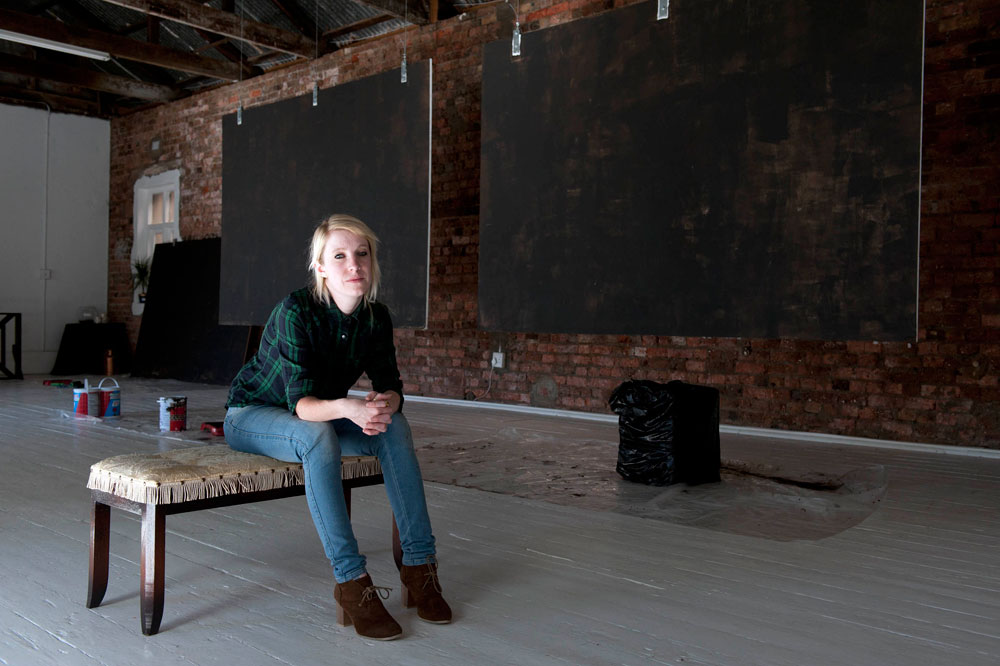 Megan Theunissen owner of the Space Between gallery.
Another new curator who, for the same reason, struggles to pinpoint a selection of up-and-coming local artists is Megan Theunissen of Space Between (SB), a gallery that occupies the first floor of a Woodstock building, once the home of Tamzin Lovell Miller's Lovell Gallery.
The only furniture in this space, previously restored by Lovell Miller, is a vintage taupe and orange floral lounge set and a row of various sized paintings lining a wall. "This was my ouma's couch," laughs the 27-year-old Michaelis graduate. "It's 60 years old and so hipster!"
A few sentences in and Theunissen's feisty passion for urban art surfaces, be it lowbrow, graffiti or street art. She's not short of opinions about its plight – or guts.
"Previously there's not been much space in South Africa for artists that don't fit the so-called fine art mould. I started Space Between out of frustration at the lack of opportunities for [an artist's] being marginalised because you don't fit the box. All of my artists' work comments on society in some way."
A curatorial residency at Lovell Gallery – where she worked on a business plan for one day when she opened her own gallery – saw Theunissen meet the building's owner, Elad Kirshenbaum. Himself a serious collector of street art, Kirshenbaum and Lovell Miller encouraged Theunissen to continue with her gallery planning – and also came up with the name, Space Between. "The name is literal," says Theunissen, "SB give marginalised artists that space, a gap, to exhibit their work and develop their careers."
But Theunissen is picky about choosing artists. "I only work with those who have the right aesthetic, are technically strong, skilful and talented. And willing to help establish a stronger local underground art community."
Being self-funded and working long hours to keep things afloat does not deter her. In fact, Theunissen has bigger plans: she has started to curate an African urban art show that wil go to Hong Kong later in the year.
Urban A is on at Space Between, 139 Albert Road, Woodstock. For more information and launch date of I love Cape Town at Smith Studio, see smithstudio.co.za