Seventy-four-year-old praise poet and seamstress Kgato Masemola heralded the arrival of Jacob Zuma in Parliament with a poem in Sepedi before the president delivered his sixth State of the Nation address.
The septuagenarian walks with difficulty and uses a stick. But when she praises, it's as if she has been given new life and, at times, the walking stick punctuates the air during powerful parts of her oratory.
She is the first female praise singer to be given the honour. Masemola had to wake up at 3am the day before the event to travel to Cape Town from Ga-Marishane, Limpopo, where she is Kgoshigadi (queen) Mogoshadi Marishane's official praise poet.
The primary consideration when selecting a praise poet for the president's address is to rotate between languages to give each of South Africa's indigenous cultures a fair representation. The parliamentary presiding officers ultimately decide who will receive the honour.
Masemola was identified as a candidate by the chairperson of the National Council of the Provinces with the help of provincial governments and legislatures.
At a time when praise poets are becoming a novelty and being brought out only for official and traditional ceremonies, Masemola embodies the passing of the ancient tradition, although it is trying to morph to keep abreast with modern times. But as her generation passes, the tradition could evolve into a practice severed from its roots and devoid of political relevance.
Masemola's official role harks back to times before the arrival of Christian missionaries in Southern Africa.
Traditional protocol demands that she travel with the queen and praise her wherever she goes, and that anyone who wishes to speak to the queen must speak to Masemola first.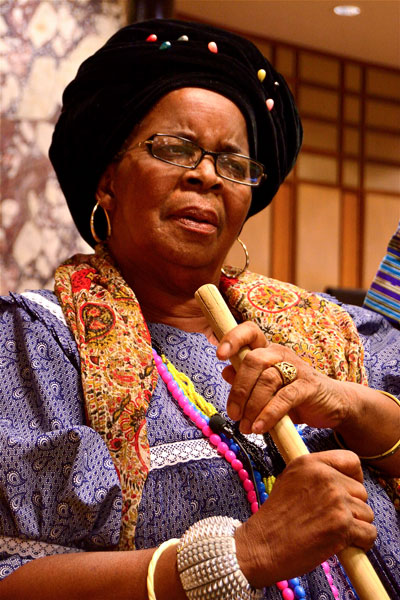 Russell Kaschula, professor of African language studies at Rhodes University's school of languages, believes that praise poets exist in all African cultures, but "the Nguni poets are well known because, ironically, they have been able to adapt to contemporary modern-day politics".
The performance styles and techniques might differ from culture to culture, but a common thread in the Southern African cultures is the relationship praise poets have with chiefs and other leaders.
In his seminal work, Xhosa Poets and Poetry, Professor Jeff Opland describes the court or praise poet as someone "intimately connected with a chief, and invariably formed part of the chief's official entourage".
The road to becoming a leader's officially recognised praise poet does not fit neatly into the Western concept of tuition. There is no prescribed scholastic route or place of learning. The only way to hone the craft is by performing.
Because of the influence of Western languages and the media, fewer and fewer South Africans are fluent in their traditional languages. So many younger praise poets are finding that they have to read books written in their own languages to master the preliterate craft.
Although there is a natural bent towards traditional languages in the rural areas, not all linguistic acumen can be gained by osmosis. Bonga Siyoko, who was born near iDutywa in the Eastern Cape, sees the literature as an investment in his "brand".
Siyoko says the environment he grew up in "played its role in making sure that I understand the language properly. And, at the same time, as you grow up and try to build your art, you need to invest in it. So I read a lot of Xhosa books to know a lot of the language."
Historically, a praise poet would come up through the ranks and become an official praise poet partly by gaining the support of the leader's subjects. Part of the licence and responsibility of the official role was the right to censure the leadership without the fear of recourse.
According to Opland, the praise poet "had the privilege of criticising the chief with impunity. His criticism was never intended to stir up dissent or dissatisfaction, but rather to express popular opinion." In turn, the leader would draw the praise poet close, in part because of the poet's ability to praise the leader lyrically.
Things are very different in South Africa today and the annual opening of Parliament is an unwelcome reminder of the praise singer's turn for the worse. This year, as on many other occasions, the praise singer was selected without the active participation of the citizenry. And it has become accepted that, when Parliament's presiding officers sign off on the chosen praise singer, the incumbent will not disgrace the paymasters.
Kaschula laments this changing role. "The praise poet is supposed to act as a mediator and critic between the masses and the holders of power. Unfortunately the critical element seems often to be silenced today, almost as it was under apartheid, but for different reasons related to power – corruption and so on."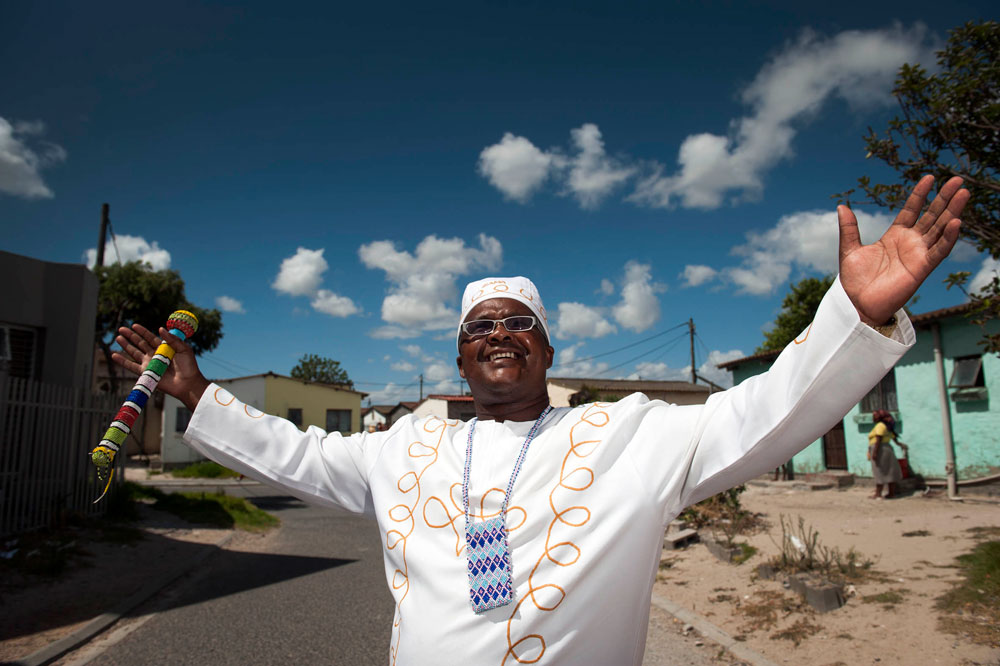 Zama Batyi believes that a praise poet is a 'chosen child'
There are divergent opinions about who can become a praise poet. Zama Batyi, a 41-year-old Xhosa imbongi [praise poet] who has been practising for nearly two decades, says: "A praise poet is a chosen child. That child is chosen by the ancestors; they are born with the spirit of being imbongi."
But the 27-year-old Siyoko sees his knack for ukubonga [praising] as hereditary. He says: "It is a gift, and one never decides on a gift or a talent; it's something that you're born with. I inherited [it] from my mother, who was a praise singer herself. It goes back from generation to generation within the Mkiva family."
Not all changes in the tradition are for the worse – or, at least, some of the transformations in contemporary praise poetry are intriguing. One of these is the commercialisation of the craft. Opland dates the start of this to the 1970s when praise poets living in urban areas were no longer paid with cattle. It became a bread-and-butter profession. Essentially, praise poets freelanced at occasions such as weddings, traditional ceremonies and even, contrary to custom, at funerals too.
Siyoko finds himself grappling with this challenge. He says: "If you take it back to the ancient days, a person like me would perform for free. It was something that was done out of love. And, if you want to make a living out of it, that involves [a knowledge of] finance."
Masemola says that she "eats with her tongue", which alludes to her use of praise poetry to help her make a ­living.
The commercialisation of praise poetry could also have been exacerbated by widespread unemployment, which, according to the latest ­statistics, affects a quarter of the ­population. Siyoko is a University of Johannesburg BTech graduate but has not been able to find employment. "It is frustrating to some degree," Siyoko says, "but to some degree it has become a norm for young people to look for jobs for a long time."
To help him navigate his role as a modern imbongi, Siyoko uses social media platforms to market his skill and to highlight the most important occasions at which he has participated, including the 10 and 20 years of democracy celebrations.
Siyoko's uncle and mentor, Zolani Mkiva, who was Nelson Mandela's poet laureate, sees the mass and social media as challenges to the work he does with young people. Mkiva says the content in media is mostly Eurocentric and Western.
"This is a big challenge. Our child­ren want to mimic people elsewhere in the world and they always feel that what they see elsewhere in the world is the best thing."
From experience and in his own view, praise poetry in the modern era has the additional responsibility of counteracting this "huge wave".
For Mkiva, the atmosphere in which his nephew and others work is one of the important factors that should inform their craft.
He says that part of the role of young praise poets is not only to celebrate their cultures and languages but also to bring them into the mainstream because they are "agents of development".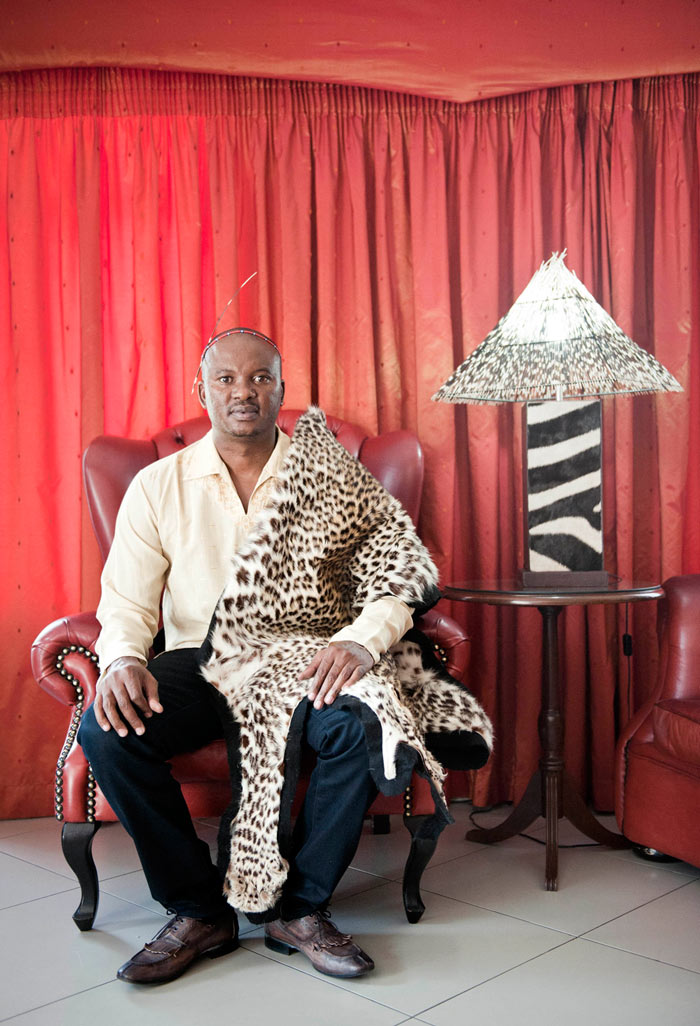 Zolani Mkiva was Nelson Mandela's poet laureate
As a young praise poet in the modern era, Siyoko has experienced all kinds of reactions from his peers. Luckily, his career began early and he first performed when he was 10. "Back then, people thought ushiyekile wena [you have been left behind]. When I came to Jo'burg, it was still the same thing. There was a lot of urban culture dominating this side. A lot of people thought, 'You're still living in the ancient times'.
"I would say that people are starting to understand that this is very important for us to know where we come from and to really keep what makes us South Africans."
But Siyoko is not completely removed from the effects mass media have on people's tastes and aspirations around the globe. "Right now, I am listening to a lot of Nas [an American rapper]," Siyoko says, "and one of my goals for the future is to work with an international act like him one day."
Although South Africa is by no measure close to achieving meaningful gender equity, some of the advances made by women in society are permeating the world of praise poetry. For example, 15 of the 35 Cabinet ministers and two of the nine premiers are women. Praise singers have been forced to celebrate these women at official functions, which has had far-reaching effects on the male-dominated practice.
Kaschula sees this as a step in the right direction. "As women become more powerful, politically and economically, they tend to attract the poets or iimbongi in their direction. Both male and female poets now praise women."
When Masemola returns to Ga-Marishane, she will, once again, take up the needle and thread alongside her duties as Marishane's official praise poet. But none of the finery she produces will ever surpass her performance as the first female praise poet in Parliament, and none of those threads will outlast that stitch she has made in South Africa's history.
Correction: A previous version of this article referred to Bonga Siyoko as Bonga Sikiyo. The correction has been made. We apologise for the error.