Katlego Mmoloke, a second-year bachelor of arts student at the University of Johannesburg (UJ), catches the Metrorail train each day from Randfontein on the West Rand to class, aware that time is running out to raise money.
He is one of thousands enrolled at the country's universities who do not know how they are going to pay their tuition fees. They also cannot turn to the government, even though they qualify for state loans: the National Student Financial Aid Scheme (NSFAS) has said it has run out of funds – and now risk dropping out.
Nico Cloete, director of the Centre for Higher Education Transformation, the world-renowned non-governmental organisation, said the real tragedy was that university dropouts would join about three million youth who are not in education, employment or training (Neets).
"This is where the door of learning is bolted. About 800 000 of these 18- to 24-year-olds Neets have matric."
Although the government has allocated increased funds to higher education, these have not kept pace with universities' tuition fees. Cloete said tuition fees had risen from R7.8-billion in 2000 to R15.5-billion in 2012.
"Over 12 years, students have had to find R7.7-billion more.
"NSFAS funds have almost tripled, but they still don't support all the students. Lower middle-class parents, such as police and nurses, who earn more than R150 000 per annum, and whose children don't qualify for NSFAS, can't afford more than one child at a university."
Scrape funds together
Mmoloke and other students have saved up money for their registration fees (R3 870 each) to secure a place at a university, and have then enrolled, hoping they would be able to scrape together funds for tuition fees – which, in Mmoloke's case, amount to R17 500.
There are no official data on students such as Mmoloke, but UJ said NSFAS had not allocated the university enough funds for 4 378 of its students who qualify for loans.
"If I don't get money by April, I face dropping out. That's when I need to pay 50% of my fees," Mmoloke told the Mail & Guardian this week. "I'm not sure if I'll get the funds. I don't have a plan right now.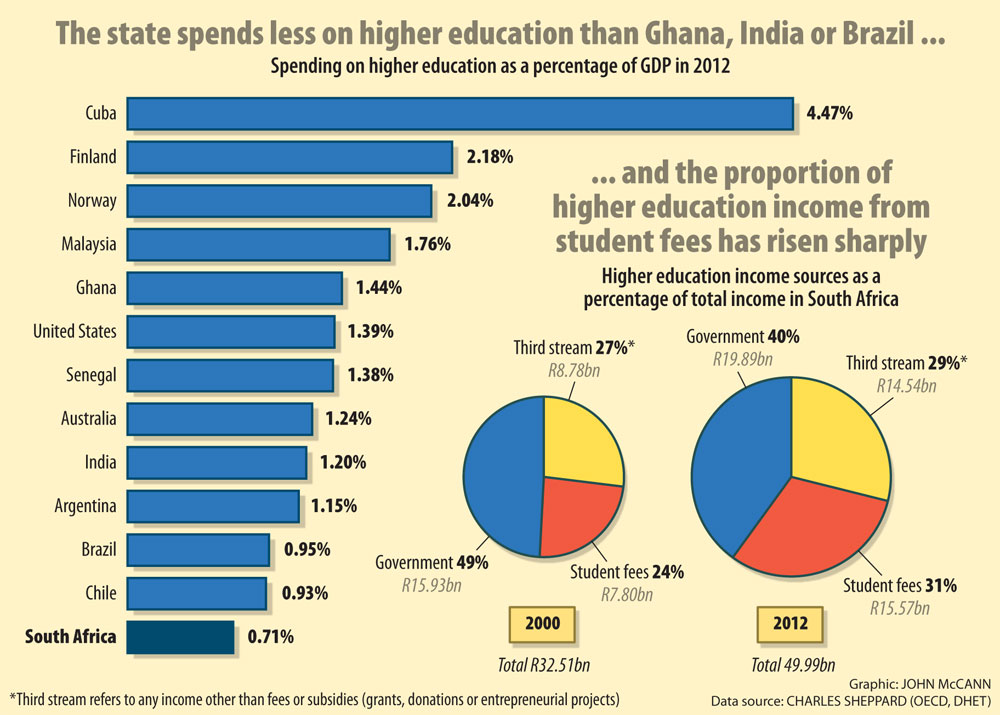 "My family sponsored me last year, but now I lack funding. I got rejected by NSFAS this year, which said was that its reason was that it didn't fund me last year. But I don't find this reason rational: I'm poor, and last year I proved I qualify academically. Now NSFAS seems to assume that I have someone to pay for me."
Albert Macu moved to Johannesburg from Standerton, Mpumalanga, to start his first year at UJ in a bachelor of education degree. Now he's thinking of dropping out, according to his post on a UJ Facebook group. "I'm trying to put things together; it's very hard. I stay very far from UJ [in Germiston]. Per day I have to spend R40 on taxis. My mother can't support me on her R1 500 monthly salary.
Empty stomach
"I don't even consider food. I study on an empty stomach. There's another problem when I get to class: I have no textbooks. Lecturers demand that we have them."
Second-year UJ journalism student Lerato Selepe said he had paid the R3 870 registration fee and was "still searching for funds. I told myself although I don't have funds I'll do my best: I'll go out and look for funds."
Mkhuseli Nyoniyandiza has had to quit his public management studies at UJ. NSFAS declined his application and he hasn't been able to raise a private loan for even UJ's registration fee. I tried using my aunt's payslip to apply. She wasn't willing to proceed, because about R850 would be withdrawn from her account each month to repay my loan."
The University of the Witwatersrand is trying to assist students. Mcebo Freedom Dlamini, president of Wits's student representative council at Wits, has mounted a campaign to raise R1-million for the 2 788 students NSFAS funds excluded. He said the money would be used to pay students' registration fees. Classes have already started and the university has extended the deadline for paying fees to February?27.
"Once I register the students I'll shift my focus to securing meals, accommodation and books. We'll save these students [from dropping out]," he told the M&G this week.
Angina Parekh, UJ's deputy vice-chancellor, said she knew some students had not received NSFAS funding but had registered for their studies. She said: "Sadly, some students drop out. This is a national problem of severe proportions."
Diane Parker, acting deputy director general for universities in the higher education and training department, said it "continues to make a case for increased funding for student financial aid from the fiscus".
She said some universities "perpetuate dropouts" by distributing their NSFAS funds to more students than these funds can properly support.
---
'We need a hands-on minister'
Minister of Higher Education and Training Blade Nzimande has been accused of standing aloof from his portfolio while student funding protests close universities.
In an interview with the Mail & Guardian, Mcebo Freedom Dlamini, president of the student representative council at the University of the Witwatersrand, criticised Nzimande for keeping silent while protests over the National Student Financial Aid Scheme (NSFAS) have forced the suspension of classes at the University of KwaZulu-Natal and the Tshwane University of Technology.
Dlamini is also the campus leader of the South African Students' Congress and a member of the ANC Youth League and the Young Communist League.
"It's a crisis. The Tshwane University of Technology is closed and the University of KwaZulu-Natal is burning. But the minister is not there, he's quiet. "When you talk about the NSFAS crisis you need a hands-on minister. Currently, we're sitting with someone who's on vacation."
Dlamini said he was not afraid of criticising Nzimande. "I have every reason. I campaign for the ANC until I lose complexion and weight.
"The ANC is capable of delivering this thing [NSFAS]. It's just we have people who don't have the will. We will push them until they deliver."
Nzimande's spokesperson, Khaye Nkwanyana, said of Dlamini: "That young boy must not be excited and start insulting the minister, as if the minister produces money. He allocates what he gets from the government fiscus." – Bongani Nkosi
---