About the same time as some Cape Town International Jazz Festival audience members start planning the threads they'll wear to the yearly event, the festival's organiser –espAfrika, begins a dizzying two-month training and development programme that peaks on the festival's three main performance nights.
On these nights, some of the participants form part of the artist line-up and others cover the event as writers and photographers. Whether the more finely dressed punters realise it or not, their support of the festival plays a role in changing the social fabric of some of Cape Town's most under-resourced communities for the better.
EspAfrika's training and development programme began 13 years ago with an arts journalism workshop, master classes with the musician Hotep Galeta, and a production training course. In the time since the programme's inception in 2002, the number of workshops has swelled from three to 13.
Seven workshops form part of the arts and culture focus schools with others focusing on photo­journalism, facilitated by photographer Peter McKenzie, arts journalism mentored by Fiona Lloyd, and the inclusion of workshops on fashion, eventing and different aspects of the entertainment industry.
Over time, the scales have tipped overwhelmingly in favour of youth-targeted workshops and lectures on the various aspects of music production and performance. Run by a combination of permanent and temporary staff, the mostly free workshops (some require students to pay a nominal fee) take place during and after school as well as on weekends at various venues – from the Artscape Theatre conference rooms to Guga S'Thebe community centre in Gugulethu. Participants in the youth music workshops come from music organisations and schools with music programmes.
Though it's not stated in black and white, there is a clear bent towards providing these skills to young people from under-resourced Cape Town communities. And the assumption is that not every participant will have a career as a performer.
Cape Music Institute
Seventeen-year-old Neo Anthony and 16-year-old Asemahle Maxengana from Langa High School took part in espAfrika's arts and culture focus schools programme this year. Maxengana's first choice of instrument was the violin, which is not currently offered at Langa High School.
"At first I didn't want to play the saxophone, but I joined [the programme] anyway and as time passed I fell in love with the saxophone," he says.
The Langa High School group was introduced to other learners – some with higher levels of musical acumen – at the sessions. "Seeing other people play better than us makes me more excited to want to get to that level and past it. So it pushes me to play more," says Anthony.
Keyboard player and bassist Peter Ndlala runs daily extramural classes for interested students in a small room on the second floor of one of Langa High School's buildings. Here he teaches saxophone and keyboard to a handful of budding maestros.
On one hot Saturday afternoon, he's holding a supplementary informal session. Ndlala leads the way up the stairs, through a gloriously cool corridor with stacks of textbooks along its walls, and into the music room. For an artist who has played with numerous South African greats, including regular festival headliner Jimmy Dludlu and the legendary Winston Mankunku Ngozi, he's slightly skittish when he talks about his work as a music teacher. He came to the school following a suggestion made by an acquaintance. "I was at home composing a lot and this guy said: 'How about you teaching kids?' and I thought it was a good idea."
Ndlala practices some scales and jazz standards with his students before they pry their mouths from their reeds to give them freedom to speak. Junior Thanda, one of Ndlala's newer students, brings up an important issue faced by many young people who want to pursue a career in the arts while being raised in communities where art is generally considered nonessential.
"My mother doesn't like it and my father doesn't get along with it [either]. When my parents are at home, I must dodge [them] and say I am going somewhere else when I know that I am coming here."
EspAfrika's focus schools make up a relatively small part of the efforts made by the many youth programmes and organisations in Cape Town's disadvantaged communities that use music as an instrument of development long after the festival curtain falls.
Masidlale Academy, the Cape Philharmonic Orchestra's outreach programme, has developed an "inside-out approach", which has helped to warm the attitudes, interest and understanding of music [classical in this case] in the five communities where they give mainly violin lessons.
Explaining their formula, Masidlale's outreach and education manager Laurika Steenkamp says: "We have selected our teachers very carefully [all are members of the Cape Philharmonic Youth Orchestra] so that they are part of the culture, home language and heritage of each community. Through empowering our emerging teachers by providing training and mentoring for them, they have become the role models in their communities. This truly inspires their learners."
The "out" component of the "inside-out approach" is to include Masidlale players at community events and functions such as funerals, weddings and festivals.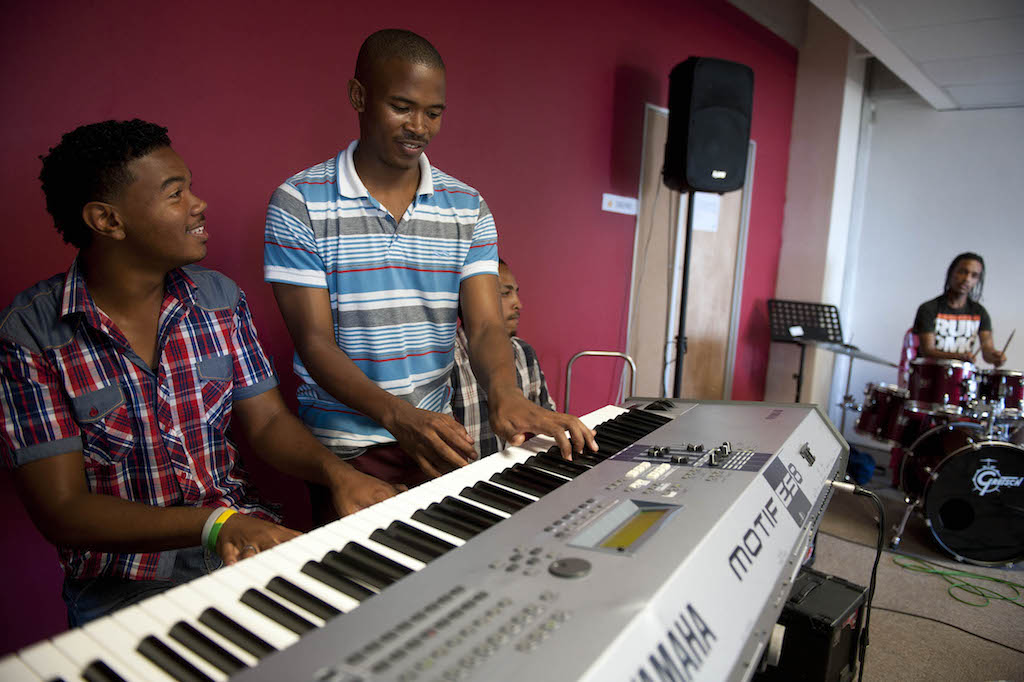 Cape Music Institute
The benefits that playing a musical instrument have for young minds cannot be understated. Anthony struggles to put into words how much the experience has changed him. He says: "I believe music expands your mind. It changes your way of thinking. I think faster now, I tend to notice things more quickly."
Steenkamp adds self-discipline, time management and diligence to the endless list of benefits playing music has for young learners.
She and others who work in this sector share a common purpose of using music tutelage to make a greater social impact than the mere transference of music skills. Steenkamp says: "Teaching music in these communities is merely an instrument. It has a much bigger positive impact than just the musical talents that are developed and this impact is priceless because you are changing the social fibre of a community while developing emerging talent."
The kind of impact an organisation has is measured in relation to its goals. MusicWorks, a nonprofit organisation that has teachers who run music therapy and early childhood development programmes, has slightly different musical goals.
Alexanne Tingley, the organisation's operations manager, says: "Our focus is not on musical note-perfect excellence but is driven by the will to ­provide positive after-school music interventions."
The programme targets a broad six-to-20-year-old age group in the communities of Heideveld, Lavender Hill and Nyanga. Tingley says: "Our organisation provides a range of interventions including clinical music therapy, which provides psychosocial support to children and young people. Ours is not a luxury intervention or a nice-to-have."
The intentions of many of the full-time youth organisations represent a spectrum of how music tutelage can be used to weave a positive thread into the social fabric of the communities they serve.
And although the impact they make is measurable, each organisation must be taken within its own right, context and set of aims.
By the end of the festival, espAfrika will have spent 4.3% of its total budget on its training and development programme, up from the 3% spent in 2014. Being a profit-generating organisation puts espAfrika in an enviable position because it is able to dedicate its own resources as well as seek external funding for its training and development programme.
This is not so for MusicWorks, which along with many South African nonprofit organisations, continue to face challenges in sourcing funding since the most recent global economic downturn.
"South Africa is deemed to be a stable economy in the international funding arena and many large foreign funders are redirecting their money to other parts of Africa. Our challenge is to secure new funding within South Africa," says Tingley.
A day before last year's festival, students at the Cape Music Institute were treated to an intimate live performance and question-and-answer session with Grammy award-winning band Hiatus Kaiyote. The band's vocalist and guitarist Nai Palm shared giggles with the learners and egged them on as they performed for her and her band mates.
Although it's a pity that espAfrika's training and development programme runs for just two months every year, some of its core advantages are in exposing the minds and ears of young people to the global music world and the various career paths available in the discipline.
---
MUSIC OUTREACH PROGRAMMES
Masidlale Music Project
Cape Philharmonic Orchestra: Artscape, DF Malan Street, Foreshore, Cape Town
[email protected]
021 410 9809
Twitter: @CapePhil
MusicWorks
44 Roseville Road, Claremont, Cape Town
[email protected]
021 671 5196
Twitter: @musicworks12
Langa High School
Washington Street, Langa, 7455
021 694 1874
Cape Music Institute (CMI)
East Wing, Level 2, Hickory Street, Athlone Stadium, Athlone 7764
[email protected]
021 637 0327
Delft Big Band
[email protected] / [email protected]
082 4583176
Twitter: @DelftBigBand
Steelband Project
[email protected]
021 448 8846 / 082 898 9663