ENTERTAINMENT NEWS
South African comedian Trevor Noah is replacing comedian and political satirist Jon Stewart as the host of late-night talk and news satire television program The Daily Show, according to the New York Times. Noah debuted on show as a senior international correspondent in December 4, but was seen as a worthy replacement over big names such as Tina Fey, Stephen Colbert and Jason Jones. Stewart announced in February 2015 that he will be stepping down from the show later this year. He has been the show's host for over fifteen years.
Noah has some experience in late night TV. He hosted his own late-night talk show and has appeared on The Tonight Show and The Late Show with David Letterman.
Stewart is expected to step down from the hosting the show sometime between July and the end of the year, according to Variety.
The new Miss South Africa announced
"Being an inspiration and a beacon of hope" is what the newly crowned Miss South Africa, Liesl Laurie, will strive for during her 2015 reign, she said in her acceptance speech. The 23-year-old University of Johannesburg B.Com graduate has some big shoes to fill, following the success of the previous Miss SA, Rolene Strauss, who is the current Miss World (2014).
Laurie was crowned Miss SA on March 29 at the Sun City Superbowl. And her title comes with prizes such as a Mercedes Benz A200, use of a fully furnished and serviced apartment for the year of her reign, a Sun International cash prize, as well as R200 000 to spend on "random acts of kindness" courtesy of Cell C.
The pageant judges included former Miss World Anneline Kriel, actress Sophie Ndaba, designer Casper Bosman and writer Kojo Baffoe.
"As a little girl I would watch the Miss South Africa pageant and tell myself that one day I would be taking part," said Laurie in a press statement. "Being Miss South Africa will allow me to reach out to more young people than I am currently able to do. I want to motivate them to rise to the challenge of building a better and brighter future as South Africans."
The Eldorado Park-born beauty was raised by her mother and grandmother and she is the eldest of two children. She has a couple of sashes under her belt which include winning titles at Miss Soweto 2010 (Second Princess), Miss Personality and Miss Mamelodi Sundowns 2014 (Second Princess). This time around she bagged the main prize. Her runners-up are Refilwe Mthimunye from Bronkhorstspruit (First Princess) and Ntsiki Mkhize from Kliprivier, Midvaal (Second Princess).
New local realty shows
It seems some of the 16 Generations actors who were fired from the local soapie are doing just fine without with their former jobs. Actress Sophie Ndaba, who played Queen Moroka on Generations, was recently a judge on the Miss South Africa panel, Anga Makubalo aka Naak MusiQ's music career has finally taken off and he is being featured in hit songs and now Zikhona Sodlaka bagged a gig as the host of a brand new reality show called Top Actor SA. Top Actor, which premieres on BET (DStv channel 129) on Thursday 2 April at 19:55, features 12 aspiring actors.
The 12 have been selected to battle it out for the inaugural title of Top Actor SA and a cash prize of R100 000 and a role in a local TV/movie production. The viewers will get to see the on- and off-screen drama of the contestants who'll be living under one roof throughout the show. Contestants will be eliminated from the show every week.
Lunga Shabalala on the set of She's The One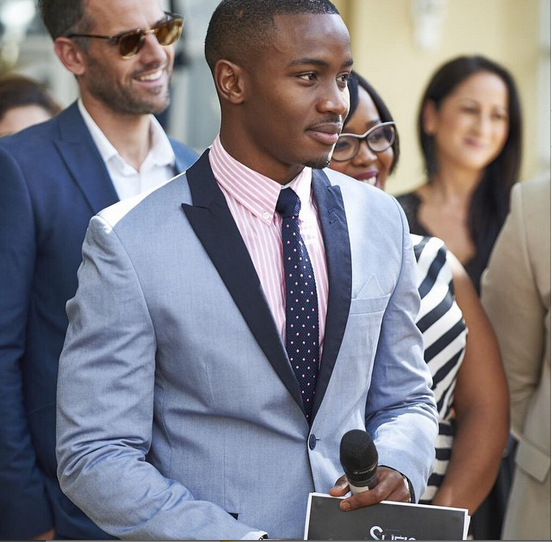 TV presenters Lunga Shabalala and Janez Vermeiren seem to have found their place in the spotlight as a team. The pair is back with a new TV show on SABC 3 called She's The One, with Shabalala as the host and Vermeiren as the producer with Yusuf Stevens, in partnership with Edgars. The reality show features twelve women who get the opportunity to "prove their skills, receive expert mentoring and growth, all while building their personal brand and becoming recognisable and celebrated women on local TV". The contestants will take part in weekly tasks and based on their execution of them, they'll either progress to the next stage or get eliminated from the show. She's The One will run for 12 weeks and the grand finale is to air on 11 June 2015. The resident judges include comedian Tumi Morake and writer Kojo Baffoe.
*Catch She Is The One on SABC 3 on Thursdays at 19:30
Local soapie royalty
Actress Masasa Mbgangeni must be doing something right in the entertainment industry. She walked away with another award for her portrayal of the character Thembeka Shezi on the eTV soapie Scandal! over the weekend. This time around Mbgangeni was awarded the Outstanding Lead Actor award at the Royalty Soapie awards on March 28. The award ceremony was held at the Durban ICC. Isidingo actor Motlatsi Mafatshe was also awarded with the Outstanding Lead Actor award, for the character of Sechaba Moloi in the local soapie. The big winner of the night was the Isibaya crew. They won awards for:
Outstanding soapie of the year
Outstanding set design
Outstanding editing team
Outstanding lighting
Outstanding Directing Team – Adze Ugah for Isibaya
Outstanding Set Design
Outstanding Wardrobe
Other winners of the night were:
Lifetime Achiever – Cythia Shange and Danie Odendaal
Outstanding Female Villain – Therese Benade from Villa Rosa
Outstanding Male Villain – André Lotte from Villa Rosa
Most Popular Soapie of the year – Villa Rosa
Outstanding Newcomer – Izak Davel, who plays Bradly in Isidingo
Outstanding Supporting Actor – Andile Sithole from Scandal
Outstanding supporting Actress – Mapaseka Koetle from Scandal
A new chapter for the Parlotones
The Parlotones will be back on the road with a countrywide tour of their latest album, Antiques & Artefacts. The tour is from April 22 to May 31 2015. The band has made headlines for different reasons since the release of their previous album, Stand like Giants, in 2013. Parlotones lead singer Kahn Morbee launched his solo career and released his debut album SALT in 2014. In the same year the band was reportedly in a battle with their former manager Raphael Domalik over contracts and royalties. The Weekend Argus reported that the "relationship between the Parlotones and Domalik ended in July when the four-man band discovered their manager, along with record label Sovereign Entertainment, owned all their music, their name, and their money." Now the band is going on a new journey with Antiques & Artefacts, their first release "on their own without assistance from a record label".
Bradley Cooper makes his directorial debut
The Hangover star Bradley Cooper is now trying his hand at film directing. The Hollywood actor is set to make his directorial debut on the remake of the 1937 musical A Star Is Born. The original film featured actors Janet Gaynor and Fredric March and tells the story of a professional actor who takes an upcoming actress under his wing to help her realise her acting dream. A Star Is Born has been remade twice, in 1954 with Judy Garland and James Mason and again in 1976 with Barbra Streisand and Kris Kristofferson. According to reports, Warner Bros. initially had plans to get Clint Eastwood to direct the film and to cast Beyoncé Knowles as the female lead. But Cooper got the directing job instead and Knowles withdrew from consideration in 2012.
The next step for One Direction
It's been a crazy month for the One Direction camp, with group member Zayn Malik quitting One Direction and the disturbing #cut4zayn trending on Twitter. The band released an official statement about Malik's departure on March 25, where he explained that he wants to be "a normal 22-year-old".
Malik left the group after five years of being a part of the multi-platinum selling UK boy band. But how does one go back to a life unnoticed when you've accumulated millions of the fans all over the world with your talent and good looks? What direction will the band take without its fifth member?
Well, the show still goes on, despite fans and mothers of young fans voicing out how upset they are about purchasing One Direction concert tickets only to have an incomplete group on stage. According to Forbes, Malik's announcement has not reflected negatively on the secondary ticket market. "Nine of One Direction's upcoming 24 shows in North America still see an average price above $300 on the secondary market," Forbes reported. The remaining four group members – Harry Styles, Liam Payne, Louis Tomlinson and Niall Horan – have plans to record their fifth studio album later this year as a quartet.
A new talkshow for Tyra Banks
Supermodel and talkshow host Tyra Banks is back with a new daytime talkshow on ABC called The F.A.B. (fun and beautiful), according to BET. Banks will host the show alongside model Chrissy Teigen, fashion critic Joe Zee, interior designer Lauren Makk and YouTube star, Leah Ashley. The show will cover topics such as career, food, fashion and beauty; content aimed at female audiences. We don't know just how many more talkshows viewers can handle, but we hope this one will live beyond the first season, as the competition on daytime TV is fierce. The F.A.B. will air in September 2015 in the United States of America.