For legendary saxophonist Maceo Parker (72) at least two-thirds of the year is like Christmas. The former James Brown sideman, prominent soloist and co-inventor of funk is playing in Gauteng early in May.
I spoke to him on the phone from his home in Kinston, North Carolina, this week and asked what it is like when the curtain opens, you walk into the floodlights and we, the fans, go mad when they see you.
He gave a knowing laugh: "Most entertainers, they're really comfortable with what we do … I really feel that I was born to entertain, so as soon as she calls my name [to go on stage], it feels like Christmas morning, or New Year's morning or something like that. So here we go, boom! It's time to do your thing!"
Amazingly, septuagenarian Parker and his band still tour "maybe two-thirds of the year". Just look at the tour dates on his website and you see at the end of April they have shows in Germany, then Czech Republic, Germany again, Austria, Germany, South Africa on May 8 and 9, then they're off to Europe again, and then they crisscross the United States for the rest of the year.
You must have an amazing amount of frequent flyer miles?
"Hehehehehehe – you're the first interviewer to ask me that! Yes, I've got two million miles of flying! Hehehehe!"
In 2011, Parker was inducted into the North Carolina Music Hall of Fame: "Maceo Parker was the saxophonist in the groups that laid down the foundation of funk, rap and hip-hop," the notes read out at his induction ceremony went. "He attended college in North Carolina but graduated from the University of James Brown."
He played on 13 of the Godfather of Soul's pioneering soul and funk albums. Parker also played with another funk pioneer, George Clinton and Parliament-Funkadelic, as well as with Bootsy Collins and another musical revolutionary, Prince.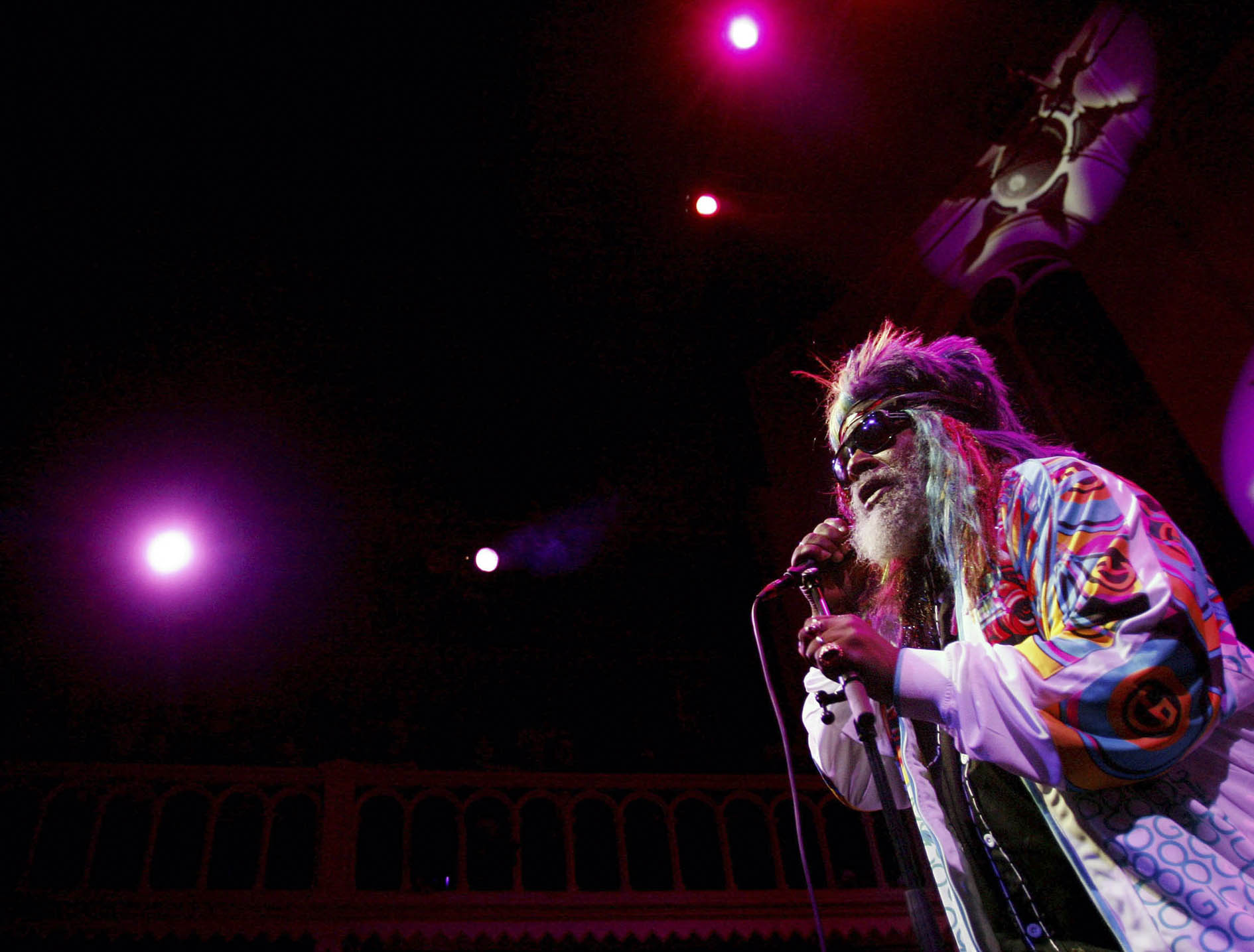 George Clinton
If you print out his Wikipedia entry, there are three pages of 10-point-sized lists of artists he has worked with as sideman, including the Red Hot Chili Peppers, Deee-Lite, Bryan Ferry, De La Soul, the Dave Matthews Band and Ani DiFranco.
"I'm really lucky in that I'm really kind of popular with all the musicians because James Brown started calling my name on the records to introduce the sax solo …
"He would say: 'Maceo blow your horn, c'mon Maceo, Maceo, Maceo', over and over, and time and time again on a lot of recordings. So as James Brown's fame grew, so did the name Maceo grow with him …"
In the early 1990s, Parker went solo and started touring under his own name. "Once I got to the part where I started doing my own show – for a lot of people, if you were into James Brown, you were into me."
Understandably, therefore, when you mention Maceo, Brown is uttered in the same breath. With his trendsetting music and performances over a phenomenal six decades, Brown provided the blueprint for funk, making him one of the icons of popular music. Nicknamed "Soul Brother Number One", "the Godfather of Soul", "the Hardest Working Man in Show Business" and "Mr Dynamite", he is easily the most influential black artist of all time.
In 1965, Brown offered Maceo's brother, Melvin, a job as drummer in his band. Melvin took it and told Brown that the sax-playing Maceo needed a job too. Brown asked Maceo if he owned a baritone sax; he replied "yes" and then went out and bought one, according to the induction notes.
For the next 20 years Parker was a lynchpin in the notoriously dictatorial Brown's recording and touring band. There were three spells – during the 1960s when JB was at the top of his soul and early funk game. It is in Brown's hit single, Papa has a brand new bag, that the exhortation to Maceo, "I just want you to blow Maceo, blow your horn Maceo", found its way into Brown's lyrics, becoming common musical parlance.
In 1970, the Parker brothers and several of Brown's band left to form Maceo and All The King's Men.
Was it a shock to Brown when you left? "Yes and no. We had a few demands that we wanted – he did not like the group thing. He liked to deal with people separate. With the group, I think he thought he would lose his authority. At first, I was going to leave James on my own, but the rest of the group wanted to leave too."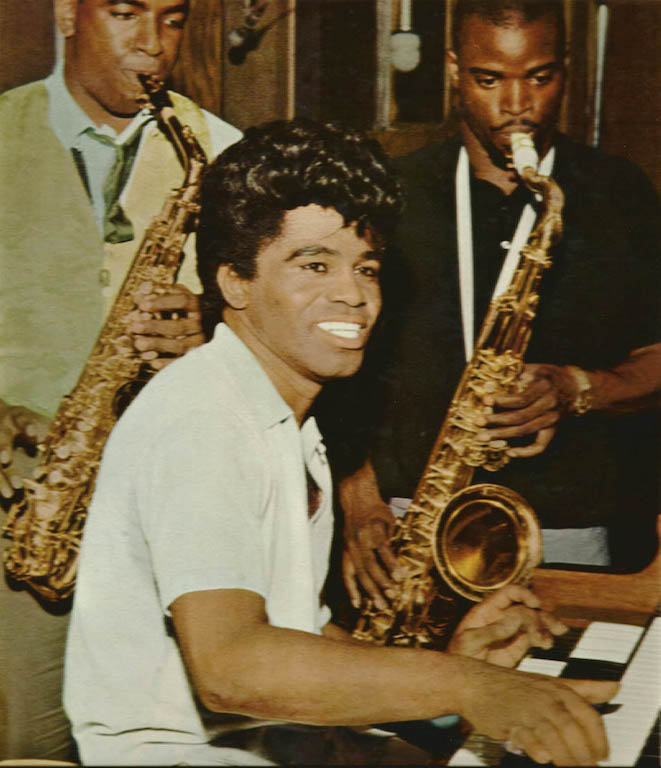 Putting the wind in Brown's sails: Alfred 'Pee Wee' Ellis on alto and Maceo Parker on tenor with the 'Grandmaster of Funk' James Brown. Parker had three stints playing in Brown's backing band.
Four years later he rejoined Brown's band. But a year later, in 1975, Brown's band members got gatvol again with his erratic, drug-fuelled behaviour and joined the P-funk Mothership of the out-there George Clinton, and the various freaky and trendsetting incarnations of Funkadelic and Parliament.
Between 1984 and 1988, Parker rejoined Brown again. He obviously got to know Brown very well, having spent all those times so close to him. He also saw the star's demise brought on by serious drug abuse.
"He was James Brown, all those movements and singing and screaming, and the cape-throwing and all the theatrics he does," Parker tells me with a hint of sadness in his voice.
"By being close to him, I think as he started getting older, and maybe he couldn't do the fancy footwork stuff, I think that bothered him a little bit … that may have led him doing something he shouldn't have done – like taking an extra drink.
"But other than that he was spot on pretty much throughout his career. As he was getting older he couldn't deal with it – he could remember when he could jump this high, move this fast, and when things started slowing down I think it bothered him a little bit. I don't think he was able to take the fact that when he was 60-65, he couldn't do the thing he could when he was 25-30."
Brown died on Christmas Day in 2006. Parker learned a lot from Brown, including how to lead a band. "When I first started the Kings Men we had a majority rule kind of thing with a vote. That works sometimes, sometimes it doesn't. It works better when you just have one person who says: 'OK, we'll do this, we'll do that, we go here, we go there, da da.' In that way everybody understands: 'I'm working with this guy now, these are his rules.'
"Each leader has to have his or her own way of doing it.
"I enjoy having the first word and the last word – but I would listen and go: 'Yeah that's a good idea.' But the final word is mine."
I guess in a less forceful way Brown did it back in the day? Parker pauses. "Yeah …" Another pause and then he laughs mirthfully. "Yeah!"
Parker has collaborated with Prince on seven of his albums and a number of his concerts. Prince, of course, is what some may describe as pathologically private.
I try my luck to get something juicy about Prince. But old hand Parker saw this coming: "He really likes for him not to be part of your interview and I have to honour that. But I can say this, and hopefully he won't mind, I will always love him and I think he is genius."
So what can we expect from Parker's two shows in South Africa?
"I do a mixture of the James Brown stuff, the Ray Charles stuff, the George Clinton stuff, a little bit of Prince, and a little bit of me. Then I feature pretty much everybody in the group – I have a small group – of which I have a trombone player, a keyboard player, a bassist, a drummer and a guitar player, as well as two backing vocalists.
"We have lots of fun; it's almost like a closely knit family. I couldn't ask for a better situation. It's really, really great for me being me."
Parker is happily married with six children – all grown up.
He works harder than men less than half his age. "I've always been a little athletic. I don't lift weights or anything like that, but I do walk.
"I never really smoked, I never really drank, I never took drugs. I guess when you're young and you could get through those critical years when you've been around people who are abusing stuff and you see them – I weighed the situation and I thought, do I want to do that, and I said 'no!'?"
Parker's whole life has been close to the civil rights movement in the US. Even though there is a black man in the White House, I remark that it seems that it is still a tough time to be a black man in the US today, with Ferguson and just last week, Walter Scott.
There's a long pause before he answers: "It is a little bit scary, it really is. I'm into the Civil War stuff – I try to read everything about it. The institution of slavery and how people then go to church on the weekend and praise God and go back and do what they do with the slaves … Sometimes I think a little bit of that is still hovering around, some echoes of that.
"Seems someone, somewhere, said it is still fine to kill a black man, a black youth.
"I try and preach love wherever I go. But it seems some people are hanging onto the flipside, the hate side, just continue to embrace that …"
Our interviewing time is almost up and I ask the infectiously upbeat Parker: What made you get up this morning? "I really enjoy being me. First I knew I had to do a few interviews today. My wife woke me up an hour before the interviews started.
"So she had a list for me, saying 'Honey, do this': I had to mail some letters, there's a few things on the grocery list I have to do, bring back a salad or something … I had to do all of this before the interview starts."
A little chuckle.
"I am well into my life, my lifestyle, and who I am. I even get fans, going 'Hi Maceo', wanting autographs, and it's great!
"I wake and I still have my mom, Novella, who is 90 – I don't have my dad anymore. She is more of a teenager than me – and I am really lucky just to see her smile."
And then his parting shot: "And always remember, this is what I say on my show: 'Always remember, we love you!'?"
Maceo Parker will be performing on May 8 at the Brooklyn Theatre, Pretoria and May 9 at the Wits Theatre, Johannesburg.