Last year, when a group of high school girls from the social change movement Rock Girls heard about the missing girls in Nigeria, they wanted to drive there themselves to go find them. Inspired by their desire to help, Rock Girls – based in the notorious gangland of Manenberg in the Western Cape – is taking girls on a series of road trips around South Africa. The movement uses group discussions, art, photography, film, and radio to create and inspire more safe spaces for young women in South Africa. Their first trip from June 12-15 went from Cape Town to the Eastern Cape with ten girls, accompanied by Rock Girls founder India Baird, to interview other girls living on farms and in townships about their lives, and document their stories through radio and film. The Mail & Guardian will be publishing a series of diary entries written by the girls about their trip.
Read: Diary of Day One, Day Two, Day Three, Day Four
Day five, 16 June
Mickayla Sauls, grade nine, Silverstream High School
I've been a Rock Girl for two years now. For me, being a Rock Girl is amazing. When I'm with the Rock Girls I feel safe and free to talk about anything that happens to me or is taking place in my community called Manenberg which has lots of gang violence.
Today is the last day of our road trip. We had to wake up very early to get on the bus. We are the on way to Bredasdorp to meet other young girls there. We want to tell them about our community and how we keep safe being girls there. We also want to know about their experiences in their community where they live. We have heard about the rapes and even the killings of some girls there and are going to help them build a safe space bench to remember those girls.
Hishaam Mohamed, the regional head of Justice and Constitutional Development, met us when we got to the court in Bredardorp. We met some girls from there and we all got to sit in the courtroom and even the witness stand. We talked about the experiences of the different girls we have met. The one thing that I learned was that in most places in South Africa girls never exactly feel safe.
But while we were sitting in the court together, we came up with ideas to meet some of the challenges. We are going to meet with the chairperson of Manenberg SAPS, and with the justice department and even the prisons to find ways to make things better. And we are also going to make a whatsapp group for all the girls we met, to talk to each other and keep each other safe and motivated when we feel down. Just like the whatsapp group that we have for girls in Manenberg.
The last speaker we met at the court was the station commander of SAPS in Bredasdorp, and I was shocked to hear she had been raped and beaten up when she was young like us, but she overcame that and now she is in charge of all the police. One thing she said was never let what others do to you define who you are.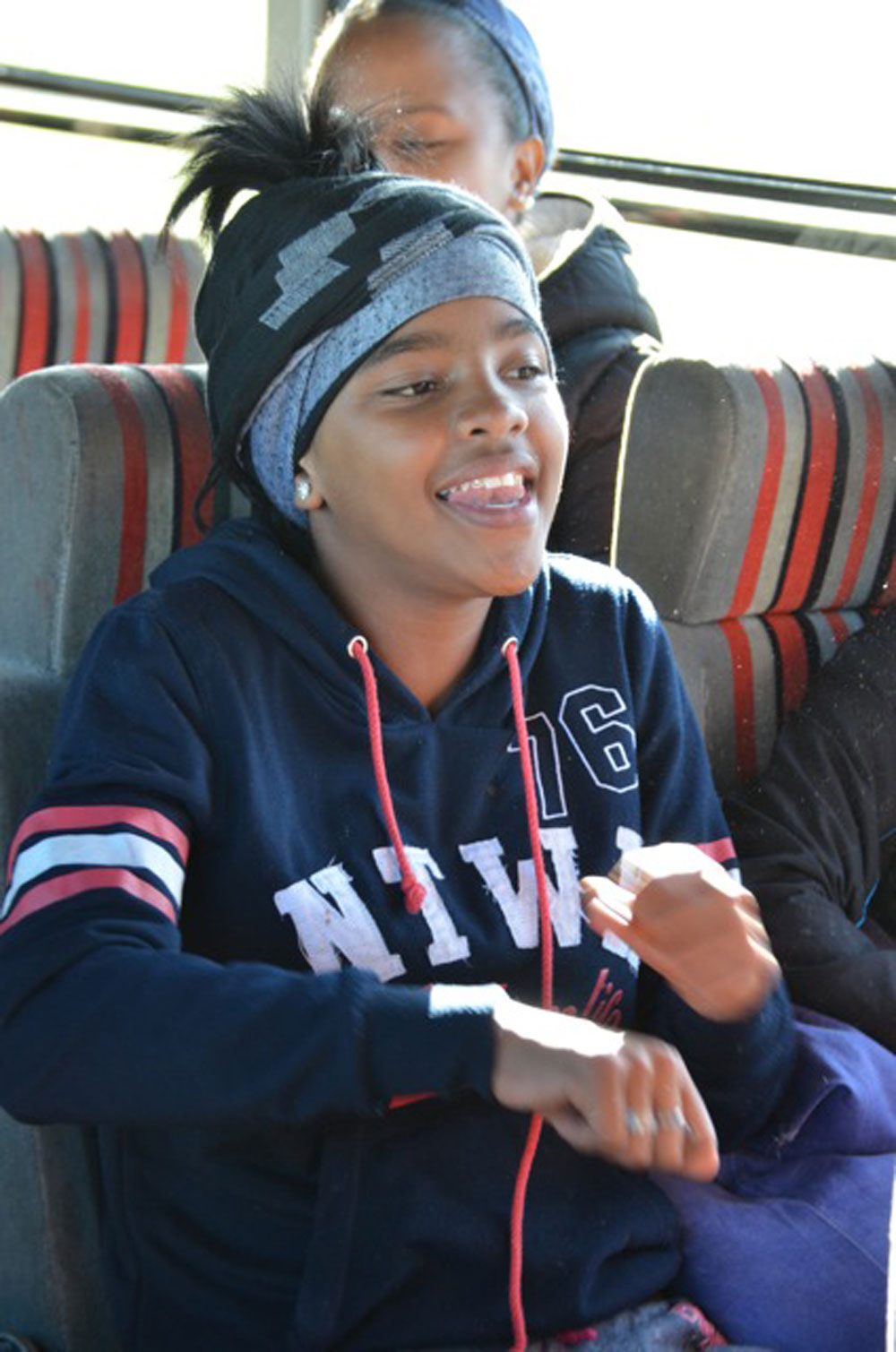 Mickayla Sauls sings on the bus way back to Manenberg. (Rock Girls)
Now we are on the way home. We are happy but also sad: we want to see our family but we don't want this to end. The bus has been a safe space for us, and a fun space too. We are singing now and wondering if there is going to be shooting when we get back.
We as young girls that live in a community where things like gangsters are ruling our community and girls are getting killed – we don't like it because we want to feel free. We need to focus and experience lots of different things to get thru life. We as girls need to live with it, but we believed that as long as we are with Rock Girls, we can make a change in our community to help others with their situation. We are brave and we believe in the the words, "if you strike a rock you strike a woman".