The world is now almost 1°C hotter than it was before humans started burning fossil fuels on an industrial scale two centuries ago. This is after a record-setting October finished 0.98°C warmer than the 20th century average – the temperature it should have been without external influence.
That data has been compiled by various agencies, including the National Oceanographic and Atmospheric Administration in the United States and the Japan Meteorological Agency.
It shows that October also set the record for the biggest single increase from year to year, as the month was 0.19°C hotter than the previously record-setting October of 2014.
These show that regional record temperatures have been set in Australia, southern Asia, most of Africa and Central America. The last 12-months are also the hottest such period in recorded history.
Since 2000, monthly temperature records have been broken 32 times.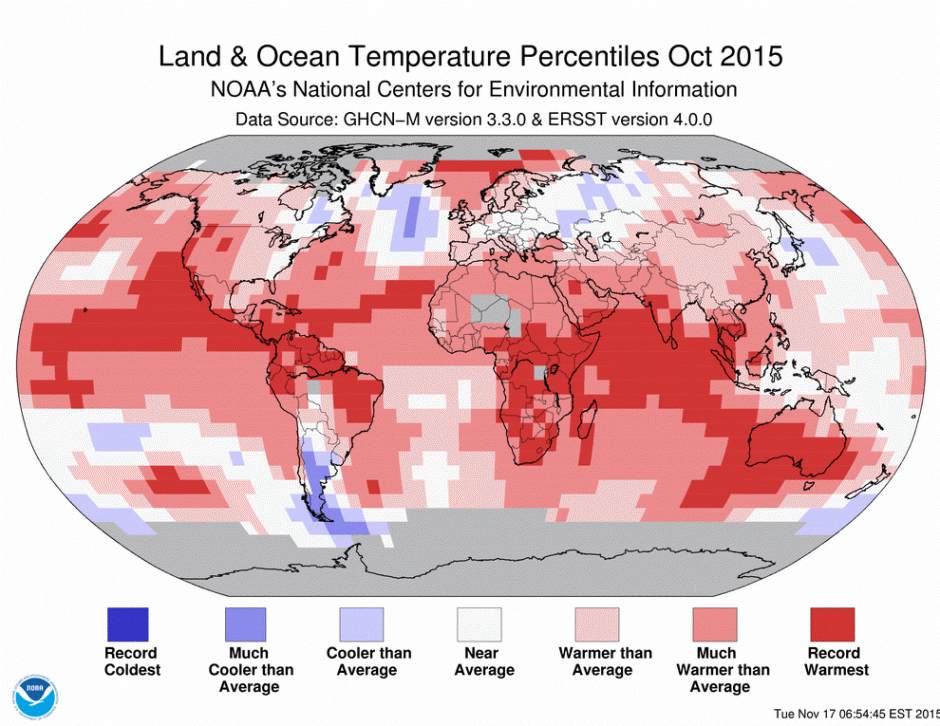 Courtesy of National Oceanographic and Atmospheric Administration.
In South Africa, this global jump in average temperatures – driven by one of the strongest El Niño phenomenon ever recorded – has seen records set throughout the country. Towns in Limpopo sweltered in 50°C heat, while much of Gauteng sat in the high 30s.
The heat has also exacerbated the existing drought, by reducing rainfall and ensuring a second year of low crop yields. Municipalities have struggled with the increased demand for water, with ageing infrastructure crumbling. This has led to water shortages in even the largest metros.
The South African Weather Agency predicts that sustained rainfall will only return towards the middle of next year, after the current El Niño fades.
But the phenomenon is set to get stronger in the short-term, with a peak in December. The various agencies say this fact, and the temperature records already broken, mean 2015 will probably be the hottest year ever recorded – taking away the record set by 2014.