Stefaans Brümmer, Sam Sole & Craig McKune
The Guptas have done it again – this time by teaming up with state-owned arms manufacturer Denel to profit from the sale of its products in the East.
Denel announced the formation of joint venture company Denel Asia last week but did not identify the controversial family as shareholders by name.
The family's latest success in appropriating state opportunity comes amid a revolt in the ruling alliance about their influence in high places.
Following the ANC executive's annual lekgotla last week, party secretary general Gwede Mantashe reportedly said that a "warning came out very strongly" against the "capture" of state-owned enterprises by "people outside the state".
Recent controversies include the acquisition of Optimum Coal, an Eskom supplier, by a Gupta company. Optimum's owner, Glencore, agreed to sell after the power utility squeezed Optimum financially and Mineral Resources Minister Mosebenzi Zwane visited Glencore's Swiss headquarters at the same time as a Gupta delegation.
Eskom has denied it influenced the sale, saying a R2.5-billion fine it imposed on Optimum for poor quality coal was provided for in their contract. Zwane's spoksperson has said the minister's visit to Switzerland was according to his policy of engaging with stakeholders and to avoid job losses.
There are similar claims, though, of unfair play paving the way to the Denel deal – in this instance over the bodies of officials who might have opposed it.
---
"VR Laser, a company with 20 years extensive experience [in] defence and technology in South Africa"
---
The joint venture was concluded in the absence of Denel's permanent chief executive, chief financial officer and company secretary, all three of whom are on suspension.
Several sources sympathetic to the three have indicated that there is a strong suspicion they were removed to clear the way for the deal. Denel says they were suspended for their roles in an unrelated matter.
Announcing the joint venture, Denel said in a press release last week Thursday that Denel Asia, headquartered in Hong Kong, would help Denel "find new markets for our world-class products, especially in the fields of artillery, armoured vehicles, missiles and unmanned aerial vehicles".
Denel Asia would "focus its marketing attention on countries such as India, Singapore, Cambodia, Indonesia, Pakistan, Vietnam and the Philippines who have all announced their intentions to embark on major new defence acquisitions".
Denel's joint venture partner in the company was identified as "VR Laser, a company with 20 years extensive experience [in] defence and technology in South Africa". Denel also said that VR Laser had "a good understanding" of the target "markets and opportunities".
Denel did not answer amaBhungane questions this week about Denel Asia's ownership breakdown. But Hong Kong corporate records show that it was founded on January 29 with Denel holding 51% and VR Laser Asia 49%.
---
Value of VR Laser
---
VR Laser Asia was registered in Hong Kong after the Gupta family and associates acquired VR Laser Services, a Boksburg engineering firm, two years ago – another deal that attracted controversy (see "VR Laser and the Guptas" below).
VR Laser Services specialises in steel cutting and processing. Its only apparent exposure to the defence industry is as supplier of components such as armour plate and armoured vehicle hulls. And although the Guptas themselves have done business in at least India and Singapore, VR Laser Services' own footprint is local.
Denel did not answer amaBhungane questions probing the value of VR Laser's contribution and the possibility that the Guptas would profit from Denel sales without contributing to them. The questions included:
What value would VR Laser bring to the joint venture given its apparently limited experience in defence marketing and limited exposure to the Denel product range, which extends well beyond armoured vehicles?
Would Denel Asia have the exclusive right to market Denel products in the target countries or would Denel and its other subsidiaries also have the right to market there?
Momentum for the joint venture appears to have built after Public Enterprises Minister Lynne Brown appointed a new Denel board in late July. She retained only one member of the outgoing board, Johannes "Sparks" Motseki, "for purposes of continuity".
Motseki, a former treasurer of the Umkhonto weSizwe Military Veterans Association, is a Gupta business partner. A company of which he is the sole director was allocated 1.3% in a Gupta-led consortium that bought a uranium mining company now named Shiva Uranium in 2010.
These shares, if Motseki still has them, would now be worth about R80-million based on the claimed net asset value of Oakbay Resources and Energy, Shiva's listed parent.
---
"Suspended in respect of their roles" in acquisition
---
Denel did not answer directly whether Motseki had recused himself from making decisions about the joint venture, but said: "Mr J Motseki has fiduciary duty to act in the best interest of Denel and has never influenced Denel to do business with any persons that he knows in whatever capacity."
Among the new board's first acts, in September, was to suspend Denel chief executive Riaz Saloojee, chief financial officer Fikile Mhlontlo and company secretary Elizabeth Africa. No formal reasons were given at the time.
Denel this week said Saloojee and Mhlontlo were "suspended in respect [of] their roles in the acquisition of LSSA [Land Systems South Africa] by Denel, where Denel paid R855-million, of which Denel business was negatively affected. The disciplinary process is under way."
Denel bought LSSA, an armoured vehicle manufacturer, from arms multinational BAE Systems before the new board's appointment.
There are questions, however, about the strength of the charges against the officials. One legal and one other source acquainted with the matter this week said disciplinary hearings have not commenced but that an informal mediation process was about to start.
The three officials said they were precluded from commenting. Their attorney, Zarina Walele, also declined comment.
Gupta family spokesman Gary Naidoo failed to respond to questions by the time of going to press. VR Laser chief executive Pieter van der Merwe did not return calls or respond to questions emailed both to the firm and to Naidoo for VR Laser's attention.
Motseki did not return calls. – Additional reporting by James Wood.
---
VR Laser and the Guptas
VR Laser Services first came to wider public attention in July 2014 in an amaBhungane story headlined: " Transnet tender boss's R50-billion double game".
The story outlined how a friend of the Guptas, Iqbal Sharma, had obtained an interest in the company while it was in pole position to benefit from subcontracts in Transnet's R50-billion tender for locomotives. At the same time, he was chairing the Transnet committee that oversaw the tender process.
Sharma denied any conflict of interest and took amaBhungane to the press ombudsman, but his complaint was dismissed.
At the time, a key part of the story was that the Guptas' interest in VR Laser was not initially disclosed. Westdawn Investments, a Gupta contract mining company, better known as JIC Mining Services, took a 25% stake in VR Laser Services, and Salim Essa, another Gupta business associate, took 75%. Duduzane Zuma, the president's son, also acquired a stake through Westdawn. Sharma's stake was by ownership of VR Laser's premises.
Since then, the Gupta family's control of VR Laser has become clearer. Corporate records show that VR Laser is registered to the same Grayston, Sandton, office park where other Gupta businesses are based. VR Laser's only three directors are Essa, Pushpaveni Govender, who is also a director of other Gupta companies, and Kamal Singhala, a 25-year-old nephew of the Guptas who gives his address as the family's Saxonwold compound. – Sam Sole and Stefaans Brümmer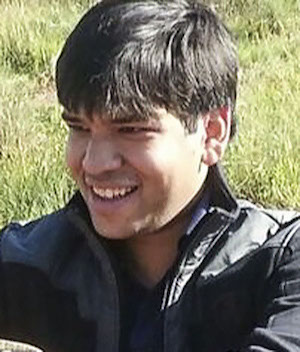 Kamal Singhala. Picture: Twitter
---
Joint venture not approved by ministers
Denel launched its Gupta joint venture, Denel Asia, without approval from the finance and public enterprises ministers as required.
Public Enterprises Minister Lynne Brown's spokesperson, Colin Cruywagen, said on Thursday: "Minister Brown gave pre-approval with strict conditions that included a viability study and a due diligence on the transaction. There are still other conditions to be met before final approval can be granted."
Pressed whether the minister, who represents the government as Denel's only shareholder, was concerned about the launch of the deal, Cruywagen would only say: "Interactions between the minister and the board are confidential. For questions about operational matters of Denel, I refer you to Denel and the board."
The treasury's spokesperson, Phumza Macanda, said Denel's application seeking Finance Minister Pravin Gordhan's approval had been received but the treasury "is still processing it". She said Denel required both ministers' approval under the Public Finance Management Act as "it is a significant transaction" for Denel and in line with government guarantee conditions. Denel did not respond to urgent questions on Thursday whether it and its board exceeded their authority. – Craig McKune and Stefaans Brümmer
* Got a tip-off for us about this story? Click here.
The M&G Centre for Investigative Journalism (amaBhungane) produced this story. All views are ours. See www.amabhungane.co.za for our stories, activities and funding sources.