Town, a new dim sum restaurant and bar, is bringing some much-needed feet and stomachs to the still-working-itself-out development that is Work Shop New Town, the really lovely boutique design hub next to the Newtown Junction mall in Johannesburg. I went there with my dude last Saturday, hungry and nursing the effects of Friday-night shenanigans.
According to some shop owners there, Work Shop New Town is worryingly quiet during the week but picks up a little on the weekend. Considering how much Jo'burgers like new things, especially beautiful Gregor Jenkin-designed bars that open until 2am on weekends, the concept of Town is a welcome addition to the area, which opened last December.
The restaurant officially served its first dim sum dishes on April 14 and the street buzz about it has kept bums on seats ever since. We walked into a place with a story and, as we waited for our Black Labels and food, we were eager to see the contents of the bamboo baskets that other tables were getting.
We sat at round grey metal tables, which are an unusual size, much bigger than typical restaurant dining tables, reminiscent of the large family tables in the Chinese restaurants of Cyrildene. The chairs are slightly similar to Jenkin's Quaker chair, with small children's stools tucked neatly under the table between the adult chairs, a sign that erases this place from the pretentious hipster bar list.
The medium-sized room is spacious, with a window glass façade that invites in natural light and doesn't close off diners from the action outside the restaurant. Beautiful hanging plants descend from the ceiling and add shades of leaf green to the gun-metal grey and duck-egg blue interior. It didn't take long before the very simple menu was delivered to us by one of the owners and it didn't need that much translation.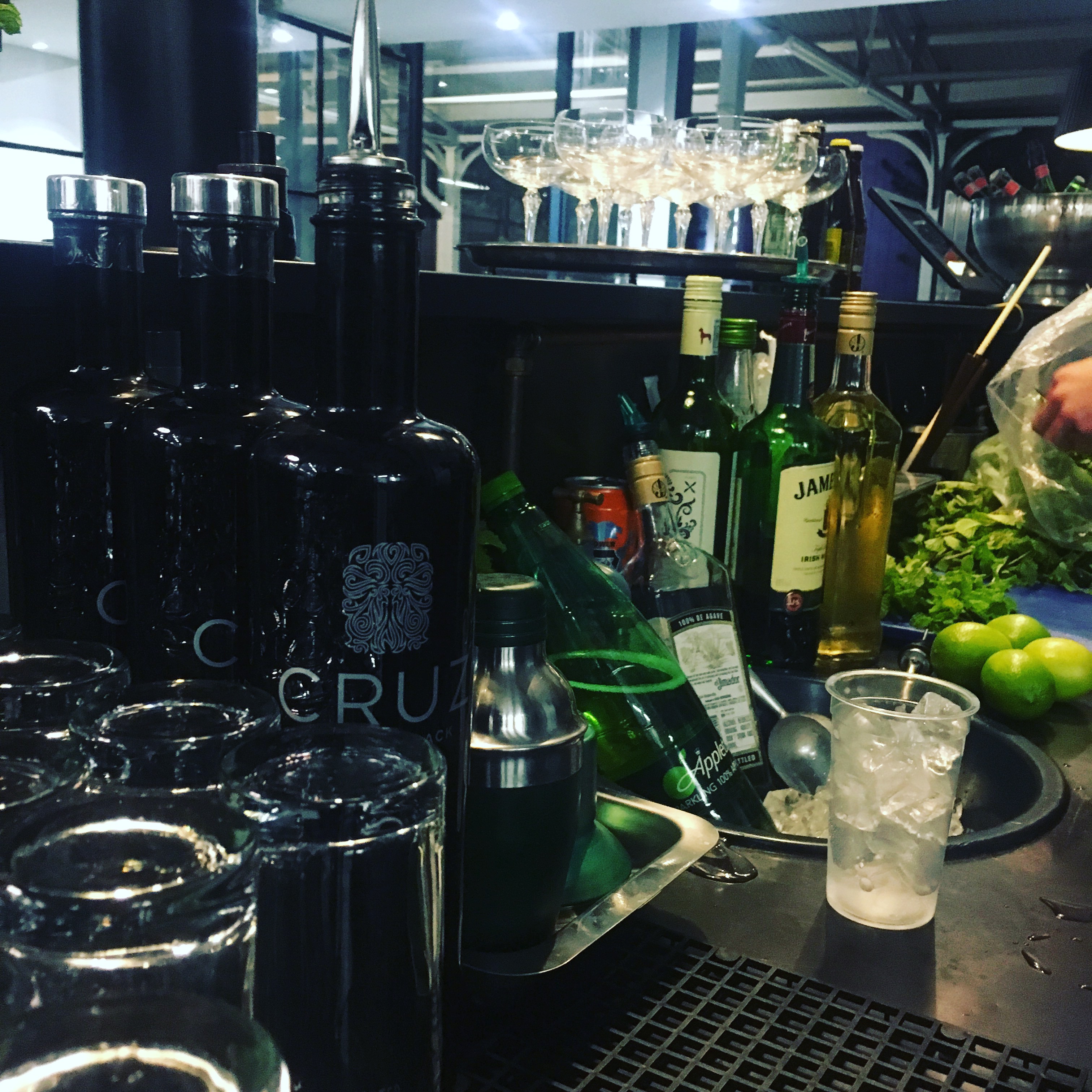 Six of the best
"We go the extra air miles to source the best local ingredients for our dim sum,'' the menu says. "Where possible, our veggies and herbs are from organic gardens. Our dough is gluten free.'' This simple, healthy approach to food-making, an antidote to the standard dining experience in the United Suburbs of Jo'burg, sent a pang of relief through my middle-class stomach.
As I went down the menu, trying to decide whether to order two of everything or to limit myself to two dishes of six pieces each, I realised I wanted everything on the menu, from the pork, fennel and apple cider-infused dim sum to the roast butternut, agave and ginger.
So that's what we did: we tried two of everything. Honestly, I can't remember what was what when our bamboo basket arrived, steaming, all the flavours hidden inside the Asian dough.
The spinach and cream cheese is memorable, the chicken and coriander bloody delicious, the pork and fennel surprising, but the salmon, spring onion and cream cheese dim sum is what made me want to get on the M1 and head to Newtown again the next day.
Tasty but miserly
Chef Canaan "Sbu" Msongelwa is crafty in the kitchen. We wolfed down the dim sum, praying that there was another layer of steaming presents under the empty basket in front of us. Unfortunately, that's the only thing I can criticise about this wonderful restaurant – the portions are very small and a serving of six pieces of dim sum for one will only dent your taste buds but not your hunger, and I'm a size 32.
Maybe I shouldn't have gone with expectations or maybe I should have ordered 12 pieces for myself. When you look at the menu, R30 to R40 for two pieces of dim sum doesn't seem too bad price-wise, but it does make this place a tad pricey if the average person is likely to be full only after dropping two blue notes.
Although they didn't have other items on the menu besides dim sum when I went, they will be introducing other items such as miso soup in winter and other types of Asian-based fusion foods as the eatery grows.
I'm very excited for that and will definitely be a repeat customer at Town. I didn't need to try out the bar – I know I loved it when I walked in and the drinks were in self-service bowls.
Town is at Work Shop New Town, Newtown Junction, corner of Miriam Makeba and Gwigwi Mrwebi streets, Johannesburg. Phone 071?295?9241, or visit @townthebar on Facebook and Instagram