Two years ago I overheard a conversation between my mother and my sister, who'd studied home economics and can pull off delicious creations in kitchens with sparse stock, that my sister and I should consider getting into the business of food.
My food experience boils down to a working knowledge of meat quality (thanks to my father's butchery while we were growing up), tips my sister recalls from her home economics days and my mother's unmeasured ingredient combinations yielding the softest steamed bread and amagwinya (dumpling, vetkoek), the heartiest stews, a lush umfino (spinach), and ginger beer with some serious kwetsa — as well as a fondness for cooking shows.
Later, I came across an article on food clubs and I remember being keen to attend one. Then a friend invited me to her home for dinner and made chicken in a way I'd never tasted before. The ideas piqued and percolated in discussions with friends and family, kneaded and stretched until they shaped themselves into Third Culture Experiment, our monthly Mother City food club.
Hlumela Matika, the friend who'd made that memorable chicken, was my partner, co-cook and co-host until an opportunity came knocking and took her away after our seventh event. With zero technical kitchen training outside of this, last Sunday saw the 18th Experiment and here's how it came together.
Monday April 18: I meet patisserie chef Nomfundo Hlubi at a quaint spot just outside Cavendish called the Larder Cafe. We share our menu ideas, taking the anticipated wintry weather into account.
We manage to sift the menu down to:
Starter — Beetroot and feta tartlets with a sprinkle of fresh thyme;
Meaty main — Mutton potjie served with samp and beans; and
Dessert — Date pudding with homemade lemon curd ice cream.
I opt to make the lemon curd from scratch, and having done it once before there was no anxiety. The issue would be the potjie; getting a good blend of ingredients that would complement the meat. They'd need to rest in the cast-iron bakpot over a fire and stirring must be kept to a minimum. This is a prerequisite for a potjie versus a stew. The different layers of supporting vegetables should retain their distinctive flavours while filling the tummy and warming the heart's cockles. Vegetarians remain a minority as no one opted for the nutmeg butternut gnocchi veggie main.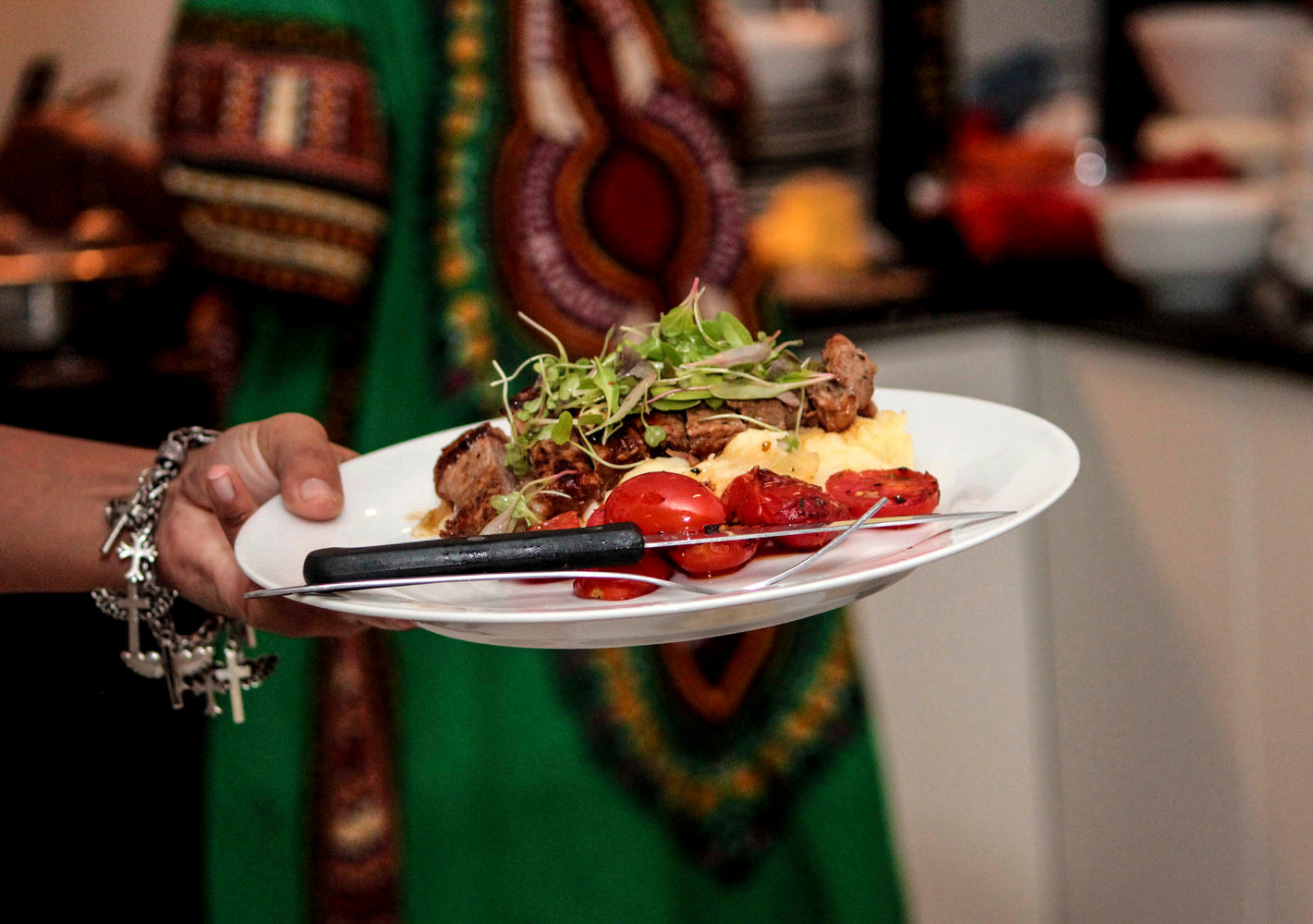 Tuesday April 19: Invites are sent out. We have regulars who enjoy attending the events and have experienced our previous collaborations with Amarula and Hartenberg Wines, as well as our destination experiments at Babylonstoren and Spier Wine Farm. Thanks to word of mouth and social media, there are always new faces keen to sign up for the experience. Once the invitations are sent the focus turns to admin. Guests RSVP and make their main course choices. There's reading up on recipes and researching techniques and preparation styles, watching videos and having specific food-related conversations, which sometimes mean a call home for an instructional reminder from the women in my life.
Wednesday May 11: A friend who works a "nine to five" by day and turns into a DIY queen during the rest of her waking hours invites me over for dinner. She is one of the many supporters of the Experiment.
Together with my brothers, friends and strangers, they've invested their time and expertise — from legal and financial advice to marketing recommendations. She'd signed up to do the decor for Sunday's gig, so we meet to discuss the look and feel. We settle on a Moroccanesque layout: intimate and cosy. It's fitting because it will induce an atmosphere that allows the guests to be able to join in on the conversation.
Thursday May 12: I get some equipment from a hardware store. Having not done woodwork in high school it takes a number of conversations with sales representatives to get the right table top, some makeshift table legs, primer and paint.
Getting the three table tops into a hatchback is a fairly scuffless task when there are additional hands doing the work. When attempting to unload, things prove significantly trickier.
The vehicle suffers minor damage when miscalculated angles lead to wood bruising upholstery. Trying to hoist a cumbersome 2m plank out of a car with just one pair of hands is exponentially more difficult. After transferring the haul to the backyard, the afternoon is spent getting carried away drizzling white paint on to the wood in blobs and drips.
Friday May 13: I go to my happy place, the grocery store. It's right up there with the beach and bed. The produce is fresh with a glistening sheen of moisture. It's an invitation to start juicing — promptly.
The staff and I have become familiar to the extent that they'll go out of their way to fetch fresher, leafier vegetables from the back for me. Or point out specials I've missed.
Saturday May 14, aka #OneMoreSleep: The pastry chef arrives with a purple, recyclable shopping bag. In it, among other things: a knife set rolled in a sleek black bag; a rolling pin because floured wine bottles, which suffice in our kitchen, just won't do; a metal icing spatula to spread the homemade toffee on to the date pudding; and a sharpening steel, which leaves me giddy with excitement as I learn and apply the technique to my knives.
Growing up we used to have a rock that lived in the kitchen, which carried out the job with similar efficiency.
We enjoy a lemony chicken stew, tossing the leftover peels into the pot after the zest required for the lemon curd has been grated off. Then we peel, chop, cube and slice while my guy and I learn terms like mirepoix and paysanne — things that separate chefs from home cooks.
An elegant red in long-stemmed glasses accompanies the conversation, which sways from hip-hop and ballet to the virtue of single-sex schools. With the samp and beans soaking, the ice cream setting in the freezer and the mutton defrosting, we crash just before midnight.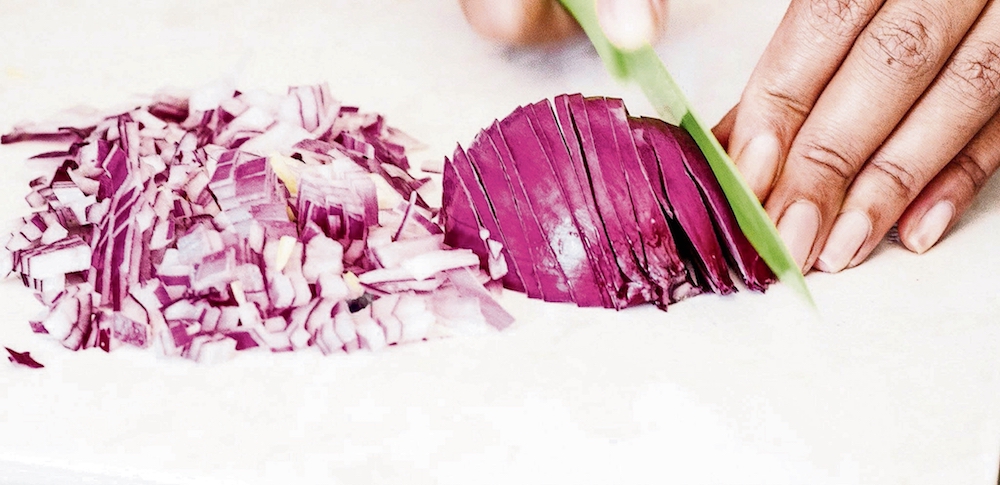 Sunday May 15, aka #NoMoreSleeps: The alarm goes off at 6am. Switching the kettle on and steeping the flavoured teabag happens in a post-waking, pre-functional blur. On to the stove goes the samp and beans pot, a sturdy stainless-steel beauty given to me by my mother.
Meanwhile, my guy works on the coal fire for the potjie. Between tidying up and setting up, the playlist shuffles between Beyoncé, Chance the Rapper and The Roots.
God has given us the gift of sunshine, which is usually sporadic at this time of year in Cape Town. Guests arrive closer to 2pm than the one o'clock starting time. They're welcomed with our signature ginger beer with a cinnamon or cayenne twist.
Then come the starters amid the conversation and connecting. Catalysed by food created as a labour of love, dialogue fluctuates between blessers and Boity's new bae. Cue mains. Then it's the sex positions that register on the Richter versus the ones that result in a flaccid phallus. Enter dessert. Long after our doors have officially closed guests remain in animated laughter, in gasps of shock and disagreements. And eventually, with Monday beckoning, goodbyes are said with requests to be on the list again next time.
For reservations and queries email [email protected]