A unique proposal is on the cards to encourage ordinary South Africans to pay for the studies of battling students at higher education institutions by buying coupons from commercial banks.
This is among the bold plans that a ministerial task team appointed by Higher Education and Training Minister Blade Nzimande is mulling over, in a bid to find a new funding model for poor students and those from working class backgrounds.
These include the so-called "missing middle" students – those deemed to be too rich to receive funding from government's loan and bursary scheme, the National Student Financial Aid Scheme (Nsfas), and too poor to pay for their own tuition.
Only those students whose annual family income is below R122 000 are currently eligible for financial support from Nsfas.
There are about 400 000 students receiving funding from Nsfas, including 180 000 from the country's 26 universities and 220 000 from the 50 technical vocational education and training colleges.
The coupon or student support investment scheme would involve people making deposits into their savings account, which would then be used to finance needy students.
Sizwe Nxasana, chairperson of the ministerial task team, said investors would earn "a little bit of interest" because students would repay their loans once they graduate and find employment. "The 'social good' is attached to this investment."
"There are a number of individuals who are prepared to fund students but, at the moment, there are very few platforms to be able to do so. We are looking at creating a platform where civil society can invest, can either make contributions, donations or can invest and get some return out of the pool of funding that goes towards supporting students."
According to Nxasana, their target was to double government's contribution of R10-billion to Nsfas over time.
Currently, Nsfas's sole source of funding comes from government, as well as some government departments, including basic education and the different sector education and training authorities (Setas).
New funders that will be targeted include development financial institutions locally and internationally, the financial services sector, foundations and other 'philanthropic' sources of funding.
Representatives from the Banking Association of South Africa, the Association for Savings & Investment SA (Asisa) and the legal fraternity were part of the project team responsible for drawing up a new funding model.
"We are working with the banking industry and Asisa to develop the model. The support I am getting from the banking and insurance sector has been amazing. We have not yet approached the financial services sector broadly to say how much are they going to put in."
The project's name is ISFAP, which stands for Ikusasa (the future) financial aid programme.
Nxasana said a draft blueprint outlining the project has already been developed despite him being appointed chair of the task team only in April.
Salient features of the blueprint include:
The possibility of fully funding some students, especially the very poor. The maximum loan amount now is R71 800;
Providing additional academic support as well as psychosocial support – including life skills support – to students to improve their chances of success at higher education institutions;
Aligning its programmes, both financial and support, with the country's human resources development strategy that focuses on the need for occupations of high demand.
Nxasana said there was a mismatch between supply and demand in the country, adding: "We have an oversupply of people with a humanities degree and we have an undersupply of people with Stem qualifications (science, technology, engineering and maths).
"We got to make sure we are developing a funding model that supports the production of students or graduates that go on to be employed in especially those occupations of high demand. This is what the model is trying to achieve."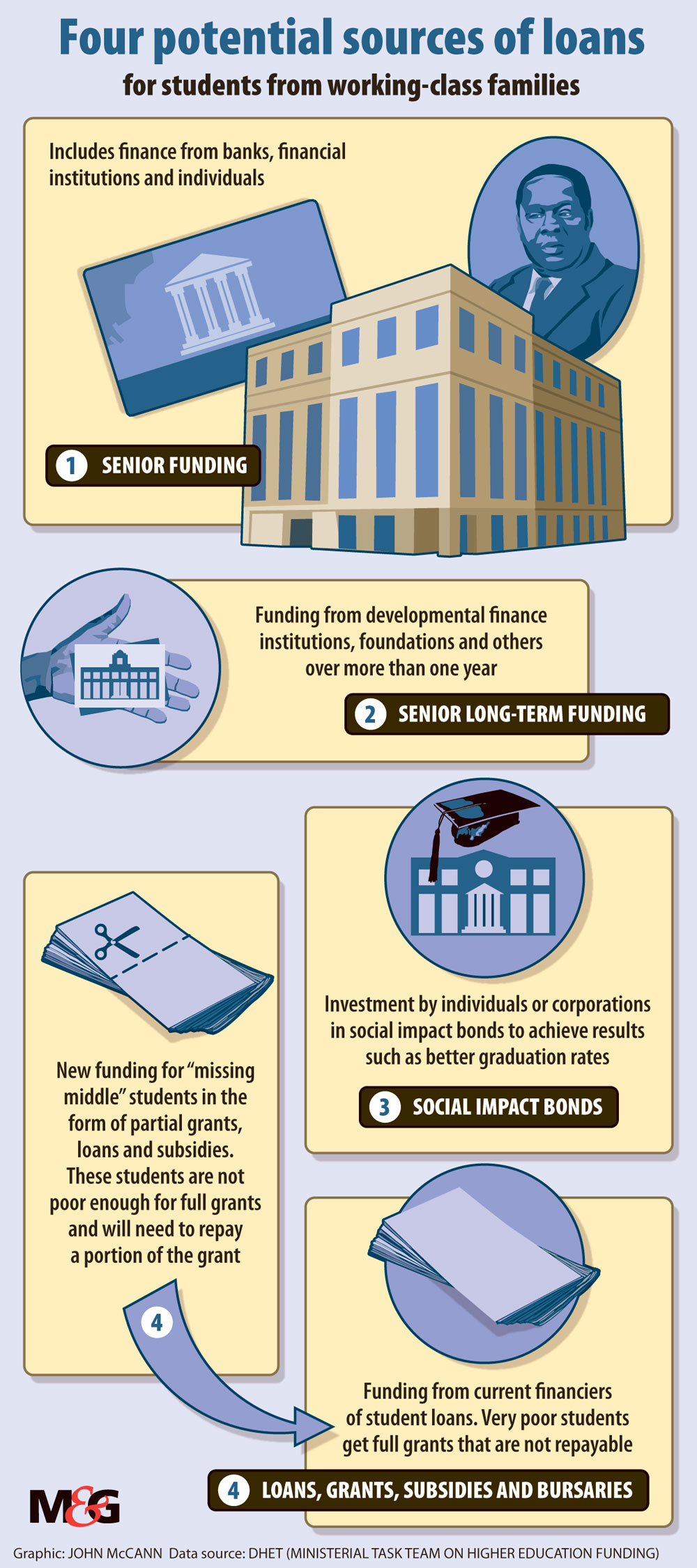 He said they were still deciding on the amount for the new income threshold that would be applied as a cut-off for eligibility.
"We are defining what the missing middle threshold should be so that we can obviously come up with a financial model which is affordable and sustainable. We haven't reached a conclusion as to what the maximum threshold should be."
He said actuaries were working on the model to identify the threshold that was most feasible.
"It may happen over time [that the threshold is raised] because we may not necessarily be able to raise all of the funding in one year. Therefore we may start at a lower level and increase it over time to cover more people."
He said the identification of the threshold also depended on the amount of funding they were able to secure from other sources excluding government.
"We are mapping the different sources of funding. What we've done is look at how much funding pool is available in South Africa that we can feasibly raise. It is only then that we will start approaching potential funders.
"What's important for us is to get the inputs from all stakeholders and refining the inputs before we approach the funding pool market."
Nxasana said the Public Investment Corporation had been consulted previously prior to his appointment as chairperson of the task team for possible funding.
"The report submitted to the minister on the number of students who would have been assisted in that model was relatively very low. None of the pension funds nor the retirement industry, as well as the PIC, have a mandate to simply fund students where there is no return."
"Very often people think there's a lot of money in the financial services sector. That money is other people's money which must be returned, so if the bank or insurance industry is lending Nsfas money we've got to be able to repay it, based on the fact that when students graduate and get employment, they will repay us."
Asked whether he would be asking universities that had healthy reserves to utilise some of that money to assist financially needy students, he said: "It's a difficult answer because it depends on the conditions that apply to those [reserves].
"They [universities] will make those decisions themselves. We will approach all pools of funding, including universities sitting with pension funds or some endowment."
Nxasana said the project was expected to be piloted next year and fully implemented in 2018.
---
Universities' efforts for 'missing middle' students often, but not always sufficient
Several universities have been providing financial assistance to the so-called "missing middle" students – those deemed to be "too rich" to qualify for government funding but "too poor" to afford tuition fees.
Earlier this month, the University of Johannesburg announced that in just three months it managed to raise R60-million to support 3 500 such academically deserving students.
The University of the Witwatersrand told the Mail & Guardian that from January 1 to April 20, it allocated R232-million in bursaries and scholarships to students, a portion of which went to "missing middle" students.
Both Stellenbosch University and the University of Cape Town have their own funding programmes in place to assist "missing middle" students.
At Stellenbosch University, students from families with a gross annual income of between R122 000 and R240 000 are eligible for this funding. The university said in a statement that more than 450 students will receive bursary loans this year to assist them with their studies.
UCT has been running its own GAP funding programme catering for "missing middle" students since 2009. The initiative provides financial assistance to those whose family income is above R122 000 but below R550 000 per annum. Up to May 23, a total of 911 students were granted funding to the value of about R38-million from the university's own coffers.
UCT said in a statement that the GAP programme, depending on a student's family income, provided a percentage of the tuition fee in the form of a bursary and another percentage in the form of a loan to cover other fees. "All students who applied for GAP funding on time and met the academic and financial eligibility criteria have been assisted," it said.
North West University said it had various initiatives in place at its three campuses to raise funding for deserving students.
Professor Yunus Ballim, vice-chancellor of the Sol Plaatje University in Northern Cape, confirmed that about R1.4-million was raised since January to assist "missing middle" students. The university has about 710 registered students, including 400 first-years. He said the funds raised were expected to assist 40 students and that 170 students could not be assisted.
"We have agreed that the university will fund the tuition fees for a student who passes all courses in the year. We have also increased the debt limit for re-registration in the following year to around R20 000," he said. – Prega Govender