---
I thought I was adequately prepared for Black Friday 2016 but as I pulled my car into my local Checkers supermarket it quickly dawned on me just how ill-equipped I was.
I'd arrived early — a good 30 minutes before normal trading hours began — only to be greeted by a sea of cars. At the shop entrance was a large empty space where countless trolleys and baskets are usually stacked and, inside, the aisles were jam-packed with people and miscellaneous goods.
Faced with the very real prospect of holding cheese and shampoo in my arms for hours while I queued, I left empty-handed instead. And defeated.
On the internet as well, although sans the Boney M soundtrack, chaos ensued. Major retailers such as Makro sold out of some online specials in moments.
Takealot.com, which offered discounts of up to 60% on 10 000 products, and Travelstart South Africa, which offered domestic flights from R199, saw their sites crash from the sheer volume of traffic.
Retailers are yet to tally the results, although Shoprite Holdings said it was its biggest Black Friday yet, with 40% more product specials than last year. Checkers stores sold more custard on the day than it had all year.
Most banks are not yet able to measure the full effect of the day's sales. On Black Friday this year, Capitec Bank recorded 12‑million transactions — the highest number it has ever had on a single day to date. Absa is still analysing the data, but noted that on the previous Black Friday it saw an 81% increase in card activity compared with its average trade.
Online clothing retailer Spree saw traffic increase by 348% compared with the daily average for the month, and recorded 10 times more orders.
Takealot.com experienced more than 300% of its expected traffic at this time of year.
Chris Gilmour, an investment analyst at Absa, said Black Friday was named for being the day on which retailers generally go into the black and out of the red — but there are other stories, including the crash of the American gold market on September 24, 1869, just after the Civil War.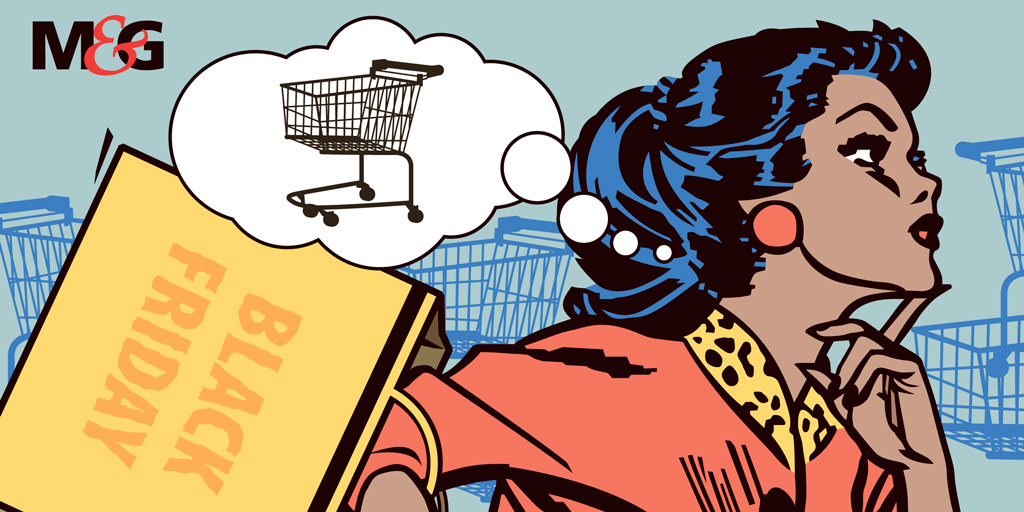 "Retailers operate on fairly low margins and it takes them the best part of 11.5 months to make profits," said Gilmour.
Previously a uniquely American affair, five or six years ago the British caught on to Black Friday, followed by the Europeans. In 2014 Checkers introduced Black Friday in South Africa, to kick off Christmas sales.
"Last year it was very big. This year, it was unbelievable," Gilmour remarked.
Later on Friday, feeling unsatisfied with my non-shopping experience, I dared to enter another Checkers. With a hard-won basket in hand, I stood alongside an elderly woman as we pondered the price of toilet paper and toothpaste.
I'm ordinarily a cost-conscious shopper but in the frenzy I had loaded things I would never normally buy into my basket, and the specials that had enticed me there — such as washing powder — were already out of stock. I couldn't really say whether I was getting a better deal than usual. I put my basket aside and left the shop empty-handed once more, but this time happy to have been released from the madness.
A friend, who had been eagerly monitoring online retailers such as Spree for specials, remarked how on Black Friday the starting price on a pair of shoes he'd had his eye on was suddenly higher than previously — making the Black Friday discount appear steeper than it really was. He bought them anyway.
Alec Abraham, a retail analyst at Sasfin Wealth, said he noticed similar behaviour on sites he frequented. "I do believe it is a ploy to entice shoppers that may not be keenly aware of pricing," he said. "In my opinion, this kind of 'trickery' may work, but could backfire and create lasting reputational damage if the customer finds out that he was manipulated."
Gilmour said local retailers are miserly when it comes to sales. "When things go on sale in the UK, retailers are obliged by law to show what the price was for the last three months. Here there is no legislation. They can say it's a sale but who knows? They can con people into thinking that they are getting good deals."
He said local retailers offered a few genuine loss leaders — products sold at a loss to attract customers — such as R11 for two litres of Coca-Cola as offered by Checkers on that day. "It's all about creating a sort of euphoria," he said. "But when it comes to genuine and sustained price decreases among retailers in this country, they would rather cut their own throats than cut their prices."
Electronics retailers such as Incredible Connection probably have some genuine bargains because people are hyperaware of the cost of these items, Gilmour said.
He added that Black Friday and other similar days offer an opportunity for retailers to clear out old stock. "You get people in a buying mood, many of them even taking time off work to shop, so it's a kind of purge, making way for the festive season shopping," he said. "Some of the stuff looks like they hauled it out from a bunker."
Abraham said the feeding frenzy seen on Black Friday indicated pressure on spending, rather than more spending power among consumers. "The drivers of retail spending —being, among others, employment growth, real wage growth and access to credit — have all been weak for some time," he said.
Although food retailers invested aggressively to keep prices low during the drought to drive customer traffic and defend market share, of late more price increases have been passed on to consumers.
"Now, I believe that most consumers are concentrating their spending on basics [food] rather than discretionary goods," Abraham said, adding that much of the Black Friday madness was about picking up food bargains to stretch strained budgets.
---
Mobile tech sends online sales through roof
Avoiding the logistical nightmare of trying to shop in person on Black Friday, many South African consumers chose to hunt for bargains online.
Online retailer Takealot.com said that at peak times on Black Friday it welcomed more than 300% of the usual traffic it would expect on a Friday in the festive season. The company said that, overall, it had been pleased with the site's performance during the sale. It did experience delays at times but these were resolved by the afternoon.
Takealot.com predicts this year's "Blue Dot Sale" (which stretched into the weekend) will be the most successful sale in its history.
Flying off the shelves were gaming consoles, toys, books and beauty products, as well as computer hard drives and fitness trackers. Customers' top brand searches included Xbox, Garmin, PS4 and Kindle, whereas SSD cards, headphones, tablets and kettles were among the most searched-for items.
Online clothing retailer Zando reported that on Black Friday it received a record 11 times its average number of orders. Zando said most purchases were made through the retailer's mobile app.
Spree, another online clothing retailer, said it received 142% more orders compared with its Black Friday sale in 2015.
Assisted by its improved mobile offering, the e-tailer's mobile orders were 263% higher than last year's sale day and almost 50% of all transactions took place via a mobile device. — Lisa Steyn