Amidst the furore surrounding the racist nature of Vanessa Hartley's Facebook post about black people in Hout Bay, we are once more reminded that in South Africa racism is inextricably linked to contention over land.
When Imizamo Yethu, an informal settlement in Hout Bay, was first established, the Hout Bay Ratepayers' Association and the Hout Bay Residents' Association fought against the influx of poor black people into an affluent and middle class region of the area.
There were some 2 000 habitants who were promised title deeds in 1993. But the provincial government failed to deliver and, instead, the Sinethemba Civic Association was established to protect the rights of the 2000 residents.
In 2004, the ratepayers' association, along with the civic association, filed an application for a court interdict preventing the settlement from expanding. The civic organisation said it was worried that the 2000 residents would never receive the land they were promised if the settlement continued to grow.
"Sinethemba will never call for removing people against their will from Imizamo Yethu. Government must come with a solution," chairperson Goodman Mgwangwa said at the time.
Many of these people came to Hout Bay over generations as their families began to be part of the fishing community. More fishing families and foreign nationals would make their homes on the vacant land that would become Imizamo Yethu. The settlement was quickly associated with crime in Hout Bay and, in 2004, Helen Zille announced that the population was too large and that race had nothing to do with it.
"The accusation of race is false. Eighteen thousand people in Imizamo Yethu need houses and we have space for a maximum of 2 000 housing units — that's a shortfall of 6 000 houses even if we build on every available piece of land.
"The area has to be de-densified. We have to be fair to residents who arrived first and accept that newcomers have to move," Zille said.
In 2004, Cosatu disagreed with Zille's view that race had no role in the settlement, saying that "fearful white racists" wanted to maintain the privilege white people enjoy in Hout Bay. The trade union referred to Sinethemba Civic Association as a "collaborator" of the ratepayers' association, which was using them to their own advantage.
"It is a sad day when a small group of reactionary homeowners in Hout Bay do things that undermine the goodwill being built in our nation to advance their selfish interests," said Tony Ehrenreich, who was regional secretary of Cosatu in the Western Cape.
Hartley's racist Facebook post refers to black people as "stupid animals". She suggests "We (read: white people) should tie them to a rope".
"To (sic) many Africans flocking to Hout Bay. Draw up a petition. Soon there will be nothing left of Hout Bay," she continued in a Facebook comment.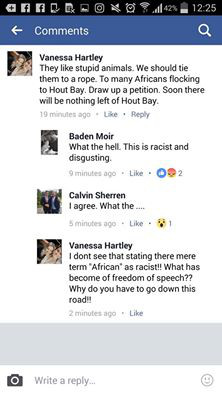 Her comments are similar to a sentiment that was prevalent in the ratepayers' association in the first few years of the settlement's existence. They imply that black people have no place in areas like Hout Bay, and act in resistance to the struggle of land many poor black South Africans experience.
Despite years of disagreements over the use of the land where Imizamo Yethu is built, a solution still has yet to be reached on how residents in the settlement can be offered safe, affordable housing.
Initially, 32 hectares of the land had been bought by the city of Cape Town to be set aside for housing and amenities. In 2004,an interdict prevented the city from building on the land and in 2007 the city said that 2 300 households needed to be relocated within 18 months or a sustainable housing solution would be impossible.
The ratepayers' association said its aim was to now build an "integrated community" and it has condemned Hartley's post.
"We're trying to have an integrated community in Hout Bay and if there's any racist comment or action that is hurtful, we condemn it outright," Ben Swimmer, chairperson of the ratepayers' association, told the Mail & Guardian.
Swimmer said the association has never said that it is against the settlement of people in Imizamo Yethu. Part of the association's plan to build an integrated community in Hout Bay that it will be inclusive of three divided communities – Imizamo Yethu, Hangberg (a township historically designated for Coloured people) and a community known as the Valley – is the opening of a public park. Swimmer says that the provincial government, however, has chosen to build a clinic in the grounds, rather than on city-owned land in the civic centre of Hout Bay near the fire station.
Penny Sparrow began 2016 saying that black people should be removed from beaches. Less than a month ago, Democratic Alliance councillor Shayne Ramsay planned a march against homeless people in Sea Point because "our garbage bins are treated as buffet tables" among other reckless reasons. Now, public outcry has been directed at Hartley, whose apology has been dismissed.
In the case of Hartley, Hout Bay's history of Imizamo Yethu and the resistance to the occupation of poor black people rings clear. Her post is undeniably racist and the South African Human Rights Commission will most likely make that finding in the complaint lodged against Hartley by the ANC Western Cape.
After centuries of racial discrimination in South Africa, public outrage against racists might land them in court with sanctions, but it does little to address wider structural issues that go beyond the individual. That, right now, is the fight.