Acting national police commissioner Khomotso Phahlane has filed an application at the high court in Pretoria for the search and seizure warrant for his R8-million mansion to be reviewed and set aside.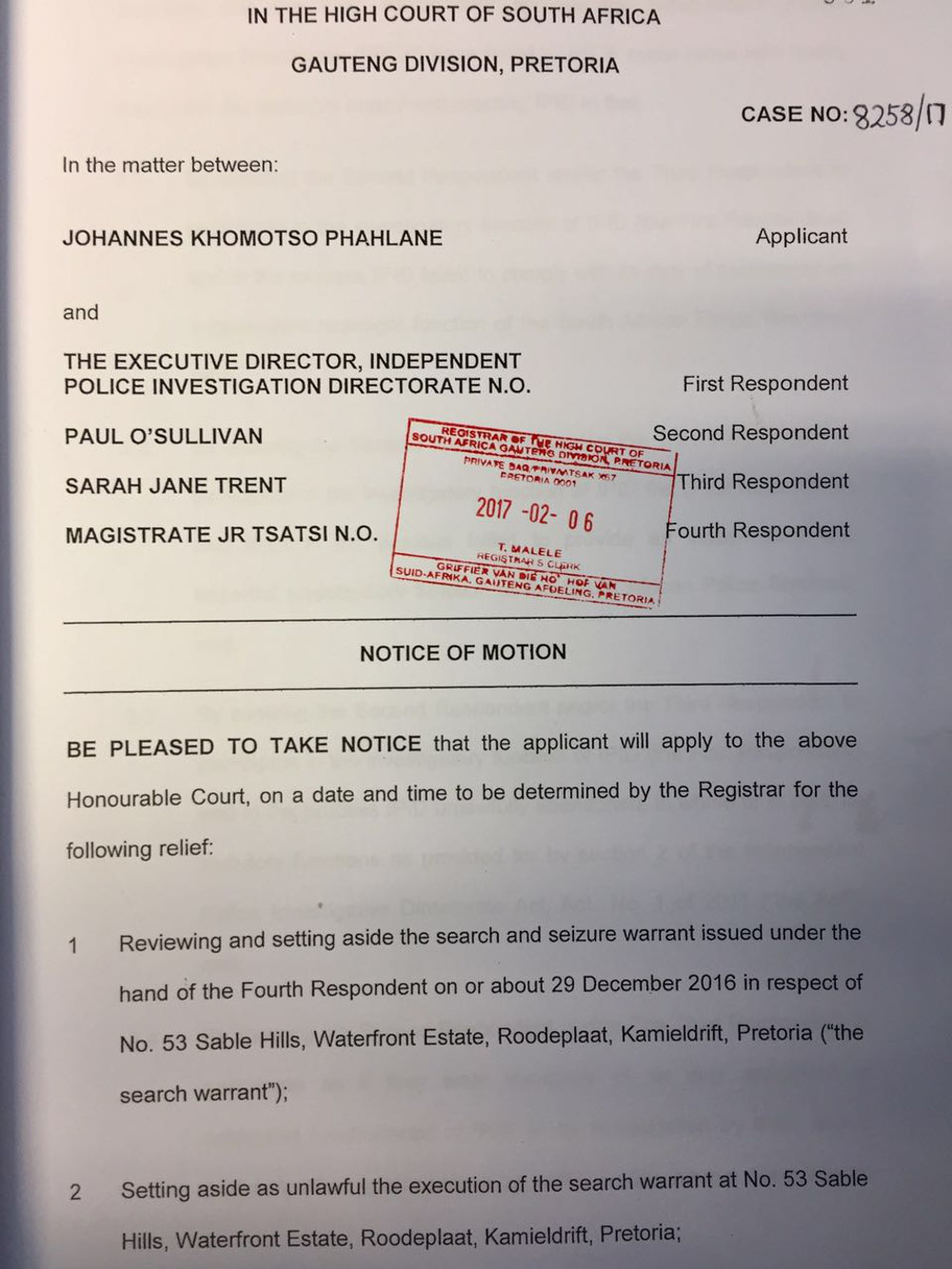 In court papers, Phahlane said the warrant issued in December must be reviewed because the Hawks and the Independent Police Investigative Directorate (IPID) failed to comply with their statutory duties. He argued that the involvement of forensic investigator Paul O'Sullivan and Sarah Trent, a legal consultant at O'Sullivan's company, interfered with the investigation.
"By allowing the second [O'Sullivan] and/or third respondent [Trent] to participate as if they were members of, or duly appointed or delegated functionaries of IPID, in an investigation by IPID, and in particular when such persons, as in this matter, have a direct interest in the subject of investigation the first respondent and/or IPID acted unlawfully and outside of his/its statutory powers," Phahlane said.
Phahlane earlier accused O' Sullivan of lying and being responsible for the raid on his house in the Sable Hills Waterfront Estate, near Pretoria.
The investigation first came to light in November when emails O'Sullivan sent to IPID asking that the house be investigated were released. O'Sullivan had doubts that Phahlane could afford an R8-million home.
In January, IPID raided Phahlane's home, reportedly to search for a state-of-the-art sound system worth R80 000. But Phahlane insists that he paid for the sound system and there was no foul play.
Phahlane is now arguing in court papers that IPID's decision to include O'Sullivan and Trent in the investigations means that IPID has "unlawfully abandoned … its statutory functions".
Phahlane has asked that both IPID and Trent be ordered to pay the costs of the application.
The court will now wait to hear whether Phahlane's application will be opposed.