Students from the University of the Witwatersrand's Yale Village residence barricaded the Empire Road Entrance to the main campus on Thursday morning. They burned tyres in front of the gates and blocked the pedestrian entrance with a stop sign.
The students say they are protesting against the lack of cleaning services and WiFi at the residence, and the lack of transport services to campus. Their demands include uncapped WiFi, an increase in security at the residence and a convenient bus schedule.
They have also asked to be reimbursed for services such as cleaning, which they paid for as part of their residence fees, but say have not been rendered. According to Wits Vuvuzela, fees at Yale Village range from R39 468 to R52 026.
Addressing students on Thursday, Sabelo Ngubeni, a member of the Yale Village house committee, said students had been getting sick and needed to be taken to hospital due to the lack of cleaning services.
Another member of the house committee who asked to remain anonymous said the issue started last year when the Parktown and Esselen residences were closed down and the students living there were moved to Yale Village. He said students were promised the same services they previously had.
But the student said that Wits University and Res Publica, the company that owns the residence, have a disagreement and students are not getting most of the services that they paid for. The student also said they had occupied the fees office at the end of February and resorted to protesting on Thursday as they believed they were not being taken seriously.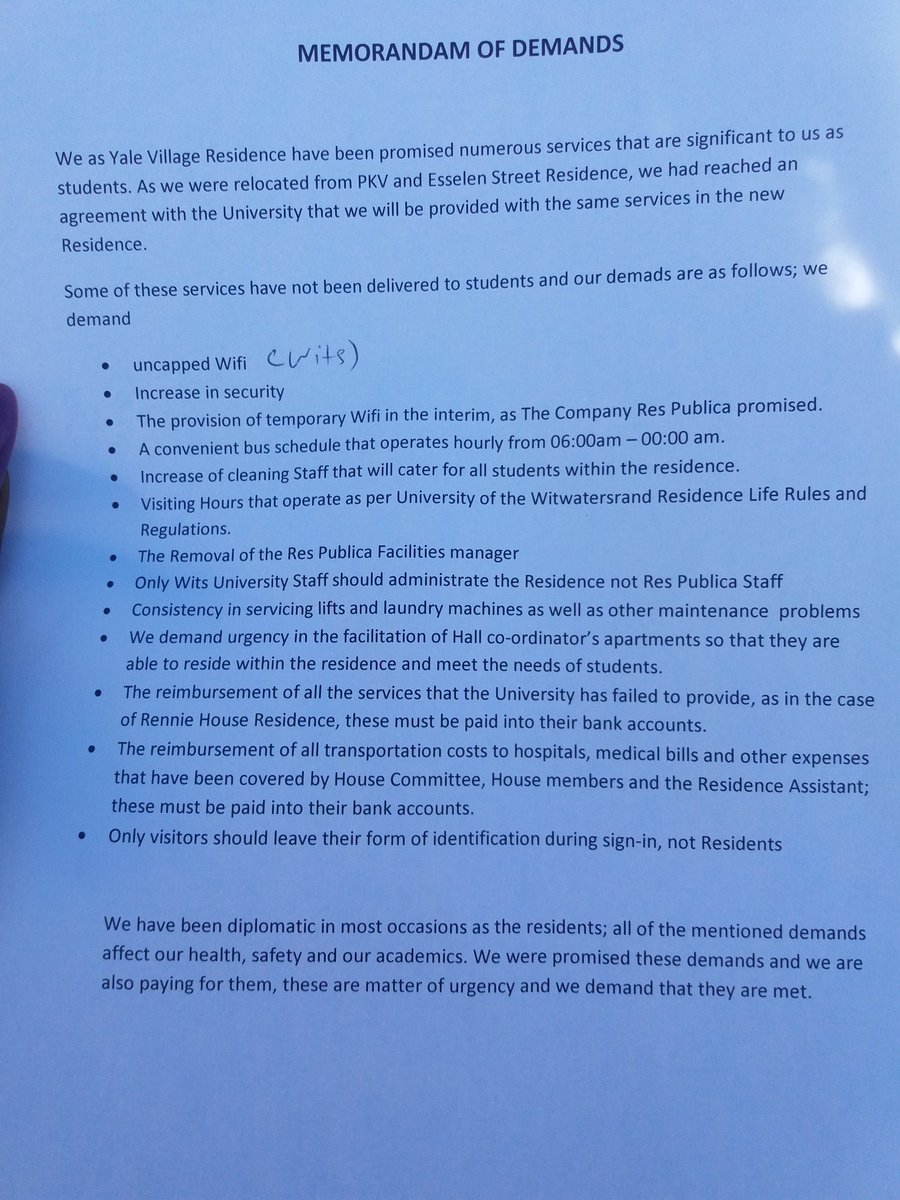 Students barred pedestrians and vehicles, including Wits buses, from entering or leaving the university. Vehicles in the university were diverted by police onto Yale Road towards to the Jorissen Street exit. Private security, police and campus protection services were monitoring the situation.
Students handed over a memorandum of demands to chief operating officer Fani Sibanyoni and said the university had until the end of the day to respond to their demands.
The dean of students, Dr Puleng LenkaBula, was on hand to receive the memorandum. But students refused to be addressed by her and demanded to see vice-chancellor Adam Habib instead. They eventually handed over their memorandum to Sibanyoni.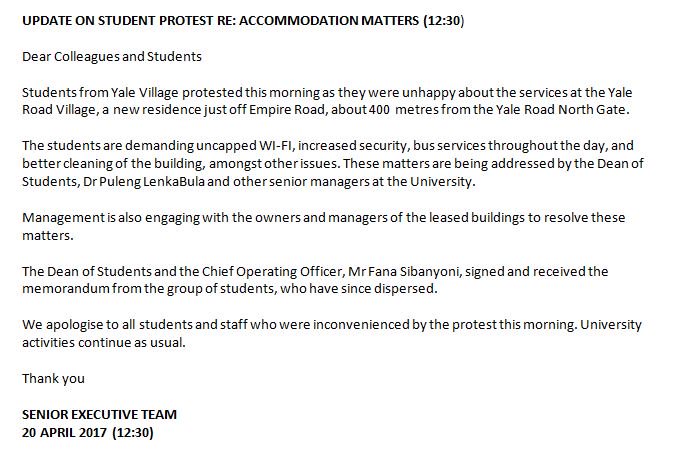 *Editors' note: This story has been updated with comment from students and the university. — The Daily Vox