NEWS ANALYSIS
Nkosazana Dlamini-Zuma has a security problem. Not one that represents a dire threat or anything, just one that makes for some low-level embarrassment — and a touch of irony.
In real life, presumed presidential hopeful Dlamini-Zuma has extensive (and expensive) police protection, somewhat controversially so because she no longer holds a government or multilateral organisation job. Between the blue lights and the burly men she is not only safe but also exudes that sense of leadership that only an entourage can bestow.
Her online persona, Nkosazana.com, is a different matter. Thanks to some amateur configuration mistakes, her slick-looking new personal website has an information-leakage problem. It is the kind of leakage that reveals sensitive information that could, in theory, be used to compromise the website. So far it has only served to show that Dlamini-Zuma sees no borders.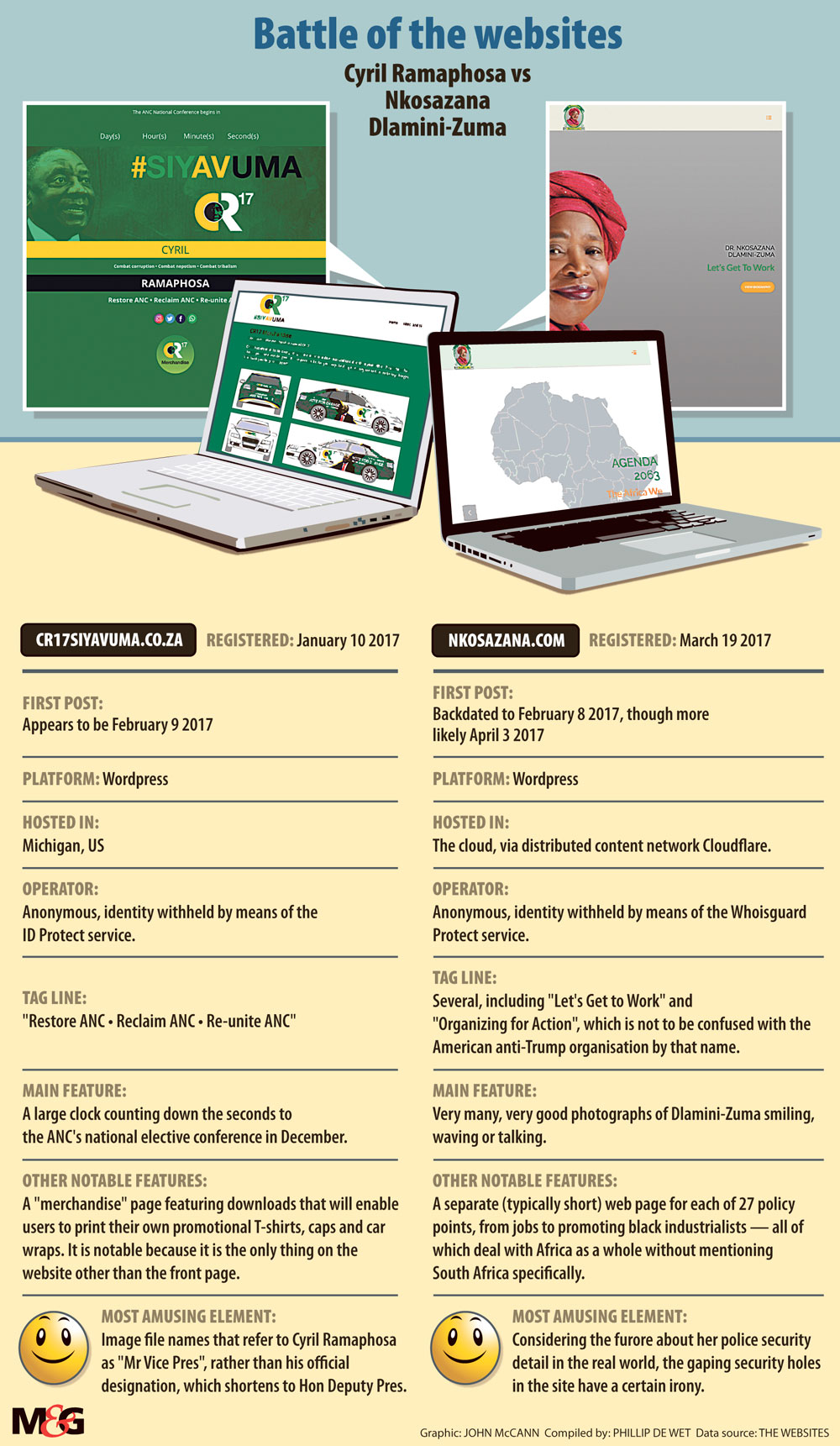 "The freedom of choice of one's religion must be respected by all those who reside in Africa," reads the Nkosazana.com page on religion, part of an extensive listing of universally bland policy positions. Thanks to a directory-listing leak it is easy to spot that the accompanying photograph comes from North America, or as the file name translates into plain English, "African-American people praying in church".
Also from North America is the photo that illustrates Dlamini-Zuma's position that "an all-inclusive agricultural economy is crucial for increasing economic participation and jobs for Africans". Presumably the same goes for Mexicans who illegally cross into California to work as day labourers on farms, like the man in the
accompanying picture by photographer John Moore, who documents illegal immigration in the United States.
At least the photo on Dlamini-Zuma's "employment" page is a local one. "The state must take an active role in ensuring its citizens are employed to allow them to be more involved in the economy," the page reads, next to a photo first distributed as part of the public relations efforts of the Anglo American corporation.
Fellow presumed presidential hopeful Cyril Ramaphosa suffers no such embarrassments on his unofficial, fan-driven website CR17Siyavuma.co.za. It features no obvious security holes and no geographically inappropriate stock photography.
It does, however, lack depth of policy and detail of position, being all of two pages that, between them, contain less than 200 words.
The CR website has one advantage over Nkosazana.com — it is not coy. Over more than 60 pages the Dlamini-Zuma website never mentions her future plans, gives no hint of ambition and — in the tradition of the ANC that predates websites for individuals — it never campaigns.
The Ramaphosa fan site, on the other hand, is more than a little brash. "VOTE FOR CHANGE" the slogan shouts next to Ramaphosa's face on the design for a car wrap made available to "take directly to your printer". For illustrative purposes, the website shows how the design would look when applied to a luxury Audi.