Sesame Street is a programme for children; its vibrant characters and score make this clear. But it's no Saturday morning cartoon, hawking mindless fisticuffs, ninja turtles, and laser swords. Rather, from the start, in 1969, the PBS icon was an experiment in happy radicalism – an effort to revolutionise American education outside traditional schooling.
It targeted urban working class communities, shaping content to mentor specifically inner-city youth. And, as the show has matured and expanded its reach from a brownstone stoop in Manhattan, it's become more unabashed in its mission.
Grover, Big Bird, and Cookie Monster are big fans of the alphabet. Sesame's muppet cast treats each "letter of the day" like a mid-tier Greek god, chanting its name in a chorus of reverence. The curriculum extends far beyond nursery school basics, though. Elmo and company have used the airwaves to address childhood obesity, civil disobedience, parental incarceration, food insecurity, racism, and death. Special episodes were even dedicated to discussions of Hurricane Katrina and September 11th.
Perhaps more impressive, however, is Sesame Street's newfound commitment to representation.
On Wednesday, showrunners issued a press release to introduce "Zeerak" – an apricot-hued, four-year-old muppet from Afghanistan.
The character, alongside his sister, Zari, who debuted last year, will serve as aggressive conduits for challenging "endemic misogyny that is often excused as part of the country's cultural and religious heritage" – a matter of no small consequence in a war-torn state ranked 169 out of 187 for gender equality by the United Nations.
The siblings, both clad in traditional Afghan garb, are proud, abject feminists. And they're not Sesame Street's first salvo into progressive politics.
Earlier this year, a story by CBS News' 60 Minutes explored the show's promotion of a muppet on the autism spectrum to series-regular status. In 2010, Head Writer Joey Mazzarino introduced a character modelled after his daughter, who championed kinky, natural hair. More than a decade ago, in 2001, the programme added bilingual Rosita and the "Spanish word of the day". And then, of course, there's Kami – a South African, HIV-positive muppet who amassed international fame for leading dialogues on the virus and its transmission after debuting on Takalani Sesame.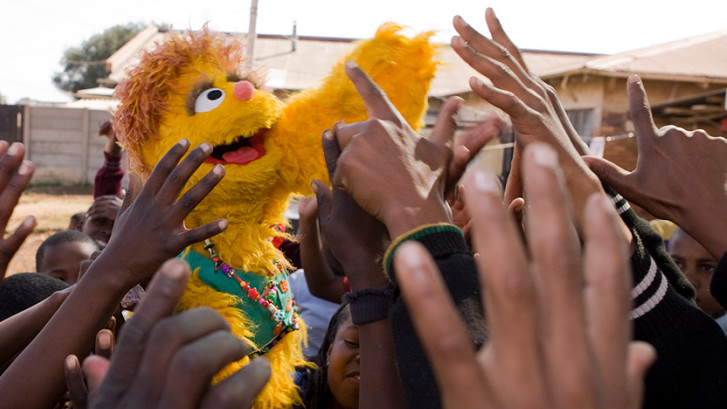 Critics may say the characters are little more than politicised stuffed animals, and perhaps that's true. An Elmo doll recently made headlines for sitting in on a CNN panel – and advocating on behalf of Syrian refugees for liberal asylum regimes. But to dismiss the power of Sesame Street is a mistake.
The programme has spearheaded alternative education and cultural bridge-building for more than a generation, and studies have proven its efficacy in cognitive development. Increasingly, every episode provides five-year-olds with a lesson in colours, numbers, and complex global literacy.
Grover isn't Che Guevara, and Big Bird is no Karl Marx. But the muppets and their aggressive pivots toward universal representation are no less revolutionary.