An interesting scene played out at Turbine Hall in Johannesburg last weekend. It went something like this:
Down a flight of stairs, past the bar and below ground, a small room housed a few framed paintings, each one illuminated by a soft light. The paintings were quite old and everyone who looked at them made sure to do so quietly and from a safe distance. In the same venue, but upstairs and around a corner, were rows of paintings in varying
colours and sizes. Here, everyone spoke loudly and asked many questions as they craned their necks and bent their knees to inspect the works.
Downstairs, outside the small room, a sign read: "Pierneef: A collector's passion". Upstairs, on the slanting glass panes that reached the roof, vinyl lettering read: "Emerging Painters — The Graduate Show".
Titled touch and curated by artist Jessica Webster in collaboration with Amber-Jade Geldenhuys and MC Roodt, the Emerging Painters group exhibition upstairs was easily the highlight of this year's Turbine Art Fair. The exhibition featured painters from a wide range of artistic schools and interests, each concerned with their own process and understanding of the medium. touch may have seemed overwhelming at a glance, but grabbing the attention of the crowd is exactly what Webster aimed to do.
"I felt I had to stand up to the challenge," explains Webster, "because, through it, I could make what I think is a serious contribution: on the one hand to help build the careers of emerging painters and on the other to present the public with a strong sense of what good painting looks like."
And painting is an interesting medium. Long cemented in people's minds as one of the primary mediums of art, painting has gone through centuries of ups and downs. Said to have died and come back to life many times, it's a medium that has consistently and effectively reinvented itself, while always looking back to its historical canon to improve on itself. Among the works in touch were references to traditional Western portraiture, bold takes on impasto techniques and soft, luminous tributes to the model act of brush on canvas.
"The central theme running through the exhibition and connecting the works was how each surface offered a particular kind of tactility and texture," says Webster. "We called the show touch; this title framed how the painted surface is a vehicle for meanings that are not easily described. Each artist's work presented a unique articulation of materiality in painting. Through texture and specific relationships between paint and canvas, the viewer may therefore be provoked into sensing aspects of the world and of their own mental life that they had previously taken for granted."
It was this provocation and experimentation evident in touch that made the exhibition an inviting experience. The artworks by a host of artists and processes resulted in a sensory playground of sorts, inviting the viewer to get as close as possible to a work, trace the brushstrokes and admire the materials used before moving on to another work completely different in style, concept and scale.
A few paintings stood out. Two large artworks by Nazeerah Jacub saw conventional canvas being stripped away and replaced with thin, stretched chiffon, which was stained, punctured and sifted through with henna, oil paint and thread. The effect of these mixed materials on chiffon was used to evoke ideas of materiality, spirituality and identity to vivid ends.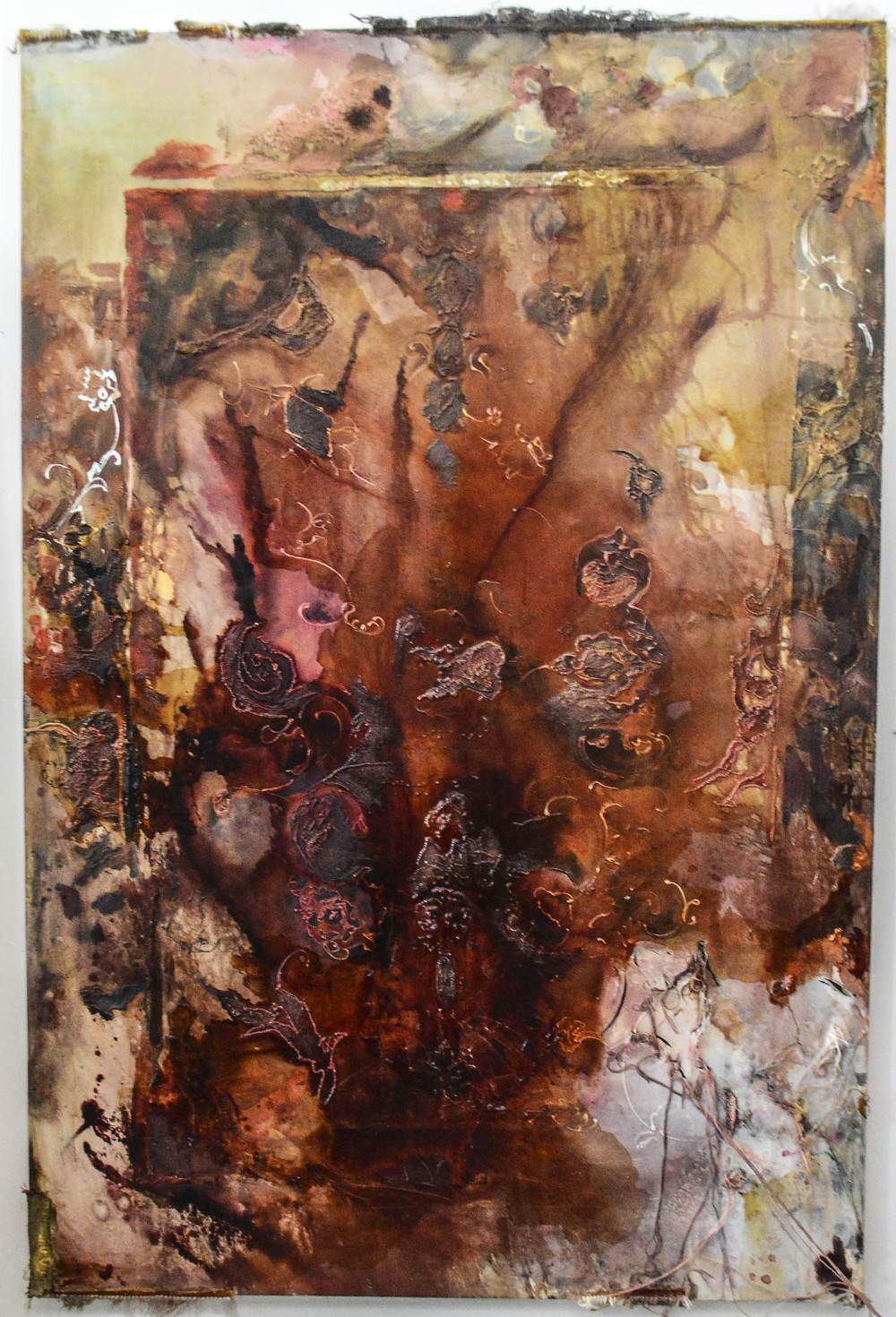 [Lightly: Nazeerah Jacub used chiffon stained with henna and brushed with oil paints as a canvas]
Michal Kruger's series of paintings saw childhood photos revived through a brightly coloured postmodern pastiche and framed with cheap gold and silver frames. By reproducing these quaint, sad and humorous family memories in thick, patchy strokes, Kruger takes the dominant narrative of the white Afrikaner man and renders it as an impotent one.
The works of Candice Kramer saw small sheets of cold-rolled steel stained and corrupted by varnish and water, later traced over to depict bustling city scenes.
Neo Diseko's expansive canvases spoke of desire and identity in striking portraits framed with expertly composed florals.
One particular set of paintings by Marcel Waldeck had viewers leaning in to get up close to their surfaces to try to decode their texture. The process, a gallery representative told us, involved casting silicon moulds of natural surfaces such as tree bark and gravel, before painting them black, peeling the surface layer off and fixing it on to canvas. The result is a brilliant conversation between sculpture and painting, and physicality and form.
With works as complex and playful as these, it's easy to see why the scene upstairs was far more alive than the one below. This is not to say that the works of Pierneef were boring. They were magnificent to see in person, but like so many revered works from the past, they often don't inspire their viewers to seek answers and interrogate process or meaning on account of their implicit "greatness".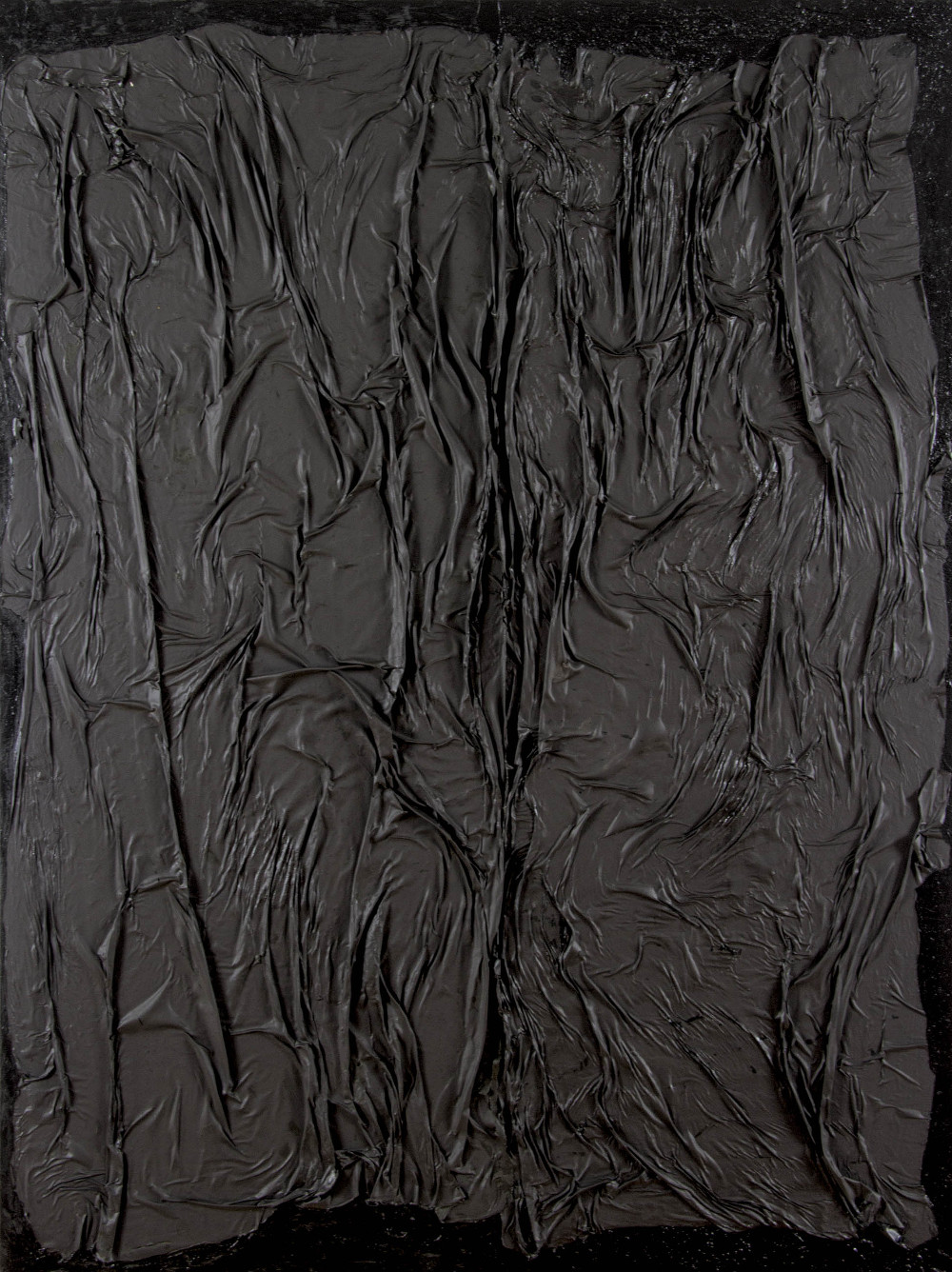 [Marcel Waldeck cast silicon moulds of surfaces such as bark to create interesting textures]
There is an undeniable call to participation among this new wave of painters, and it's difficult to ignore.
Why is it that there seem to be so many bold and inventive works coming out of this current generation of painters? According to artist and academic Tanya Poole — who has lectured, mentored or worked with a number of the painters featured in the touch exhibition — it's because of a lack of fear.
'I think that the question of whether painting is dead has been so thoroughly exhausted and thrashed over that there's a certain amount of relief felt by artists, which gives way to a renewed enthusiasm for the discipline," says Poole.
"There was a time when painting was out of favour, and there was so much complexity in the discourse that it started weighing too heavily on the actual process of creation and play — you might say that it had painted itself into a corner.
"This generation of artists seems to deal with this issue with less anxiety. They seem able to draw from the painterly devices developed by past artists without becoming bogged down by the weight of history."
It's their constant interrogation of these histories that Poole says allows them to dismiss or reinvent the parts they disagree with to foster a new school of thinking and execution for painting.
Echoing this, Webster explains that even though it can be difficult to label any form of art today as being entirely new, it's thrilling to see how old methods are being revisited and channelled into a new form of storytelling through painting.
"In the main, we are still using oil paint on canvas, which is about 600 years old, and we may still use geometrical perspective and camera obscura with new technologies. However, different things are being articulated, and these things can resonate with the current moment — but then also with this deep past. It is a complex act to achieve, and I think that in a world which can often feel perversely meaningless, more artists are up for the challenge than ever before."
touch provided an inspiring enclave of new work this year and the art fair is all about getting works out of galleries and into homes. So how did the sales go?
According to Webster, the artworks shown at touch did incredibly well, with nearly a third of them sold and a select few causing a fight or two between collectors.
Painting is one of the oldest and most-loved forms of art. But its long and stubborn history of exclusion and inaccessibility means it is seen as an art form that cannot be enjoyed to its fullest. Which is why it's so incredible to see the works of these emerging painters being celebrated both in viewer numbers and in sales. If anything, touch has shown us that the future of painting is very exciting.