What is it with journalists and biographies? A while back I read Michael Malone's The Intel Trinity about Robert Noyce, Gordon Moore and Andy Grove. I know little of their personal history but the author, a Pulitzer-winning tech journalist, made cringe-worthy errors on the basics of technology. Stuff anyone who bought a computer should know, let alone someone close to the industry.
So when I read Ashlee Vance's Elon Musk (new updated edition, HarperCollins), I had to ask myself: Why do journalists tackle the biography task like an extension of journalism? In particular, the author insists that it protects his professional integrity if he didn't allow Musk access to the text prior to publication. I get that he wouldn't want the subject to dictate the content. But why should a biography written with access to a living, breathing subject not be rigorously fact-checked?
I see a claim by the author that Musk says the book is 95% correct. That's not bad, I suppose, if it wasn't fact-checked. But what's wrong with 100%? To illustrate the difficulty, the book contains a claim that Musk chastised an employee for taking time off for a childbirth. Musk denies this happened. Truth? Who knows.
Had Musk challenged this prior to publication, Vance could have dug deeper to see whether it really did happen despite Musk's denial or whether there was an alternative story: a miscommunication, and employee disgruntled about something else who made this up. I don't know — there is no evidence for any alternative.
The problem here is that we don't know which 5% to disbelieve. A story in the book has Musk taking someone off a project for claiming a task was impossible, then doing it himself. Not many tech chief executives could do that — I really want to know if it's true.
At one point, Vance illustrates the journalist's eye for numbers, claiming that there was an aim to get panel gaps to less than 40mm on the Roadster. Holy moly. I can stick my hand through 40mm.
The real problem is that biography is not journalism. Journalism works on the premise that you are trying to get the story out fast while it's fresh and time pressure prevents you from running everything past your subjects. If you tried to do that with limited time, the protagonist with the strongest ability to make their case could control the news. Errors can always be straightened out in tomorrow's edition.
Biography should not be like that – writers have time to work through contentious material and get the facts straight. Journalism also has requirements to do with its short-term nature, such as hanging everything off a hook that grabs the reader, but this does not suit a longer format.
Another aspect of the journalistic style is trying to relate to the familiar. Describing Musk as an upgraded mix of Bill Gates and Steve Jobs at best captures only a small part of the reality. Musk is known to be a real hands-on engineer; neither Gates nor Jobs could really lay claim to that.
Biography-by-journalism aside: Is this worth a read?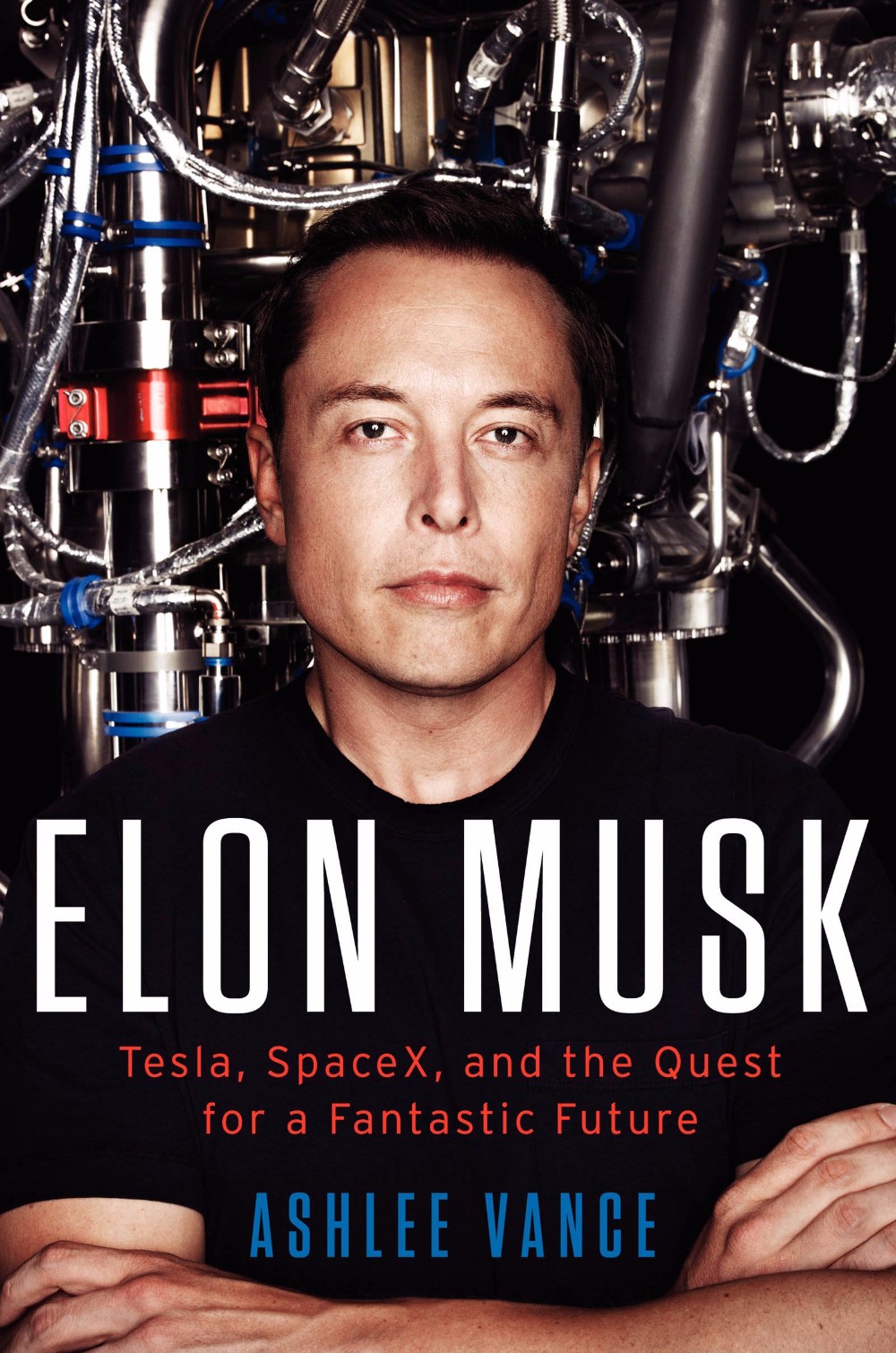 [The cover of Ashley Vance's Elon Musk]
For anyone who has an inadequate appreciation of Musk's achievements, provided you take the book with a fair dose of scepticism, it's worth reading.
His progression from an unhappy childhood in Pretoria to where his is now is amazing. The unhappy childhood is well-established fact. I can relate to that; someone I know who grew up in Pretoria was emotionally savaged for being different.
Then there is the typical early entrepreneur phase of having his ideas hijacked by others, for example, how his X.com plan to rewrite the rule book on banking was watered down to what became PayPal. A great success but not what he planned.
All of that pales into insignificance against what he is doing with SpaceX (Space Exploration Technologies) and Tesla.
On SpaceX, I thought the book did a decent job of capturing the essence of the scale of achievement. It is not for nothing that "rocket science" is synonymous with unusual ability. Although the basics of rocket physics are not complicated — throw stuff out one end and it moves the other way — and well established since Newton's time, the practicality of getting a large-scale space-capable rocket working and reliable is insanely complicated.
One detail I found unsatisfactory is Musk's relationship with the Mars Society. Initially, this seems to be close and ends with Mars Society president Robert Zubrin criticising an early Musk idea for a technology demonstration — then nothing. I've been following the Mars Society for some time and Zubrin comes across to me as an anti-scientific zealot. For example, he is a climate-change denier and his writing on the subject is no more than discredited talking points. As a committed clean energy advocate who puts his money where his mouth is, I can't see Musk having much time for this sort of thing. But there is nothing in the book on whether he has made a break with Zubrin or the society.
Vance underplays the difficulty of getting Tesla going. Although it is good to point out that no major United States carmaker has successfully launched since 1925 (Chrysler), a contrast with failures would have helped the less savvy reader. For example, Preston Tucker attempted to launch a modern design in the late 1940s when the old-school US carmakers were fobbing the public off with pre-war designs. Plagued by design issues, Tucker was ultimately foiled by a failed fraud prosecution that destroyed buyer confidence.
Compared with Tucker, Tesla has a much harder problem to solve. Not only do they have to show that a totally different drive train is viable but they also had to create a nationwide charging infrastructure to make the car practical for the masses.
With that in mind, hatchet jobs the BBC's Top Gear and The New York Times did on earlier Tesla models deserve much sterner treatment than Vance gives them. Still, the old Top Gear yobbos are gone and the new Top Gear team has a healthy respect for Tesla.
With the delivery of the first 30 Tesla Model 3s (July 28 this year), their first car aimed at the mass market, Tesla is on track to do their final ramp-up to volume production. Now that will be rocket science.
It is a measure of his success that old-school carmakers are scrambling to catch up and the United Kingdom has announced a ban on new petrol or diesel cars as of 2040. Meanwhile the Model 3, without advertising, has attracted half a million pre-orders.
Motor Trend, in their first drive of the Model 3, said it made an Alfa Romeo Giulia feel like a "wet sponge" by comparison. When did any mass-market American car ever rate such an accolade?
Back to what sort of person Musk is — not anything like Gates or Jobs, in my view. What Musk has that sets him apart is an extraordinarily long view and an exceptional ability to execute on that long view. He sees humanity as having a multiplanetary future and no one is making it happen. So he sets on a path to get there and is not fazed by apparently insurmountable obstacles.
Another part of that long view is seeing that there is no future in fossil fuels. He doesn't make a movie or go on a lecture tour (no disrespect to Al Gore); he makes the electric car viable and works on blocks to wide use of solar power.
Some of this may make him hard to work for; even allowing for 5% inaccuracy, some employees must have had a rough time. But he could not be where he is now unless he also had remarkable skills in inspiring others to do their best.